Getty Images
Have You Heard The One About The East?

Call it one more New Year's resolution that I have no shot at keeping.
That promise to my editors to finally stop gorging on Leastern Conference jokes.
How can I resist? All summer we heard the preachings: The East is closing the gap! Guess again. The gulf between the conferences looks wider than ever as we approach the 41-game marker, with nine teams that can claim to be 20-game winners in the West -- NINE -- compared to just three teams in the Leastern.
Perhaps you've heard or read that the East is actually faring better than it has for some time in head-to-head matchups with the West. More misleading nonsense. The East indeed entered the weekend at 94-108 against Western teams, for a seemingly respectable winning percentage of .465, but that mark drops sharply to 55-91 when you exclude the Leastern's 39-17 fortunes against the four pushovers at the bottom of the West that are already making lottery plans: Clippers, Grizzlies, Sonics and Wolves.
Ten of the West's other 11 teams have winning records in head-to-head games, with Portland at 6-6. The Least is 55-91 against those 11 teams, for a success rate of .376. And you don't even want to see the numbers if we exclude the Celtics from the conversation, since Boston's spotless 10-0 mark against the West accounts for a healthy chunk of the Leastern's limited cross-conference joy.
"I'm very surprised," Pistons guard Chauncey Billups said. "Very surprised. After some of the moves that teams made, I thought that the East was going to be coming back."
Only at the top, as it turns out. Boston's resurrection seems to have re-energized Detroit, too, and who would really be surprised if either of those powerhouses wins it all? Especially since the West playoffs -- and maybe just getting to the West playoffs for presumed contenders like Utah and Houston -- will be so grueling. That's a big, big deal after so many lopsided, anti-climatic NBA Finals matchups already this century.
But even a champion from Least, like Miami in 2006, isn't going to change how we look at 10 or 12 other teams in a sad-sack conference. It doesn't work that way, which is a reality that the Heat have slammed home.
Think about it. If you examine it objectively, Miami has played exactly one month of basketball at a West-worthy level since Pat Riley came back to coach the Heat in December 2006. One hot month, though, is all that was needed to claim the Least's berth in the NBA Finals for two seasons running, as Miami and then LeBron James' Cleveland Cavaliers proved.
That's the same James, incidentally, who disclosed last weekend why he's not too worried about the Cavs' indifferent start or the fact that two key teammates (Larry Hughes and Sasha Pavlovic) are shooting less than 35 percent from the floor: "The Eastern Conference is so bad right now."
LeBron was obviously referring to everyone chasing the Celtics and Pistons and, again, who can argue? The Cavs are one of just four perennial playoff teams that are underachieving significantly, along with New Jersey, Chicago and the unraveling Heat. The Knicks and Bobcats were supposed to be playoff dark horses after their draft-night acquisitions of Zach Randolph and Jason Richardson, respectively, but their seasons are already over … unless you believe that Charlotte, with 26 of its final 41 games on the road and all 15 of its West road games still to come, has a second-half rally stored up.
The worst part? The gap should be closing.
Leastern teams were the big winners in the landscape-changing 2003 draft when LeBron, Dwyane Wade and Chris Bosh joined their ranks … and it could have been Carmelo Anthony as well if Detroit took Melo or Bosh over Darko Milicic. Orlando landed the Shaquille O'Neal-sized prize in the 2004 draft in Dwight Howard. Milwaukee and Atlanta had the top two picks when Deron Williams and Chris Paul were on the board in 2005; Toronto and Chicago had the first shots in the 2006 draft at two difference-making young Blazers: Brandon Roy and LaMarcus Aldridge.
After last summer's trade flurry, furthermore, how can denizens of the Least -- who welcomed in Kevin Garnett, Ray Allen, Rashard Lewis, Randolph and Richardson last summer -- complain about personnel misfortune? In a league where small-market teams like San Antonio and Utah have thrived for ages, thanks to the field-leveling help they get from the salary cap and luxury tax, you can only conclude that Western Conference teams, in general, are simply managed better.
In general? They're better at team-building around their franchise guys in the West, judging by the seven teams on a 50-win pace as of Friday morning. There will actually be some merit this June to the recent advent of made-for-TV trophy ceremonies at the end of the conference finals, because you've got to win a championship of sorts just to get out of the West.
As one West personnel man says: "Why are San Antonio, Phoenix and Dallas so nervous? Portland was supposed to be rebuilding and you see what they're doing. And the Lakers are for real, I'm telling you."
Adds one Western Conference scout: "I really don't want to pile on, but it feels like I'm watching the junior varsity when I have to go to a game [in the East]. The teams are worse, the games are worse and some of the arenas are half-empty."
I'm sure David Stern will gather us all in New Orleans for his annual All-Star Weekend address and tell us that the Least will rise again because everything in the NBA is "cyclical." Good thing I didn't even pretend to resolve to be less cynical in 2008, because I can't resist reminding him that Leastern teams, entering this season, were more than 500 games under .500 against the West since the start of the 2000-01 campaign. The Least's record in that span was 1,275-1,789, good for a winning percentage of .416, with the West winning five of seven championships.
Quite a cycle for the Leasterners, huh?
Marc Stein is the senior NBA writer for ESPN.com. To e-mail him, click here.
This has little to do with the three straight victories (two of them on the road) that the Bucks unexpectedly posted while
Michael Redd
was nursing a thigh bruise. The calls for a major shake-up in Milwaukee began locally even before this surge, which represents the team's best stretch since mid-November victories over the Cavaliers, Lakers and Mavericks raised expectations with a 7-4 start.
However …
You have to remember who owns the Bucks. If you've followed Sen. Herb Kohl at all over the years, you know he doesn't do shake-ups. He's not one of the league's more decisive, proactive owners. So change will almost certainly be gradual.
Reports that general manager Larry Harris' job is on shaky ground are becoming more frequent, but that was inevitable if the Bucks struggled as they have. Harris, remember, is in the final year of his contract and began the season with little-to-no hint of securing a contract extension.
You're also starting to hear some of the locals lose patience with my man Redd, questioning whether his game will ever be sufficiently well-rounded to lead the Bucks to prominence. Even a loyalist like me has to concede that the lovable lefty must be a better defender and passer to justify his max-money deal, but I would be stunned if Milwaukee actually disassembled its Redd-Yi Jianlian-Andrew Bogut core between now and the Feb. 21 trade deadline. Stunned.
We repeat: Kohl doesn't move that fast. Which must be why I heard this week that the Bucks won't seriously explore the prospect of shopping Redd before the offseason.
To the Bucks' relief, they're in a division full of underachievers at present, with Cleveland and Chicago in similar states of mess. But if it doesn't turn around for the Bucks, I'll submit that their biggest problem -- and thus the biggest threat to Harris and coach Larry Krystkowiak -- is the minuscule contribution that they're getting from a handsomely paid bench bunch that includes Charlie Villanueva, Bobby Simmons, Dan Gadzuric and Charlie Bell. Bogut hasn't played anywhere near franchise-player territory, but he and Yi are both showing more promise than the skeptics (and there are many) expected.
Yet no matter what happens between now and the deadline in Milwaukee, at least one change to the Bucks' landscape is assured. Scott Roth -- who served as their lead personnel scout and top aide to Harris and doubles as Villanueva's national team coach with the Dominican Republic -- was lured away from the club this week to replace Jim Harrick as the coach and general manager of the Bakersfield Jam in the D-League.
---
The consensus assumption remains that the Sixers are merely posturing in an attempt to get a better deal for Andre Miller, but Philly continues to insist that moving Miller before Feb. 21 is not an automatic as widely believed.
The Cavaliers, meanwhile, haven't shed their yearlong lust for Mike Bibby in spite of the Sacramento guard's injury woes, but deals to unite Bibby with James have collapsed three times since last January. Even if Cleveland can tempt Sacramento this time with a package headlined by Drew Gooden, it remains to be seen if Cavs general manager Danny Ferry -- who shares David Falk as an agent with Bibby -- will be willing to take on a player with an unwelcome contract (Kenny Thomas, namely) to finally push this trade through.
So …
Things could always change, since we do have nearly six weeks to go before the trade buzzer sounds. But the biggest names that appear certain to move, at this point, are in the Smush Parker-Juan Dixon-Mickael Pietrus class. Like it or not.
---
Pursuant to the subject of the week in the lead box, here's a season-by-season look at the East's success rate against the Western Conference since the 2000-01 campaign:
East's record vs. West in head-to-head games
W
L
PCT
2007-08
94
108
.465*
2006-07
193
257
.429
2005-06
198
252
.440
2004-05
194
256
.431
2003-04
154
266
.367
2002-03
170
250
.405
2001-02
188
232
.448
2000-01
161
259
.383
*Through January 10

Five questions with Pistons guard Chauncey Billups:
Q: Almost halfway through the schedule, how do you evaluate the season so far and the rivalry with Boston?
A: You know us. We like it when we can be under the radar. So we welcome [Boston's success]. It puts us in the position that we used to be in and that we like to be in.
Q: The season is so long and this group has been together so long, but is it safe to say that the race with the Celtics gives you guys some extra motivation to get through the grind?
A: It does help. Like you said, we're a team that's seen it all and done it all. So sometimes [during the regular season] we almost have to play mind games with ourselves to get up for some of these teams. But it's a great challenge [battling Boston]. It's definitely something to play for now.
Q: How much heat did you get from your teammates when everyone found out that you advised Kevin Garnett to jump at the chance to be traded to Boston?
A: It didn't even come up, man. There would have been more heat if I told him to stay [in Minnesota].
Q: Really? Why?
A: Because that's a personal friend of mine. If he asks for my advice, it's not about what's good for me. I play for these guys right here [in the Pistons' locker room], but I have to tell him what I think is best for him.
Q: But what if it backfires on the Pistons?
A: I thought even if he did go … I don't care who's over there. I feel like we can overcome that. We're not sexy to you [media] guys, but I don't think you're going to find any team out there that doesn't respect us [as a title contender].

The biggest name most likely to move this trading season?
It's honestly a stretch, at this point, to even use the word likely. We repeat: There's still plenty of time for the landscape to change. But with nearly six weeks of dealing still to go, there hasn't been much tangible trade chatter involving stars lately.
That said …
The name of consequence you hear most on the front-office grapevine these days -- more than anything about Kobe Bryant, Jason Kidd or even Pau Gasol -- is Tracy McGrady's.
The Lakers have obviously (and amazingly) managed to calm their Kobe Storm in record time. The Nets remain highly reluctant to make Kidd available; one factor suggested to us this week is that Rod Thorn is naturally hesitant, late in his career, to part with the guy who represents his greatest coup in Jersey. The Grizz, meanwhile, are apparently willing to listen to Pau pitches, but there's a big difference between listening and shopping. They don't appear eager to move Gasol.
With T-Mac, though, rumblings of discontent on all sides (management, coaches, teammates and McGrady himself) have grown louder during the Rockets' first-ever run of success with McGrady injured. They began the weekend at 6-2 since McGrady was felled by a knee strain. Before that? According to math courtesy of the Houston Chronicle's Jonathan Feigen, Houston was 11-42 without McGrady in the lineup since the 2004-05 season, including 0-3 this season.
McGrady is expected back next week, but it's difficult to dispute that the Rockets' ball and player movement have been crisper without him, closer to the model owner Leslie Alexander was expecting when he replaced Jeff Van Gundy with Rick Adelman. Perhaps McGrady will hush the recent "ball-stopper" digs and claims that he's the one who's been slowing them down by making a triumphant return. But I'm starting to get the feeling that no one would protest -- not in the locker room, not Adelman, nor even T-Mac -- if a trade can be worked out to break up the Rockets.
Houston's problem, of course, will be finding a trade partner, given McGrady's health and playoff history (don't forget he's still waiting for his first taste of the second round) and the fact that he has nearly $45 million left on his contract over the next two seasons after this one. The Bulls and Rockets have indeed had what one plugged-in source describes as "exploratory" McGrady talks, but word is Chicago isn't convinced that T-Mac is the franchise player it's been lacking since Michael Jordan retired. So we wait.
---

Maybe I'm in the minority, but I think I miss those January days when watching the Lakers meant hoping that Kobe Bryant was about to forget the other four guys on the floor and erupt for, say, 81 points.
Yet it's hard to argue with the results Kobe is getting by trusting his teammates more. Bryant would surely insist that he'd have always done it this way if blossoming teammates like Andrew Bynum were ready to be trusted two years ago, but check out the Lakers' record when Bryant scores 20 points or fewer this season: 8-1 … with only a loss at San Antonio to blemish that ledger.
In the Lakers' first three seasons post-Shaq? L.A. was 5-7 in 2006-07, 1-3 in 2005-06 and 5-15 in 2004-05 in games in which Bryant didn't score more than 20.
---
Golden State's decision to sign point guard CJ Watson to a 10-day contract this week and make him the 100th call-up in D-League history does not rule out the possibility of Gary Payton joining his hometown team in the season's second half, according to NBA front-office sources.
The Warriors are still flirting with the idea of bringing Payton in to ease the regular-season minutes burden on Baron Davis … and you have to believe that GP, no matter what he has left at 39, would fit in personalitywise with Don Nelson's edgy crew.
Tracy McGrady. Michael Redd. Pau Gasol. Will any of these All-Stars be moved before the Feb. 21 trading line? Marc Stein updates their futures on ESPN2's NBA Coast To Coast.
Chicago, Cleveland, Houston and especially Miami all need help. Chad Ford and Marc Stein offer their suggestions on the NBA Dish podcast … during which Ford also tries (unsuccessfully) to get Stein to diss his beloved Steve Nash.
• Listen to the NBA Dish podcast

In one of his regular visits with Galloway & Company on ESPN Radio in Dallas (103.3 FM), Marc Stein joins Brian Estridge and ESPN.com colleague Matt Mosley to talk Mavericks, Pistons, Boston's chances of winning 70 games, MVP candidates out West and even a little Tony Romo.
Galloway & Co.
"Wrong. I can do both."
Houston's Tracy McGrady, insisting to us recently that certain scouts -- and reportedly even a few folks in his own organization -- have it wrong when they claim that T-Mac would prefer to operate in a slower half-court system like Jeff Van Gundy's compared to the faster pace preferred by new Rockets coach Rick Adelman. See Box 4 (above) for more.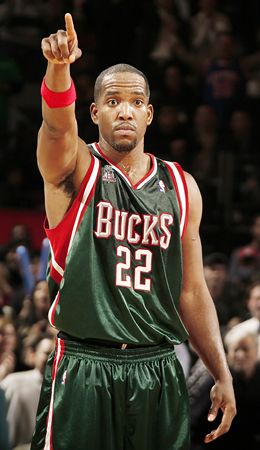 Nathaniel S. Butler/Getty Images
If you think Michael Redd might be headed elsewhere before the Feb. 21 trade deadline, allow us to point to Box 2, where we explain why that would run counter to Bucks owner Herb Kohl's modus operandi.
Otis (Boston):
The West seems to be undergoing a changing of the guard. Are the Lakers for real … and is Phoenix beginning to unravel?
Marc Stein: Not ready to sign off on this one. Lakers, Hornets, Nuggets, Warriors, Blazers … no doubt that the West is as deep as ever thanks to the fast-track progress all these teams have made, with L.A. at the top of the list. We began the week with seven teams in the West -- SEVEN -- on pace for 50 wins. That said … San Antonio and Phoenix are still the two most feared teams in the conference on my list. And Dallas would still command more postseason respect around the league than any of the aforementioned upstarts. Changing of the guard? Premature to say so.
Mike (Chicago): Which two teams would you like to see play in the Finals this year?
Marc Stein: Not rooting for anyone. We don't root here. But I can't deny that it would be an unreal story to see Boston get to the championship round with its new crew for the first time (gulp) since my senior year of high school.
Darren (Wilburton, Okla.): You've made it pretty clear that you think the Mavs need to make a change, but do you actually think they will?
Marc Stein: It's not all up to them. The guy they want has to be available. And the Nets just aren't making Jason Kidd available.
Mike (Charlotte): How is it possible that the Bobcats finally spend money and are actually doing worse?
Marc Stein: Easy. Dubious decisions. Taking on J-Rich's contract when he's not really a No. 1 guy and when they were planning to spend big to keep Gerald Wallace and Matt Carroll … trading for Nazr Mohammed without knowing for sure that he could play alongside Okafor … gambling on an unproven coach. Dubious decisions all.
MJ: Are you saying I am bad at building my team?
Marc Stein: Ding, ding, ding!
• Read Stein's full chat