(Scott Cunningham/Contributor/Getty Images)
Nene's Surgery News Weighs On Gimpy Nuggets

ATLANTA -- The Denver Nuggets have done their best to keep pace with the contenders in the West through an injury-plagued start to the season, but the cracks are starting to show. Fielding a skeleton crew on the second night of a road back-to-back, the Nuggets fell behind by 22 in the first half and fell Tuesday to Atlanta 101-93 for their third loss in four games.
Of course, the Nuggets have weightier issues to deal with, most notably the health of forward Nene. The Brazilian big man had a tumor removed from his testicle and is awaiting the results of a biopsy to determine if it's cancerous. He's out indefinitely.
Indefinitely, in this case, might be relatively brief -- a team source told me the tumor was caught exceptionally early and was quite small, and that if everything checks out he could be playing in a matter of weeks. Nonetheless, Nene obviously has bigger priorities at the moment.
Normally the Nuggets would be deep enough to stomach Nene's loss -- the team managed when he missed 22 games with a torn thumb ligament. But it's not just Nene -- all manner of injuries have hit the Nuggets of late, especially the frontcourt.
Kenyon Martin missed the game because of a staph infection on his rear end. Steven Hunter, out since the start of the year after undergoing right knee surgery, still isn't ready for action. And Eduardo Najera played on a bad elbow and probably shouldn't have -- he seemed reluctant to shoot and didn't score. Ironically, the infamously frail Marcus Camby has been the only healthy one, missing but a single game this season.
Karl said the only comparable rash of injuries a team of his suffered in his 20 seasons as a head coach was in 1987-88, his final season in Golden State. That year, a slew of Warrior maladies included forward Rod Higgins suffering a concussion when he fainted while the team photo was being taken.
Unfortunately, the schedule waits for nobody; Denver packs in 15 more games between now and the All-Star break, six of which are roadies against winning teams. Thus, while Denver's 21-12 start was a solid accomplishment given all the early injuries, one wonders if this train is losing steam right as it hits the steepest part of the track.
"We're a Dr. Jekyll, Mr. Hyde defensive team," Karl said after his team gave up 65 points in the first half before clamping down after the break, but the offense left just as many questions.
Allen Iverson and Carmelo Anthony can only do so much, after all -- on Wednesday they scored 63 points, only to have the other three starters combine for a pathetic four. All told, the supporting cast shot 11-for-43 with three free-throw attempts. Ugh. And with those two playing huge minutes at a torrid pace, their production could be compromised as the year wears on.
That's before you add in the emotional toll. Karl admitted that telling the team about Nene's situation went way beyond the usual injury report, and the Nuggets seemed especially flat in the early going Tuesday.
They overcompensated by melting down late, with Iverson and J.R. Smith both being thrown out with 38.9 seconds left after consecutive inbound plays where Iverson was forced out near the sideline and didn't get a whistle from referee John Goble.
"There's a lot of emotion and frustration on our team right now, from the injuries to Nene to losing, there's circumstances out there that, sometimes if you feel you're getting mistreated a little bit, you bust," Karl said.
"We've gotta get guys healthy," Camby said. "Since I've been here we've always had guys in and out of the lineup, but we've always found a way to weather the storm a little bit."
And if they were in the East, weathering the storm might be all they need to do. But out West, the Nuggets will need to keep eking out wins. Ten teams are vying for eight spots, and it seems that 47 or 48 wins might be needed to clinch the No. 8 seed. For all the Nuggets' efforts, a loss to Utah on Thursday could drop them into ninth in the conference.
In the end, Karl hopes the same passion that produced the game-ending fireworks can be channeled into some extra wins for his shorthanded squad.
"What I like about my team right now is they take losing hard, and that's a good sign," Karl said. "We might get emotional and frustrated, but we get that way because we're mad. If we stay together and turn that anger into some passion and some presence, it'll be good for us."
If not, there could be some rough sledding ahead in the Rockies.
John Hollinger writes for ESPN Insider. To e-mail him, click here.
Dimes Past:
January 1
|
3
|
4
|
7
|
8
|
9
|
10
|
11
|
12-13
|
14
|
15
Chatting With John Hollinger

Dan (Philadelphia): Who would benefit the most from trading for Andre Miller. And what can the Sixers get in return, a first rounder?
John Hollinger: Cap relief is much more important to the Sixers than a No. 1, especially since it would be a pick in the 20s (presumably only a contender would bother with such a deal). Miller is a funny player because he can't shoot, so the "space the floor" teams don't have a great use for him. Off the top of my head, Orlando, Denver, Utah, Boston and maybe Cleveland seem like good fits, though not all of them are equipped to provide the Sixers with what they seek, so you could see a third team involved.
Mike (Tallahassee): What about Miller to the Hawks? They need an upgrade at point and have three expiring contracts (Lue, Anthony Johnson, and Lorenzen Wright) to get it done.
John Hollinger: Silly me ... given that I live here you'd think the Hawks would have come to mind. Yes, that's a fantastic option.

How do the greatest NBA teams to ever take the court stack up? Cast your vote and rank the best of the best. Sure, we all remember the 72-10 Chicago Bulls from 1995-96 with Michael Jordan and all his heirness. But don't forget the 1971-72 Los Angeles Lakers who won a staggering 33 straight games and outscored their opponents by an average of 12.3 points per game. Or the 1985-86 Celtics team that produced five future NBA head coaches. Is one of these your No. 1?
"NBA Coast To Coast" ranked its 12 best teams. Rank your teams and then watch on Jan. 22 at 8 p.m. ET on ESPN2 for the final results and analysis of the best teams of all time.
John Hollinger | ESPN.com

Wouldn't it make more sense to have fans select one point guard, two wings and two bigs, and then for coaches to choose the reserves based on those same position descriptors?
This would have several benefits. First, it would eliminate most of the truly heinous choices in recent seasons (step forward, Jamaal Magloire), when coaches felt obliged to take a "true" center even when there wasn't one worth taking.
Second, it would increase the quality of the All-Star Game itself, because we'd be guaranteed to have two decent point guards on each side.

Tuesday's Best

LeBron James, Cavs forward:
On Monday, he acknowledged driving 101 mph. On Tuesday, he was unsafe at any speed against the Grizzlies, netting 51 points, nine assists and eight rebounds in a 132-124 OT win in Memphis.
---

Tuesday's Worst

Andris Biedrins, Warriors center:
First, the good news. His free-throw shooting (61.6) percentage is no longer in the sub-Shaq neighborhood. The bad news was his scoreless night against the Wolves that included five missed shots. He's 6-for-25 (24 percent) on FGs over his last four games.
---
Quote of the Night

"I don't react to Gil's blog. That's for everyone else. I enjoy reading it, I'm a fan, but I don't react to it."
--
Wizards coach Eddie Jordan
upon learning that Gilbert Arenas, who had left knee surgery on Nov. 17,
wrote in his blog Tuesday
that he would be "going full blast" after the All-Star break.
• See how all 158 players fared
-- Andrew Ayres

ESPN Research

The Trail Blazers lead the Northwest Division but have lost four straight and five of their last six games when facing Boston, which they play Wednesday at 7:30 p.m. ET. The Blazers have also lost three straight games at Boston after having a five-game win streak there. Paul Pierce missed the last Celtics contest against the Blazers. Pierce, however, has averaged 33.7 PPG in his last three games against the Blazers. Doc Rivers is 5-1 facing Portland as the Celtics' coach.
Paul Pierce Last 3 Games vs. Portland

Category
Stat
Wins
3
PPG
33.7
FG pct
57.8
3-pt FG pct
56.3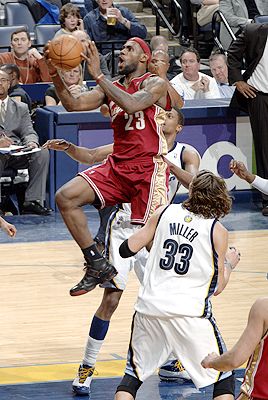 (Joe Murphy/Contributor/Getty Images)
On a night when he finished with 51 points, LeBron James shoots between Rudy Gay and Mike Miller.