(L-R) Getty Images, Icon SMI, Getty Images
Stein Line's All-Star Starters

Regular readers know that we resist any temptation to fill out an All-Star ballot. That is the fans' domain, for starters. We also have our unassailable objectivity to protect.
However …
With All-Star balloting finally closing this weekend, it's that time when we like to share the starters we would have selected … with our annual reserve choices to be made next Friday from the same lists that the coaches are looking at after the starters are officially announced.
EASTERN CONFERENCE

CENTER
Fans' likely choice: Dwight Howard
Stein Line choice: Howard
At last report, Howard had racked up more than twice as many votes (1,456,898 to 701,253) as his closest pursuer: Shaquille O'Neal. But, hey, what's one more lopsided loss for Miami? A runaway is simply unavoidable when Howard is averaging 22.4 points and 15.2 rebounds in his fourth season, setting up the man-child to be the NBA's first 20-15 man since Moses Malone all the way back in 1982-83. And there's more: If Howard can hike his field-goal percentage back above 60 percent, he'll rank as just the second player in league history -- joining that Wilt Chamberlain fellow -- to put together a 20-15-60 season.


FORWARDS
Fans' likely choices: Kevin Garnett and LeBron James
Stein Line choices: Garnett and James
These two have an even bigger lead than Howard over the likes of Chris Bosh, Paul Pierce and Caron Butler … and who's going argue? These two can justify even a million-vote cushion. No one's paying attention to the most pedestrian statistical production we've seen from KG for a decade because he's having such a massive impact as the spiritual spark at both ends for a team that lost just three times in its first 32 games. As for LeBron, just check out his January numbers: The 23-year-old is averaging 32.6 points, 9.8 rebounds, 7.1 assists and 2.4 steals in a 7-1 month for the Cavs, who have quietly won in Dallas and San Antonio since Christmas.


GUARDS
Fans' likely choices: Dwyane Wade and Jason Kidd
Stein Line choices: Kidd and Chauncey Billups
Even if he's playing hurt and still playing at a high level -- even though he's the guard that the people most want to see -- I just can't pick Wade when his team, entering the weekend, hadn't won a game since before Christmas. I'd rather start two point guards in the East backcourt, especially when Billups is having such a tidy season: 17.4 ppg, 7.2 apg and .450/.398/.901 shooting from the field, 3-point line and free-throw line, respectively. And when Kidd -- in spite of 36.3-percent shooting, New Jersey's own underachievement and a questionable mustache -- is almost averaging a triple-double (11.5 ppg, 10.7 apg, 8.6 rpg) in what looms as the first 10-10-8 season since Magic Johnson's in 1982-83.
WESTERN CONFERENCE


GUARDS
Fans' likely choices: Kobe Bryant and Tracy McGrady
Stein Line choices: Bryant and Chris Paul
Sacrilegious as it feels to choose Paul over Steve Nash, I think I have to. Not just because I promised Chad Ford on a recent podcast that I would, but because of the Hornets' Paul-inspired success while he bids to become the first player ever to average 20 points, 10 assists and three steals. Throw in a 2-0 mark against Nash's Suns and, as a perennially loud banger of the team-success drum, I'm obliged to vote for Paul … even with the two-time MVP running his team as flawlessly as ever. At least Kobe made half of the equation easy, with his noticeably ramped-up D and general excellence in fueling L.A.'s unlikely rise from the gloomiest of Octobers to its best extended spell since Shaq left. (PS -- Special mention does go to the injury-haunted McGrady, who made the rare admission this week that he'd forfeit his starting spot if the rules in place allowed him to because "there's other guys definitely having better seasons than me.")
FORWARDS


Fans' likely choices: Tim Duncan and Carmelo Anthony
Stein Line choices: Duncan and Dirk Nowitzki
Interesting that Duncan, after all the fuss about his initial placement on the ballot as a center, was virtually tied in total votes with Yao Ming at last report (see Box 2) when it was widely assumed that TD would have no shot to be a starter unless league officials did what they did and took the unusual step of consenting to move him back to his usual forward classification. Perhaps Duncan's vote total wouldn't have been that high if he wasn't moved to the forward section on the online ballot, but you still had to scour the centers for his name if you were voting via the traditional paper ballot. So we wonder: Is Duncan, routinely branded as the NBA's Big Boring, more popular than anyone realizes?
The Nuggets' Anthony, meanwhile, is in this discussion on merit as well as popularity with a game that's clearly becoming more well-rounded -- Utah's Carlos Boozer is deservedly in this mix as well -- but Duncan and Nowitzki remain the two most feared forwards in the West, despite slightly dipping numbers and what you'd call shaky starts by their teams' annually high standards. (Nowitzki's November struggles, for the record, were overblown, so you had to know there was no way I could fill out even a theoretical ballot without Nash and Dirk. Right?)

CENTER
Fans' likely choice: Yao Ming
Stein Line choice: Marcus Camby
Yao. Camby. Amare Stoudemire. Andrew Bynum. Tyson Chandler. Chris Kaman. Andris Biedrins. Al Jefferson. Brad Miller, even. The West is suddenly teeming with eye-catching centers, which only emphasizes the fact that a couple guys on the ballot (Pau Gasol and LaMarcus Aldridge) definitely should not be listed as centers. An extended debate here is probably pointless given Yao's history of ballot domination; he's going to be the West's starting center for the foreseeable future. But we'll at least mount a mild challenge to that inevitability by favoring Camby's difference-making defense over Yao's ups-and-downs throughout a rough half-season in Houston and the growing progress Amare is making in his recovery from a third knee operation in October.
Marc Stein is the senior NBA writer for ESPN.com. To e-mail him, click here.
All-Star balloting ends Sunday -- only online votes are being accepted at this point after paper balloting ended Jan. 13 -- and the starters in each conference will be announced Thursday.
Here's where the All-Star races stood after the fourth and final voting update from the league office:
EASTERN CONFERENCE
Forwards: Kevin Garnett (Boston) 1,756,251; LeBron James (Cleveland) 1,564,974; Chris Bosh (Toronto) 516,669; Paul Pierce (Boston) 411,231; Yi Jianlian (Milwaukee) 342,669; Caron Butler (Washington) 213,924; Hedo Turkoglu (Orlando) 196,362; Tayshaun Prince (Detroit) 178,122; Andrea Bargnani (Toronto) 168,287; Josh Smith (Atlanta) 163,384
Guards: Dwyane Wade (Miami) 1,179,889; Jason Kidd (New Jersey) 868,069; Ray Allen (Boston) 733,440; Vince Carter (New Jersey) 708,409; Gilbert Arenas (Washington) 585,345; Chauncey Billups (Detroit) 402,787; Michael Redd (Milwaukee) 247,384; Richard Hamilton (Detroit) 193,618; Joe Johnson (Atlanta) 171,500; T.J. Ford (Toronto) 164,342
Centers: Dwight Howard (Orlando) 1,456,898; Shaquille O'Neal (Miami) 701,253; Rasheed Wallace (Detroit) 190,684; Ben Wallace (Chicago) 172,147; Zydrunas Ilgauskas (Cleveland) 163,518; Andrew Bogut (Milwaukee) 156,012; Jermaine O'Neal (Indiana) 143,026; Emeka Okafor (Charlotte) 85,340; Zaza Pachulia (Atlanta) 66,705; Eddy Curry (New York) 64,896
WESTERN CONFERENCE
Forwards: Tim Duncan (San Antonio) 1,246,125; Carmelo Anthony (Denver) 1,218,106; Dirk Nowitzki (Dallas) 946,421; Carlos Boozer (Utah) 402,917; Shawn Marion (Phoenix) 345,400; Shane Battier (Houston) 341,621; Josh Howard (Dallas) 324,267; Luis Scola (Houston) 309,994; Kevin Durant (Seattle) 299,481; Grant Hill (Phoenix) 248,273.
Guards: Kobe Bryant (Los Angeles Lakers) 1,441,333; Tracy McGrady (Houston) 907,639; Allen Iverson (Denver) 827,273; Steve Nash (Phoenix) 808,995; Manu Ginobili (San Antonio) 418,442; Tony Parker (San Antonio) 374,340; Chris Paul (New Orleans) 330,902; Baron Davis (Golden State) 298,827; Jason Terry (Dallas) 241,839; Jerry Stackhouse (Dallas) 212,320.
Centers: Yao Ming (Houston) 1,255,263; Amare Stoudemire (Phoenix) 685,772; Marcus Camby (Denver) 265,830; Erick Dampier (Dallas) 207,354; Pau Gasol (Memphis) 154,741; Tyson Chandler (New Orleans) 135,388; Mehmet Okur (Utah) 132,310; LaMarcus Aldridge (Portland) 117,508; Andris Biedrins (Golden State) 98,460; Chris Kaman (Los Angeles Clippers) 97,569.
Advice to teams hoping to prise
Sam Cassell
away from the Clippers (this means you: Dallas, Denver, Cleveland, etc.) for playoff purposes:
It would probably be wise to trade for Cassell before mid-February comes and buyout negotiations commence that could make the 38-year-old a free agent.
Reason being: Cassell and Kevin Garnett are so tight to this day that, as one interested suitor confessed, it's difficult to imagine Cassell choosing to sign anywhere but Boston if he makes it to the open market, where KG can start lobbying him.
With its season in ruins after the offseason Achilles injury suffered by Elton Brand and a flurry of in-season injuries contributing to a chronic inability to win at home, L.A. is open to the idea of trading Cassell just two years after he helped spark the most successful season in club history. He's almost certain to leave anyway in the offseason after completing the final year of his current contract at the very movable salary of $6.2 million.
Cassell is the third-oldest active player in the league, behind only Houston's Dikembe Mutombo (42 in June) and New Jersey's Darrell Armstrong (40 in June). Cassell turns 39 in November, with Miami's fallen Alonzo Mourning celebrating No. 38 in February and San Antonio's Robert Horry turning 38 in August.
---
Kobe Bryant's 48-point game Monday in Seattle, in which he needed 44 shots to get there, was the 87th 40-pointer of his career … and the 57th since Shaquille O'Neal was traded to the Heat.
It was his first 40-point game since Opening Night -- when he missed nine of a whopping 27 free throws against the Rockets and still scored 45 -- and left Bryant one 40-pointer shy of tying Elgin Baylor for third place on the all-time list.
Most Career 40-Point Games, NBA History
Wilt Chamberlain
271
Michael Jordan
170
Elgin Baylor
88
Kobe Bryant
87
Allen Iverson
79
---
Baron Davis continues to say that he would welcome the free-agent addition of Gary Payton if Warriors coach Don Nelson eventually decides he wants a more seasoned backup at the point.
"Absolutely," says Davis. "Him being an Oakland native, his mentality and leadership, he'd fit in great with us."
Davis, though, does dispute the notion, at 28 and after numerous injury struggles, that the Warriors are wearing him down by asking him to play 39 minutes per game.
"I've learned my body," Davis insists after reporting to training camp leaner than ever. "I've learned what makes my body work. The minutes aren't affecting me. I'm in great shape."
Brandon (Nashville):
Why is it that we all like to live in the here and now and totally forget what happened in the past? This Eastern Conference-bashing has to stop and I agree with Commissioner Stern that these things are cyclical.
Where was all the talk about the "Leastern Conference" when Michael & Co. were winning championships and Indiana, New York and Miami were in heavy competition with them? No one cares to mention how the East dominated the NBA throughout the 1990s and only recently has the West come on so strong.
Let's not be so shortsighted and continue to bash the East. I don't recall anyone asking for a re-seed of the playoffs when Chicago was ripping through everyone and I'm sure I won't hear that when LeBron starts doing the same.
Marc Stein: Excuse me? The East didn't dominate the 1990s, Michael Jordan's Bulls did. How did East teams that weren't from Chicago fare in the Finals in the '90s? I did a quick check and, if my math and memory are correct, only once in the decade did the East have more 50-win teams than the West in any particular season. The West had some VERY good teams in the 1990s: Portland in the early part of the decade, Phoenix with Barkley in its one trip to the Finals, Seattle at the height of the Kemp-and-Payton Era, Utah at the end of the decade. Don't forget that Houston was seeded SIXTH in the West when it won its second championship in 1995. It's a major insult to the 1990s West to compare it to the East of this century. It's not even close.
PS -- Our man Mark Heisler of the LA Times recently trotted out a stat noting that you have to go all the way back to 1981-82 for the last time the two best records in the league were posted by East teams. The West, in other words, has been giving us good teams for a long, long time. The gulf between the conferences wasn't nearly so huge in the '90s.
Mark (Annapolis, MD): Regarding your recent EAST vs. WEST comparison: If you are going to single out the four worst teams in the West and remove their records from the head-to-head comparison, you have to take out the four worst teams in the East. You can't pick and choose your stats to try to make a point. Or else here's one for you: If you throw out the nine worst teams in the East, the rest of the East has a winning record against the West.
Marc Stein: Got a lot of e-mails and questions along these lines. But you're all overlooking one key difference: The bottom four teams in the West were SUPPOSED to be lottery-bound. The East is SUPPOSED to pummel those teams. Miami, New York, Charlotte, Chicago … all of those current East bottom-feeders had legit playoff aspirations when the season began. The Knicks and Bobcats made major draft-night moves. You can't look at Miami and New York in the same way we look at Seattle and Minnesota. It's major news that teams like the Heat and Bulls are getting beat up regularly. The struggles of those teams account for a big slice of the East's growing problems this season.
• Read Stein's full chat


Although concerns about
Zach Randolph
's off-court baggage -- and whether there's sufficient room in the Bucks' frontcourt for Randolph and
Andrew Bogut
-- led the Bucks to reject the Knicks' initial proposal, NBA front-office sources say that the possibility of New York and Milwaukee hooking up on a deal has not been completely extinguished.
The Knicks were apparently willing to take on three players who don't start (Charlie Villanueva, Bobby Simmons and Dan Gadzuric) and two of whom haven't lived up to their contracts (Simmons and Gadzuric) just for the right to shed Randolph after Isiah Thomas' failed experiment of pairing him with Eddy Curry. At least one more Knick would have to be included to make the salary-cap math work in the event there is a revival here; Renaldo Balkman, Nate Robinson and Wilson Chandler have all been mentioned.
The whole concept certainly strikes us as a worthy gamble for the Bucks, no matter what potential warts or pitfalls are presented by the prospect of acquiring Randolph. Similar concerns about the addition of Ruben Patterson last season proved unfounded and the Bucks' abundance of perimeter specialists (Michael Redd, Yi Jianlian, Mo Williams) would theoretically mesh well with Randolph's game. There would still be questions about Randolph and Bogut co-existing, true, but the limited contributions Milwaukee is getting from the three outgoing players and Randolph's standing as a proven 20/10 guy would seemingly offset any risk factors.
That said …
Resuscitating this deal would require an about-face from Bucks owner Herb Kohl, who is ultra-conservative when it comes to team-building, as discussed here last week. He'll undoubtedly see Randolph as a much bigger gamble than Patterson because of the nearly $50 million over three seasons remaining on Zach's contract after this season.
---
With that 51-point detonation against Memphis on Tuesday night, LeBron James has hit the big five-oh four times, tying him with Houston's Tracy McGrady for third place among active players.
Just don't ask us to explain why all four 50s have happened on the road: 56 points at Toronto on March 20, 2005; 52 points at Milwaukee on Dec. 10, 2005; and 51 points at Utah on Jan. 21, 2006, before this latest eruption.
Most 50-Pt Games, Active Players
Kobe Bryant, Lakers
21
Allen Iverson, Nuggets
11
LeBron James, Cavs
4
Tracy McGrady, Rockets
4
Gilbert Arenas, Wizards
3
Shaquille O'Neal, Heat
3
---
Back in October, you'll recall that Chris Webber told ESPN.com that he could only see himself playing in Detroit this season "unless something crazy happens."
Even though something crazy did happen, with the Lakers far exceeding expectations, Webber's stance doesn't appear to have changed.
In the offseason, when the Lakers approached Webber, he wouldn't consider L.A. as a destination -- not even after years of being linked with the Lakers -- because he gave them no chance to compete for a championship. And now, although Andrew Bynum's knee injury has seemingly created an attractive playing-time opportunity with a team on the rise, word is that Webber has reservations about joining the Lakers in their weakened state.
The Pistons still have an interest in bringing Webber back as a fourth big man -- behind Rasheed Wallace, Antonio McDyess and Jason Maxiell -- but Detroit would still need to clear a roster spot for him and convince itself that the former Michigan man would accept that role.
Boston, frankly, could still use some frontcourt depth as well, but landing a veteran point guard (a la Sam Cassell, Gary Payton or Damon Stoudamire) is clearly the Celtics' bigger priority.
Where is Chris Webber headed? Will Chauncey Billups eventually come to regret advising his good friend Kevin Garnett to sign off on the trade to Boston? How close did New York come to trading Zach Randolph to Milwaukee? Marc Stein digs into all those topics on ESPN2's NBA Coast To Coast.
The Western Conference is as deep as ever, which means San Antonio is getting even more of a regular-season push than usual. Cleveland, meanwhile, is still trying to land Mike Bibby as a sidekick to LeBron James after chasing Bibby via trade for more than a year. Marc Stein checks in on the two teams that met in last June's NBA Finals with NBA on ESPN Radio studio host Jon Stashower.
• Listen to the interview


"Two years ago, I didn't even ice after games. Now I'm the Iceman Cometh."
Suns guard Raja Bell, with some insight into life as a thirtysomething in the NBA.
Yet it should be noted that Bell, who turns 32 in September, was laughing when he said it. According to his best friend on the team -- a certain two-time MVP who turns 34 on Feb. 7 -- laughter is a precious commodity in Phoenix these days.
"The only thing that's missing is that kind of euphoric feeling that you have when it's new and fun and beautiful," Steve Nash told local reporters this week when asked, for the umpteenth time, why the Suns have already lost 12 games. That's after they vowed in training camp, in the words of coach Mike D'Antoni, to "get back to that gunslinging mentality" and enjoy the journey more.
"Like you see with the Celtics and the Lakers and to an extent, with their additions and their success, New Orleans," Nash continued. "Some of these teams, it's a lot of fun for them to turn that corner and be successful. We, in some ways, have been there, done that, and it's not as easy to get up and do the little things every day. And to me, that's what we're fighting every day."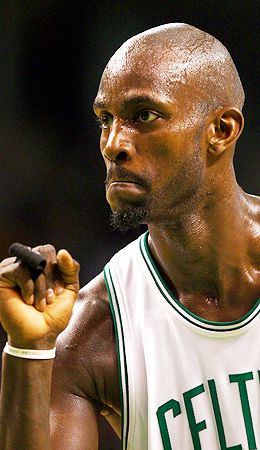 Elsa/Getty Images
If Sam Cassell is bought out of his contract by the Clippers and Kevin Garnett has an opportunity to get in Cassell's face to lobby him on the merits of a move to Boston, you can mark it down: Sam I Am will be a Celtic. See Box 3 for more on Cassell's future.

Five questions with Warriors guard
Baron Davis:
(Editor's note: Davis is an emerging filmmaker whose production company, Verso Entertainment, largely funded and developed a documentary on gang life in South Central Los Angeles which debuts Sunday night at the prestigious Sundance Film Festival.
The documentary, called "Made in America," was directed by the acclaimed Stacy Peralta and narrated by Oscar-winning actor Forest Whitaker and details the longstanding gang conflict between the rival Crips and Bloods. As executive producer, Davis used his connections to the old neighborhood to convince current and ex-gang members to be interviewed in the film.)
Q: How does an NBA player get involved in making a documentary that ends up going to Sundance?
A: It's been a process for five years. It all just kind of came together from me wanting to be in this business and wanting to help make a change in the neighborhood I grew up in. I grew up very, very close to [gang life]. I was aware of it from the time I was five years old.
I avoided [that lifestyle] because I didn't want to disappoint my grandparents and because I had basketball to always keep me busy. But seeing the ins and the outs, the good and the bad, I wanted to get involved with something that could make an impact in the community. Maybe we can bring some change, bring more attention to this problem.
Q: A couple people close to you tell me that they think the movie business has made you a better player. How so?
A: I think it definitely does. To be busy in your down time away from basketball and go into another world is a really good thing. When I'm away from the court, I'm taking care of my body and I'm doing things to keep my mind working. I really like this industry and I'm working hard to understand it more.
Q: It's been a few years (2004) since you've played in an All-Star Game, but I probably don't have to tell you how stacked the competition is for guards in the West. How disappointed will you be if you're not chosen?
A: I think you know me well. It's really not that big a deal if I don't make it. Going back to New Orleans, being the first All-Star in a long time for Golden State, what that would mean for the organization … all those elements come into play. But I don't get too up or too down about it.
Q: But I'm guessing that it does mean a lot to you to be thought of as one of the game's best again. Upsetting Dallas in the playoffs and getting back on the radar wasn't enough for you, right?
A: Absolutely. I always want to be known as one of the elite players. I would love to eventually be an MVP. But when Dwyane Wade mentions me in his top five and Steve Nash mentions me [in a similar fashion] … when guys who are the elite of the elite in this game, when they mention my name, that makes me feel great. That lets me know I'm back where I need to be.
Q: You didn't get the contract extension you wanted during the offseason, Don Nelson didn't get the raise he was seeking and Andris Biedrins and Monta Ellis will also be looking for contract extensions soon. When the Warriors started 0-6, I think people around the league expected this team to keep unraveling in part because of those issues. Why hasn't uncertainty about the future affected this team more?
A: My approach to the game is different now. As players, if you love this game, everything else will fall into place. That's what our approach has to be, not so much thinking about where we might be in the future. That's just something you have to keep in the back of your mind. Cherish the opportunities you have now. We all may be going in different directions, so we have to seize this opportunity to play with each other and try to win a championship. I know a lot of people won't mention us as one of the elite teams in this league that can win a championship, but that's our goal.