Photo by Ned Dishman/NBAE via Getty Images
Professor Legler Passes Out Midterm Grades

Time to pass out the midseason grades for the Eastern Conference. Teams are listed here in order of conference standing:
Boston Celtics (Grade: A) -- It was critical for this team to get off to a great start after bringing in two stars in their 30s. The Celtics' 33-6 record speaks volumes about the unselfishness of Kevin Garnett, Paul Pierce and Ray Allen. The key to their championship aspirations ultimately will be determined by the consistency of the Celtics' bench. Time will tell. Their grade would be an A-plus but recent losses to Charlotte, and Washington (twice) hurt their midterm grade.
Detroit Pistons (Grade: A) -- The Pistons look eerily similar to the NBA title group from 2003-04. This group, however, has a much stronger bench and is headed for a showdown with the Celtics in late May. They have believed all along that their legacy should be greater than one NBA title … and they are playing with a purpose.
Orlando Magic (Grade: B-plus) -- The Magic have been the only other true contender in the East. Dwight Howard has become the most dominant big man in the game and Hedo Turkoglu is having a career year. The Magic need a point guard with size to truly compete for a championship, but their road record (16-9) indicates they will be a factor all season.
Washington Wizards (Grade: A) -- Eddie Jordan is coach of the year to this point without question. The Wiz have played all year without Gilbert Arenas and, yet, they are 22-17 and fourth in the East. Caron Butler has been simply great and they have played hard and unselfishly all year. Big-time overachievement!
Cleveland Cavaliers (Grade: B) -- They started the season as if their Finals appearance of a year ago was a complete fluke, but winning 9 of 11 has reclaimed some respect. LeBron James has been the MVP and the rebounding of the Cavs' front line gives them a chance every single night. They are a work in progress and will be tough once the playoffs begin as they draw on their past experience.
Toronto Raptors (Grade: B-minus) -- The best is yet to come for the Raptors. They have dealt with injuries to T.J. Ford and Chris Bosh and still find themselves three games over .500, but they haven't played with the same sense of urgency or passion as last season.
Atlanta Hawks (Grade: C) -- It's funny how some people think the Hawks have arrived. Yes, they can be great on given nights and have played their best basketball against the NBA's elite teams. But this team has far too much talent to be so inconsistent. I don't want to hear about their youth … they can compete now in the East, but they haven't figured out how to focus and mature to the point where they can be taken seriously.
Indiana Pacers (Grade: C) -- The up-tempo style suits their personnel. Jim O'Brien has done a solid job of hiding the Pacers' weaknesses and they can score with anybody. The problem is that they just don't have the physical toughness defensively to be more than average, thus the C grade.
New Jersey Nets (Grade: C-minus) -- The "big three" and a bunch of below-average role players doesn't get anyone excited anymore. No doubt that the loss of Nenad Krstic has hurt the Nets, but they haven't shown the spark I would expect. The fact that Jason Kidd and Richard Jefferson both belong in the All-Star Game and this team is four games under .500 says all you need to know.
Chicago Bulls (Grade: D-minus) -- The biggest disappointment in the NBA thus far. For a young, playoff-tested group to come out flat is inexcusable. Scott Skiles took the blame, but the Bulls' core group (Ben Gordon, Kirk Hinrich, Luol Deng) has struggled collectively, and Ben Wallace has been hampered physically, thus rendering him incapable of being the emotional leader the Bulls sorely need.
Milwaukee Bucks (Grade: C-minus) -- To be honest, the Bucks are only a game or two below where they should reasonably expect to be. They rely on their perimeter game most nights to carry them and they haven't shot the ball well enough to overcome their defensive issues. What you see is what you get.
Charlotte Bobcats (Grade: C-plus) -- I know 16-25 merits a lower grade, but the Bobcats play hard. They are in every game and have one of the most athletic wing tandems (Jason Richardson and Gerald Wallace) in the game. If they could get more consistency from their bigs and their bench they could threaten for a playoff spot.
Philadelphia 76ers (Grade: C-minus) -- The talk around the league is that the Sixers have been a pleasant surprise. I'm not sold on that. It's true, based on their offensive talent, they are a lottery team. My bigger problem is with their lack of defensive commitment. In the NBA a team must compensate for lack of firepower by working on every possession.
New York Knicks (Grade: F) -- I honestly don't know where to begin. The Knicks could have earned at least a D grade if they hadn't been such a disaster off the court. It's one thing to play poorly or underachieve. It's an entirely different level of ineptitude when a team lacks passion, chemistry, unselfishness and the concept of basic winning basketball fundamentals. Thank goodness for David Lee and Renaldo Balkman, the only two Knicks who bring the right mind-set to the arena every night.
Miami Heat (Grade: F) -- It is almost inconceivable that a team less than two years removed from winning an NBA title can be in the midst of a 14-game losing steak -- with a superstar in his prime and playing almost every night. The Heat's young players aren't talented enough to provide the supporting cast Dwyane Wade needs. It is fairly apparent that the Heat mortgaged everything to get a title. They won it … now they have to rebuild.
Dimes Past: Jan. 7 | 8 | 9 | 10 | 11 | 12-13 | 14 | 15 | 16 | 17 | 18 | 19-20 | 21 | 22
Kobe, El Segundo: John, what do I have to do to win an MVP award? They tell me to lead my team so I score 81, they tell me to be a team player, see: last night, they tell me to prepare like a champion, they tell me to live and breathe basketball, I DOMINATE!
John Hollinger: How come I don't get crazy message like this about Chris Paul or LeBron James? There's this weird assumption among a lot of Laker fans that Kobe's lack of an MVP award is some kind of accident of history that requires immediate correction. Sorry, not buying. He's a great player, but there hasn't been any season in which he's been the best. That applies so far this season too.
Carlos (L.A.): John, when Kobe's career ends, will he be the best player never to win an MVP? Thanks
John Hollinger: There's a very good chance of that happening, yes. Right now I guess John Stockton would probably top that list, though I'm going off the top of my head. And I'd say by the time he's done Kobe will outrank Stockton if you're ranking all-timers, so he'd be the one, yes.
Cory (NYC): Stockton? Did I somehow miss Patrick Ewing's MVP ceremony?
John Hollinger: Close call, but I'll still take Stockton. Reasonable people can disagree on this.
Mario (Toledo, Ohio): Jerry West aka. Mr. Clutch aka The Logo tops the list of best players without an MVP award.
John Hollinger: Thank you, it's settled. I knew I was forgetting somebody.
• See the full John Hollinger chat
Royal Revival In Progress?

By Andrew Ayres | ESPN.com
Are the Sacramento Kings headed for the .500 mark shortly after a new Super Bowl champ is crowned?
Maybe. Just maybe.
With Mike Bibby, Ron Artest and Kevin Martin back in the lineup, the road ahead suggests this could happen. The Kings (18-22) looked good in dominating the Nets 128-94 on Tuesday night.
The Kings' next three games are all roadies: at the Clippers, Jazz and Sonics, which very well could be two wins for Sacto. Then comes a five-game homestand -- facing the Bobcats, Hornets, Bulls, Sonics and Jazz -- that ends Feb. 8. The Kings are 12-9 at home this season, but they might be returning to their old ways of dominating at Arco Arena.
A purple partisan might peg that homestand for 4-1. At that point, a 24-24 Kings team could even think playoffs, but it'll be tough; the race for that No. 8 seed looks like a solid team will get squeezed out from that final West berth.

Tuesday's Best

Steve Nash, Suns guard:
Is your game MVP like Steve Nash? His 37 points and 11 assists helped the team with the West's best record (30-12) to a 114-105 win in Milwaukee.
---

Tuesday's Worst

Josh Boone, Nets forward:
Misses all five field goals, misses 4-of-6 free throws, pulls down three boards in 20 minutes of action in a 128-94 thrashing at the hands of Sacramento.
---
Quote of the Night

"If he's playing and hurting and not playing good, he's being talked about. If he's not playing and he's trying to get healthy, then he's being talked about for taking time off. It's a lose-lose situation."
-- Heat guard Dwyane Wade
, on Shaq, who is out of action with left leg issues.
• See Tuesday's daily leaders
-- Andrew Ayres

By ESPN Research

The Lakers and Spurs, scheduled to meet Wednesday (9 ET) at the AT&T Center, have split their two matchups this season. Most would assume that each team must figure out how to stop the other's superstars. It seems the Spurs have figured out how to slow down Kobe Bryant.
Bryant is only shooting 11.1 percent from behind the arc this season against San Antonio. However, the Lakers must find a way to control Bruce Bowen. That's right Bruce Bowen. Bowen is averaging 5.8 points per game on the season, but 22.5 ppg vs. the Lakers.
Bowen vs. Bryant, This Season

Category
Bowen
Bryant
PPG
22.5
24.0
FG pct
62.5
44.2
3-pt FG pct
84.6
11.1
RPG
3.5
8.0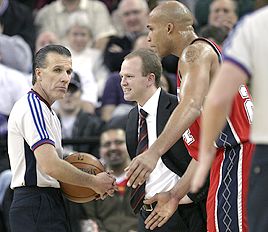 AP Photo/Rich Pedroncelli
Official Ken Mauer listens to Richard Jefferson and coach Lawrence Frank of the Nets as they complain about a breakaway foul called against Jefferson during their loss to Sacramento.

Chad Ford and John Hollinger talk about the teams that could be heading to the playoffs in the competitive Western Conference.
Excluding A Big Winner