Photo by Chris Graythen/Getty Images
Look Who's Leading Now: The Hornets

The New Orleans Hornets own the best record in the Western Conference.
Who would have thunk it?
The Hornets, now 29-12, took care of the Blazers -- the other surprise team in the West -- 96-81 on Wednesday for their sixth straight win. Notably, they got a big contribution from their bench, which is probably the team's weakest area.
Reserve guard Jannero Pargo gave them a spark, scoring 24 points in 24 minutes. To make a long playoff run, the Hornets have to shore up the consistency of their bench, now led by Pargo and Bobby Jackson. If the Hornets get improved production from their bench, they will be a viable playoff threat.
My former teammate in Chicago, Hornets center Tyson Chandler, had another strong game, pulling down seven offensive boards, 14 in total. He leads the league in offensive rebounds (4.3 per game). He gives them an active, consistent rebounder who can catch lobs, put home tips, block shots and more.
When teams help on Chris Paul's drives, they have to make a choice on whom to cover. That gives Chandler offensive opportunities. David West, who can step out past 15 feet and hit a shot, also gives them another strong option.
Hornets coach Byron Scott is on track to coach the West All-Stars, if the team still holds the best record on Feb. 3. (Suns coach Mike D'Antoni is disqualified because he coached the West team last year.) Scott coaching the All-Stars in the Hornets' arena would be special, and it looks like Paul is a shoo-in to be on the team, too.
This should be a great opportunity to show how far the city has come since Hurricane Katrina. Although the Hornets aren't drawing well (they are second to last in the NBA attendance), if they keep winning, I think they'll find a way to draw the fans.
Watching Chandler and Portland's LaMarcus Aldridge (17 points, nine rebounds) both play well in this one can't help but bring to mind what could have been in Chicago. Hindsight is always 20-20, but you have to wonder what the Bulls would be like with those two instead of Ben Wallace and Tyrus Thomas to go along with Chicago's perimeter players.
As a fan of the league, it's fun to scour the talent and see who gets on the bandwagon of some players. Aldridge is someone I picked early in the season to be Most Improved Player. So as more people begin to appreciate his game, in my head, I'm thinking "I told you so."
It was clear that he would get his chance with Greg Oden on the shelf for the entire season. Now, when Oden comes back next season, the Blazers will be a formidable 4-5 combo. In the West, having those two strong players up front has been a good formula for teams looking to make that long playoff run
Blazers guard Brandon Roy has his team in position to make the playoffs, well ahead of schedule. Roy faced several double-teams in this one, which is no surprise. As Portland has more success, opposing scouting reports will increasingly be focused on making it tough for Roy to beat you. That means other guys have to knock down shots, and when James Jones, Martell Webster and Travis Outlaw are hitting their shots, the Blazers have more success.
ESPN analyst Jalen Rose is a regular contributor to the Daily Dime. For more about Jalen, visit his Web site: JalenRose.com.
Dimes Past: Jan. 7 | 8 | 9 | 10 | 11 | 12-13 | 14 | 15 | 16 | 17 | 18 | 19-20 | 21 | 22 | 23
Another Suitor For Mighty Mouse

By Marc Stein | ESPN.com
Damon Stoudamire is still trying to extricate himself from the Memphis Grizzlies via buyout, knowing that the Boston Celtics and Phoenix Suns are hot to sign him.
But a third team has emerged as a sleeper to land Stoudamire if the little guard can indeed come to terms with the Grizz on a settlement this month.
Stoudamire, according to NBA front-office sources, is intrigued by the idea of signing with the Toronto Raptors and returning to the franchise that drafted him and gave him the platform to win Rookie of the Year honors in 1995-96.
Sources say, if he does become a free agent, Boston remains the A-1 favorite to sign Stoudamire and add much-needed depth to its backcourt.
And Phoenix is still a strong contender given the Suns' need for someone to ease the regular-season burden on Steve Nash, Stoudamire's University of Arizona connections and time as a teammate in Portland with Suns general manager Steve Kerr.
But don't discount a coming-full-circle return to Canada, with the Raptors forced to look at other point guards because of T.J. Ford's ongoing absence.
A hard hit from Atlanta's Al Horford on Dec. 11 knocked Ford to the floor, sidelining him indefinitely -- and adding to Ford's lengthy history of hard falls and lengthy absences related to spinal problems. Ford is in Houston working with longtime NBA coach and player John Lucas, who also assisted in Ford's recovery from the spinal-cord injury he suffered in Milwaukee that cost him the entire 2004-05 season. No timetable for a return has been established, and with only half of its potent tag team at the point available -- Jose Calderon -- Toronto has been investigating its options.
Yet there's likewise no guarantee that Stoudamire will be able to secure the buyout he's seeking before the Feb. 21 trading deadline. The Grizzlies could elect to hang onto Stoudamire and delay a buyout until after the deadline to see if they can strike a palatable swap for him -- with Denver also interested -- but the sides are talking as the 33-year-old continues to push for an earlier exit.
After beginning the season as the Grizzlies' starter at the point, Stoudamire hasn't played since Dec. 30, and rookie Mike Conley has played more minutes at the position in recent weeks. Stoudamire's earning $4.35 million this season and is due to make $4.65 million in 2008-09, with only half of next season's salary guaranteed. It remains to be seen how much Stoudamire -- who's played for Toronto, Portland and Memphis in a 13-year career -- would have to surrender for the right to pick his next destination.
Marc Stein is the senior NBA writer for ESPN.com. To e-mail him, click here.
Orange Star Looks Like Lottery Pick

By Chad Ford | ESPN.com
At this point, Syracuse forward Donte Greene looks poised to make it six out of six freshmen at the start of the first round. He's drawing some comparisons to Marvin Williams and Rudy Gay with his size, athleticism and ability to shoot. But the truth is, as a freshman, he's already having a more productive season than either Williams or Gay had in college.
Just as importantly, he's also becoming a leader on the team, demanding the ball in crucial situations and delivering for Syracuse down the stretch. He's not quite the talent that Carmelo Anthony was for the Orange, but he's pretty darn good.
We've been steadily moving him up the draft board and he took a big leap in our last rankings, moving all the way up to No. 6 on our latest big board.
• See the full Chad Ford story

Wednesday's Best

Kirk Hinrich, Bulls guard:
In a nightmare season, this was a good dream night. Hinrich registered 38 points, 10 assists and seven rebounds in a rout of Indiana.
---

Wednesday's Worst

Juan Carlos Navarro, Grizzlies guard:
While his Spanish countryman Jose Calderon was tormenting the Celtics, Navarro was netting two points and zero assists in 16 minutes of action in a 112-85 loss to the Magic.
---
Quote of the Night

"This shirt is one half a hot dog away from bustin'."
-- Greg Oden
, talking about his weight gain during a guest spot on the Blazers' game broadcast.
• See Wednesday's daily leaders
-- Andrew Ayres

By ESPN Research

The Miami Heat have lost 14 straight games. Heat coach Pat Riley has coached in all or parts of 24 seasons and has never seen it this bad. In each of Riley's first 13 seasons as coach, his teams won at least 50 games. In each of his first 19 seasons as coach, he finished with a .500 record or better. Only twice have his teams finished below .500, but this season should be the third. And news came down Tuesday that Shaquille O'Neal is out at least two weeks with inflammation of his hip and quadriceps.
Riley's Worst Win Pct. In a Season

Year
W-L
Win Pct.
2007-08
8-32
.200
2002-03
25-57
.305
2001-02
36-46
.439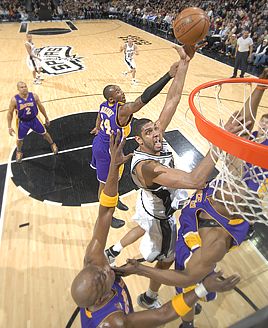 D. Clarke Evans/NBAE via Getty Images
Spurs forward Tim Duncan (28 points, 17 rebounds) showed the Lakers his impressive game in a 103-91 win.

Portland's James Jones currently leads the NBA in 3-point field goal percentage. After making 3-of-8 against New Orleans on Wednesday, he is now shooting 51.8 percent on 3-pointers (56-108) this season. If Jones can improve his current pace, he could record the greatest season ever for a 3-point shooter. The 3-point line was introduced in 1979-80.
Highest 3-PT FG Pct. Single-Season

Player
Pct.
1994-95 Steve Kerr, CHI
52.4
1995-96 Tim Legler, WSH
52.2
1988-89 Jon Sundvold, MIA
52.2