Nathaniel S. Butler/Getty Images
Stein Line's All-Star Reserves

This is exactly how the coaches do it.
As instructed on ballots that went out Friday, coaches in each conference have been asked to vote for seven reserves -- excluding their own players, of course -- for the All-Star Game in New Orleans on Feb. 17. The list of seven players is to be comprised of two forwards, two guards, one center and two wild cards, with each coach ranking his choices from one to seven to give each vote a point value ... but also with the invitation to ignore the positions at which players are listed on the official All-Star ballot if they wish.
The exact wording from the league office: "If the head coach feels a player can play more than one position, he should vote for that player at the position that he thinks is most advantageous for the All-Star team, not necessarily the one he plays most often during the season."
The coaches' secret ballots are due back to the league office by Tuesday, with the reserves to be announced Thursday night. Using the same official guidelines as the X-and-O men, here's how our benches would look:
EAST RESERVES


Forwards: Caron Butler (Wizards), Paul Pierce (Celtics)
Butler has been so versatile and rugged in Gilbert Arenas' absence that this could be a pretty heated Beltway debate: Gil or Caron ... who is Washington's true franchise player? (An aside: Butler is also one of best bargains in the league at just $8.5 million this season.)
It's been easy, meanwhile, to overlook Pierce. He has new teammates named Kevin Garnett and Ray Allen in Boston. But don't forget that the Celtic you take for granted is the guy finishing much of what KG starts at both ends while playing more of an all-around game than ever before.


Guards: Chauncey Billups (Pistons), Jose Calderon (Raptors)
Billups, again, would have been one of my starters
had I actually punched a ballot -- placed ahead of Dwyane Wade because of the depths of Miami's for-the-ages collapse. Then there's Calderon, who probably deserved at least a starter's mention in the last Weekend Dime. He's been even more efficient than the economical Chauncey. How efficient? The Spaniard, not a bad bargain himself at just $2.5 million a season, has averaged 13.8 points, 9.9 assists and just 1.8 turnovers in his 28 starts while shooting 50.7 percent from the floor, 43.4 percent on 3s and 91.2 percent from the line.

All of which helps explain why Toronto hasn't nose-dived without T.J. Ford and why Raps general manager Bryan Colangelo was moved to thank predecessor Rob Babcock on Chad Ford's weekly podcast

for bringing Calderon over. Praise for Babcock, remember, is not exactly Toronto tradition.

Center: Chris Bosh (Raptors)
I know (and I agree): It's not really All-Star Weekend without Shaquille O'Neal. But Shaq will be in New Orleans and I suspect we'll see plenty of the Big LSU. So there's no need for East coaches to vote Shaq in on a lifetime achievement basis, especially when he's not even healthy to play. East coaches, furthermore, don't have to fudge at all to vote for Bosh. The lefty indeed plays plenty of center for the Raps and the rules, as noted above, allow coaches to vote for players at the position "most advantageous for the All-Star team" and "not necessarily the one he plays most often during the season." So Bosh is clearly the best fit here, especially because he's gradually getting healthier and more dominant and with Rasheed Wallace urging the coaches to evaluate him on purely statistical terms. Which would ensure that Sheed gets to stay home all weekend.


Wild Cards: Antawn Jamison (Wizards), Rip Hamilton (Pistons)
There are only five 20-and-10 guys in the entire league and Jamison, as the other chief catalyst in Washington's gritty Arenas-less run, is one of them. Yet there are actually several contenders for the last spot on the roster in spite of the East's ongoing ability to disappoint us as a group: Hedo Turkoglu, Joe Johnson, Gerald Wallace and two of our favorite lefties -- Michael Redd and Josh Smith -- all have a case.
The traditional Stein Line tiebreaker, though, naturally led us to make a team-success choice between a second Piston (Hamilton over Sheed) and a third Celtic (Allen). And Rip prevails. As much as I'd like seeing Boston's entire trio of prominence prominence (don't want to offend anyone by calling them anything more) on the All-Star stage, even Ray would have to concede that Rip has been sharper for a fellow 30-game winner.
The Line's 1-to-7 East Order:
1. Billups, 2. Butler, 3. Pierce, 4. Bosh, 5. Calderon, 6. Jamison, 7. Hamilton
---
WEST RESERVES


Forwards: Dirk Nowitzki (Mavs), Carlos Boozer (Jazz)
We repeat: Dirk's November struggles were overblown and he's been up to his usual standards for a while now anyway. So he'll be a unanimous choice for West coaches. As for Boozer? A double-double monster who will likely be unanimous, too.


Guards: Chris Paul (Hornets), Steve Nash (Suns)
The easiest calls of all, so we'll spare you the fancy elaboration. Even with the West's ridiculous guard depth, Paul and Nash are the most automatic reserves in circulation.
Center: Marcus Camby (Nuggets)


In no way do the Nuggets deserve three All-Stars. Especially not this February in the insanely deep West. So if Amare Stoudemire winds up here in real life, there will be no protest forthcoming from Stein Line HQ. But Camby was my starting center last week and, based on my rules, this spot has to be his, even after the fans unexpectedly voted in Carmelo Anthony and Allen Iverson.

The NBA's Big Man Renaissance is mostly happening in this conference, with Amare progressively regaining strength and pop after his third knee surgery and the major leaps and/or returns to health we've witnessed from Chris Kaman, Andrew Bynum, Tyson Chandler, Al Jefferson, Andris Biedrins and Brad Miller.

But I still say Camby has had the best first half of any center in the West. He has had more all-around impact on his team, even, than Yao in Houston.


Wild cards: Brandon Roy (Trail Blazers), Baron Davis (Warriors)
In most seasons you'd be trying to give Phoenix, Dallas and San Antonio -- or at least one of those powerhouses -- two All-Stars. This season? You don't know what to do, even after the fans helped out slightly by nudging Iverson into a starting slot that initially looked like it was going to the injury-tortured Tracy McGrady. AI was thus removed from the reserve mix and T-Mac admitted that he doesn't merit consideration this time, so we can proceed to the rest of the muddle.

Portland, for starters, really deserves a representative after its Cinderella rise from a 5-12 start. I'd argue the same for Golden State's rally from an 0-6 launch, even if that leaves us with a "War and Peace" type list of exclusions, headlined by a starry cast featuring Shawn Marion, Josh Howard, Manu Ginobili, Tony Parker and Deron Williams. Yet we're going with Roy as the only choice to rep the Blazers and giving the last spot to Baron, in a c-l-o-s-e call, which is further complicated by the fact that it means excluding Stein Line favorite Stephen Jackson. But we're pretty sure that Captain Jack -- in his role as the Warriors' emotional compass -- would insist that Davis goes back to New Orleans as the Warriors' supreme talent and their first All-Star since Latrell Sprewell in 1997. That said, how could you mount a committed counter if the coaches go for Manu, D-Will or Josh? It's that tight.

The Line's 1-to-7 West Order
1. Paul, 2. Nash, 3. Nowitzki, 4. Boozer, 5. Camby, 6. Roy, 7. Davis


Marc Stein is the senior NBA writer for ESPN.com. To e-mail him, click here.
For much of the past decade and a half, Clippers owner Donald Sterling has rarely granted interviews. That contrasts to his first decade of ownership, when Sterling frequently granted interviews that merely illuminated how rarely he and his basketball people were on the same page.
We were reminded of those long-ago follies this week when Sterling consented to an unexpected chat with the Los Angeles Times and wound up suggesting that the jobs of coach Mike Dunleavy and longtime general manager Elgin Baylor were in jeopardy. Jabs between Dunleavy and management have continued to flow in the Times.
You'd nonetheless struggle to find anyone predicting that Dunleavy or Baylor are going anywhere ... unless they choose to. This would appear to be an occasion where Sterling, after investing more cash in the Clippers over the past few years than he did during the previous two decades combined, could no longer bottle his frustration after several home losses and a lengthy silence.
Baylor has worked at Sterling's side for the last 22 seasons. He's weathered far rockier times than this and certainly couldn't do a whole lot to prevent the Elton Brand/Shaun Livingston injuries that put the Clippers on course for the 13-25 misery that Sterling never expected after writing all those checks. And Dunleavy seems especially safe in the first season of a four-year contract extension worth an estimated $22 million. He makes far more than any of his predecessors and Sterling has a well-chronicled distaste for paying coaches not to work. So it's hard to imagine someone else coaching what might just be a pretty potent front line someday -- Chris Kaman and a healed Brand -- anytime soon.
The tougher read is forecasting whether Dunleavy will be able to push through a Corey Maggette deal before the Feb. 21 trade deadline and, on a larger scale, how much influence on personnel decisions he'll have going forward. Dunleavy clearly wants to be the No. 1 shot-caller on the basketball side and NBA front-office sources maintain that he's been urging the Clippers to trade Maggette for some two years. But Sterling is Maggette's biggest fan and Baylor likes him, too, making them reluctant to part with Maggette even though they could lose the swingman without compensation this summer when he hits free agency in July.
---
As part of the back-and-forth with Sterling, Dunleavy announced that his bosses vetoed an offseason trade with Dallas that would have sent Maggette to the Mavericks for guard Jason Terry and a first-round pick.
The Mavericks, for the record, insist that no such deal was ever close, maintaining their summertime stance -- which they say they shared directly with Terry -- that they were only willing to part with Terry in a deal (or series of moves) that would have landed the likes of Kevin Garnett or Kobe Bryant.
Given Dallas' abundance of wing players (starting with Josh Howard) and its ongoing quests to add perimeter shooting and improve its passing, trading a marksman like Terry for Maggette makes little sense.
Bryant, incidentally, reiterated his early season interest in the Mavs after a Lakers practice in Dallas on Thursday, when asked if his own battles with management between May and October actually ended as well as they possibly could with teammate Andrew Bynum developing so quickly and the Lakers blossoming into a rising threat in the West.
With a laugh between sentences, Bryant said: "It certainly seems that way. Unless they were going to send me here to Dallas with Dirk [Nowitzki], you know what I mean?"
The Mavs, you'll recall, were frequently mentioned as one of the few teams Bryant -- who's eligible for free agency in the summer of 2009 and who possesses the NBA's only active no-trade clause -- was willing to join if he could convince the Lakers to trade him. Kobe confirmed Dallas' presence on his wish list just before Christmas in New York by disclosing the four teams (Mavs, Bulls, Suns and Knicks) he targeted after initially demanding to be traded.
---
Don't think anyone will complain -- I know I certainly won't -- but we're about to see what must be record-setting levels of Suns exposure.
In two forthcoming stretches sandwiching the All-Star break, Phoenix plays six straight games on national TV.
The Suns play host to Washington on Feb. 10 on ESPN and visit Golden State in another ESPN game Feb. 13. On Valentine's Day, Phoenix plays host to Dallas on TNT in the final game before All-Star Weekend, then comes out of the break with three more national broadcasts: Lakers at Suns on ESPN on Feb. 20; Celtics at Suns on ESPN on Feb. 22; and Pistons at Suns on ABC on Feb. 24.
Caron (D.C.):
Are you a believer in the Wiz? Wait until my boy Gil comes back.
Marc Stein: I like them, yes. But define "believer."
Jesse (Michigan): This may be a really stupid question, but is it possible that the Celtics would have been better off not making the Ray Allen trade? Would the depth of Wally, Delonte and whomever they would have selected with the fifth pick (rumored to be Yi) be more useful over the course of 82 games plus the playoffs? I guess you can't really argue with the results thus far, though.
Marc Stein: You raise an interesting what-if with the depth. But putting Ray alongside Pierce is what really made the Celtics attractive to KG, which is what made the deal happen. Don't forget that KG nixed the first trade to Boston before the draft and before Ray got there, which actually would have been a much better deal for Minnesota. The Wolves would have come away with a top-five pick in the June draft in the original scenario. Without Ray replacing his old pal Szczerbiak and joining Pierce, KG probably doesn't agree to the contract extension that Boston said it had to secure before it was willing to give up Al Jefferson.
Ken (Warsaw): Agree that "believer" needs definition. In the case of the Wiz, how about assuming that it means believing this is 1977-78 again, with the forthcoming return of Gilbert Arenas as an uber-sixth man serving as the moral equivalent of the late acquisition of Bobby Dandridge in the Bullets' one championship season?
Marc Stein: Wizards fan in Poland? No less impressive than Washington's record without Gil.
You've also reminded me of one of my first TV memories watching the NBA as a kid, hearing "We Are The Champions" on CBS (I think) as a 9-year-old after Les Bullez won it all. (In truth, I might be screwing up the story and confusing it with Seattle winning the Finals rematch in 1979). Either way, Ken ... relax.
I'll give you that the Wiz are a great story and might give Boston or Detroit more trouble than anticipated in Round 2 ... especially Boston. But I'm not ready to pick them to go any further. Can they really sustain the recent good D? Can Gil really give them something this season? Questions we can't fully answer yet.
AT WORK (Los Angeles, CA): STEIN! I thought that the Power Rankings reflected the best team from the preceding week. Can you please clarify? If it's about the best team in the league, that's fine. The Celtics' ranking would then be justified. But if it's a reflection of the past week, how are the Celtics No. 1 with a 2-2 record?
Marc Stein: Guess I keep making the mistake of assuming that everyone knows the drill by now. The order of the teams is calculated by a subjective mixture of the present and the future. Half and half is the rough approximation, but you can't just focus on one or the other. If you give more weight to the teams most likely to win it all, you would never get enough change to keep the rankings fun and interesting. But if you simply focus on who's hot and who's not, it would just be a list of who has the best and worst streaks ... albeit with great comments.
• Read Stein's full chat


We tackled this
about a month ago
but it comes up on the front-office grapevine even more now: New Jersey is still pushing the idea that it prefers to revamp its roster by moving
Vince Carter
and keeping
Jason Kidd
.
The problem, of course, is that the Vinsanity market is limited, to put it charitably, with Carter in the first year of a four-year, $62 million contract extension and widely perceived to be on the decline as he celebrates his 31st birthday Saturday. The Nets have made multiple attempts since the draft to get Jermaine O'Neal away from Indiana -- first with Richard Jefferson in June and most recently with Carter -- but now O'Neal is pretty much off the trade market anyway after disclosing that persistent knee trouble could force him to miss the remainder of the season. Other than that, it's pretty quiet out there when it comes to Carter.

Which naturally brings us to Kidd.
The Nets have maintained for months, dating to the New York game Kidd missed in December with a headline-making migraine headache, that they don't want to trade him. In addition to Nets owner Bruce Ratner's well-known fondness for Kidd, one interested suitor suggested recently that Nets president Rod Thorn, at this stage of his career, would naturally be reluctant to part with the player who most enabled Thorn to resurrect this franchise.
Yet the grapevine rumblings are likewise growing louder that Kidd's frustration/exasperation is bubbling anew with the Nets in the midst of a 1-8 slide -- thanks to an 0-4 start on their current six-game trip -- and looking like a team that no longer brings it regularly and, worse, has gone as far as it can go as presently constituted.
The Kidd Watch, then, is back on, with Dallas and Cleveland still foremost among the interested. With the trade deadline just under four weeks away, you are advised to follow along closely to see whether A) Kidd makes a renewed push to be moved as many expect and/or B) New Jersey decides its willing to make him available.
---
Unprecedented, yes.
That is indeed the proper word to describe Miami's ongoing freefall.
The longest previous losing streak for a team less than two years removed from winning a championship was an 11-game skid for Chicago in the 1999-2000 season. Yet that Bulls team, don't forget, was still reeling from the losses of Michael Jordan, Scottie Pippen and coach Phil Jackson.
These Heaters still have Dwyane Wade and Shaquille O'Neal and awoke Friday with a 15-game losing streak. The only drought in team history that's longer is Miami's 0-17 start to the 1988-89 season, when it was an expansion franchise.
One of the more surprising aspects of the Heat's demise is the fact that, while they're perceived to be ancient as a group, only four players on the roster are over 30 ... and one of them, 37-year-old Alonzo Mourning, has been lost for the season. Mark Blount (32), Jason Williams (32) and the injured Shaq (35) are the others.
In case you somehow missed this sidebar, furthermore, take note of the citywide slump that has gripped Miami. In the antithesis of what's happening in New England -- where the Red Sox, Patriots and Celtics have all been romping -- Miami has been treated this winter to the 1-15 Dolphins and a Heat team that hasn't won since before Christmas. Even the rebuilding local college football institution was not immune, posting a 5-7 season.
---
The four-man field was announced this week but it remains unclear whether the league will grant Dwight Howard permission to raise the rim to the 12-foot range for one of his slams at the annual All-Star Weekend dunk contest.
Part of Howard's initial vow to never dunk in the contest again stemmed from the denial of his request to have the rim raised in Las Vegas last February. Howard contends that dunking on a 12-foot hoop, like his "Sticker Dunk" that the judges misinterpreted in Vegas, is an ideal way for him to invalidate the belief that big men have it easy when they jam.
The league, though, ruled then that it doesn't want to stray from the standard rules of the game during the dunk contest even though the rim could easily be moved upward thanks to modern hydraulics. Howard's camp is thus pessimistic that permission will be granted this year, too. He will be throwing it down with Toronto rookie Jamario Moon, Memphis' Rudy Gay and Minnesota's defending champion Gerald Green.
Damon Stoudamire hasn't secured his buyout from the Memphis Grizzlies yet, but teams are already queuing up to sign him. On ESPN2's "NBA Coast to Coast," Marc Stein introduces a sleeper team from Canada -- which drafted Stoudamire, remember -- that's hoping to trump Boston and Phoenix for the 1995-96 rookie of the year's signature.
Is there any chance Shaquille O'Neal would actually walk away from the $40 million left on his contract after this season and retire? How worried are the Spurs about their injury-filled December and 11-10 struggles since a 17-3 start? Is any good team more underappreciated than Chris Paul's Hornets? Marc Stein addresses all these burning questions and more with NBA on ESPN Radio studio host Marc Kestecher.
• Listen to the interview

As usual in his visits with Galloway & Company on ESPN Radio in Dallas (103.3 FM), Marc Stein eventually got around to discussing the state of the deeper-than-ever Western Conference.
But first, knowing The Line's deep passion for English football, Galloway couldn't resist grilling him about the growing campaign waged by furious Liverpool fans to goad American owner Tom Hicks (who also owns the Dallas Stars and Texas Rangers) and partner George Gillett (Montreal Canadiens) into selling the club.
Galloway & Co.

"I think that he's just been a basketball angel sent to me."
Warriors guard Baron Davis, referring to Don Nelson and hailing Nellie's return as Golden State coach as a key trigger to Davis' resurgence.
Besides the obvious statistical stuff -- he's followed up the Warriors' first-round upset of Dallas last spring by averaging 22.2 points, 8.1 assists, 4.7 rebounds and 2.4 steals in Golden State's best start since the 1993-94 season -- Davis has appeared in all 44 games to date. After the 28-year-old got through his first three seasons without missing a game, Davis has reached the 60-game barrier only twice in the past five seasons, including last season's 63 games.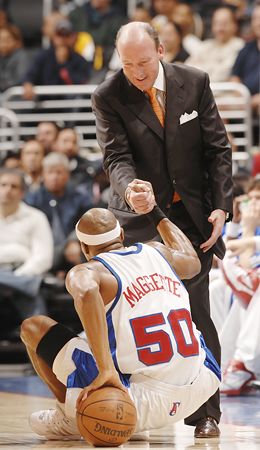 Noah Graham/Getty Images
As chummy as they look here, Clippers coach Mike Dunleavy has pushed to move Corey Maggette for some time. But pulling that off before the trading deadline won't be easy given Donald Sterling's fondness for Maggette and new front-office tensions.

Five questions with Sonics forward
Wally Szczerbiak:
Q: Did you have much advance notice that a trade was going down on draft night?
A: No idea. It totally took me by surprise. Coming off major ankle surgery and only playing 32 games [last season], I didn't think anyone would really want me. I turned on the draft and, all of a sudden, boom. But I worked hard this summer. I feel great, I feel healthy and I knew I would after all the hard work I put in. I've still got a lot left, I think.
Q: You've never been on a team that's lost as much as this one has. How are you handling it?
A: It's not easy, it's not easy. But I feel great. I'm regaining my old form and just enjoying playing again. That's the best part. Basketball is fun no matter what you're doing. I just try to get in there and enjoy playing with my teammates. I've said it all along: There's not a bad guy in this locker room. They're all great guys and we're all trying to figure it out.
Q: Weren't you expecting this kind of season once you got to Seattle and knew you were joining a team so young?
A: No. I wanted to come in and try to be the leader. I was healthy and I wanted to try to help replace Ray Allen and Rashard Lewis, but the franchise had alternate ideas. They wanted to see the rookies out there, play [Kevin Durant and Jeff Green] big minutes. They're doing it kind of backwards, but that's the way they wanted to do it.
Q: So are you following the trade rumors that have mentioned you lately and hoping someone comes in and makes a move for you before the [Feb. 21 trade] deadline?
A: Oh, yeah. Definitely. It's one of those things where you've got to continue to do your job and play wherever you are. But I think the writing is on the wall. We've got Jeff and KD at my position and those are the guys of the future. I don't know if I have time to wait for this rebuilding, so I would definitely welcome [a trade].
Q: Can you give us a scouting report on Durant from your up-close perspective?
A: He's going to be a great player, there's no question. But he's only 19 years old and he's got to get stronger. You can see the talent is there, you can see the attitude is there, you can see the work ethic is there. He comes to play hard every day, he plays injured and he's got a great future in this league. It's just not easy when you're a rookie.