Andrew D. Bernstein/NBAE via Getty Images
Kobe Topper: LeBron Gets The Best Of Bryant

LOS ANGELES -- LeBron James almost felt at home in the Staples Center on Sunday afternoon.
Two of his best friends, Maverick Carter and Rich Paul, were sitting courtside next to another buddy, rapper Kanye West. Nearby were Lynn Merritt, the Nike executive who has become a father figure to James, and, of course, the NBA's omnipresent figure and James confidant, William "Wes" Wesley.
When he left the court after doing yet another victorious national television interview, this one with Michele Tafoya, he had a receiving line that resembled a conquering hero's just to get to the locker room. That included famous Staples Center staple Penny Marshall, who got a hug and, at her request, James' headband from his 41-point performance in the Cavs' 98-95 win over the Lakers.
There were no such pleasantries, however, afforded Kobe Bryant, who headed in the other direction after his fifth straight loss to James and the Cavs.
James has been befriending other stars since before he got into the NBA. His Team USA teammates are some of his closest friends, especially Carmelo Anthony, Dwyane Wade, Jason Kidd and Chris Paul, to name a few.
But Bryant is not on the list.
There was plenty of downtime to chat with Bryant on Sunday, even a 12-minute rain delay in the first quarter when water cascaded from the ceiling.
Then there was the fourth quarter, when James and Bryant went head-to-head at both ends. They barely even exchanged glances.
All NBA stars want to win, but with James and Bryant, it surely seems personal. It was in this one, as they each tried to one-up each other as the game came down to the wire. Bryant had a great performance, scoring 33 points with 12 rebounds, and he nearly led his team to a nice victory. But James was just better, and that's becoming a refrain in their head-to-head matchups.
In the fourth quarter -- the time that has made both men superstars -- James had 14 points, including two huge baskets in the final minute, the biggie being a jumper over Bryant's fingers with 20 seconds left.
With James guarding him in the fourth, Bryant managed just 1-of-6 shooting. He was 1-of-7 overall in the quarter.
On the final play, James defended Bryant and forced him to pass instead of taking the last shot. Last month in Cleveland, James forced Bryant backward and off balance as he missed what would've been a game-winner.
So in a season when both men are serious competitors for a first Most Valuable Player Award, James has taken both meetings by being better in winning time.
Last year, James raised eyebrows when he was quoted in ESPN The Magazine as saying he didn't have the same killer instinct as Bryant. Since then, though, he's been killing Bryant on the court and killing him with kindness off it.
"He's the most talented player in the game," James said in August.
"He's the No. 1 scorer in our league," James said in November.
"Kobe is dominant, he plays on the highest level all the time," he said in December.
"Kobe's still No. 1 to me," James said this weekend when asked whether he thought he could take over the mantle as the NBA's best.
"He's still the best player in the world," James said Sunday.
It's certainly a respectful tone. But it's a subject James is forcing toward a debate. He might not say it, but there's no doubt that's his goal, to surpass Bryant and get what his rival already has, a championship ring.
Fresh off a Finals appearance, having the best season of his career and regularly vanquishing the Lakers, James is off to a good start.
Brian Windhorst covers the Cavaliers and the NBA for the Akron Beacon Journal.
Dimes Past: January 12-13 | 14 | 15 | 16 | 17 | 18 | 19-20 | 21 | 22 | 23 | 24 | 25 | 26-27
Hornets Earning Major Respect

By Chris Broussard | ESPN The Magazine
Speaking of Hornets All-Stars, how about our next "respect is due" guy, David West?
Despite West's All-America credentials heading into the 2003 draft, few GMs thought he'd do anything of significance in the NBA. They considered him a "'tweener'' and told him to either gain 30 or 40 pounds and become a banger, or lose about 20 and become a true three.
But West, 6-9, 240 pounds, has been a power forward all his life, and he wasn't changing for anyone. He believed in himself.
Now, he's one of the best power forwards in the league, one who deserved All-Star consideration.
With per-game averages of 19.7 points and 9.3 rebounds, West is mere fractions from being the league's sixth 20-10 guy.
•Read Chris Broussard's full blog
Talking About Mighty Mouse

Damon Stoudamire is headed for a buyout in Memphis. The ESPN Conversation mulled where Mighty Mouse might land ...
"Damon Stoudamire is a good player. Eddie House is better at the two, and if you press either him or Tony Allen their flaws at point are deadly. He would be a great 'get' for the Celtics, as they won't have to play other players out of position." -- ShammodWilliams
"C'mon Damon, join the King's court and help bring a championship to Cleveland. The city is badly in need of it. you would fit nicely in this lineup." -- tribefan1997
"Mark these words: Isiah Thomas will sign Stoudamire to a 3-year, $21 million contract. Just remember you heard it from me first." -- Cbrown1982

Sunday's Best

Al Jefferson, Wolves center:
Goes off for a career-high 40 points and 19 rebounds in a 98-95 win over the sinking Nets. For what it's worth, he's outdoing KG in points and rebounds. That's win No. 8 for the Wolves.
---

Sunday's Worst

Luke Ridnour, Sonics guard:
Misses all six shots in his 14 minutes of action. That didn't help matters in a 103-101 home loss to the Kings, the Sonics' 14th straight loss.
---
Quote of the Night

"I think he wanted to set it up so he could hit a miracle and make his final bid for the All-Star Game. If we win by seven, no drama. It doesn't make as good of a case."
-- Magic coach Stan Van Gundy
, joking about Hedo Turkoglu's winning 3-pointer against Boston.
• See Sunday's daily leaders
-- Andrew Ayres

By Andrew Ayres
ESPN.com

Defending champion San Antonio opens its annual "Rodeo Road Trip" on Monday in Utah. The Spurs, 28-14 and currently the No. 5 seed in the West, will play on the road while the San Antonio Stock Show & Rodeo takes place in the AT&T Center.
The Spurs won't return home until after the All-Star break. Here's a look at their road games, with a ballpark prediction that San Antonio will go 5-4 on its forced sojourn.
San Antonio Spurs, Next 9 Games

Category
Stat
Prediction
Monday
at Utah
Loss by 7
Tuesday
at Seattle
Win by 11
Thursday
at Phoenix
Loss by 3
Feb. 5
at Indiana
Win by 6
Feb. 6
at Washington
Loss by 8
Feb. 8
at New York
Win by 11
Feb. 10
at Boston
Win by 5
Feb. 11
at Toronto
Loss by 4
Feb. 13
at Cleveland
Win by 4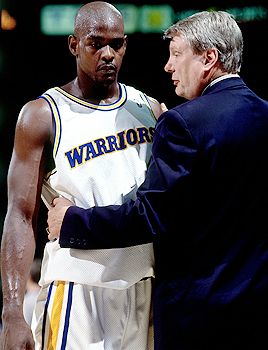 Sam Forencich/NBAE via Getty Images
Back in 1993, Chris Webber and coach Don Nelson began butting heads. But they might be back together again, Marc Stein reports.

Andris Biedrins grabbed an NBA season-high 26 rebounds to help the Warriors to a 106-104 home win over the Knicks.
Denver's Marcus Camby and Phoenix's Shawn Marion each had 24 rebounds in a game this season. The last player with more rebounds in a game was Ben Wallace, who had 27 on Dec. 15, 2006, for Chicago.
According to Elias, it was the most rebounds in one game by a Warriors player in more than a quarter-century -- since Larry Smith grabbed 31 against the Nuggets on March 28, 1981.
• More telling numbers from Elias