Melissa Majchrzak/NBAE via Getty Images
As Usual, Spurs Will Hit Stride Soon. Or Will They?

I've been getting some cross-eyed looks regarding the relative positions of Utah and San Antonio in the Power Rankings. The Jazz, although they entered Monday in ninth place in the West, were fourth in the Power Rankings, while the defending champion Spurs were only 11th.
Moreover, the Spurs were projected by our Playoff Odds to have only a 75.9 percent chance of making the playoffs, compared to Utah's 94.4 percent. Even after Utah's 97-91 win over San Antonio on Monday, it seems almost absurd to suggest that San Antonio could miss the playoffs, let alone to assign them a 1-in-4 chance of doing so.
This reveals both the best and the worst about computer models -- they don't know history and personalities. In this case, the Power Rankings and Playoff Odds didn't know San Antonio has made a huge second-half surge nearly every year of the Tim Duncan era. Nor did they know the catalyst for that surge, the so-called "Rodeo Road Trip", started Monday in Salt Lake City -- over the past five years, the Spurs are 30-9 on this excursion.
But maybe that's a good thing. Because if you are blithely expecting the Spurs to turn it on just like they always do, I should warn you that their play of late hasn't exactly smacked of a team building toward greatness.
San Antonio began the year looking like a champion, roaring out of the gate 17-3. Since then, it is only 11-12, and not a particularly good 11-12. Thirteen of the games were at home, and only one of the victims had a winning record.
An optimist would point out that there was only one truly bad loss in the bunch, Saturday's 102-78 waxing by the New Orleans Hornets, but that would miss the larger point. Over the past 23 games, San Antonio has beaten all the bad teams and lost to all the good ones. In other words, it has been an average team.
Average doesn't cut the mustard in these parts, which is why the Spurs still look like a team trying to find itself. We saw that again Monday, as coach Gregg Popovich continued to search for combinations that would work. For instance, Matt Bonner sat the first three quarters but played nearly the entire fourth, primarily because Robert Horry and Francisco Elson once again delivered little.
On the perimeter, the absence of Brent Barry and the struggles of Bruce Bowen are hampering a team that depends on the longball. Bowen made five of his past 28 3s and was 10-of-51 from the field in his past 12 games. In an increasingly common sight, he lost crunch-time minutes to Ime Udoka on Monday -- at least until Udoka's moronic ejection with 1:27 left in a two-point game.
That was the other shocking thing Monday -- some of the mental stuff seemed downright un-Spurs-like. The Spurs took bad backcourt fouls with the Jazz in the bonus, got the killer tech on Udoka and another on Duncan, and degenerated into a Manu Ginobili-on-five offense any time the second unit was on the floor. They made 20 turnovers, and only a rare bout of free-throw accuracy (25-of-28) kept things interesting.
Of course, we shouldn't begin composing epitaphs just because the Spurs lost on the road by six to a fellow title contender on a rare night when Andrei Kirilenko couldn't miss a jumper. Let's face it: At least two-thirds of the league's teams would kill for San Antonio's problems. The Spurs still have the fourth-best record in the conference -- two games ahead of the Jazz, mind you -- and a solid plus-4.7 average scoring margin. Given that, how can we say there is a 1-in-4 chance they are headed to Lottoville?
Here's how: Unlike the Jazz, the tough part of the Spurs' schedule is still to come. Like I said, the computer doesn't know San Antonio's history in past seasons on the rodeo trip. But given the Spurs' recent play and the upcoming games (Phoenix, Cleveland, Toronto, Washington and Boston, among others), it looks like a doozy.
Not only are the Spurs' next eight games on the road (after they played 25 of the first 42 at home), but following the rodeo trip, the schedule remains rough. The likes of Dallas and Phoenix have been backloaded into March and April to create national TV games, meaning many of the cupcakes are already out of the way -- 25 of the Spurs' final 40 games are against teams with winning records.
Even with all that, it's still hard to imagine a San Antonio team with the likes of Duncan, Tony Parker and Ginobili missing out on the playoffs entirely. But throw in an ankle sprain to one of those three and put them in a conference where 48 wins might be needed to gain entry to the postseason, and it's a different story. That's why the Playoff Odds say there's a 1-in-4 shot of the unthinkable happening.
In the meantime, San Antonio obviously has much loftier goals than just making the playoffs. Yet as the rodeo trip begins, Utah looks much closer to being championship caliber than the four-time champs do. Maybe that's because the Spurs are lying in the weeds, like they've often done, busily preparing their annual February surge.
Or maybe something is truly different this year. Based on how the Spurs have played over the past month and a half, we shouldn't dismiss that possibility too rapidly.
Dimes Past: January 14 | 15 | 16 | 17 | 18 | 19-20 | 21 | 22 | 23 | 24 | 25 | 26-27 | 28

Frank Costanza (NY, NY): How can Golden State go and sign Chris Webber? He's going to need a Rascal just to get up and down the floor!
Marc Stein: Think you meant George Constanza. It was George who had the Rascal, not Frank. Anyway … Golden State says it needs Webb for when the game slows down and they need to get something out of their halfcourt sets. The Warriors also need his passing and desperately need size up front. I love the move. Great story for us media types and an inexpensive headline-making dice roll for the GSWs.
Frank Costanza (NY, NY): I know who I am! My son couldn't take part in an intellectual discourse such as this. He's an idiot … and Webber is broken!
Marc Stein: Glad we cleared that up, Frank. But I bet you a Water Pik that I'm right and my basketball people are right and that you are wrong. This won't turn out like Jay Buhner and Ken Phelps.
Doug (Baltimore, MD): On "First and 10", they are arguing about whether they'd take Kobe Bryant or LeBron James to start their team. I'd have to take LeBron and his improved defense after Kobe went 1-for-6 while LeBron guarded him in the fourth quarter yesterday. Who you got?
Marc Stein: If I have to make the choice today, it's still Kobe. He's done more, seen more and still has a lot left. But LeBron is obviously closing the gap faster than anybody else could.

By Eric Karabell | ESPN Fantasy Games
Chris Andersen is an athlete who doesn't offer much offensively, but he was one of the better per-minute rebounders and shot-blockers when he was playing. According to ESPN.com's Chris Sheridan, Andersen became eligible to apply for reinstatement Sunday, and he's interested in coming back to the league as soon as possible.
The league could reject his application, but if he's clean and he makes it back, look for the Hornets, Andersen's last team in 2005-06, to bring him back. Andersen brings defense, energy and some interesting dunks to the table, and fantasy owners could use the blocked shots. Andersen has averaged 1.4 swats per game in his career, in just 16.6 minutes. For perspective on that stat, consider that only 26 players are averaging more than 1.4 blocks per game this season, and 18 of them are averaging at least 30 minutes per game. Andersen has value.
•See the full Eric Karabell fantasy blog

Monday's Best

Chris Paul, Hornets guard:
His 23 points, 17 assists and nine rebounds had the New Orleans crowd breaking out the "M-V-P" chant. That added up in a 117-93 thrashing of the Nuggets.
---

Monday's Worst

Marcus Camby, Nuggets center:
After some epic games, the Cambyman's clunker came at a bad time, head to head against Tyson Chandler, a rival for a West All-Star berth. Chandler finished with 10 points and 16 rebounds. Camby finished with three points and five rebounds.
---
Quote of the Night

"I definitely feel like I should be in the All-Star Game. I've worked hard all year, I've helped my team win basketball games and I really feel like that's what being an All-Star is all about."
-- Hornets center Tyson Chandler
, on his candidacy for an All-Star berth.
• See Monday's daily leaders
-- Andrew Ayres

ESPN Research

Kobe Bryant has to love playing the Knicks, whom his Lakers host Tuesday. In his past four games against the Knicks, Bryant averaged 38 points. The last time these two teams faced each other, Kobe made history. He became the youngest player in NBA history to reach 20,000 points when he dropped 39 in New York.
Bryant: Past 4 Games Vs. Knicks

Category
Stat
Wins
3
PPG
38.0
FG pct
44.6
3-pt FG pct
40.0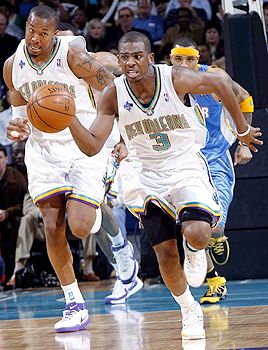 Layne Murdoch/NBAE via Getty Images
Hornets guard Chris Paul's near triple-double helped send New Orleans to its ninth straight win. His 23 points and 17 assists made this his fifth game of at least 20 points and 15 assists.

Tim Duncan was the only player in the San Antonio starting lineup who scored more than five points Monday. The Spurs have had only one other game since joining the NBA in 1976-77 in which only one starter scored more than five points. On Nov. 18, 1980 at Atlanta, George Gervin scored 35 while the other four starters combined for only nine.
• More telling numbers from Elias