Barry Gossage/NBAE via Getty Images
Even In A Slump, Spurs Are Formidable

PHOENIX -- This is why it's never wise to start writing obituaries for the San Antonio Spurs in January.
They can still play defense and they can still give the ball to Tim Duncan when they need a basket.
Even in their dilapidated state the Spurs managed to derail the Phoenix Suns' fun train. They overcame a hostile crowd and got back to the bare essentials of what they do right, and in doing so, they managed to get their first victory in a week.
They did it with some classic Spurs basketball, all of a sudden clamping down on defense and executing on offense. Down by four with a little more than a minute to play, the Spurs got a Michael Finley 3-pointer off a kick-out pass from Duncan, came up with two steals on defense and watched Duncan make a 10-foot bank shot for the go-ahead points.
With that, even on a night they trailed most of the game, San Antonio emerged with an 84-81 victory Thursday and seemed to rediscover a little bit of its championship formula.
They were the first to admit it was painful to watch and they probably wouldn't have blamed anyone for switching over to the season premiere of "Lost." But the Spurs are past being picky. Heading into Thursday's contest, San Antonio had lost three consecutive games and five of its previous eight. And with each setback the Spurs lost a little bit of the inherent edge they hold over the rest of the Western Conference.
It was fair to ask the question: Do we give the Spurs the benefit of the doubt for their past experiences, or do we doubt the Spurs will benefit from their past experiences?
At what point do they go from "veteran" to just "old"?
Now the Suns have to ask themselves if they can't beat this San Antonio team at home with Tony Parker and Brent Barry out of the lineup, what's to keep the Spurs from knocking Phoenix out of the playoffs … again?
The Spurs were pretty candid about how much they needed a sign that they can regain their footing.
"We did a good job defensively against a team that can really score, and that's most important for us because it give us that confidence as [the] playoffs approaches," Gregg Popovich said. "That's who we have to be.''
Lately, even when the Spurs have won games, they haven't done so in impressive fashion. Thursday's win was only their second victory over a team with a winning record since Dec. 17.
Manu Ginobili said: "We've proven before what we're capable of, but we needed it for ourselves. We were not playing good at all. We were feeling kind of frustrated. So Coming here and wining -- not playing great, but winning -- is a great feeling."
Popovich, who feels his team is wrongly cast as a slow-it-down squad, reminded reporters that the Spurs can and will play up-tempo. But it's a lot harder for them to without Tony Parker.
Parker has a chronic inflammation in his left ankle, the result of a bone rubbing against the ligaments. He received anti-inflammatory shots on Thursday and Popovich is adamant that Parker rest for at least three weeks. The coach sounded as if he were ready to change the access codes to the practice facility if that's what it takes to keep Parker off the court.
The question is whether the pain and limitation will plague Parker after he returns and through the playoffs.
For now, the Spurs will get some additional scoring punch from the point guard spot with the signing of Damon Stoudamire, which is expected to happen Friday.
But the Spurs gained a little something without a transaction Thursday night. "It's a game of emotion and focus and will and desire and that kind of thing," Popovich said. "I think we showed that we still have that."
J.A. Adande joined ESPN.com as an NBA columnist in August 2007 after 10 years with the Los Angeles Times. Click here to e-mail J.A.
Dimes Past: January 18 | 19-20 | 21 | 22 | 23 | 24 | 25 | 26-27 | 28 | 29 | 30 | 31
Questioning Deal From Mavs' Standpoint

By Chad Ford | ESPN.com
Eddie (Hoboken, N.J.): What's the latest on the three-way Jason Kidd trade? Do you like that trade for the Nets? Kinda sounds like Portland gets the shaft to me, no?
Chad Ford: For those of you following the latest: It had Kidd going to Dallas, Devin Harris going to Portland and Jerry Stackhouse, Jarrett Jack, Travis Outlaw, Channing Frye and others going back to NJ.
My response? What is Dallas thinking? Listen, I know every NBA veteran in the league wants Jason Kidd to be his point guard. I'm sure Dirk Nowitzki is clamoring for him. He may help the Mavs this season. Maybe next. But he's on the downward arc of his career and, statistically at least, Harris is better. In two or three years it will be no contest who's better.
That's why Portland, in my view would make this trade. Kevin Pritchard knows how hard it is to get a top-flight, young point guard in the league. He gives up role players and nothing else for Harris. Put Harris and Brandon Roy in the backcourt and Greg Oden and LaMarcus Aldridge in the frontcourt and you've got the makings of a future championship contender.
As for NJ … I don't really like anything they're getting besides Outlaw … but he plays the same position as Richard Jefferson. Why aren't they after Harris?
Ivan (Toronto, ON): Help me understand Portland's point of view, Chad. They drafted Sebastian Telfair as their franchise point guard … changed their mind and decided Jarrett Jack had the stuff … also got Sergio Rodriguez who played some good backup last year … now figured Steve Blake is better than both of them … and now decided that they are all expendable and are interested in Harris? Why do they keep changing their mind?
Chad Ford: Because Kevin Pritchard knows point guards and he didn't draft Telfair or Jack. He wanted Chris Paul but he was overridden by John Nash and they traded down and took Martell Webster instead. He believes that for the Blazers to be a championship contender, they need an elite point guard. Harris may not be as good as Paul or Deron Williams, but he's got more talent than anyone they have on their team and he's just 24 years old.
Damon Could Be Fantasy Factor

By Eric Karabell | ESPN Fantasy Games
Damon Stoudamire could replace Jacque Vaughn in San Antonio, and although we scoff at the fantasy repercussions, I could see this paying immediate dividends. Stoudamire was averaging 7.3 points and 3.9 assists, pedestrian numbers to be sure, but look at the situation in Memphis. He wasn't happy, the team was losing. We all know how tough it is to get motivated to play hard for "only" $4 million. Stoudamire hasn't played at all in January, but he's not hurt.
Only three seasons ago in Portland, Stoudamire was getting 15.8 points and 5.7 assists, with 2.2 3s per game and a 91.5 free-throw percentage. I don't suspect he'd come close to that with the team-oriented Spurs, but 10 and 5 with some 3s, why not? Stoudamire is 34 now, but he could still help a team, real or fantasy. Sebastian Telfair is owned in 40.6 percent of ESPN leagues. Randy Foye is already up to 72.9 percent. Anthony Carter is at 64.8 percent. The conclusion to draw here is that fantasy owners are desperate for point guards. Watch for Stoudamire to become the most-added player in ESPN leagues any day now.

Thursday's Best

Rajon Rondo, Celtics guard:
The 6-foot-1 guard had a season-high 12 rebounds, heisting a board from Dirk Nowitzki and putting in a reverse layup with 42 seconds left. It was the key play in a 96-90 win over the Mavs. .
---

Thursday's Worst

Leandro Barbosa, Suns guard:
His missing ways (2-for-12) didn't help the cause against the Spurs. Five points? This is a guy who dropped 39 on the Magic earlier this season.
---
Quote of the Night

"What are you going to do when guys are open? If I catch the ball, what am I going to do, go one-on-three?"
-- Lakers guard Kobe Bryant
, after failing to get a last-second attempt in a 90-89 loss to the Pistons.
• See Thursday's daily leaders
-- Andrew Ayres

By Jon Kramer
ESPN Research

Tony Parker will sit indefinitely because of a bone spur in his left heel. It's interesting that since 2001-02, the Spurs are right around .500 without Parker. The same is true when they're missing Tim Duncan. The Spurs are 2-5 when both are out of the lineup.
How Spurs Fare With Duncan, Parker In And Out Of Lineup

Player
W-L In
Pct.
WL Out
Pct.
Parker
370-140
.725
14-13
.518
Duncan
365-134
.731
19-19
.500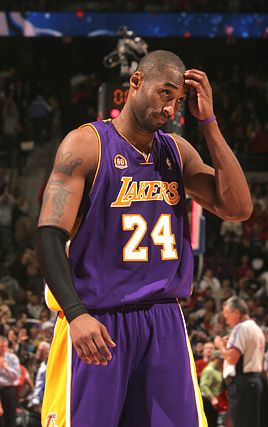 Photo by D. Lippitt/Einstein/Getty Images
Kobe Bryant walks away following a loss to Detroit in which he had 39 points and 11 turnovers.

By Elias Sports Bureau
Some NBA experts expected at least one player from the Golden State Warriors to be selected to the Western Conference All-Stars - either Baron Davis or Stephen Jackson. No Warriors were selected, and the team's streak now stands at 11 straight seasons without an All-Star, the longest current streak in the NBA. The Warriors last All-Star was Latrell Sprewell in the 1997 game.