Nathaniel S. Butler/NBAE via Getty Images
Gasol Debut Leaves Kobe Pain-Free

EAST RUTHERFORD, N.J. -- You know who really won Super Tuesday?
Kobe Bryant
, that's who. Here's a guy whose pinkie finger went one way when the rest of his hand went the other when he tried to steal the ball from
Jason Kidd
during the second quarter of a 105-90 victory over the Nets on Tuesday night, resulting in a dislocation near the base of the finger. Bryant scored only six points -- failing to reach double figures for the first time this season -- but it hardly mattered;
Pau Gasol
took over midway through the fourth quarter and made key plays on five of six offensive possessions to lead the decisive run. "It's going to be much more difficult for defenses to come up with schemes against us, and you saw that tonight," said Bryant, who let out a "There is a God, there is a God" quote in his postgame television interview immediately after the final buzzer. You really can't fault Bryant for temporarily going to the deity, not after bearing witness to Gasol's 24-point (on 10-for-15 shooting), 12-rebound performance. Gasol looked surprisingly comfortable in the triangle offense, especially taking advantage when the Nets tried to front him in the low post, easily converting several over-the-the-top passes, as well as dishing a sweet no-look, over-the-head pass to
Derek Fisher
(28 points) for a layup. "It's going to make his life a lot easier," Bryant said. "He'll either be able to catch and finish or catch and shoot." As Bryant spoke, he noted that his dislocated finger was beginning to throb. The Lakers' athletic trainer had popped Bryant's finger back into place at halftime, and the endorphins were wearing off some 45 minutes after the final buzzer. "I can feel it, but it feels like it's not there," Bryant said afterward, vowing to play through the injury Wednesday night in Atlanta rather than risk the voice message wrath of the old-school types he tries to emulate. "They'd look at me like a chump if I didn't play. I'd get a call from M.J., I'd get a call from Harp [Ron Harper] and you don't want those calls." Bryant had a twinkle in his eye and a jovial pitch to his voice as he prepared to move on to Destination No. 5 on the Lakers' arduous nine-game road trip. His demeanor was only noteworthy because the Kobe we've grown used to seeing for the past three seasons was rarely so giddy. He was in such a good mood, in fact, that he gave an exclusive one-on-one interview in Italian to one of the many Euro-journalists who regularly frequents the Meadowlands and Madison Square Garden (a huge coup in that small international subset of the sports journalism universe). "Almost five mee-nutes!" the reporter said disbelievingly moments later, stunned by his good fortune. He might even have been the second-happiest guy in the building behind Kobe, who raved about Gasol. "I watched him play so many times, I know his skill level and what he can do, and this offense is perfect because he can showcase his versatility as opposed to being in Memphis where he had to hug the post or go out and set pick-and-rolls," Bryant said. "Here, he's being asked to make plays and asked to make decisions with the basketball, and he can showcase a little more of what he has, which is what he does for the Spanish national team. He's an incredible player. He makes everybody's life easier. It makes the game simple. It's fun." And so it began, Bryant's and Gasol's lives together as teammates on what -- at least for the Lakers -- truly was a Super Tuesday.
Chris Sheridan covers the NBA for ESPN Insider. To e-mail Chris, click here.
Dimes Past:
January 25
|
26-27
|
28
|
29
|
30
|
31
|
February 1
|
2-3
|
4
|
5

Alex: Why would the Lakers even need Jason Kidd? His contract's huge. Derek Fisher and Jordan Farmar handle the point quite well and are better shooters than Kidd.
John Hollinger:
That's pretty much my sentiment. And let me throw in another thought too -- if you're renting a point guard for the next 16 months, would you rather it be Kidd or
Andre Miller
? Obviously, Kidd's past is superior, but he's four years older and makes more than twice as much, and Miller is playing great right now.
• See the full John Hollinger chat
Shaq For Marion? Let's Talk About It

What the ESPN Conversation is saying about the proposed Shaq-to-Suns deal:
The Suns have no chance to beat the Spurs or Lakers with Shawn Marion so why not try something new? And who cares how much it's going to cost. We have like one more season after this to win a championship with Steve Nash. After that it's back to rebuilding anyways. -- stat32111

Tuesday's Best

LeBron James, Cavs forward
-- Goes for 33 points, 12 rebounds and nine assists in a114-113 win over the KG-less Celtics. Just another day in the life of the King.
---

Tuesday's Worst

Antawn Jamison, Wizards forward:
Too many misses helped deliver a fourth straight loss. Jamison missed 17 of 23 shots in the 101-96 loss to the Sixers.
---
Quote of the Night

"I know he likes warm weather."
-- Kobe Bryant,
on learning of the possibility of Shaquille O'Neal heading to Phoenix.
• See Tuesday's daily leaders
-- Andrew Ayres

By Jeremy Lundblad
ESPN Research

When the Memphis Grizzlies endured a 102-97 loss at the hands of Milwaukee Bucks, it put a stamp on the worst start by an NBA team in its first 1,000 games .
Fewest Wins In First 1,000 Games

Team
Wins
Grizzlies
331
Cavaliers
386
Timberwolves
391
Clippers
393
Pacers
397
Jazz
405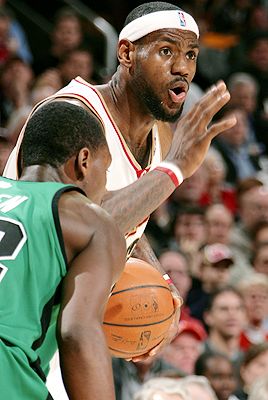 David Liam Kyle/NBAE via Getty Images
LeBron James shouts out a play while guarded by Boston's Tony Allen.
NBA commissioner David Stern told ESPN Radio's Colin Cowherd that he thinks the first half of the NBA season has been successful. He talks about the mess in New York, revisiting the pension issues with players and discusses Kobe's reputation and career.
Stern Talk