Nathaniel S. Butler/Getty Images

Don't worry, Dime devotees. The busiest February in 15 seasons of NBA coverage at Stein Line HQ could only slightly delay what always happens here after teams pass the 54-game mark.
Second Trimester Report!
Regular readers know that we love to divide the season into thirds. Teams actually entered the weekend in the 60-game range because we always have to push this report back a week until after the trade deadline, but we are free now to proceed with our usual scan through the various award races.
West MVP, Two Trimesters In

Kobe Bryant, Los Angeles Lakers
Does Kobe rank as the best player ever seen in this league who has never been named MVP?
Will we still be asking this in May?
Not if he keeps this up.
Through two-thirds of the season, Chris Paul has been no less than the best point guard in a Western Conference teeming with great ones, thrusting New Orleans into the West's elite when pretty much no one expected that. It's also true that nobody handed Paul's Hornets anyone close to Pau Gasol -- or even Derek Fisher -- in what can only be classified as some rather, uh, fortunate roster business for the Lakers lately.
Still ...
Bryant's status as the game's most fearsome force has never been more clear-cut. He has to get a decent slice of the credit for helping to integrate Gasol so quickly, but that's only a small part of this. On a broader scale, Kobe is basically doing everything we've been waiting for since Shaquille O'Neal left the Lakers.
Kobe's playing with ferocity at both ends, elevating several teammates as a true leader and, most of all, winning a ton.
Doesn't leave much room for debate, does it?
---
East MVP, Two Trimesters In

LeBron James, Cleveland Cavaliers
Kevin Garnett made this a little easier by missing nine games with the abdominal trouble that could well bug him for the rest of the season. Garnett's Celtics helped further by going a plucky 7-2 while KG recovered, after so many know-it-alls (like me) said they had no depth.
That said ...
James has flat-out been the East's most fearsome force since Cleveland's 11-15 start. Paul Pierce was huge in Garnett's absence and Dwight Howard is still doing enough damage to spare him a Stan Van Gundy-esque scolding from us, but the Cavs recently won 20 of 28 ... with their new trade arrivals playing in only the 28th of those games.
Garnett looked like an MVP lock after the First Trimester and might still manage to regain his leadership position depending on what the Celts do in their final 25 games. But for now? We can't ignore the fact that there's been a lot of LeBron lately ... and that he is, you know, averaging 30.2 points, 8.1 rebounds and 7.5 assists.
---
Coach of the Year, Two Trimesters In

Phil Jackson, Los Angeles Lakers
I know you probably lost patience years ago with my endless whining about how tough this category always is. Yet all we can do is apologize again, because the streak continues here with another deep roster of contenders.
You have New Orleans' Byron Scott and Utah's Jerry Sloan helping to expand the West's upper tier once owned by San Antonio, Phoenix and Dallas. You have Boston's Doc Rivers and Detroit's Flip Saunders doing more good work than advertised in overseeing the East's only two powerhouses. You have Van Gundy bringing a much-needed edge to the Magic and you have Portland's Nate McMillan and Sacramento rookie Reggie Theus keeping their teams more competitive than anyone expected into the season's final third.
But I have Jackson slightly ahead of Scott and the rest of that flush chasing pack, easy as his job might seem from the outside after the Gasol gift from Memphis on Feb. 1. Don't forget that the Lakers were already hovering near the top of the West before Gasol's arrival and in spite of Andrew Bynum's injury and some of the gloomiest Kobe storm clouds that have ever loomed over this organization. Jackson was the steadying influence who guided L.A. through the early turbulence regarding Bryant's future, joined in diffusing any lingering tension from Bryant's offseason rant against Bynum and is almost synonymous with the time-tested triangle system that helped make integrating Gasol so simple.
The clincher: Jackson's Lakers entered the weekend sitting atop what looks like the most competitive conference of all-time.
---
Rookie of Year, Two Trimesters In

Kevin Durant, Seattle SuperSonics
All those defenses locking in on him every night. All those roster changes. All those losses and questions about the Sonics' future in Seattle.
You figure Durant won't soon forget how adult his rookie season was.
The worst part? Even that happy ending once presumed to be Durant's destiny is no lock now.
Entering the season's final third, we're sticking with the 19-year-old who's averaging 19 a game as our ROY favorite, since he's still producing almost twice the offense coming from any other rookie. But Atlanta has the league's longest active playoff drought at eight straight seasons, which means that Al Horford is sure to steal some of Durant's votes if A) Horford's Hawks make the playoffs and B) he continues to average a virtual double-double.
Marc Stein is the senior NBA writer for ESPN.com. To e-mail him, click here.
Second Trimester Report, Take 2
Sixth Man Award, Two Trimesters In

Manu Ginobili, San Antonio Spurs
How many sixth men in the league can claim to be a legit MVP candidate ... and maybe even this season's most dependable player on a team that also employs Tim Duncan?
Right.
As one Western Conference scout quipped when I jokingly told him I wasn't sure if I should go with Ginobili here: "He might be the best sixth man ever."
---
Defensive Player of Year, Two Trimesters In

Chris Paul, New Orleans Hornets
At season's end, all of the DPOY regulars are going to get strongest consideration here. Tim Duncan and Bruce Bowen in San Antonio. Marcus Camby in Denver. Boston's Garnett, naturally, once he's all the way back from injury. Maybe even Atlanta's Josh Smith and perhaps Kobe, too.
This seems like a good place, though, to sneak in one more mention of how good Paul has been, since he still has a shot at becoming the first player in history to average 20 points, 10 assists and three steals for an entire season.
---
Most Improved Player, Two Trimesters In

Jose Calderon, Toronto Raptors
Can Golden State's Monta Ellis win this award two years in a row? Our guy Monta -- we go way back, trust us -- just became the 10th guard in league history to shoot at least 60 percent from the floor for an entire month. With a success rate from the field of .602, Ellis averaged 26.0 points in February.
Since I'm guessing we really can't vote for Ellis again, what about Calderon? The All-Star snub-ee also shot 60 percent from the field in February -- .609, to be precise and likewise nailed 51.4 percent of his 3-pointers and 94.4 percent of his free throws in averaging 14.1 points and 8.4 assists for the Raps.
Yet it'll probably be tough for the Spanish point guard to maintain those numbers for the rest of the season with T.J. Ford back, which could well lead us back to the First Trimester wrestling we did trying to choose between the Clippers' Chris Kaman and the Orlando duo of Howard and Hedo Turkoglu ... which as previously explained remains complicated because Howard might have been too good already to be considered for this award and because Turkoglu (in his eighth season) doesn't quite meet the league's MIP guidelines. The official ballot, remember, instructs to vote for "an up-and-coming player."
But there's no such hesitation with the with the Raps' third-year point guard, who has improved so much over the course of the season that he's got Washington's outspoken Gilbert Arenas backpedaling. Arenas chided folks campaigning for Calderon to go to New Orleans in a recent Blog entry, writing that the Spaniard is "about 20 years from being an All-Star." But Arenas has since retracted that sentiment, writing that Calderon "might have a crack at it" next season with the way he's playing and with Jason Kidd having moved to the West.
There were actually two interested teams in the
Brent Barry
hunt -- as much as we love Bones, not sure we can call it a full-fledged sweepstakes -- that could have claimed Barry off waivers.
Claiming a player off the waiver wire does require the claiming team to pick up that player's existing salary as opposed to signing the guy cheap. But Phoenix and Golden State, even though neither had anywhere close to the requisite salary-cap room to absorb Barry's $5.5 million salary, both do possess a sizable trade exception that, according to league rules, could have been used to snag Barry before he had the right to choose his next stop after clearing waivers.
So why didn't one of those trade exceptions get used?
The Suns, for starters, are more than $3.5 million into luxury-tax territory already. Had they chosen now to burn their $8.1 million trade exception created last summer when Kurt Thomas was dealt to Seattle, Barry would have cost them nearly $8 million for the rest of the season in salary and tax payments. Although Barry had less than half of his salary remaining with all teams at or close to the 60-game mark, Phoenix would have been required to pay the full $5.5 million in luxury tax on Barry at season's end.
So as much as it would have loved to have him, Phoenix naturally preferred to let Barry clear waivers and then try to convince him not to return to the Spurs with desperate recruiting pleas and a modest financial pitch. In the end, I'd say it makes more sense for the Suns to settle for Philadelphia's freshly waived Gordan Giricek as a minimum-salaried addition compared to making an $8 million commitment Barry. Especially when they're having enough trouble integrating newcomers already.
Golden State, meanwhile, quietly chased Barry (and his Bay Area ties) hard and still has a $9,999,999 trade exception to cash in from its Jason Richardson trade with Charlotte on draft night. The Warriors, furthermore, are some $8.3 million under the luxury-tax threshold, meaning that they could have claimed Barry off waivers with no additional tax liability.
Yet it appears that the Warriors preferred to hold onto the trade exception -- which doesn't expire until four days after this June's draft -- to save it for something bigger. Which is likewise hard to argue given that many more player-acquisition possibilities present themselves closer to the draft.
---
Once Barry cleared waivers, Dallas had the most to offer financially. That's because the Mavs declined to spend their $5.2 million mid-level exception last summer and still had more than $3.7 million of that amount to offer to the various buyout recipients like Barry and Sam Cassell, even though all leftover mid-level exceptions get reduced by $31,506 per day starting Jan. 10.
But NBA front-office sources say that Dallas, like Phoenix, was not prepared to make a major cash expenditure on a player who might or might not make a significant stretch-run impact.
With the Mavs believing all along that Barry was headed back to San Antonio, sources say Dallas offered him $1.5 million for the rest of this season and $1.5 million next season.
---
Our friends at the Elias Sports Bureau report that Dallas' Jason Kidd is just the ninth player in history to return to a team after an absence of at least 11 years ... after Golden State's Chris Webber became the eighth in January.
The list in full:
| | | | |
| --- | --- | --- | --- |
| Player | Team | Span | Year Left and Returned |
| James Edwards | Lakers | 14 years, 331 days | 1977 and 1992 |
| Bernard King | Nets | 13 years, 308 days | 1979 and 1993 |
| Chris Webber | Warriors | 13 years, 289 days | 1994 and 2008 |
| Charles Oakley | Bulls | 13 years, 190 days | 1988 and 2001 |
| Tony Massenburg | Spurs | 12 years, 339 days | 1991 and 2004 |
| Johnny Newman | Cavaliers | 11 years, 293 days | 1987 and 1999 |
| Sleepy Floyd | Nets | 11 years, 284 days | 1983 and 1994 |
| Olden Polynice | Clippers | 11 years, 230 days | 1992 and 2003 |
| Jason Kidd | Mavericks | 11 years, 55 days | 1996 and 2008 |

Detroit's
Rasheed Wallace
was the league's runaway champion last season -- as with most seasons -- in the Mr. T race.
'Sheed got hit with 21 technical fouls in 2006-07, resulting in three one-game suspensions and putting him comfortably ahead of a field that featured Detroit teammate Rip Hamilton and Phoenix's Amare Stoudemire in a tie for second with a mere 15 T's.
This season?
'Sheed hasn't even hit double-digits yet. He's got nine T's after playing in 56 of Detroit's 58 games entering the weekend.
The Lakers' Kobe Bryant, meanwhile, was up to a league-leading 11 techs as of Friday morning after collecting three in his past three games.
Surely you haven't forgotten that league rules now dictate that players are suspended for one game starting with their 16th technical and every other subsequent technical after that before the slate is wiped clean heading into the playoffs.
Bryant is on pace for 16 and thus one one-game suspension after finishing with 14 techs last season. Wallace is on course for a mere 13, leaving him three short of suspension territory.
---
You can't say you weren't warned. Despite serious interest from Denver and Dallas that did intrigue him, Sam Cassell committed to sign with the Celtics within milliseconds of securing his buyout from the Clippers, which (we repeat) was always going to happen if interested parties didn't find a way to trade for Cassell before the Feb. 21 deadline because Sam I Am is so close with ex-Minnesota teammate Kevin Garnett to this day.
The Celts did still manage to surprise us, though. They've bolstered their bench significantly by luring P.J. Brown out of retirement along with the looming Cassell addition, after the 38-year-old power forward had resisted feelers from numerous NBA teams for months. Detroit will soon make a fine little pickup of its own when center Theo Ratliff clears waivers after securing a buyout from Minnesota, but this was a big week in Boston.
Here's a little trivia to stump Simmons with and properly commemorate the occasion: What league record can Cassell match if the Celts make it all the way to the NBA Finals?
The longest gap between Finals appearances is 13 seasons: Elden Campbell went to the championship round with the Lakers in 1991 and the Pistons in 2004. Cassell hasn't been to the Finals since his back-to-back championships in Houston in 1994 and 1995 and thus can match Campbell's return after a 13-year absence if he helps Boston get out of the East.
---
The NBA, as you know, has rejected Dwight Howard's request to raise the rim to 12 feet during the dunk contest for two successive years.
What we hadn't heard until this week is that standard NBA rims apparently can't be raised more than a couple inches higher than the regulation 10 feet ... and that even such minor adjustments are seriously time-consuming.
It was stressed to us that rim height actually can't be easily changed with the help of hydraulics as widely presumed. The league insists that the only way to make rim-raising an option during the annual All-Star Weekend contest is by bringing in a special third basket with that capability. Which does raise the question: Where do you put it?
League officials maintain that such logistical concerns are largely behind the refusal. Orlando's Howard and fellow dunk competitors Gerald Green and Rudy Gay all wanted the option of raising the rim to 12 feet (or higher) during the contest Howard wound up dominating in New Orleans.
The new information would appear to provide a much more sensible explanation for the blockage, frankly, than the league's previous claims that moving the rim clashed with their intent to apply as many NBA rules to All-Star Weekend contests as possible. That explanation made no sense, since no contest already breaks more rules of the game than the dunk contest.
When they weren't focused on Jason Kidd's first duel as a Mav with Tony Parker, Galloway & Co. spent a lot of time this week wondering aloud about the abrupt end to Yao Ming's season and whether Houstonians should feel as though China's Olympic interests were placed ahead of the Rockets' interests. Then Marc Stein joined ESPN Radio's Dallas affiliate (103.3 FM) to remind them that the Rockets always knew it would be this way in 2008 because playing in the Beijing Olympics means more to Yao himself than anything else.
Galloway & Co.
The weekly Stein Line segment on ESPN2's "NBA Coast to Coast" assesses Ron Artest's future in Sacramento beyond this season, Chicago's outlook for the rest of the season without Ben Wallace and what Jason Kidd's arrival in Dallas has done to rejuvenate reigning MVP Dirk Nowitzki.

Five questions with Suns forward Amare Stoudemire:
Q: I really didn't know before the trade that you and Shaq were so tight. How close are you guys?
A: Me and Shaq are definitely close. He's a good friend. Shaq is definitely a positive for me and positive for us. Me growing up watching Shaq, I never thought I'd be on the same team with him. But now I am and now it's time to gel as a group and learn from each other.
Q: The day or two before the trade was completed, were you calling Shaq to encourage him to push the deal through or was he calling you?
A: I reached out to Shaq. It wasn't a long conversation or anything. It was just to say, "We're ready for you."
Q: At his first press conference, Shaq announced that a big part of his role with the Suns was overseeing the "Amare Stoudemire Project." How much will having a mentor like him advance your game?
A: I wouldn't say I need a mentor. I think I'm already a pretty good player. I think what he's saying is [that] he's going to be a positive influence on me. A mentor? Nah. I don't need a mentor at all. What he's saying is that he's a player who's won championships and he's going to teach a young player how to win championships as well. I think he just wants me to reach my full potential, just like I do.
Q: I remember you telling me once that you'd prefer it if we called you a "point center" as opposed to a straight-up center. Is it safe to say you love how this trade moves you back to power forward?
A: It's my natural position. I've been playing out of position for a long time. So where [switching back to power forward] helps us, me being such a versatile player, it allows me to roam and take advantage of certain matchups and play my style of ball. I feel great [physically] and I feel like I'm getting stronger and stronger.
Q: But reviews of the trade have been mostly negative. How much of that stuff do you hear?
A: Doesn't matter what everybody else thinks. People say things. We understand what it takes to win and we know what we have here. We just have to stay together as a group and let everybody else talk.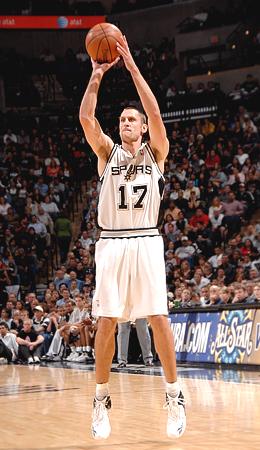 D. Clarke Evans/NBAE via Getty Images
Phoenix and Golden State had an alternative means of adding Brent Barry to their roster before Barry cleared waivers, but both teams chose to pass for reasons explained in Box 3.

"If Michael Jordan could live out his dream and become a baseball player, why can't I try soccer?"
Lakers guard Kobe Bryant, giving himself some extra juice (at least on this ballot) in the MVP race.
We almost never go with quotes in this space that weren't actually uttered in our presence. But this was Kobe speaking to us in the strongest figurative sense when he told a Spanish newspaper (www.sport.es) recently that he'd like to try out with Pau Gasol's hometown futbol club when he's done with the NBA.
Was Kobe doing anything more than indulging an international reporter with his claim that he's fantasized about playing for FC Barcelona someday? Is Kobe just teasing West rivals who would be thrilled to see him take an 18-month soccer detour a la MJ? Does Kobe realize that -- as good as soccer would be for that endangered pinkie -- his otherworldly athleticism isn't enough to get him through a youth-team training session at a worldwide superclub like Barca?
Who cares? Supporters of the beautiful game have always received special treatment here and Kobe just reminded us that he's one of the NBA's biggest.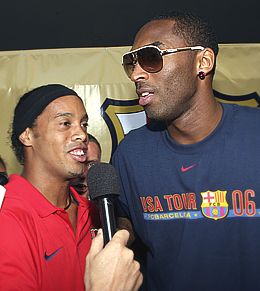 Frederick M. Brown/Getty Images
We already knew Kobe was a Ronaldinho fan, but No. 24 still went up in the Weekend Dime's estimation when he announced that playing alongside his Barca buddy is a bit of a dream.