Photo by Noah Graham/Contributor /Getty Images
Projector Room: How West Playoff Matchups Would Play Out

Here's a look at how the Western Conference playoffs would shape up, based on Monday's standings. Plenty of room for teams to move up and down here -- Phoenix elevated to No. 5 after these were written -- and we can expect changes in the projected pairings on almost a daily basis.
FIRST ROUND
No. 1. San Antonio Spurs vs. No. 8 Golden State Warriors
The Spurs have too much discipline for the Warriors. San Antonio, as usual, is playing its best basketball as the playoffs approach and
Tim Duncan
,
Tony Parker
, and
Manu Ginobili
have not played heavy minutes all season. They also have more depth than ever with the acquisitions of
Kurt Thomas
and
Damon Stoudamire
, plus the addition of
Ime Udoka
to the rotation. They will force the tempo to slow down and their half-court defense will force Golden State into an array of bad shots.
(Spurs in 5)
No. 2 Los Angeles Lakers vs. No. 7 Dallas Mavericks
The Lakers now have the most complete offensive team in basketball. As Kobe Bryant when he lit up Dallas for 52 points on Sunday, the Mavs have no answer for Bryant defensively now that Kobe has Pau Gasol's versatility for teams to deal with. If Andrew Bynum returns to the rotation in time for the playoffs, the Lakers size will dominate the Mavs front line. (Lakers In 6)
No. 3 New Orleans Hornets vs. No. 6 Phoenix Suns
It is no fluke that the Hornets swept the Suns in four games this season. Chris Paul's eyes light up when he sees the Suns, especially now that Shaquille O'Neal and Amare Stoudemire are the primary pick-and-roll defenders to help Steve Nash try to keep Paul out of the lane.
The Suns have lost their ability to run teams off the floor and they miss Shawn Marion's rebounding, athleticism and defense more than they ever could have imagined. (Hornets in 6)
No. 4 Utah Jazz vs. No. 5 Houston Rockets
This would be very competitive series, despite Yao Ming's absence. The Jazz are 26-3 at home and that will mean a lot in this series. Deron Williams took it to another level in the postseason last spring and is poised for another run.
Houston defends (fourth in points allowed), takes care of the ball (fourth fewest turnovers) and rebounds (second overall), but Tracy McGrady will need more scoring help than this team can provide. (Jazz in 7)
SECOND ROUND
San Antonio vs. Utah Jazz
A rematch of the West finals from a year ago, these teams are mirror images of each other. They both have outstanding point guards in Parker and Williams, dominant big men in Duncan and Carlos Boozer, and a deep complement of role players and shooters. The difference in the series would be Ginobili. He has returned to the form that made him a legit Finals MVP candidate in 2005 and gives the Spurs the additional playmaker down the stretch that Utah lacks. (Spurs in 6)
Los Angeles Lakers vs. New Orleans Hornets
This is all about matchups. The Lakers' ability to negate the size up front of Tyson Chandler and David West with Bynum and Gasol takes away a big part of the Hornets' advantage. The one thing the Hornets lack is a big, athletic wing defender to use on Bryant.
He will put up big numbers. Paul is special but at least the Lakers have two solid defenders in Derek Fisher and Jordan Farmar to chase him around all night. Finally, the biggest problem for New Orleans will be Lamar Odom in the post and off the dribble against Peja Stojakovic. The Hornets aren't quite ready for this kind of leap. (Lakers in 6)
WEST FINALS
San Antonio vs. Los Angeles Lakers
It is awfully difficult to pick against the Spurs with a Finals appearance on the line, but it's Kobe's year in the West. For much of the same reasons that they match up well with the Hornets, the Lakers have an answer at every position to combat the Spurs' balance offensively.
Ultimately, it will hinge on which team makes plays down the stretch, and Bryant is unmatched in crunch-time situations. Gasol's addition was the piece that put the Lakers over the top. Duncan won't be able to rest against the likes of Bynum or Chris Mihm. He will have to work. As will Ginobili against Kobe. The Lakers finally break through without Shaq, and Phil Jackson gets a shot at his 10th ring. (Lakers in 7)
ESPN analyst Tim Legler is a regular contributor to the Daily Dime
Dimes Past: February 23-24 | 24 | 25 | 26 | 27 | 28 | 29 | March 1-2 | 2 | 3 | 4
Warriors Gearing For Another Stretch Drive

By John Hollinger | ESPN.com
ATLANTA -- Perhaps road trips are less onerous when you've had a month to prepare. After spending all but one day of February in Oakland, the Golden State Warriors began the rough part of their schedule in fine fashion, opening a four-game Eastern road trip Tuesday with a 135-118 win over Atlanta Hawks.
Fittingly, former Hawks Stephen Jackson and Al Harrington led the way. They burned their former employers with 18 points in a 20-4 run to star the second half, turning a two-point halftime deficit into a double-digit lead they'd never relinquish.
The fact that those two were involved in the key run is a fitting memento; the Warriors are now 53-27 in the 80 regular-season games since Jackson and Harrington first suited up for Golden State a year ago Wednesday.
"Ever since I've been here I got my love for the game back," said Jackson, who celebrated the anniversary with 29 points and six assists. "The organization has been great to me [and] I'm with a great group of guys that I love playing with, so it's been a blessing. "
As usual with the Warriors, there were a few bumps along the way. They only took 10 free throws and allowed 118 points, including 29 in the first half to Joe Johnson -- the same Joe Johnson who hadn't scored 29 in a game since Jan. 21. As a result, they trailed 70-68 after a layup drill called the first half.
And yet they won by 17; the Warriors double-teamed Johnson after the intermission to force turnovers and fuel their fast-break attack.
"We changed our defensive coverages and started double-teaming the low post," said Warriors coach Don Nelson. "We finally got our rotations right. We haven't been doing a lot of that. We went to our double-team and we got some steals, and we started running it in the front court."
The soft Warrior defense will be tested throughout the next month. Golden State went into the trip ranked 23rd in defensive efficiency, and that figure may worsen with their frontcourt playing short-handed. Power forward Chris Webber will miss the rest of the trip, staying in Atlanta to work with a trainer, and Andris Biedrins is unlikely to play until at least Friday after having an appendectomy last week.
They won't be playing the Hawks every night, either. After games in Charlotte and Miami later this week, 11 of Golden State's next 13 opponents have winning records, and only five of those games are at home.
Thus, despite standing 15 games over .500, the Warriors still have their work cut out for them to make the postseason. They only have a two-game edge on Denver for the final playoff spot, and the Nuggets have the more advantageous schedule the rest of the way.
However, the glass-half-full perspective is to note that Golden State is catching up on the West's elite. The Warriors are now just a game behind Dallas and Utah, and two behind Houston and 2 1/2 behind Phoenix. Thus, it's possible that Golden State could not only qualify for the playoffs, but even host a first-round series.
To do it, they'll need to dial up the D. Giving up 118 points might work in Atlanta on a night when they hit a season-high 18 3s and scored a season-best 135 points -- Nelson admitted afterward this is about as well as they can play offensively -- but future opponents figure to be tougher customers.
So while Tuesday's performance brought echoes of the Warriors' scalding late-season run of a year ago, particularly given the near-anniversary of Jackson's and Harrington's arrivals, one still gets the impression the hard part of Golden State's season is just getting started. We'll find out in the next three weeks if the Warriors up to the challenge.

TUESDAY'S BEST
Kobe Bryant, Lakers guard:
Nothing like a game in hostile Sacramento to get the juices flowing. Kobe takes charge in the fourth, scoring half of his 34 points in the final 5:56 of the game. That added up to a 117-105 comeback win.
---

TUESDAY'S WORST

Grizzlies guard Mike Conley
-- Misses all six shots in 15 minutes of action in a 112-97 loss to the Bulls. That's nine straight losses for the grisly Grizz.
---
QUOTE OF THE NIGHT

"Those guys are the gold standard. "
-- Nets coach Lawrence Frank,
saluting the Spurs for beating his team despite shooting just 33 percent from the field.
• See Tuesday's daily leaders
-- Andrew Ayres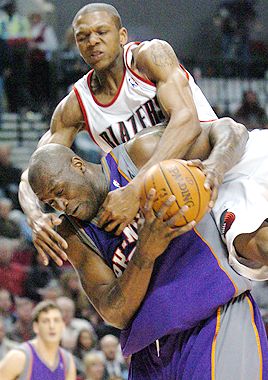 AP Photo/Greg Wahl-Stephens
Suns center Shaquille O'Neal, fouled under the basket by Portland's' James Jones, went 1-for-5 from the field in 34 minutes, going for six points. He also had 13 rebounds and three blocks in the Suns' 97-92 win. Phoenix is now 3-4 with Shaq in the lineup.

Elias Sports Bureau
On Monday, LeBron James was exactly the same age -- 23 years, 64 days -- as Wilt Chamberlain was when he made his NBA debut on Oct. 29, 1959. Speaking of Wilt's debut, he scored 43 points and grabbed 28 rebounds for the Philadelphia Warriors in a 118-109 win at the old Madison Square Garden. No other player in the league's history had even 40 points or 25 rebounds in his NBA debut.
As for James, he has already played 370 NBA games and ranks 279th in NBA history with a total of 10,074 points.

Jason (Upland): Who is your MVP for this season? Last week you said LeBron, CP3, then Kobe, despite Lebron only having a subpar 34-26 record (8 games over .500) in the WEAK East (whose teams would not even be in the playoffs if they were in the West), while both CP3 and Kobe have their teams a whopping 20+ games over .500 in the TOUGH West.
John Hollinger: First of all, a lesson on schedules -- 58 of the 82 games are identical regardless of which league you're in, so in terms of individual performance and team win-loss records they rarely make a large impact.
Second, as far as MVP -- LeBron James' performance has been so far beyond that of any other player that, even with his team mired in fourth in the East, he HAS TO be the choice. Apologies to Kobe and CP3 and everyone else, but the guy is head and shoulders above the rest of the league right now.

Suns GM Steve Kerr talks about the acquisition of Shaquille O'Neal, the team's defensive struggles with Shaq in the lineup and more.
Changes In Phoenix