Photo by Brian Babineau/NBAE via Getty Images
In Battle Of East Powers, Superior Feeling Grows About C's

BOSTON -- Let's just come right out and say it: The better team won.
Yes, it's time to go ahead and make that statement. The Boston Celtics are better than the Detroit Pistons. They proved it Wednesday night in ways big and small, looking fresher, hungrier, deeper and more efficient than the team they've been measuring themselves against throughout their season of rebirth.
"We know this [conference] is going to be won by one of three teams, and this is one of them," Celtics forward Kevin Garnett said after the 90-78 win over the Pistons.
The third team that Garnett was referencing was the Cleveland Cavaliers, but the Cavs haven't been a measuring stick for the Celtics the way the Pistons have. When Boston and Detroit met for the first time in December, the Pistons used their veteran savvy to rally in the fourth quarter and eke out a two-point win. When they met again in Auburn Hills in January, the growth of the Celtics was evident as they outworked the Pistons through the latter part of the second half and defeated Detroit in its own building.
Boston's evolving maturity level was even more honed Wednesday night as the C's took control early and then didn't hang their heads when the Pistons closed the third quarter with a 7-0 run to tie it entering the fourth. As the final 12 minutes played out, the Celtics reasserted themselves (with the help of some dubious calls that went against Rasheed Wallace and Antonio McDyess) while the Pistons looked lost on offense; they failed to move the ball and failed to get stops that would have kept them in striking range when the game got to the final two minutes.
"Part of the problem is that when things start going south, our guys think they can do it by themselves," Detroit coach Flip Saunders lamented. "But we don't have those types of players. Our players are geared toward somebody making a play for somebody else. That's how this team has been built. It hasn't been built on a superstar carrying us down the stretch."
Wallace's composure was near the breaking point as he practically dared the officials to give him a technical foul after the outcome had been decided, and Chauncey Billups' composure was lacking, too, when he picked up a fourth-quarter technical foul (coaches always tell players that if they're going to get a tech for complaining, don't do it in the fourth quarter) for arguing a chippy reach-in call.
The composure on the other side was an entirely different story, and it wasn't just coming from the three guys you expect it from -- Garnett (31 points, six rebounds, three assists), Paul Pierce (16 points, five assists) or Ray Allen (whose tireless defense on Rip Hamilton was one of the keys to the game that didn't show up in the stat sheet). Some of it came from point guard Rajon Rondo, whose emphatic driving one-handed dunk midway though the third quarter "brought the roof off the building," as Garnett said, and plenty of it came from Kendrick Perkins, who grabbed 20 rebounds, scored 10 points and blocked two shots in 33 rugged minutes.
You didn't hear anyone talking afterward about how Sam Cassell and P.J. Brown are really going to help this team, because in all honesty, the Celtics -- at least on this night -- didn't look like they needed either of them.
"It means a lot," Perkins said. "We needed this game to really see where we were, and I think we need to build off it, stay humble and just keep working."
This was the final meeting of the regular season between the teams, and the Celtics' victory gave them the tiebreaker if they finish with identical records. With 22 games remaining (24 for the Celtics), Boston has a five-game advantage in the loss column and does not have any more games left against Cleveland and Orlando, the two teams fighting for third place in the East. A tough five-game road trip still awaits the Celtics later this month, but Tuesday night's victory gave them an extra two-game cushion; if they had lost, they would have had to finish ahead of Detroit to clinch home-court advantage through the Eastern playoffs.
Knowing the Pistons, we haven't heard the last of them. But as the months and years go by and we continue to see them lacking anything resembling a consistent intensity, it's time to start surmising that their window of opportunity is closing a little more with each passing day. Yes, the starting five is still as strong as anyone's, but the bench (which scored a combined five points) includes only one player (Jason Maxiell) who contributed anything of significance last season. The aura and swagger that embodied the Pistons for so long both seem to have lapsed.
The Pistons still take comfort in their belief that they'll be able to turn it up a notch when needed, but we've been hearing that from them for so long, it's hard to continue believing them -- especially when we see them fall as flat as they did on this night against a team that seems to have surpassed them.
Yes, surpassed them.
Because although it may have been a 50-50 proposition before tip-off who was truly the better team, it was evident afterward that the Celtics can now rightfully make that claim.
Right now, Boston is better than Detroit.
Chris Sheridan covers the NBA for ESPN Insider. To e-mail Chris, click here.
Dimes Past: February 23-24 | 24 | 25 | 26 | 27 | 28 | 29 | March 1-2 | 2 | 3 | 4 | 5

By Chris Broussard | ESPN The Magazine
I'm a big Jason Kidd fan. I think he's a Hall of Famer and a top-10 point guard of all time (not top five as some have said). So don't take it the wrong way when I say this:
Both Chris Paul and Deron Williams will be better than Kidd.
To some, this may sound crazy. To others, it's obvious.
But I'm writing this so we all understand that we are watching two historic point guards come of age.
The reason they'll be better than Kidd is simple: They can both do something he can't.
Shoot and score.
Granted, lots of point guards score more than Kidd, but most of those who do lack court vision or the other intangibles that make for a great point guard. Most of them aren't true points; they're scorers who can handle and pass well enough to run an offense.
• See the full Chris Broussard blog
Turnovers Can Kill A Fantasy Team, Too

By Eric Karabell | ESPN Fantasy Games
A look at the turnover leaders in the league shows a healthy number of point guards up there, but some other interesting names. Let's discuss.
Dwyane Wade, PG/SG, Heat: He's a very good player having a very good season, but I can tell you those in turnover leagues didn't want him in Round 1. Wade led the league in turnovers per game in 2006-07, barely topping Allen Iverson, and now he's destroying the field, averaging 4.4 per game. Second most, surprisingly, is Steve Nash at 3.9. But true point guards can turn the ball over as long as they earn 3.0 assists per turnover. Nash does this, as do Deron Williams, Jason Kidd and Baron Davis. By the way, to put the terrific Chris Paul season in even more perspective, it's incredible to note he is No. 33 in turnovers per game. As for Wade, I was avoiding him this season because of the potential for injury. He's surpassed my expectations, frankly.
• See the full Eric Karabell blog

WEDNESDAY'S BEST
LeBron James, Cavs forward:
With the MSG crowd offering an "MVP" chant, LBJ netted 50 points, 10 assists and eight rebounds in the 119-105 win over the Knicks. He shot 16-of-30 from the field, including 7-of-13 from 3-point range, in his second 50-point game this season.
---

WEDNESDAY'S WORST

Knicks forward Quentin Richardson
-- This was the anti-LeBron performance. Five fouls in 12 minutes. Missed all four shots. Two turnovers. A low Q rating.
---
QUOTE OF THE NIGHT

"To get a standing ovation in the greatest basketball arena in the world, it was a dream come true for me. It's one of the best things that ever happened to me."
-- Cavs forward LeBron James,
on his salute from the New York crowd
• See Wednesday's daily leaders
-- Andrew Ayres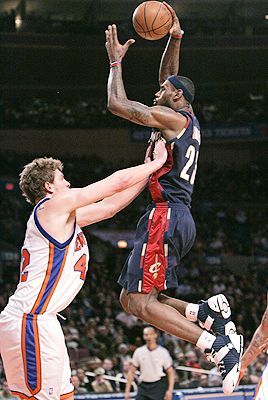 AP Photo/Greg Wahl-Stephens
David Lee put up the stop sign, but LeBron James kept on going. James became the first player with at least 50 points, 10 assists and eight rebounds in a game since Kareem Abdul-Jabbar on Jan. 19, 1975.

Elias Sports Bureau
Sam Cassell officially signed with the Celtics on Tuesday. Cassell recorded 521 assists for Ray Allen when they were teammates on the Bucks (1999-2003), by far the highest total by any of Allen's teammates. The distant runner-up is Luke Ridnour with 363 assists for Allen. Cassell also recorded 365 assists for Kevin Garnett in their two seasons together with the Timberwolves (2003-2005).

Andrew (Sugar Land, TX): Do you think Carl Landry can keep up his productivity with increased minutes and increased attention from opposing defenses? Why can't defenses seem to keep him off the boards and keep him from dunking?
David Thorpe: He reminds me of, gasp, Charles Barkley. Not as dynamic with the ball, but similar in strength and explosiveness at the rim.