Photo byAP Photo/Matt Slocum
Seventeen Story: Houston Finding The Right Mix

One thing stands out as we see how well the Houston Rockets have played in building this 17-game win streak.
Chemistry.
It's the major class that's in session all across the West right now and the Rockets are at the top after polishing off another exam Thursday, beating the Dallas Mavericks, 113-98.
That lesson tells us that basketball is more chess than checkers, and a team is more than just the sum of its parts. A team that gels with five playing in unison will always have more success than a more talented, but less cohesive team.
Getting the right chemistry is something crucial to the hopes of other West teams. You see it going on now with the Phoenix Suns as they're trying to incorporate Shaquille O'Neal into their style of play. And we see it with bringing Jason Kidd to the Dallas Mavericks.
Even the Los Angeles Lakers, when they get Andrew Bynum back, will have an adjustment period, fitting him in with Pau Gasol up front.
Houston made subtle changes and has found the right combinations, enough so that it can even withstand the loss of Yao Ming.
I'm happy to see Tracy McGrady, who had 31 points in the win over the Mavs, have this kind of success. He's taken a lot of flak for not getting out of the first round of the playoffs, but when he's hot, he's as explosive a scorer as we have in the NBA.
He has had help. Rafer Alston had a season-high 24 points against the Mavs. Luis Scola brings some nice intangibles to the floor. Rookie Carl Landry has come out of nowhere and given them that live athletic body while still playing within himself. And it's good to see Dikembe Mutombo sipping from the fountain of youth. I played with him for two years in Denver. Like then, he knows how to play to his strengths.
Rockets coach Rick Adelman gets a lot of credit for keeping this team together after an early adjustment period.
So far, the team has adjusted well to the loss of Yao, winning all five without their center. The loss of Yao is a tough break, and a great loss to the game, not just the Rockets.
With a healthy McGrady, this is one team that now looks like it will be anywhere from a No. 6 to No. 8 seed. Even so, I don't see Houston coming out of the West as the representative. The West is tough. It's the Spurs, still.
The three teams generally agreed upon in the preseason as the tops in the West included San Antonio, Dallas and Phoenix. It's amazing to me that we now hear some suggest two of those teams are in danger of missing the playoffs altogether.
Coming into this game without Dirk Nowitzki, if you're Dallas, you're probably thinking if you lose, it's a close game. For the Rockets to beat you soundly, that's something to see, and it has to give Dallas something to think about.
It's going to be interesting to see how Dallas plays in the weeks ahead with a tough stretch of games. Still, I think they'll find a way to make the playoffs, even if they are on the brink of falling out now.
Finding that good chemistry will be key to it all.
ESPN analyst Jalen Rose is a regular Daily Dime contributor. For more about Jalen, visit his Web site: JalenRose.com.
Dimes Past: February 23-24 | 24 | 25 | 26 | 27 | 28 | 29 | March 1-2 | 2 | 3 | 4 | 5 | 6

By Peter D. Newmann | ESPN Research
Sam Cassell will likely play in his first game for the Celtics Friday against the Bulls on ESPN. He will wear No. 28.
Cassell was the 24th overall pick of the Rockets in the 1993 NBA Draft out of Florida State. His notable FSU teammates include Bob Sura and Charlie Ward. The only other players selected in the 1993 NBA Draft that are still active are Chris Webber (No. 1 overall) and Lindsey Hunter (No. 10 overall).
Cassell won NBA titles with the Rockets in each of his first two seasons in the league (1994 and 1995). The only other active player who won NBA titles in each of his first two seasons in the NBA is Mark Madsen.
Cassell has been traded six times in his career. Among the players he's been traded with include: Robert Horry, Michael Finley, A.C. Green, Chris Gatling (twice) Among the players he's been traded for include: Charles Barkley, Jason Kidd, Shawn Bradley, Stephon Marbury
Cassell played in the 2004 All-Star game, his only All-Star honor. Cassell was a Western Conference All-Star teammate of Kevin Garnett and Ray Allen in that game. Paul Pierce was on the Eastern Conference team.
Cassell has previously played with Kevin Garnett (with the Timberwolves during 2003-05 seasons) and Ray Allen (with the Bucks during the1999-03 seasons).
How Cassell Fared With Two Familiar Faces

Category
With KG and Timberwolves, 2003-05
With Allen and the Bucks, 1999-2003
Games
140
285
PPG
17.2
18.9
FG Pct.
48.0
46.5
RPG
3.1
3.9
APG
6.4
7.4

By Chris Broussard | ESPN The Magazine
I'm a big Jason Kidd fan. I think he's a Hall of Famer and a top-10 point guard of all time (not top five as some have said). So don't take it the wrong way when I say this:
Both Chris Paul and Deron Williams will be better than Kidd.
To some, this may sound crazy. To others, it's obvious.
But, I'm writing this so we all understand that we are watching two historic point guards come of age.
The reason they'll be better than Kidd is simple: They can both do something he can't.
Shoot and score.
Granted, lots of point guards score more than Kidd, but most of those who do lack court vision or the other intangibles that make for a great point guard. Most of them aren't true point guards, they're scorers who can handle and pass well enough to run an offense.
• See the full Chris Broussard blog

THURSDAY'S BEST
Tracy McGrady, Rockets guard:
He makes his teammates better with 31 points, nine assists and one turnover in the Rockets' 17th straight win.
---

THURSDAY'S WORST

Tim Duncan, Spurs forward
-- In the Spurs' 11th straight win, Duncan goes 3-for-11 from the field, good for six points. This was his lowest scoring output in a full-game outing since his five points in a Nov. 11 loss to the Lakers.
---
QUOTE OF THE NIGHT

"Steve is the most unselfish player ever created. A lot of times when he has the shot he's looking to get somebody else the ball. Sometimes he's just too unselfish."
-- Suns center Shaquille O'Neal,
on Steve Nash
• See Thursday's daily leaders
-- Andrew Ayres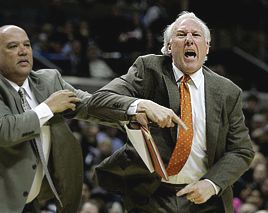 AP Photo/Eric Gay
Spurs coach Gregg Popovich, right, is held back by assistant coach Don Newman, while arguing with officials during the second quarter. Popovich was ejected from the Spurs' 108-97 win over the Pacers.

Elias Sports Bureau
Chris Paul played the 200th game of his NBA career Wednesday and handed out 18 assists, as the Hornets topped the Hawks. Paul's career total of 1,814 assists is the fifth-highest for any NBA player through the first 200 games of his career. Only Oscar Robertson (2,078), Kevin Johnson (1,853), Tim Hardaway (1,842) and Mark Jackson (1,829) had more assists at the 200-game mark than Paul.

J.A. Adande and John Hollinger break down the Eastern Conference. Where does LeBron James rank among the MVP candidates and do the Cavs have a shot to make it to the NBA Finals?
Best baller