Getty Images/Icon SMI
Ranking the Remaining Schedules of the West's Top 9

Which of the nine teams in the wild, wild Western Confernce bidding for 50 wins is
not
going to the playoffs?
That might be easier to answer once you know which of these nine teams has the least (and the most) favorable remaining schedule.
With roughly one-fourth of the regular season to go and a highly irregular race shuffling the West's eight playoff seeds almost daily, it's the perfect time to rank the schedules from easiest to toughest entering Friday night's play. Which we suspect will give West coaches one more reason to curse the Lakers.

Games remaining: 13 home, 8 road
Record against teams still to play: 19-8
Composite winning percentage of remaining opponents: .515
Games left against teams with records over and under .500: 12 over, 9 under
Toughest stretch: March 14-20, with four straight road games against the Hornets, Rockets, Mavericks and Jazz.
Outlook: The Grizzlies will continue to be subjected to bitter jabs from the Lakers' conference rivals for handing Pau Gasol to Los Angeles for nada. But the schedule-makers are bound to wind up as the No. 2 target once the other West teams realize Kobe and Co. have the closest thing to a cake schedule over the next six weeks. How cake? No team in the West's top nine has fewer road games remaining. The Lakers, furthermore, have just three back-to-backs left. It's a combination which suggests that they can make a real push for the No. 1 seed even if Andrew Bynum doesn't make his comeback from a knee injury before the playoffs.
---

Games remaining: 12 home, 8 road
Record against teams still to play: 17-13
Composite winning percentage of remaining opponents: .506
Games left against teams with records over and under .500: 11 over, 9 under
Toughest stretch: March 27-April 6, with five of six games on the road and a home date with their old pals from Golden State.
Outlook: The Mavs opened a crucial flurry of home games with a lifeless loss to a Houston team they've routinely handled for years, but Dirk Nowitzki was out on a one-game suspension. Sporting the West's No. 2 home record at 25-4, Dallas still plays eight of its next nine games at home with only a trip to Miami to break things up. There are lots of challenging dates in that run, but the Mavs clearly play better in Big D. The games also are favorably spaced out, with only two back-to-backs left. Given what some of the competition has to cope with, Dallas can't ask for much more in its ongoing search for the continuity and defensive cohesion that has yet to materialize with Jason Kidd.
---

Games remaining: 10 home, 11 road
Record against teams still to play: 21-10
Composite winning percentage of remaining opponents: .512
Games left against teams with records over and under .500: 11 over, 10 under
Toughest stretch: March 19-April 6, with eight of 10 games on the road.
Outlook: Outlook: The Rockets' remaining home schedule includes only four teams with winning records (Hornets, Lakers, Celtics and Suns) so their road challenges will obviously be tougher. Yet I have to say the team I saw firsthand Thursday night was the most confident and unified group of Rockets since Yao Ming arrived in Houston ... even with Yao out injured. Given that they have won 11 in a row on the road and have begun playing at a faster tempo sans Yao, they might be able run with teams like Golden State and Denver. I don't see anything on the schedule that suggests they will be slipping out of the top eight.
---

Games remaining: 11 home, 9 road
Record against teams still to play: 20-12
Composite winning percentage of remaining opponents: .519
Games left against teams with records over and under .500: 11 over, 9 under
Toughest stretch: April 4-16, with nothing but tough assignments in the season's final six games.
Outlook: The Jazz, remember, are one of only three teams in the West's top nine with a losing record on the road (13-19). So their four-game trip to the East next week is Jerry Sloan's first concern, followed by that unforgiving April. Utah will be done with its back-to-back obligations by then, but there will be no let-up late, since those final six games will be home dates with San Antonio, Denver and Houston and roadies in New Orleans, Dallas and San Antonio. Let's not forget, though, that the Jazz have not lost a home game in 2008, which is one big reason they remain a heavy favorite to win their division.
---

Games remaining: 11 home, 10 road
Record against teams still to play: 16-11
Composite winning percentage of remaining opponents: .538
Games left against teams with records over and under .500: 14 over, 7 under
Toughest stretch: March 18-April 1, with seven of nine games on the road and stops in Detroit and Boston on March 24 and March 26.
Outlook: By no measure do the Suns have an easy stretch-run schedule. But they have bigger challenges and chores, obviously, than obsessing over the degree of schedule difficulty in the midst of this, uh, complicated integration of a newcomer named Shaquille O'Neal. Steve Nash keeps calling it a late-season training camp, but the itinerary (having only four more back-to-back sets, for example) are livable compared to most teams. The Suns also have several very winnable games sprinkled in with their two remaining showdowns with San Antonio, Houston and Denver and the roadies against the Pistons and Celtics. At least we think so.
---

Games remaining: 10 home, 12 road
Record against teams still to play: 15-9
Composite winning percentage of remaining opponents: .515
Games left against teams with records over and under .500: 13 over, 9 under
Toughest stretch: March 18-April 1, with a five-game road trip that starts in Detroit and includes Allen Iverson's long-awaited return to Philadelphia, followed by a four-game stretch in which the Nuggets play host to Dallas and Golden State and play Phoenix twice.
Outlook: Four of the Nuggets' final seven games are against teams that will be out of playoff contention. The assignment, then, is turning this past week's big home wins over Phoenix and San Antonio into a road spark that can last until April, with daunting dates looming Saturday at Utah and Monday at San Antonio. If the Nuggets can't beat the Jazz or the Spurs, they will lug a 12-19 road record with them on that long five-game journey, which features the unappetizing possibility of Iverson's old team boosting its own unexpected playoff chances (and dealing Denver's odds a real blow) when AI goes to Philly as a visitor for the first time on March 19.
---

Games remaining: 10 home, 12 road
Record against teams still to play: 19-10
Composite winning percentage of remaining opponents: .522
Games left against teams with records over and under .500: 14 over, 8 under
Toughest stretch: April 1-6, with a four-game trip through the Southwest Division that pits the Warriors against every Southwest team but Houston.
Outlook: Only San Antonio has more games left against teams with winning records (15) than Golden State, whose 14 remaining games against teams over .500 include eight roadies. The bigger issue, however, might be the playing-time load being shouldered by Baron Davis and Monta Ellis. Davis hasn't missed a game all season, for the record, but he's averaged nearly 42 minutes over the past seven games, with Ellis at nearly 44 minutes. Will Don Nelson use his bench more down the stretch? Can Nellie's guards continue to stay fresh if he doesn't? And how much longer will Andris Biedrins be out? All big questions for a team that, under the circumstances, probably will have to consider it a success if it makes the playoffs for a second straight season.
---

Games remaining: 10 home, 12 road
Record against teams still to play: 22-14
Composite winning percentage of remaining opponents: .561
Games left against teams with records over and under .500: 15 over, 7 under
Toughest stretch: March 12-25, with six of eight games on the road.
Outlook: You'd think the Spurs would have a home-heavy schedule after getting through their famed Rodeo Road Trip in February. But you'd be wrong. Friday night's game at Denver completes only the first of six remaining back-to-backs. It adds up to a demanding stretch run for the oldest team in the field, especially since the easiest road games San Antonio has left -- Philadelphia, Chicago, Portland and Sacramento -- aren't gimmes at all. Only a West-low seven of the Spurs' final 22 opponents, in fact, are teams with sub-.500 records.
---

Games remaining: 10 home, 12 road
Record against teams still to play: 19-14
Composite winning percentage of remaining opponents: .551
Games left against teams with records over and under .500: 14 over, 8 under
Toughest stretch: March 8-22, with two games against the Rockets, a trip to Detroit and home dates with the Spurs, Lakers and Celtics crammed into a seven-game span.
Outlook: It's a good thing the Hornets are so comfortable traveling, because they still face a six-game East swing -- their longest trip of the season -- after they get through the aforementioned seven-game crunch. The Hornets also must play four of their final five games away, with the April 16 season finale in Dallas capping the last of seven back-to-backs still hanging over them. Inexperience and injuries, respectively, derailed these guys in March in Chris Paul's first two seasons. They are a different team now, needing only a 9-13 finish to be a 50-win team, but no one in the West will see a tougher finishing kick.
Marc Stein is the senior NBA writer for ESPN.com. To e-mail him, click here.
How hot is Golden State's
Monta Ellis
? Sufficiently scorching to run with this good Monta tale.
Several weeks back, before Ellis went on his February scoring rampage and long before Don Nelson hinted at playing rookie Brandan Wright, Ellis had an aggressive message for us.
Referring to Wright, Ellis said: "He's going to be the next Chris Bosh."
We repeat: This was before Wright unexpectedly cracked Nelson's starting lineup.
Our initial reaction to Ellis' claim was the natural reaction: That's just Monta talking up the one Warrior young enough for him to mentor.
Then we remembered what happened a couple of years back when Ellis, then 20, sought out your humble correspondent in the visitors locker room in Dallas. He was an end-of-the-bench rookie, playing not much more than Wright has, but Ellis wanted to introduce himself after hearing me mispronounce his first name in a conversation with ace Warriors press officer Raymond Ridder.
"You're going to know who I am some day," he said.
Mon-tay, as it's properly pronounced, sure wasn't wrong. Relying heavily on that boundless confidence to offset his relatively small stature at 6-3 and less than 180 pounds, Ellis averaged 26.0 points on 60.2 percent shooting from the floor in February. That made Ellis only the ninth guard in league history to attempt at least 150 shots in one month and sink 60 percent of them ... and wiped away any lingering skepticism about the Warriors' decision to trade Jason Richardson to Charlotte on draft night to ensure they will have the financial flexibility this summer to re-sign Ellis as well as lefty center Andris Biedrins.
February also raised the question: Can Ellis be an NBA Most Improved Player candidate for the second straight season?
The fun sidebar, though, is the Wright angle. Ellis' seemingly over-the-top forecast isn't so easily dismissed as bluster anymore. Not after Wright -- acquired in the J-Rich deal, remember -- overcame Nelson's long-standing reluctance to play rookies and started Golden State's past five games, making some credible contributions in home wins over Philadelphia and Portland while Biedrins recovers from the removal of his appendix.
It's way too early, obviously, to say Ellis is going to go 2-for-2 with these guarantees. Wright might be only 20, with copious amounts of athleticism and a handy 7-foot-5 wingspan, but Bosh's bar is pretty high.
But we can say, given how the first proclamation worked out, that we definitely are filing away Ellis' scouting report on Wright, since he clearly is on a bit of a roll.
---
If we're going to spotlight LeBron James' latest exploits in Box 4, it's only right that we bring back our Kobe Bryant Tracker. Right?
Here goes: Bryant's 52 points Sunday in an overtime win over Dallas accounted for the 29-year-old's 22nd 50-point game. That total, achieved in 844 career games, leaves Bryant just 10 short of passing Michael Jordan for second place on the all-time list.
The complete list as of Friday:
| | | |
| --- | --- | --- |
| Name | 50-point games | Frequency |
| Wilt Chamberlain | 118 | 1 every 8.9 games |
| Michael Jordan | 31 | 1 every 34.6 games |
| Kobe Bryant | 22 | 1 every 38.4 games |
| Elgin Baylor | 17 | 1 every 49.8 games |
---
The last words go to the grateful guy whose team hasn't lost a game since Jan. 27 ... whose team is 21-1 since Jan. 15 ... whose team played without Yao Ming and Tracy McGrady in that solitary defeat and has played without Yao the past five games.
Said Rockets coach Rick Adelman, whose team has channeled its better-than-ever ball movement, rising defensive energy, roster versatility, growing togetherness and surging confidence to win eight straight games since the trade deadline by at least 12 points and thus tie a league record: "I didn't expect this. I don't think anybody did."

What might have been the biggest story of the week (in either conference) got almost no coverage, maybe because the New York press corps was focused on other angles when
LeBron James
was in its midst.
You barely heard a follow-up word about LeBron unexpectedly informing us that, at 23, he actually is still growing.
Unless he was exaggerating for press-duping effect, LeBron sneaked that provocative revelation into his postgame address Wednesday night at Madison Square Garden. When he wasn't scoffing at the idea of someday joining the Knicks or shooting down the story that he shouted to Spike Lee he would be scoring 50 points that night, James volunteered an interesting explanation for why he wasn't worried when a fan sprinted onto the MSG floor after a 3-pointer in the final minute got him to the big five-oh.
"I'm 6-9, 260," James said. "I'm all right."
All right?
He's suddenly an inch taller and 20 pounds heavier than his listed (and sufficiently frightening) dimensions, again assuming that he wasn't just making sure he got a laugh from his audience.
I've since been assured by a trusted Clevelander that LBJ wasn't exaggerating.
---
What we know for sure is that James just became the first player to reach the 50-point, eight-rebound, eight-assist stratosphere at MSG -- he actually had 10 assists, though -- since the Knicks' Richie Guerin went for 57 points, 12 boards and eight dimes nearly 50 years ago on Dec. 11, 1959.
LeBron also is just the fourth player in league history to post a 50-8-8 game at least twice in one season, joining Rick Barry (1973-74), Kareem Abdul-Jabbar (1971-72) and Wilt Chamberlain (1963-64).
And now his linebacker's body is apparently expanding. More reason, I say, for Boston and/or Detroit to dread seeing Cleveland in the second round.
---
Lest you accuse us of neglecting the Knicks, here's a reminder that Wednesday marks the one-year anniversary of Isiah Thomas scoring a contract extension from MSG chairman James Dolan. Having famously announced nine months earlier that Thomas would lose his job if the Knicks didn't show "evident progress," with the suggestion that he'd wait until season's to make his decision, Dolan instead decided to dole out a new contract to Thomas on March 12, 2007.
The Knicks had just clawed into the eighth spot in the East at 29-34. Inexplicably feeling as though he could no longer wait, Dolan made a fresh multi-year commitment to his coach and front-office chief by saying that Team Isiah had indeed showed "significant and evident progress."
Since then, of course, New York has infamously cratered to a record of 22-58, starting with last season's 4-15 finish. That computes to a winning percentage of .275, higher than only two teams in the same span: Minnesota (17-63, .213) and Memphis (21-58, .266).
I'm guessing it's futile to try to remind Knicks fans that I still cherish my far-too-infrequent trips to Madison Square Garden more than those to any other NBA arena or that I'm serious when I say it brings me no joy to chronicle all these lows. (Just as it's futile to try to predict how much longer Thomas will last in the job, when it now couldn't possibly surprise anyone if the Teflon-coated coach somehow found a way to make it to next season.)
So I'll try to exit this topic with a few interesting (and comparatively benign) Knicks tidbits for your next party, courtesy of ESPN's NBA research maven Pete Newmann:
1. Zero players remain from the roster Thomas inherited on Dec. 22, 2003, when he took over as New York's president of basketball operations.
2. No team in the NBA has more former first-round picks than the 12 on the Knicks' current roster. New Jersey also is carrying 12 first-rounders, and five teams are tied with 11.
3. Since the NBA-ABA merger in the 1976-77 season, only two players other than LeBron have managed to reach the 50-point, 10-assist plateau in one game: Michael Jordan in 1992, and the much-maligned Stephon Marbury in 2001. Of course, Marbury was a Net back then.
The Spurs and Rockets take double-digit winning streaks into the weekend. The Suns and Mavericks, by contrast, awoke Friday with losing records since the big trades they swung last month. Phoenix is 3-5 with Shaquille O'Neal, and Dallas is 4-5 with Jason Kidd. Marc Stein joined the HotList on ESPNews to give his take on all four teams.
The West has one team toting a stunning 17-game winning streak, eight teams still on a 50-win pace and nine quality teams in contention for eight playoff spots.
The East, by comparison, suffers from a significant lack of depth but has its own underrated drama bubbling with two teams on pace to win at least 60 games ... and both of them desperate to avoid Cleveland in the second round.
To sort out both conference races, ESPN Radio's AllNight summoned Marc Stein to join host Amy Lawrence.
• Listen to the interview


"I'm staying patient. I know nobody wants to hear this, but when you're adding a piece like Shaq, it's really like we're in training camp."
Suns guard Steve Nash, referring to his team's 3-5 struggles since the debut of Shaquille O'Neal, struggles that have taken Phoenix from first place in the West to sixth in the conference standings entering the weekend.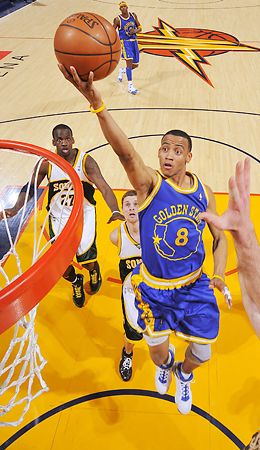 Rocky Widner/NBAE via Getty Images
Monta Ellis, winner of the most improved player award last season, doesn't just want to make a name for himself anymore. He wants to do the same for Warriors rookie big man Brandan Wright. (See Box 2).

Five questions with Rockets forward Tracy McGrady:
Q:
OK, seriously ... 5-0 without
Yao Ming
and 17 wins in a row. How are you guys doing this?
A: I really don't know how we've done it this long. It's a lot of games to win in a row. It really is. But it feels good to be part of history, be part of a good team and be part of a team [on which] I don't really have to carry the load every night.
Q: This roll actually started when you were injured in January, and there were a lot of questions about how you would fit back in with the team. How hard was it to scale back your game to blend in?
A: It really wasn't. Not at all. I've told you before: I've already led this league in scoring. My biggest thing is I'm trying to advance in the playoffs. That's my whole agenda. I was willing to do whatever. Those guys were moving the ball and playing so well, I didn't want to come back and disrupt that or mess anything up. I didn't go back to dominating the ball. I sacrificed some of my game for the betterment of our team.
Q: But now you've lost Yao for the rest of the season, so doesn't the style of play have to change again?
A: With Yao, we're more of a slower team. It's no knock on Yao, but sometimes we're a lot better defensive team when we have Dikembe [Mutombo] out there because that's really what Deke brings to us. He brings that presence, that intimidating factor back there in the back. When teams sometimes go small, Deke is mobile and he's a great shot-blocker. Offensively, we're just more up-tempo, spreading the offense out, the paint's not clogged up, and that's how we're playing.
Q: You know you will hear questions about your playoff history until you get out of the first round. But are you saying this is the Rockets team that can do it, even without Yao?
A: Absolutely. Absolutely. We all believe that. We are a good basketball team. People are still not giving us credit, and that's fine and dandy. But we know we still have to prove that in the playoffs. I know that really hasn't been our thing in the past. We got to the playoffs and didn't advance. It's something we still have to prove. But that would be a hell of an accomplishment to do that without your best player.
Q: Things have changed pretty drastically around this team. As recently as January, there was all sorts of speculation the Rockets were looking to trade you. Did you think you still would be a Rocket after the trade deadline?
A: It was rumors. I have a great relationship with the ownership here, so it was nothing I was ever concerned about. Not even a little bit.
Roster business certainly didn't stop after the passing of the Feb. 21 trade deadline. Six players waived before March 1 -- thus remaining eligible to play in the playoffs for a new employer -- and two who were out of the league (
Chris Andersen
and
P.J. Brown
) have been signed in the past week or so at the lowest possible prices. They are:
Andersen's salary is a pro-rated share of the $3.5 million he originally was scheduled to earn this season had he not been banned for the past two years for substance abuse. The other seven players are receiving pro-rated shares of veteran-minimum salaries.
Brent Barry and Ira Newble, meanwhile, are expected to return later this month to San Antonio and Cleveland, respectively, after sitting out the league-mandated 30 days before re-signing with the teams that traded them. Seattle waived both players after acquiring Barry in a deal with San Antonio for Kurt Thomas and taking Newble in the three-team, 11-player swap with Chicago and Cleveland that sent Wally Szczerbiak, among others, to the Cavs.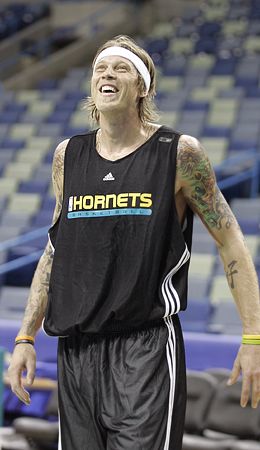 Layne Murdoch/NBAE via Getty Images
Comeback kid Chris Andersen, in the NBA for the first time since his January 2006 substance-abuse ban, is all smiles to be part of our list of late-season contract bargains.