Suns' Problems Stem From Pre-Shaq Era

Normally, eight games would never be enough time to draw any definitive conclusions on the long term prospects of an NBA team working to integrate a major new piece into the rotation. Cohesion takes time to perfect. Much like even the most ordinary of chemistry experiments, the data must be studied over time before a final analysis can be formulated.

Well, Shaquille O'Neal is hardly ordinary. The
Phoenix Suns
, likewise, have been anything but your typical NBA team over the past three and a half years. Three weeks ago, however, they were inextricably fused together in some sort of odd NBA laboratory experiment. The scientists involved,
Steve Kerr
and Mike D'Antoni, who wanted to determine if the most explosive scoring machine on the planet could be mixed with the most dominant force of his generation, to create an unstoppable hybrid of speed and power.
To say that something went terribly wrong in the lab would be an understatement.
The problems exist on both ends of the floor, but the Suns' defensive ineptitude is a much greater concern. Phoenix has averaged 106 ppg since Shaq entered the lineup, more than enough to win consistently for the majority of teams in the NBA. True, the Suns haven't been able to run teams off the floor in the way that they had become accustomed since Steve Nash took over the point almost 4-years-ago. But, they can still put up numbers in a hurry and have enough offensive talent with Nash, Amare Stoudemire, Leandro Barbosa, O'Neal, Raja Bell and Grant Hill to create matchup nightmares for any opposing defense.
The real problem since they went big is that the Suns can't stop anybody.
Let me be clear about this. It isn't all Shaq's fault. Not by a long shot. This team was defensively challenged well before they added Shaq to the equation. But, now, with Shaq and Stoudemire on the floor together for almost 30 minutes a night, their defense has become laughable.
It has been a difficult adjustment because they have both played centers defensively for their entire careers. In this system, the Suns need more activity and mobility from one or both of them because their perimeter players get beaten off the dribble repeatedly. The obvious choice to have a greater impact is the younger, more athletic Stoudemire who shows tremendous agility, relentlessness and athleticism once the Suns have the ball over half court. Defensively, he lacks the willingness to bang with the true low post players in the West, while also failing to get out on the floor and move with the smaller face up power forwards that can hurt the Suns on the perimeter. Furthermore, he loses his man or is late providing help far too often. It all comes down to commitment, work ethic and physical tools to be an effective defensive player. Stoudemire needs to work on the first two traits in order to ever reach his potential and help the Suns get back on track.

As far as Shaq's concerned, he actually hasn't slipped much from where he has been the last few seasons. He has been physically hampered by injuries and father time, thus making him fairly stationary in the paint on the defensive end. He will hit people and be a deterrent in the lane only if the action comes to him. His ability to cover the paint from block-to-block hasn't been consistent since he left the Lakers. Overall, O'Neal has played fairly well since he arrived. The Suns wanted his defensive rebounding and they have gotten it. His 11 boards in 29 minutes are fantastic. And he continues to shoot a high percentage while occupying multiple defenders. He hasn't slowed the Suns' break down significantly either. He has just been exposed defensively because he came to a porous perimeter defensive team and is playing alongside a power forward that doesn't do the things that Shaq no longer can. The irony is that the Suns don't need to be great defensively... not even good. They just need to offer stretches in each half where they aren't embarrassingly bad. How can they get there?
The only answer is for one of the big men to come off the bench. Limit their minutes together and utilize the versatility of Boris Diaw to help cover more ground defensively. The Suns miss Shawn Marion's quickness, defensive mind-set and ability to protect his teammates by covering the opposing team's best player, regardless of position. Playing small is the only way this team can replace Marion's absence. The experiment has been a huge disappointment, but the Suns still have incredible material to work with. Now, in order to avoid slipping into Western Conference oblivion, they need to try something new.
It's time for D'Antoni to put on his lab coat and grab his goggles.
ESPN analyst Tim Legler is a regular contributor to the Daily Dime.
Dimes Past: Feb. 24 | 25 | 26 | 27 | 28 | 29 | March 1-2 | 2 | 3 | 4 | 5 | 6 | 7 | 8-9

Alec, Los Angeles: Hi David, The popular notion among writers (e.g., Bill Simmons) is that the Spurs' R.C. Buford gave Luis Scola away. But I think there's a vast misunderstanding of what San Antonio's brain trust was thinking.
By getting Houston to also take Jackie Butler and his fat 2.4 million dollar contract, the Spurs were able to take that money and sign Ime Udoka. And if they chose to keep Scola, then Fabricio Oberto's minutes would have been cut since Oberto and Scola are somewhat duplicative.
I think Buford and Popovich preferred the Udoka and Scola combo to Scola and Oberto. In that light, do you think San Antonio mis-stepped? Thanks for your thoughts.
David Thorpe: Great stuff. Nothing that Buford does would surprise me. He's the real deal.
Derek Dallas: With the Spurs current successful run and favorable upcoming salary space, do you think they will continue to be contenders with well executed acquisitions?
David Thorpe: Buford equals permanent relevance.

By John Hollinger
|
ESPN.com
I made no secret of my
opposition to the trade
at the time it was made, so I won't recount that reasoning here. But now that we have some hard data from the first eight games of the Shaq era, we can pinpoint where Phoenix has fallen short -- and, if the Suns are to recover, where they need to improve.
In doing so, one thing stands out: Most of the reasons given for making the trade with the Heat are instead looking like reasons the Suns should have passed on it.
An easy way to juxtapose this is by examining the collision between theory and reality. "Theory" below is the case that's been made by the Suns and others in favor of the trade. "Reality" is the actual result thus far.
To wit:
Theory: This trade can't be measured until we see the Suns in the playoffs
Reality: We might not see the Suns in the playoffs
Despite its recent struggles, Phoenix seems in a comfortable position as far as reaching the playoffs goes. The Suns have a 3.5-game lead over Denver and are ahead of Dallas and Golden State. Finishing ahead of any of those three will guarantee them a trip to the postseason, and with just 21 games left, there isn't much time for the others to catch up.
But remember what I said about Phoenix's schedule earlier? It's rough. The Suns' finishing kick includes one top opponent after another, starting with Saturday's contest against Utah. Included in that finish are two games each against Denver and Golden State. Moreover, the Suns are all but certain to lose the tiebreaker to Golden State and need a sweep to avoid the same fate with Denver.
The Hollinger Playoff Odds are starting to sense the Suns as less than a sure thing, with Phoenix's playoff odds dropping below 90 percent this week for the first time in eons. Even that percentage overstates their chances, because a good chunk of their power ranking is based on their success when they had Marion.
If you look at how the Suns have played since the trade and the difficulty of their remaining schedule, a finish somewhere around 9-12 or 10-11 in their final 21 games doesn't seem unreasonable.

Sundays matchup between the Spurs and Suns (ABC, 3:30 p.m. E.T.), will be their third this season.
The two teams have split the games so far, each winning on the road.
Tim Duncan has been a monster against the Suns this season averaging 26 points and 17 rebounds a game.
But success against the Suns is nothing new for Duncan recently.
Tim Duncan vs Suns ( Last 6 Games)

PPG
23.3
FG Pct.
50.0
RPG
14.8
APG
5.3
BPG
2.7
-- Peter Newmann, ESPN Research
Suns GM Steve Kerr joins Chad Ford on the Dish and talks about the acquisition of Shaquille O'Neal, the team's defensive struggles with Shaq in the lineup and more.
• NBA Dish: Chad Ford and Steve Kerr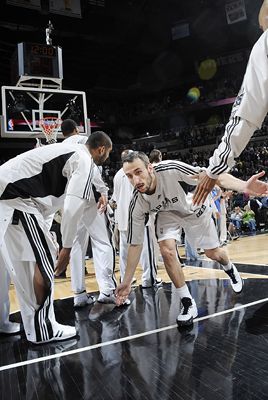 Getty Images
Manu Ginobili's play this season has garnered MVP talk amongst his peers.

Steve Nash is averaging 11.4 assists per game this season, leading the NBA.
Nash is trying to lead the NBA for the fourth straight season, something only two players in NBA history have done.
Consecutive Seasons Leading in APG

Cons. Seasons
Years
John Stockton
9
(1987-96)
Bob Cousy
8
(1952-60)
Steve Nash
3
(2004-Present)
Jason Kidd
3
(1998-01)
O. Robertson
3
(1963-66)
-- Peter Newmann, ESPN Research