Photo by Lisa Blumenfeld/Getty Images
Five Observations On Shaq's Suns And Duncan's Spurs

PHOENIX -- Only one team on the NBA map has made it through the first 60-odd games of the season without a single three-game losing streak. Go figure: It's the same team that might have triggered a state-of-emergency alarm from local government officials if it didn't win Sunday's showdown with los Spurs de San Antonio.
Los Suns de Phoenix avoided far more than their first three-game skid of 2007-08 by digging out this 94-87 victory over Team Duncan. They averted a full-blown crisis … and they know it.
"All right," Suns forward Grant Hill exclaimed afterward at his locker, as the media hounds began to disperse. "Got that monkey off our back."
It's going to take more than one big win to hush the skepticism generated by the Suns' midseason megatrade for Shaquille O'Neal and a whole new style. But now? The inevitable panic that would have been caused by another crunch-time loss to the team that has tortured Phoenix so in the playoffs -- not just external panic, either -- has been diffused. For really the first time since Shaq arrived, after six losses in his first nine games, you can see the possibilities.
Five more things we saw while watching the Suns (yes, Phoenix) topple Tim Duncan's Spurs in a defensive struggle worthy of the postseason:
Shaq can still match up with Duncan as well as anyone can
Let me preface this by stressing that the Suns absolutely had to win Sunday. It would have been a massive blow to lose when Shaq gave them so much and when they played with so much more defensive determination than we've seen since Shaq's arrival.
Wasting that sort of effort and O'Neal's 14 points, 16 rebounds and two blocks was simply not an option, especially since Shaq also managed to stay on the floor with five fouls for the final 5:55. Amare Stoudemire pulled off the same feat for the final 6:51, which raised the volume on the obvious question: How often will that happen?
That said …
You can now start asking what this kind of performance is going to do for the new Suns' swagger and self-belief. You can ask that because -- trust us -- Duncan always knew Shaq was there. He knew it even though O'Neal, either by design or because of fatigue, scarcely touched the ball offensively after halftime.
Shaq's size and physicality unquestionably helped hound Duncan into 6-for-19 shooting, along with the presence of Stoudemire as a pretty imposing weakside helper who can block (or change) shots. Don't forget that Duncan, by comparison, averaged 26 points and 17 rebounds in this season's first two meetings with the Suns, adding to the abuse that saddled Phoenix with a 7-15 record against San Antonio in the regular season and playoffs since Nash returned for the 2004-05 season.
We repeat: Shaq still has to prove that, having just turned 36, he can regularly play at this level in the playoffs. You also have to believe that this wasn't the last time O'Neal and Stoudemire are going to find themselves in late-game foul trouble.
But the Suns' chronic inability to deal with Duncan was a big reason they took this gamble. The improvement with Shaq, at least in this one area, was immediate.
Stoudemire started each half guarding Duncan, but O'Neal handled the majority of the coverage. That enabled Phoenix to (A) avoid the double-teaming that has caused so many breakdowns in previous Suns-Spurs encounters and (B) kept Duncan outside more than he likes to be.
"That's kind of why we did this," Suns coach Mike D'Antoni said.
Added O'Neal, referring to his years of showdowns with Duncan: "If anyone knows what he's going to do with the ball, I think it's me."
And Duncan: "The game was a lot different. They play a [much] different style now. They're not as fast-break oriented, but in [some] respects I think they're a bit better defensively. They're better rebounding-wise. So you take something away [and] you give 'em something."
The desert … where Shaq caring happens
It wasn't just the head-first launch into the stands in a futile attempt to rebound an errant Steve Nash jumper. Shaq played throughout with a regular-season intensity that, let's face it, Miami fans might have never seen.
The inevitable focus on the Superman dive, furthermore, will obscure what I found to be a much bigger highlight: O'Neal's refusal to let Duncan help him up after a second-quarter collision. Duncan leaned down to a fallen Shaq with an outstretched hand, but O'Neal pretended not to notice until his own teammates were ready to pull him off the deck.
Shaq claimed afterward that he didn't realize Duncan was there because he was gathering his senses after taking a hit "in the scrotum." Don't believe it. Whether the contempt was real or choreographed, O'Neal was clearly trying to ramp up a rivalry that's fairly heated already.
Which we love to see.
Said O'Neal in his postgame TV chat with Michele Tafoya: "They say old people always come to Arizona, you know, to get recharged."
This is deja vu all over again for Nash
Playing San Antonio from now on is going to remind Nash of his last playoff series in Dallas. Nash was pinpointed as the primary scapegoat for the Mavericks' first-round loss to Sacramento in the 2004 playoffs, but his detractors conveniently overlooked the fact that Nash had to guard Mike Bibby at one end while trying to shake Doug Christie at the other end.
Conditions against the Spurs, though, might be even more unfavorable for Nash. Marion's departure generally makes it much tougher for Phoenix to stick Nash on a non-scorer defensively, which is party why Phoenix had allowed its previous nine opponents to shoot a combined 50.5 percent from the field. Yet against San Antonio now, Nash will have to serve as the Suns' primary Tony Parker defender … while contending with the sticky defense of Bruce Bowen when he has the ball.
The good news? Nash coped with the challenge expertly at the first attempt, ignoring a bloodied lip to wriggle free for nine fourth-quarter points, including a long 3-pointer after the Suns uncharacteristically shot 1-for-10 on 3s entering the fourth.
Better yet? In return for his team-best 19 points and 14 dimes, Nash himself got a big late assist from Hill, who switched onto Parker for the final five-plus minutes and held Parker scoreless after the Frenchman recorded his 21st and final point on a free throw with 5:55 to go.
D'Antoni said afterward that he had always intended for Hill to finish the game on Parker, but that Hill was mainly a down-the-stretch option. Nash, then, is bound to have plenty of Parker duty in his future if the teams meet again in the playoffs.
Then again, if Hill duplicates this sort of success against Parker in future fourth quarters, maybe Nash is actually better off than he was in those old Mavs-Kings duels.
It was the first time, according to Hill, that he had ever guarded Parker. "I studied and scouted him real close in the Finals when I was working for you guys," Hill joked, referring to his stint as an ESPN on ABC analyst.
The Suns didn't fix everything in one game … and they know it
You can't blame Phoenix for feeling giddy after this one given the growing gloom in town following its three successive home losses. The Suns were simply outstanding in numerous areas that have been big trouble spots lately, restricting San Antonio to just five fast-break points -- compared to the hosts' 23 -- and contributing to the Spurs' 34.9 percent shooting from the field with active hands, anything-but-soft defending and aggression in the passing lanes that we just haven't seen from this group. In the final 5:03, after taking an 85-80 lead, San Antonio was outscored 14-2, totaling more turnovers (two) than baskets (1-for-10 shooting) in that span. The reigning champs, for once, were out-executed.
However …
As Duncan was quick to remind: "We're usually a little better than that down the stretch."
And: "I had two layups and two turnovers down the stretch that easily could have produced some points and made a difference in the game. So I'll take a lot of the blame for how it turned out."
So Phoenix has to know that the Spurs will adjust, since this was also San Antonio's first look at the Suns' new look. It likewise seems reasonable to expect Parker to be sharper in future encounters; Spurs coach Gregg Popovich insisted beforehand that Parker is finally close to full health after a persistent heel problem but not close to peak rhythm.
Other primary concerns in the victorious locker room include Boris Diaw's ongoing anonymity, which is magnified now in Marion's absence, as well as the step back Leandro Barbosa has taken at both ends, which is magnified because Manu Ginobili might be, as one Western Conference scout told me recently, only the best sixth man of all time. (Raja Bell has been slumping, too, but offset another slow start from the perimeter with some adhesive D of his own against Ginobili.)
Los Suns vs. los Spurs is still as good as it gets
I'm sure you'll keep hearing and reading mournful commentaries about how sad it is that the Suns have abandoned their carefree, run-and-gun game for a more conventional approach. You won't get the same lament here, but I will concede that it's no use matching up better with San Antonio if this team repeats its recent stumbles against the likes of Denver and Utah and doesn't make it far enough in the playoffs to see San Antonio.
But if we do get a rematch in the forthcoming playoffs? After seeing Shaq's presence lure Muhammad Ali into a courtside seat Sunday, on top of all the history these teams already have, who would dare claim that this matchup has been diminished in any way?
"It felt like a Duke-Carolina game," Hill said, "with Duke winning."
Marc Stein is the senior NBA writer for ESPN.com. To e-mail him, click here.

The ESPN Conversation rolls on after the Suns' win over the Spurs.
" Gosh, 'Los Suns.' Can't they at least say 'Los Sols'? It's like that Chris Farley skit in which Chris Farley says 'In Spanish El Niņo means ... the Niņo.'" -- objesguy
"What's interesting about this win for PHX is that it gives the Shaq trade some breathing room, however they benefited more from the Spurs offensive woes than they did from Shaq being on the floor. Phx is still in danger of not making the playoffs. They need to be careful and not make more of this win than it really is." -- BigDtinyE
"I would like to point out that Suns made the trade for Shaq so they could beat the Spurs ..." -- ABarteezy

SUNDAY'S BEST
Chauncey Billups, Pistons guard:
His 34 points, including 14-of-15 free-throw shooting, led the way in the win over the Bulls. His season FT percentage (91.1) is on pace for his best in this century.
---

SUNDAY'S WORST

Michael Finley, Spurs forward
-- Spends 23 minutes on the court, missing all six shots against the Suns. It was his first scoreless outing since a Nov. 15 loss in Dallas.
---
QUOTE OF THE NIGHT

"It's not as bad as you guys thought it was and it's probably not as good as you guys think right now."
-- Suns coach Mike D'Antoni, on the state of his team.
• See Sunday's daily leaders
-- Andrew Ayres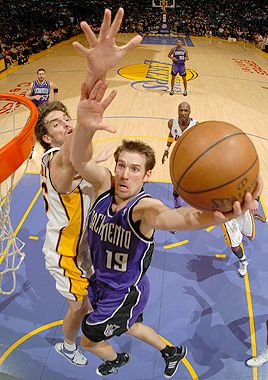 Noah Graham/NBAE via Getty Images
Kings guard Beno Udrih (25 points) drove his team past the Lakers. Udrih sank the winning free throws for a 114-113 win.

Elias Sports Bureau
Nate Robinson, listed at 5-foot-9, became only the third player listed at 5-9 or shorter to score 40 points in an NBA game. He had 45 in a loss to Portland on Saturday. Calvin Murphy, listed at 5-9, had seven games of 40 or more points with a high of 57 points playing for the Rockets against the Nets in 1978; and Dino Martin, listed at the same height, scored 40 points for the Providence Steamrollers against the Cleveland Rebels back in 1947, in the first year of what was then known as the Basketball Association of America.
And in terms of Knicks history, Robinson broke the record of Stephon Marbury (listed at 6-2) as the shortest player ever to produce a 40-point game.

Todd (Rochester, NY): As a Mavs fan, is it too early still to panic? I think they will get it together over the next 20 games and make a run. Not sure how far though.
J.A. Adande: They weren't going to win the championship before they got Jason Kidd, they weren't going to win one after they got him. No need to panic ... unless you're Mark Cuban spending all of this extra money for a team that might go one round further than last year.
The most alarming thing for Dallas has been Josh Howard's inability to mesh with Kidd. Kidd's supposed to make life easier for everyone, but Howard hasn't figured it out and he's still trying to create all of the shots for himself instead of letting JKidd do the work
David (Los Angeles): What's up J.A., miss your articles in the Times, but loving you here at ESPN. Question: Minus the Lakers, can those teams that made huge acquisitions ever really get it together before the playoffs? I'm speaking of Dallas, Phoneix, and Cleveland specifically. I am a serious Lakers fan and have no doubts they will definitely win it this year ... hopefully against those Bostonians! "Remember the Patriots!"
J.A. Adande: It's interesting that two of the biggest names (Shaq and Kidd) have not made the biggest impact. I'm sure Pau Gasol ranks far below both of those guys in the NBA store jersey sales, but he's meant more to the Lakers than any single transaction. I think Cleveland's guys will be fine. They're all about Bron anyway.

John Hollinger
ESPN.com
In spite of the light mood beforehand, the Heat weren't tanking Saturday against the Hawks. Dwyane Wade, whom many suspected would be "DNP-Lottery," played 39 minutes in the second game. And with the game in the balance in the final minute, Heat coach Pat Riley was animated enough to, er, protest rather loudly about a missed foul call on Ricky Davis.
But in the end, the league's first replay of a protested game in a quarter-century turned out the same way for Riley. His team lost both ends of a doubleheader, just as it did on April 13, 1983, against San Antonio -- back when he was the young coach of the Los Angeles Lakers.