Getty Images
Stoudemire Takes Charge For Phoenix

This was another great night in the West. We saw the NBA's two top-scoring teams, the Golden State Warriors and Phoenix Suns, deliver an exciting meeting of Western Conference contenders.
This latest chapter in the best playoff race I can remember showed us how Phoenix is progressing 12 games into the Shaquille O'Neal era in Phoenix.
The West's top seven teams are separated by 3½ games, and it's not because teams are playing bad basketball. What a race: Houston is on the second-longest win streak in history, Manu Ginobili is having a career year, Chris Paul's been outstanding and I think this is the year Kobe Bryant will be the MVP.
Suns big man Amare Stoudemire, meanwhile, is now the most versatile big man in the game. He's the difference maker for Phoenix, which is now the No. 6 seed in the West. His 36 points, 11 rebounds and 4 blocked shots gave the Suns their third straight win, a 123-115 victory over the Warriors.
We saw how he can play small ball, and how he can be just as effective when the Suns go big on the floor. While there's no doubt losing Shawn Marion's versatility hurts, having Shaquille O'Neal does help in another way, allowing Stoudemire to do more things.
He can make the 15- to 17-footer, but is also the best overall finisher in the game. He gives the Suns a different dimension. Stoudemire is going to benefit the most from the trade, which allows him to face up at the 4 with Shaq in there, or play with his back to the basket at the 5.
O'Neal's foul trouble in this one allowed Stoudemire to show his versatility once again. Also of note, Shaq's 14 minutes meant fewer chances of seeing another episode of the Diesel flying in the stands, or stopping just short, scaring the entire Suns bench into flopping out of the way. That's some classic material worthy of the Three Stooges.
Golden State can make opponents look like stooges, too, with its small-ball approach. Baron Davis is playing at an All-NBA level, and this game was no exception with 38 points, 9 rebounds and 8 assists. Monta Ellis is making a name for himself, and has a great demeanor out there -- no technical fouls for him.
However, I don't think playing small ball is a winning style to advance in the playoffs. You need a player who can be a double-double threat in the middle. Golden State's center, Andris Biedrins, is still learning -- you see how he often goes down the court on multiple trips without touching the ball. That's not a post presence. Chris Webber hasn't developed for the Warriors as they would have liked, and it's hard for coach Don Nelson to try to get him out there when the West race is a win-or-go-home proposition every night.
As for Phoenix, it's premature to make too many declarations based on these regular-season games. It's going to come down to how the Suns do in the playoffs.
Whether it's as the No. 1 seed or No. 8, the seeding ultimately won't be much of an indication of how a team fared in this wild West. That's how tight this race is. Judgment days are still a ways off for Phoenix, no matter how well or poorly things go on any given night as the Shaq adjustments continue.
The early returns on Stoudemire, however, are very positive.
ESPN analyst Jalen Rose is a regular Daily Dime contributor. For more about Jalen, visit his Web site: JalenRose.com.
Dimes Past: March 1-2 | 2 | 3 | 4 | 5 | 6 | 7 | 8-9 | 9 | 10 | 11 | 12 | 13
By Peter D. Newmann | ESPN Research
The Houston Rockets have won 20 straight games, tied for the second-longest streak in NBA history. Houston has won eight in a row since Yao Ming's season-ending injury. The streak began on Jan. 29. The Rockets take aim at win No. 21 when they play host to the Charlotte Bobcats on Friday night.
Houston Rockets Performances During 20-Game Win Streak

Category
Stat
PPG
101.1
Opp. PPG
88.6
Opp. FG Pct.
40.9
RPG Diff.
+6.4
Elias Sports Bureau
The Warriors exercised their option for next season on Don Nelson's contract, paving the way for Nellie's 30th season as a head coach in the NBA. In his previous 28 seasons on the sidelines, Nelson has never guided a team to the NBA Finals, no less to a title. No manager or head coach in the history of the NBA, NHL, NFL or Major League Baseball has been in that position for as many seasons as Nelson without ever bringing a team to the "finals" of his sport.
Most seasons as head coach or manager without ever appearing in the NBA Finals, Stanley Cup Final, Super Bowl (NFL or AFL Championship Game prior to the Super Bowl era) or World Series: Don Nelson (28 seasons, not including 2007-08), Gene Mauch (MLB, 26), Chuck Knox (NFL, 22), Jimmy Dykes (MLB, 21), Marty Schottenheimer (NFL, 21) and Cotton Fitzsimmons (NBA, 21).
Oden Participates In Practice

The Associated Press
• Greg Oden, the top pick in the 2007 draft, ran through a light practice for the first time all year on Wednesday. Yet to play a game following microfracture surgery on his right knee last summer, Oden won't play until next season.
• Blazers reserve F Channing Frye banked in a 3-pointer from near half court to conclude the first quarter.
• Kings coach Reggie Theus, complaining to referee Bennett Salvatore about a third-quarter no-call on Kevin Martin. "You've got to protect the young fella."
• Cleveland's Ben Wallace returned after missing Wednesday's game with back spasms. Zydrunas Ilgauskas (bulging disk in back) missed his seventh straight game. The injuries prompted the Cavaliers to sign C Lance Allred from Idaho of the NBA's Development League to a 10-day contract.

THURSDAY'S BEST
Amare Stoudemire, Suns forward:
Goes for 36 points, 11 rebounds, 4 blocks and 4 assists in the 123-115 win over the Warriors. "We can play big ball, or we can go small ball and outrun them, so we've got the best of both worlds," he said afterward.
---

THURSDAY'S WORST

Jarrett Jack, Blazers guard:
Misses all five shots for the Blazers in a 96-85 loss to the Kings. His shooting woes over the past three games: 1-for-18 from the field.
---
QUOTE OF THE NIGHT

"I missed shots. I'm human. I can miss shots."
-- Cavs forward
LeBron James
, after missing the potential game-winning 3 at the buzzer in a 101-99 loss to the Wiz.
• See Thursday's daily leaders
• See the current playoff matchups
-- Andrew Ayres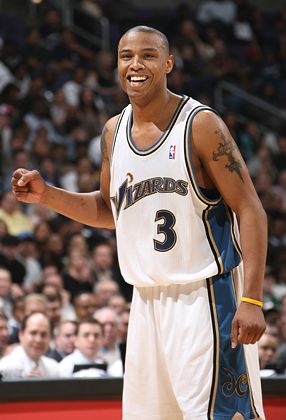 Ned Dishman/NBAE via Getty Images
Caron Butler returned from a 16-game injury absence to score 19 points Thursday night in the Wizards' 101-99 victory over the Cavaliers. "Tough Juice" finished 8-for-18 from the field and had five rebounds in 41 minutes.

TNT analyst Charles Barkley told ESPN Radio's Mike Greenberg and Mike Golic that he is very impressed with the Rockets' 20-game winning streak. However, he doubts they're a contender without Yao Ming. He thinks San Antonio, the Lakers and Utah are the three best out West but any of the top four can win. Kobe is his MVP favorite, but LeBron is unbelievable. Also, his thoughts on the East.
Charles in Charge