Getty Images
Ranking The Top Five Story Lines Of The NBA Season

Here's a fun game with roughly one month to go: Try picking out the story (line) of the season so far.
You never imagined this might be a problem back in September, when Greg Oden's knee snapped and the New York Knicks cratered to embarrassing new lows in a courtroom to add to the most scandalous development of all-time: Tim Donaghy's resignation and federal indictment after the veteran ref was hit with allegations that he gambled on games.
But now? The league has rebounded from the doom emphatically, with surprise after pleasant surprise to almost erase Donaghy from our memories and set up a tasty stretch drive and playoffs, as long as what happens next is half as good as what we've already seen.
One man's five favorite headlines so far:
1. Blockbusters Come In Threes!
Hold up. Blockbusters never come in threes. We're actually lucky to get one a season.
So that's why when Pau Gasol, Shaquille O'Neal and Jason Kidd were all traded within a span of 19 days in February -- and especially when the run-and-gunners from Phoenix decided to break up their one-of-a-kind team to gamble on Shaq's keeping up with them -- this became the season synonymous with blockbuster deals.
It's even truer when you go back to the draft and throw in Boston's landscaping-changing additions of Kevin Garnett and Ray Allen before the season.
Still not convinced? You will be when you factor in what the KG and Pau deals have done in terms of reviving the possibility of a Celtics-Lakers reunion in the NBA Finals after two decades without one. Or when you remember how rare it is to see established title contenders like Phoenix and Dallas make such a drastic in-season change and do so for morale reasons as much as anything.
2. This is the Wildest West Of All-Time!
We were down to eight teams on a 50-win pace entering the weekend, with Denver still stuck at No. 9 in the conference standings on its humble 49-33 track.
Of course, eight 50-win teams -- if the eight West teams that already have 40 wins don't cannibalize themselves in the next 15-plus games -- would establish a new league record, topping the 2000-01 season when the Spurs, Lakers, Kings, Mavericks, Jazz, Suns and Trail Blazers all hit the Big Five-Oh.
Surely you've noticed that all this is happening when the East's current No. 8 team (New Jersey) is on a 34-win pace. Yet if you really want to depress West coaches, ask them whether they think this is a one-season fluke … or it's going to be like this for the foreseeable future.
"I don't see anybody [in the West's top nine] getting worse any time soon," said Suns coach Mike D'Antoni.
Adds Houston counterpart Rick Adelman: "I don't think it's going to change much next year. Portland seems not to be in the equation now, but they're going to be in the equation."
3. Boston Is Back!
It's easy to forget how huge this is/was because the Celtics' 29-3 start seems so long ago, given everything else going on here to occupy our thoughts.
But Boston didn't merely become this season's first team to win 50 games earlier in the week. KG, Paul Pierce and Ray Ray are also on course to finish 65-17 and thus post 41 more victories than last season's 24-58 team. Forty-one, folks.
That would be five more wins than the league's previous largest single-season improvement. Imagine, furthermore, if Bill Simmons' deepest fantasies come true and the team's new-age star trio -- along with new pals Sam Cassell and P.J. Brown -- get out of the East at the first attempt … or even win it all in their first year together. What began as the Celts' season would undeniably be remembered forever as their season.
4. Houston Can't Lose!
It'll be easier to grade this one with some finality when we know how long the streak ultimately lasted and when we know for sure what kind of impact it had on the Rockets' playoff potency. If they somehow stretch this thing closer to the 30 range -- or if the confidence generated by this run has turned this into an elite team, with or without Yao Ming -- up this list Houston goes.
Yet even if the streak is halted soon, Houston's achievement remains unreservedly momentous, matched by only two other teams -- both championship teams, as noted in Box 7 -- in league history.
As Tracy McGrady rightly keeps saying, forget your focus on which teams the Rockets have or haven't played during the streak and remember that Michael Jordan's 72-10 Chicago Bulls couldn't win 21 in a row. Twenty-one consecutive wins is something special even if you're playing Miami for 21 straight nights.
5. Kobe Vs. LeBron!
The league was smothered in October by Kobe Bryant's desire to be traded … and the Lakers' actual willingness to explore that possibility seriously.
But now Bryant's status as the game's finest individual player -- coupled with Kobe's staying and leading L.A. back to the elite for the first time since Shaq was exiled to Miami in the summer of 2004 -- computes to a stronger-than-ever candidacy for the league's Most Valuable Player trophy.
Only one problem: Bryant's closest MVP rival is seen by some around the league as the superior one-man show, thanks to LeBron James' overcoming his lack of a consistent post-up or midrange game at 23 to (gulp) make a legit run at a (yikes) 30-8-8 season.
I tend to agree with Kobe's recent statement to Sports Illustrated's venerable Jack McCallum about their duel: "Put me in the East," Bryant said, "and see what happens." Disagree if you wish, but what no can dispute is that this debate is only going to get louder.
Marc Stein is the senior NBA writer for ESPN.com. To e-mail him, click here.
Dimes Past: March 1-2 | 2 | 3 | 4 | 5 | 6 | 7 | 8-9 | 9 | 10 | 11 | 12 | 13 | 14
In a brief visit with Shaquille O'Neal earlier this week, I was surprised to hear Shaq make the claim that this is an MPE season for the self-proclaimed MDE.
Surely you remember that MDE, in O'Neal's glossary, stands for Most Dominant Ever.
But MPE?
"Most pressure ever," Shaq said.
Then he repeated it: "Most pressure ever."
I naturally asked him to expound on that thought, especially since (a) he was so calm when he said it and (b) has looked rather calm and comfortable since he got to Phoenix. Can't say I got a definitive explanation, but Shaq wouldn't back off his assertion that the Suns trading Shawn Marion for him and thus committing to a new style so abruptly has placed a greater expectations burden on The Diesel than he's ever hauled before.
"It is a lot of pressure," O'Neal said. "Because it's always on me. But I accept that."
We tried to press on. Pressure because the Suns have to win it all in the next 2˝ seasons (or sooner, realistically) for this trade not to be judged as a failure?
"Yes and no," Shaq said. "For people to say it didn't work, it would have to be because I came in here being an a------, screwing around and not playing hard. That's the only way you could say it didn't work."
Then does this pressure stem from the fact that this season, with Steve Nash already at 34 and Grant Hill at 35, might represent the new Suns' best chance to win in the next 2˝ years.
"I want to win now," Shaq said. "But you know and I know that it takes three to eight years to build a championship team."
Reminded that he might not have three to eight years left, Shaq added: "I think we can win it this season, but everything has to be done right."
---
Expounding on what we discussed in the lead box, Boston already has surpassed last season's win total.
The Celts, though, are one of just five teams that have done so in just 60-ish games, with the West housing three of the five.
The full progress report:
| | | | | |
| --- | --- | --- | --- | --- |
| Team | 2007-08 record | 2006-07 record | Increase | Games Left |
| Celtics | 51-13 | 24-58 | 27 wins | 18 |
| Hornets | 44-20 | 39-43 | 5 wins | 18 |
| Lakers | 45-20 | 42-40 | 3 wins | 17 |
| Magic | 43-24 | 40-42 | 3 wins | 15 |
| Blazers | 34-32 | 33-49 | 1 win | 16 |
---
You don't hear it as much now. Not with the Rockets entering the weekend at 9-0 since losingYao Ming. Nor with Houston playing such aggressive, active defense sans Yao and not when the offense has flowed so nicely in Yao's absence, with the removal of a 7-foot-6 paint presence opening up driving lanes and creating more space for the backdoor cuts Rick Adelman's offense is designed to generate.
About two weeks ago, though, there was a loud outcry in Houston when news broke that Yao would miss the rest of the season to deal with a stress fracture in his left foot. You heard it said a lot that China's Olympic interests were being placed ahead of the Rockets' interests.
So we went to Tracy McGrady for the locker-room view. And T-Mac insists that there's no dismay among Yao's teammates that the decision was made so quickly to opt for season-ending surgery, thereby enhancing Yao's chances of playing in the Beijing Games.
"He felt like he needed to get it done," McGrady told ESPN.com last week. "It was really bothering him every day, and I guess the word he got from our trainers and doctors was that he really could have damaged [his foot]. So the best thing for him and for us was to get it taken care of right away.
"Hopefully he has a really fast recovery so he can play in the Olympics. We actually want him to play in the Olympics. He's the face of that. It's in China, so he has literally billions of people counting on him to play. It would be a huge disappointment if he couldn't."
Easy to say now because the Rockets have started their post-Yao life so well? Maybe.
But you suspect that McGrady realizes more than anyone that Yao's presence will be greatly missed when the scorching-hot Rockets inevitably cool off from outside. Wednesday's near loss at Atlanta and Friday's climb-from-behind win over Charlotte seemed like the first games in ages when Houston wasn't draining everything.
You also have to believe that McGrady -- as much as it would do for his résumé to finally win a first-round series after losing Yao -- would like his chances of halting that 0-6 playoff hex better if he had Yao's help in the torturous West.
Curious how ESPN.com's famed committee (of one) reaches a 1-30 consensus every Monday on the
NBA Power Rankings
?
J.A. Adande had some questions of his own and finally had the opportunity to ask Marc Stein directly as guest host of the NBA Dish podcast.
NBA Dish: J.A. Adande with Marc Stein


Five questions with Grizzlies forward Mike Miller:
Q: The Pau Gasol trade seemed to catch the whole league by surprise. Does that include you?
A: It kind of caught me off guard. But at the same time, we were kind of running in cement for a while. There had to be some sort of change. Unfortunately, it was a guy I played with [who] could put up 20 and 10 every night. It's nothing against Pau. It could have been anyone. It could have been me.
Q: Speaking of which, Mike Miller's name was mentioned in connection with a bunch of teams after the Pau deal. Didn't you expect to be traded next?
A: I don't know if it was as many teams as people think. My name has been in a lot of trade rumors since I've been in the league. But I took it as a compliment more than anything.
My loyalties are to the Memphis Grizzlies and [owner] Michael Heisley. They've put a lot of trust and faith in me [having signed Miller to a contract extension in October 2003]. I'm happy to be in Memphis.
Q: Nuggets, Spurs, Cavaliers, Heat, Clippers … I could go on and on. Were you checking in regularly with your bosses in February to find out if any of those trades were close to happening?
A: I asked once or twice, but that was really about it. Just trying to find out how much truth there was to everything. You know how this league is. People can say anything, but that doesn't mean it's true.
Q: But you're 28 now. Wouldn't most players in your position have been pushing for a trade to a contender?
A: It's obviously easy to say you want to be part of a winning team. Losing in this league is no fun. But this is part of it. My job is being part of the solution. When I signed up for [the NBA], no one said it'll all be easy.
Q: The Grizzlies have been hugely criticized for what they got back for Pau. How did management break its thinking down to you?
A: They explained to me that it was the one way you could really change the team and have the opportunity [to start over]. It's hard when you've a veteran to see that, but I've got to trust in the game plan.
Something had to be done, regardless of what people say. For the last couple years, we've been running in mud. It's been a tough [season], obviously, but I think there are a lot of misconceptions about Michael Heisley. He's gotten a bad rap.

I am happy to report that my premonitions about Orlando's Hedo Turkoglu were way, way off.
The league office confirmed this week that Turkoglu is indeed more than eligible to win the NBA's Most Improved Player award.
I honestly wasn't sure because of what it says on the ballot. The MIP, according to the official instructions, is meant to go to "an up-and-coming player" and is "not intended to be given to a player who has made a comeback.''
Those guidelines were brought to my attention a few years back when I wrote in this cyberspace that I planned to vote for then-Orlando forward Grant Hill as my MIP in 2005 because his consistently poor luck with health had improved to the point that Hill had reclaimed his usual spot on the Eastern Conference All-Star team. An official from another team touting a MIP contender of its own called me to point out that I was ignoring the official guidelines.
Yet it turns out the league is not nearly as firm as I feared on the up-and-coming part. Turkoglu is almost 29 and in his eighth season, but an NBA official stressed that the guidelines aren't intended to exclude anyone aside from players making full-fledged comebacks from a lengthy absence.
So …
You can still debate whether Hedo is the most improved player on his own team, given the progress made by Dwight Howard this season. But since Howard was already an All-Star -- which is bound to rule him out with some voters even though he's made that most challenging leap from stud to full-fledged franchise player -- there's little question that Turkoglu's improvement has been more pronounced.
The versatile Turk, discarded by Sacramento after just three seasons, has generally given Orlando more than $113 Million Man Rashard Lewis. He's transformed himself into one of the league's better fourth-quarter performers, having scored 10-plus points in the final period 14 times, and has raised his nightly offensive output more than nine points from a career average of 10.5 points per game to 19.6 points, helping Turkoglu earn back-to-back Eastern Conference Player of the Week honors on Jan. 27 and Feb. 3.
---
That Hawks vs. Heat do-over was pretty much a non-event, with neither team scoring in the final 51.9 seconds replayed March 8. But Miami is the first team in more than 25 years to successfully protest an NBA game, so you did have to at least consider it for a mention in Box 10 when rewinding through all the newsy developments of the past six months.
Grasping for something memorable from last weekend's proceedings, here's our best tidbit: History will show that Shawn Marion played for two teams in two games on Dec. 19, 2007.
Marion w as still a member of the Phoenix Suns that day, totaling 23 points and 10 rebounds in the Suns' 108-105 loss in Dallas. But the completion of the protested Atlanta-Miami game still goes into the record books as a Dec. 19 game, regardless of when it actually finished. So Marion -- commemorating his first month as a Heater after the momentous Shaquille O'Neal deal -- will also appear in the final box score of the Heat's 114-111 overtime loss, credited with one scoreless minute that won't exactly enhance his per-game averages.
---
There's no excusing Chicago's Tyrus Thomas for his methodology. Skipping a practice is always going to be a suspendable offense, especially when practice is skipped without at least calling the team first to let someone know you'll be absent, thereby sparing your bosses from fearing the worst.
However …
I'm told that Thomas legitimately believed he was going to prevent another distraction in a Bulls season filled with them when he didn't show for the March 5 workout.
The story, as I hear it from one team insider, is that Thomas recently had witnessed heated confrontations between Bulls coach Jim Boylan and two of Chicago's more veteran players -- Ben Gordon and Kirk Hinrich -- that wound up pitting multiple players against the coaching staff. I'm also told that Thomas figured he was heading for a similarly nasty blowup of his own with Boylan but that he also concluded that the punishment for an argument with Boylan would be a lot steeper than what Gordon or Hinrich faced, given where he stands in the Bulls' pecking order and the growing stress of a tension-drenched season.
So Thomas -- confused by recent nine-minute stints against Washington and Memphis after being told he'd be getting steady minutes off the bench in the wake of the Bulls trading away Ben Wallace and Joe Smith -- thought it best to take a one-day leave to clear his head. He couldn't understand why his minutes had declined so sharply soon after posting a big stat line (18 points, 11 rebounds, four assists, three blocks and two steals) in a victory over Denver. But he also drew the unfortunate conclusion that the smartest move was staying away without as opposed to presenting his case directly to Boylan.
Not smart, obviously. It was flawed thinking from the start, which Thomas conceded in his subsequent apology to his teammates. He had to handle this better, either through his agent or by taking his concerns to Bulls general manager John Paxson if talking to the coach right away was so uncomfortable.
Thomas, however, almost certainly wouldn't have been suspended two games had he simply called in with some sort of story about an illness, car trouble or a dog eating his Berto Center swipe card. That way, Bulls officials wouldn't have been moved to dispatch police officers to Thomas' home after failing to locate him until Wednesday afternoon.
But the inevitable focus on Thomas' lack of judgment shouldn't obscure the fact that the Bulls have been Blowup Central this season, during and since the departure of famously demanding Scott Skiles on Christmas Eve. Which is why you probably have to expect another coaching change in Chicago before next season -- barring an unforeseen postseason run by the Bulls -- even though Boylan has a passable 17-21 record since taking over to keep them in playoff contention.
Skiles has been gone for almost three months -- and numerous Bulls players (most recently Chris Duhon after L'Affaire Tyrus) undeniably have added to this season's issues with their immaturity -- but the tension never left. Easy as it is to presume that Gordon and Thomas will be traded in the offseason, it's far easier for a franchise to fashion a fresh start with a new staff.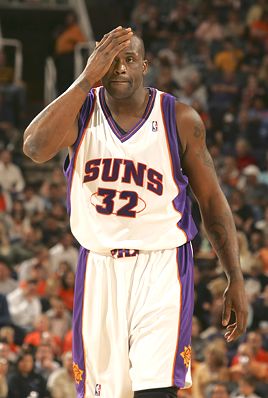 Getty Images
With Shaq, Steve Nash and Grant Hill at 105 years of age collectively and the Suns at just 6-6 since the big trade, O'Neal admits he's feeling some heat in Phoenix. (See Box 2)
If they're talking NBA on TV these days, they're probably talking about the Rockets.
In this case, Marc Stein joins Anish Shroff on ESPNEWS to discuss the Rockets' rise from 10th place in the Western Conference and fourth in their own division on the morning of Jan. 29 to the brink of No. 1 in the West entering the weekend, all thanks to a 20-game win streak equaled by only two other teams in league history.
Both were eventual champions, too: Milwaukee with its 20-0 run in 1970-71 and the Los Angeles Lakers with the record 33-gamer one season later.

"It was great. It was cool. It was awesome."
San Antonio's Tim Duncan, oozing sarcasm after losing patience last Sunday when more than one reporter -- forgetting that this particular subject was highly unlikely to rave about anything Shaquille O'Neal did -- asked Duncan for his reaction to the sight of Shaq diving head-first into a row of courtside seats in a futile chase for an offensive rebound.
Nothing Easy For New Orleans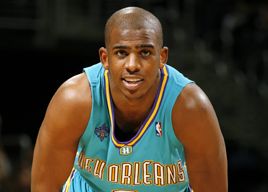 Getty Images
How big has this NBA season been? So large that Chris Paul, his can-do Hornets and the NBA All-Star Game still can't get New Orleans into Stein's top five stories of the season.
More big developments we considered for the top five in Box 1:
• The league's role in the resurrection of New Orleans. Chris Paul has the Hornets playing Cinderella ball, and All-Star Weekend was an all-timer with a turn-back-the-clock epic dunk contest, an All-Star Game played competitively to the finish and a huge NBA family contribution to the local community's ongoing attempts to rebound from Hurricane Katrina.
• Someone find the keys to Reunion Arena: Shaquille O'Neal and Penny Hardaway reunited briefly in Miami; Chris Webber went back to Oakland to play with Don Nelson; and Jason Kidd has returned to the scene of his rookie year in Big D. The first two were particular big-time shockers.
• The rise of surprise teams like Portland reeling off a 13-game winning streak without the fallen Greg Oden and a faceless Philly team pushing for a playoff berth in its first full season without Allen Iverson ... with AI's Nuggets straining to avoid the lottery.
• The gloomy, question-filled future that hangs over the Sonics in Seattle, set against Kevin Durant's virtually unopposed Rookie of the Year campaign.
• The Heat's for-the-ages disintegration … along with Chicago's significant underachievement when the Bulls were widely expected to contend for the East title … as well as the ceaseless turmoil that drowns the Knicks while their coach gets serenaded with regular "Fire Isiah" chants in his own building. None of those are happy tales, of course, but Miami's collapse is particularly newsworthy, given that a team so recently seen winning a championship (June 2006) has never fallen apart so quickly or dramatically. Especially not while retaining main characters with the stature of Pat Riley and Dwyane Wade.