Nathaniel S. Butler/NBAE via Getty Images
Catching 22: Rockets Greats Revel In Streak

HOUSTON -- The walkway leading from the showers to Rafer Alston's locker stall was not a clear one Sunday, his path blocked by two huge pieces of Rockets history and an equally large piece of their present.

"You are older than the two of us combined," Clyde Drexler, standing alongside Hakeem Olajuwon, was saying to Dikembe Mutombo.

The three of them shared a deep belly laugh that resonated throughout the cheerful inner confines of the Houston Rockets, who earned the right -- at least temporarily -- to proclaim themselves the best team in the Western Conference after they defeated the Los Angeles Lakers 104-92 Sunday to run the second-longest winning streak in NBA history to 22 games.

"This is crazy in here," Tracy McGrady said as he worked his way across the crowded room to get to his locker, the smile on his face matching the glowing looks coming from all corners of the arena after the Rockets avoided the bitter taste of defeat for a 49th consecutive day.

Not since Jan. 27 have the Rockets lost a game, and the 12-point victory Sunday represented the 14th time in the past 18 games they had won by double digits. Houston has gone 31-3 in its past 34 games to move from out of the playoff picture in the hypercompetitive West to atop the entire conference.

"I'm sure you'd like to have it 16 games from now, but having it now -- I'd rather be there than in the 10th spot," Houston coach Rick Adelman said. "We know it's just so tenuous that everything's going to change as we go, but today we had a challenge -- we had to beat the Lakers to get that [top] spot, and we did it. Now we have the best team in the East [Boston] coming in here Tuesday, and that'll be our next challenge."

The hero Sunday was Alston, who scored a career-high 31 points and knocked down eight of the Rockets' 12 3-pointers, the biggest of which came late in the third period after the Lakers had cut a 15-point halftime deficit to two. Alston's 27-footer with 2.3 seconds left made it a five-point game entering the fourth, and Alston's assist on Shane Battier's 3-pointer with 5:09 left started a game-ending 16-8 run that finished off Los Angeles.

"We're a confident bunch right now, confident but not cocky," said Alston, who could not remember the last time he scored 30, guessing it was probably in a summer league game of some sort. "We understand there's still work to be done."

Alston set the tone for the Rockets right from the get-go, making four 3-pointers and scoring 17 points in the first quarter when he realized the Lakers were overkeying their defense toward stopping McGrady. The Rockets' reserves opened a double-digit lead in the second quarter behind the hustle of Mike Harris, a local product from Rice whose 10-day contract is about to expire, and that of Bobby Jackson, who played his best game since arriving from New Orleans last month in a trade. Jackson scored nine of his 19 points in the second stanza to help Houston go ahead 59-44 at the break.

McGrady was scoreless until he hit his first field goal with 2:54 remaining in the third quarter, extending a two-point lead to four, and he added eight more points in the fourth quarter when Houston pulled away.

"It's not by accident," Olajuwon said. "They have quality players, they work hard, and you can see the chemistry."

So the streak is at 22 now (including 10 straight since Yao Ming went down with a season-ending injury), with the Eastern Conference-leading Boston Celtics coming in Tuesday night to try to prevent that streak from reaching 23. It remains to be seen whether a bruised heel will keep Ray Allen out of that game, and his absence would provide some more fodder to those who feel the Rockets' winning streak has been cheapened at least somewhat by the quality of their opponents and the circumstances surrounding some of their better victories.

The victory over the Lakers came as Pau Gasol sat out with a sprained ankle, and the victory over Dallas a little more than a week ago came on a night when Dirk Nowitzki was suspended. They didn't have to play against David West when they defeated the Hornets two Saturdays ago, and they might not have to face him Wednesday when they return to New Orleans one night after facing the Celtics.

Moreover, of the 22 consecutive wins, none has come against the three teams that arguably can be called the NBA's elite: Boston, Detroit and San Antonio.

Against the next rung (the Lakers, Jazz, Hornets and Magic), the Rockets are 3-0 thanks to Sunday's victory plus two earlier wins over the Hornets, and they've gone 3-0 against a pair of semistrong teams -- Dallas (one game) and Cleveland (two) -- currently in a state of flux after major midseason trades. The other 16 wins in the streak have come against a mix of the league's playoff contenders and pretenders (Denver, Golden State, Indiana, Washington, New Jersey, Portland, Chicago and Atlanta) and its bottom-feeders (Bobcats, Bucks, Heat, Kings and Grizzlies).

That level of competition has brought a measure of skepticism about Houston's streak, a mind-set the Rockets find equal parts mind-boggling and offensive.

"Sure, it bothers you some, but I can understand it because that's our world. There's so many experts now, probably 100 times the number there were five years ago, so they've got to justify what they do," Adelman said. "So if it means we've had a soft schedule, fine. But we played the teams that were there.

"I've said it before, and in fact I saw Kobe said it: 'If it's so easy, then why hasn't someone else done it?' It could all change in a week, but for what we've done to this point, I think it's a heck of an accomplishment."

Indeed it is, an accomplishment the likes of which we haven't seen in 36 years since the Lakers reeled off an NBA-record 33 in a row.

The Rockets are two-thirds of the way to matching that streak, and to get anywhere near striking distance, they're going to have to have a perfect upcoming week, first against the Celtics, then on the road with a daunting three-games-in-four-nights stretch against the Hornets, Warriors and Suns.

If they emerge unscathed, that'll make it 26, then they'll begin a stretch of eight games in which seven of the opponents (the exception is San Antonio) are nonplayoff teams. So in theory, 34 can be reached by notching just four wins against difficult opponents).

For now, though, the streak is at 22. And no matter whether you choose to consider it impressive, semi-impressive or merely flukish, it's a streak that brought an old generation and a new generation of Rockets together in the locker room on a Sunday afternoon in mid-March to bask in the glory of their franchise's stunning success.

What will it mean in mid-April when all anyone will want to talk about is McGrady's history of first-round failures? Probably not a whole lot.

But for now, the streak has brought a vibe to the place once called Clutch City, a place where Olajuwon and Drexler were looking just as proud Sunday as Alston and the rest of the Rockets.

That's what 22 in a row will do.

Chris Sheridan covers the NBA for ESPN Insider and has done extensive international basketball reporting. To e-mail Chris, click here.

Dimes Past: March 1-2 | 2 | 3 | 4 | 5 | 6 | 7 | 8-9 | 9 | 10 | 11 | 12 | 13 | 14 | 15-16 | 16
Return Of Atkins Keys Nuggets' Huge Performance

By John Hollinger | ESPN.com

Want to know why the Nuggets have been saying that Chucky Atkins' injury was such a big deal?
The past two games might provide you with a clue. With the veteran guard finally in the lineup after missing nearly the entire season with a groin injury, Denver rang up 137 points in Friday's win over Toronto. Then the Nuggets made that effort seem outright puny by scoring a ridiculous 168 against the Sonics Sunday.
It's not like they ran up the score either. The Nuggets had 48 points at the end of one quarter, and 84 by halftime -- the most by an NBA team in over 15 years.
The obvious difference would appear to be Atkins, who is 15-for-24 from the field in the past three games, including a scalding 12-for-19 on 3s, and has 16 assists against just four turnovers.
He rang up identical 5-for-8 efforts on 3-pointers in the past two blowouts, which is significant because shooting has been an Achilles' heel on this team for much of the season. While Allen Iverson and Carmelo Anthony are dynamic scorers, Denver had only one player -- guard J.R. Smith -- who could punish defenses for sagging on those two. And because of Smith's erratic defense and general combustibility, that option hasn't been palatable on many nights.
Throw Chucky into the equation and it's a different story. Plus, Atkins can also run the point and push the pace -- Denver set an NBA record with 49 fast-break points against Seattle. That gives Iverson less responsibility to create for others, and more space for his forays to the rim. And when Smith and Atkins take the court together, the floor really opens up.
Denver's offense has been middling for much of the season, a fact that's largely been disguised by its pace -- the league's fastest. Up until a couple of days ago, the Nuggets were 14th in offensive efficiency. In fact, their offense -- not their defense, as is commonly misunderstood -- was the reason they were in line to miss the playoffs.
If Atkins helps them up their offensive results, however, then somehow they're going to wriggle into the eight-team field out West -- which they're a game and a half out of at the moment.
I realize they can't hang 168 on everybody, but just look at these past two games. The addition of that one extra shooter makes the Nuggets a vastly more difficult team to guard. Denver has won its past three games by a combined 96 points, and while all three were at home against teams that were either bad or injured, it's impressive regardless.
A bigger test comes this week, when the Tour de Doormat ends and the Nuggets start a five-game road trip in Detroit -- a jaunt that also includes Iverson's return to resurgent Philly on Wednesday.
No, they won't have any more 84-point halves … well, at least until next week's game in Memphis. But with Atkins finally healthy, they just might claim a playoff spot after all.
SUNDAY'S BEST
Denver's offense:
What a night, as Denver took a 168-116 win in the rout of the Sonics. Surprise! Allen Iverson had 24, below his season average of 26.6. Marcus Camby posted a triple-double, and the Nuggets shot 60.4 percent from floor. The 168 points are the most in a regulation game for Denver.
---

SUNDAY'S WORST

Donyell Marshall, Sonics forward:
For failing to get on a scoreboard that totaled 284 points, Marshall gets this honor on behalf of the defenseless Sonics. He spent 15 minutes on the court, missing all four shots.
---
QUOTE OF THE NIGHT

"Georgia made it to the SEC championship game [Saturday], and I'm just riding the wave. I was feeling good all day long."
-- Pistons reserve
Jarvis Hayes,
a Georgia alumnus who dropped 29 points on the Hornets.
• See Sunday's daily leaders
• See the current playoff matchups
-- Andrew Ayres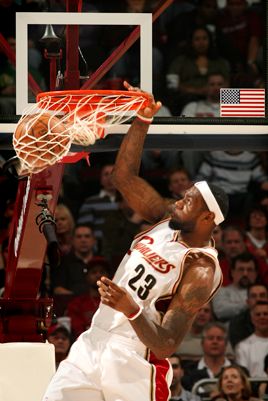 David Liam Kyle/Getty Images
LeBron James (33 points, 10 assists, seven rebounds) helped the Cavs find the net in a 98-91 win over the Bobcats.

Aaron (Seattle): Which first-round matchup in the Western playoffs would intrigue you the most? I can't stop thinking about Deron Williams vs. Chris Paul.
J.A. Adande: I still want to see GS-PHX for the free-flowing games plus PHX-LA for the rivalry built up over the past two years multiplied by 100 with the Shaq-Kobe factor.
Reggie (Memphis): Does this mean the league is finally realizing Bruce Bowen is the dirtiest player in the league?
J.A. Adande: Bruce has had this one coming for a while. It might not even have been his worst transgression (Amare calf kick? Ray Allen play?), but it's like the feds getting someone on taxes. Or perjury.
Mark the Piston Fan (Santa Cruz, CA): The West story may be exciting, especially on what those playoff matchups are going to be. But I think by the time the 2nd round starts, the East will be as exciting. Celtics-Cavs in one series, with Detroit-Orlando (or Toronto) in the other? That's good stuff!
J.A. Adande: The East can give you two or three good series. In the West they'll all be good.

Elias Sports Bureau
Andre Miller scored 32 points in the 76ers' 103-96 win Saturday over the Spurs, shooting 11-for-14 from the field and 10-for-11 from the free-throw line. In the past 10 years, only two other starting guards have made more than 75 percent of their field goals and more than 90 percent of their free throws in a game (minimum 10 FG made and 10 FT made). Gilbert Arenas was 13-for-16 from the floor and 13-for-14 from the line for the Wizards on Feb. 25, 2006, and Stephon Marbury was 10-for-12 and 10-for-11 for the Nets on Feb. 8, 2000.

By Andrew Ayres
|
ESPN.com
The excitement around the Houston Rockets' win streak grows with each impressive win. This space called for the end of the streak at 17 games in Dallas, but that was before Dirk Nowitzki got himself suspended for the game by disarming AK-47. With the Rockets coming off an impressive win Sunday, here's another guess at how the next five might play out.
Predicting Rockets' Trajectory

Foe
Prediction
Celtics, Tuesday
Win: C's coming off a Monday night game at Spurs. Back-to-backs in Texas = No Country For Old Men
@ Hornets, Wednesday
Loss: But it's a win if David West's out. Back-to-back now bites Rockets. Maybe.
@ Warriors, Friday
Loss: Clash of styles goes to home team in Oakland.
@ Suns, Saturday
Win: Shaq places Dikembe's elbows under house arrest.
Kings, March 24
Win: A warm welcome greets T-Mac and Co.