Noah Graham/NBAE via Getty Images
Disappearing Act In Second Half Continues For Spurs

SAN ANTONIO -- The San Antonio Spurs and Boston Celtics will take a lot away from Monday's showdown.

Like their timeouts, for instance.

Boston's Kevin Garnett inexplicably failed to call one with his team up two and all the options for an inbounds pass covered. But then San Antonio's Bruce Bowen and Robert Horry made the same gaffe after the Spurs stole the ball on KG's inbound attempt, resulting in a rushed 3 at the buzzer by Horry that missed the mark. The Celtics hung on for a 93-91 win.

But let's set the timeout debate aside and look at the bigger picture. One suspects the defending champions have a much larger takeaway from Monday's game, considering it's their fourth straight defeat and the sixth in their last seven contests. It dropped them to 44-23 and into a tie with Dallas for sixth place in the West -- unheard-of territory for this squad so late in the season.

Though it's a hard thought to fathom given their amazing finishing kicks in recent campaigns, the Spurs' finishing kick is exactly their problem right now. Not just in season terms, but in a game context too.

For the first 13 minutes Monday, they did all the things we expect San Antonio teams to do: play suffocating defense, execute in the halfcourt, and sprinkle in the occasional open-court dash from Tony Parker or Manu Ginobili.

That put San Antonio up by 22, but the Spurs lost steam from there -- most notably during a 15-2 haymaker the Celtics landed to start the third quarter. And it's part of a disturbing recent pattern in which the Spurs play a strong first half but fizzle after the break.

San Antonio scored 38 points after halftime Monday, marking the fourth time in seven games they had a sub-40-point second half. You can throw the 42-point effort against Denver into the mix too, since the Nuggies' league-leading pace inflates scoring so much. In each of those five games, a lame offensive second half from the Spurs either cost them the lead or blew open a previously close game.

"I'm mad that we were up 22 and blew it," Horry said. "I know we're playing one of the best teams in the league in the Celtics, but there's no excuse. It's tough to maintain big leads like that against good teams, but you have to defend home court. You just have to."

Ginobili was brilliant with 32 points, but like his teammates, did most of his damage in the first half. He scored 18, including 4-of-5 on 3s, to give the Spurs a 10-point edge at the break. But he was 1-for-4 from the field in the fourth quarter, and had a key turnover late.

"When you play good for 45 minutes and then you miss two shots to almost win it, it doesn't count," Ginobili said. "Down the stretch they made every shot, [and] we couldn't make one.

"We played great for 20 minutes, then we kind of started slowing down and the second half was totally different."

And as the "What's wrong with the Spurs?" questions came up, the general consensus inside San Antonio's locker room was that the problems were mental and not -- as some suspect -- physical deterioration from the team's increasing age.

A few of the diagnoses:

"We're kind of insecure, a little lack of confidence," Ginobili said. "So when things start to go bad, we don't have the same response as when things go right."

"This thing lately is in our heads, it's not physical," Bowen said. "Right now we are not completing, not finishing our games the way we would like."

"The simple things got away from us," Horry said. "Taking care of the basketball, simple ball control, and those types of things. And that's just simple basketball."

"Down the stretch I thought execution-wise we made a couple of mistakes that really got us," Spurs coach Gregg Popovich said.

Perhaps it's just a blip that will all be forgotten when the Spurs are having another festive float down the Riverwalk in late June. But while Ginobili said the Spurs remain good enough to repeat as champions, other indicators aren't pointing their way.

For instance, San Antonio only has the seventh-best victory margin in the conference, so you can't just blame their record on bad luck -- and much of that plus-4.1 margin was built up during its now long-forgotten 17-3 start. Since then they're 27-20 -- good enough for most, but not for defending champions.

The schedule has been cruel during this stretch, which is one reason the Spurs' struggles have seemed so much worse of late. However, it doesn't get much easier the rest of the way. The Spurs still have road games left against Dallas, Orlando, Utah and the Lakers, plus home dates against Utah, Phoenix and Houston.

"March is horrible, we were talking today that at least since [I've been] here, I don't remember a month like this," Ginobili said.

But these are the Spurs. Since when did the schedule matter? This is the team that's used a brutal rodeo road trip as the catalyst to their title march on three different occasions.

Because of that, nobody is ready to write them off quite yet, least of all this scribe. But if they can't figure out why their offense keeps suddenly disappearing after halftime, then it might be the Spurs who quickly vanish when the Western Conference playoffs start a month from now.

John Hollinger writes for ESPN Insider. To e-mail him, click here.
Dimes Past: March 4 | 5 | 6 | 7 | 8-9 | 9 | 10 | 11 | 12 | 13 | 14 | 15-16 | 16 | 17
On Green Day, That Shot Does Not Fall

By Marc Stein | ESPN.com

SAN ANTONIO -- Celtics coach Doc Rivers thought the shot was going in for sure. After all, Robert Horry was shooting it.
"When it was in the air," Doc said, "you just assume." But
Paul Pierce
had a different view than his coach. Pierce actually had a feeling that Horry's potential game-trying triple in the final seconds was
not
going to be a classic Big Shot Rob moment. Not even after
Bruce Bowen
jumped in front of Kevin Garnett's ill-conceived inbounds pass and snapped the ball to an open Horry on the wing. Not on this holiday. "What do you expect on St. Patrick's Day?" Pierce said. "Horry makes those shots. [Manu] Ginobili makes those shots. But on St. Patrick's Day, you gotta have the green on." You came away believing Pierce more than Rivers after watching Boston erase its biggest deficit of the season (22 points early) and another nine-point deficit in the final quarter to record one of the most momentous triumphs in a season full of them. The NBA's only 50-win team -- with no
Ray Allen
-- rallied to inflict a 93-91 defeat on the suddenly reeling Spurs with their typically active defense, lots of crisp ball-sharing and a spark from the backcourt tandem of, yes,
Sam Cassell
and
Rajon Rondo
. The Celtics had to play a lot of small ball to get back into this one, which was an even tougher assignment than normal because they didn't have Allen's scoring threat from the perimeter. But Pierce handled the ball a bunch in the fourth quarter to offset the fact that Cassell is still learning the Celtics' offense and Cassell
and
Rondo wound up making huge crunch-time plays in a successful extended stint as a duo. Rondo shook loose in the second half after a slow start to finish with twice as many points as an out-of-sorts
Tim Duncan
-- 20 to 10, somehow -- and snare a huge offensive rebound in the final minute.
Eddie House
was another key crunch-time contributor with a big 3-pointer of his own before Cassell sank his first big shot as a Celtic by hitting an all-net, go-ahead triple with 46 seconds left. That gave Cassell more points in this game (17) than his first three as a Celtic combined (16), and gave his new team its first look at Sam I Am skipping away for his signature I've Got Big You-Know-Whats celebration. Of course, Boston did have to survive a late drive by
Manu Ginobili
after Cassell's bomb that should have set a three-point opportunity for Ginobili but somehow bounced out. Then Horry rushed and squandered the opportunity to drive home the dagger he's famous for sticking. But Boston did survive, so it's onto Stop 2 for the giddy Celtics on one of the most difficult road trips in league history. This is only the second time, according to the Elias Sports Bureau, a team has been forced to play four straight opponents on the road that are at least 20 games over .500. The Spurs are 44-23. Dallas (44-23) and New Orleans (45-21) await Thursday and Saturday. Tuesday's opponent, as you might have heard, is a Houston team that's 46-20 after winning 22 games in a row. Not that the Celts, growing in swagger with Cassell around, sounded too envious after this great escape. Not even with half of such an uninviting back-to-back remaining. The warning from Sam I Am when someone mentioned Houston: "The Green Machine's coming."

MONDAY'S BEST
Celtics guard Sam Cassell:
With Ray Allen out, Sam Cassell stepped up for 17 points, including a late go-ahead 3-pointer, helping send Boston to a 93-91 win in San Antonio.
---

MONDAY'S WORST

Smush Parker, Clippers guard:
His odyssey to Clipperland continues by missing all four shots in 10 minutes of action in a 99-90 loss to the Timberwolves.
---
QUOTE OF THE NIGHT

"The little man was all over the floor. It was incredible. It's one of the best performances I've seen from him yet. He, at least to me, made his bid [Monday night] to consider him the MVP."
-- Hornets center
Tyson Chandler,
praising his partner in alley-oops, Chris Paul.
• See Monday's daily leaders
• See the current playoff matchups
-- Andrew Ayres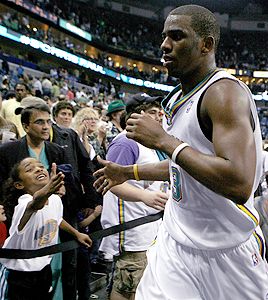 AP Photo/Sean Gardner
Hornets guard Chris Paul (37 points, 13 assists) gets a hand after his team defeated the Chicago Bulls 108-97.

By ESPN Research
|
When spring rolls around, the Spurs are often finding their stride. But the trend this season doesn't conform to their usual pattern.
Spurs in March, Since 1996

Year
Record
2008
5-6
2007
13-2
2006
12-4
2005
10-5
2004
11-5
2003
14-3
2002
13-3
2001
14-3
2000
10-5
1999
14-2
1998
11-5
1997
5-10
1996
16-0

Elias Sports Bureau
Mike Dunleavy scored 36 points in Indiana's win over the Knicks. It was the fifth time in his past 13 games -- dating back to Feb. 22 -- Dunleavy scored at least 32 points in a game. Only two players have as many games of 32 or more points since that date as Dunleavy: LeBron James with eight and Kobe Bryant with five.

In his interview with ESPN Radio's Mike Tirico, Lakers guard Kobe Bryant talks about Houston's unbelievable winning streak, his team's confidence level with Pau Gasol and Andrew Bynum out of the lineup and his wish to have experienced March Madness.
Kobe Checks In