AP Photo/David J. Phillip
Rockets' Remarkable Streak At An End

HOUSTON -- The streak ended with a roar, a grimacing, menacing roar that came from the man who put an emphatic punctuation mark on one of the Boston Celtics' most impressive victories in a season full of them.

"It was an exclamation point," Paul Pierce said of Kevin Garnett's emphatic slam dunk over Luis Scola with 2:08 left. The dunk put the Celtics ahead by 25 points Tuesday night in what ended up as a 94-74 victory over Houston, ending the Rockets' winning streak at 22. It was the second-longest winning streak in NBA history, but the streak itself was somewhat of an afterthought in each locker room following the game. Instead, the hot topic was the way the Celtics dominated the second half of a game that was tied after two quarters. Boston came out and scored the first five points of the second half on a long jumper by Garnett and a 3 by Pierce. The lead reached double digits before the third quarter was even halfway over, and the Celtics never let their foot off the gas pedal in not only ending Houston's streak, but stopping it with a stomp. "In my 11 years in the NBA, that's the best defense I've ever seen," Tracy McGrady said afterward. Told of that comment, Garnett paused a few seconds to digest it before answering: "That's a hell of a statement. Thank you." This was yet another measuring-stick game for a Boston team that has relished and thrived on those types of games, whether in the Celtics' three matchups with the Detroit Pistons earlier this season or in the first two stops of their current Texas three-step tour, which began with a comeback victory Monday night after they trailed San Antonio by 22 points. Boston is now 22-4 against the West and 41 games over .500, drawing ever closer to locking up home-court advantage throughout the postseason. "The bigness of this game affected both teams in the first half," Celtics coach Doc Rivers said. "We talked at halftime about calming down, running our stuff and just breathing. We were going too fast." But those extra breaths came only on the offensive end, because the Celtics never relented on defense. Rivers said the key part of the defensive game plan was to defend the 3-point line and make the Rockets shoot off the dribble instead of in spot-up situations, and Houston shot just 3-for-17 from behind the arc before Aaron Brooks knocked down a pair of meaningless 3-pointers in the final minute. The Celtics also outrebounded Houston 45-35, outscored the Rockets 18-10 on second-chance points and held the Rockets to their lowest-scoring second half of the season (34 points). "The streak helped our guys get up for it. They wanted to do it, and they did it," Rivers said. "Somebody had to do it eventually." Strangely, there seemed to be somewhat of a sense of relief coming from the mouth of McGrady afterward; he steered the conversation more toward the significance of the 22-game winning streak than the awkwardness of Tuesday night's loss. During the streak, the Rockets moved from out of the playoff picture to atop the hyper-competitive Western Conference. But the loss to Boston knocked them into a tie for first place with the Lakers. If a new streak -- a losing streak -- begins with Wednesday night's game at New Orleans, the Rockets would drop to third in the West with 14 games remaining. So although they've pretty much assured themselves of locking up a spot in the postseason, the Rockets' 22-game winning streak is going to be a distant memory -- a distant memory that doesn't mean a whole lot in the big picture, too -- by the time the first round rolls around and everyone is reminded that McGrady, who won't have Yao Ming alongside him, has still never made it to the second round of the playoffs. McGrady made only four of 11 shots and finished with eight points, eight assists and seven rebounds for the Rockets, never asserting himself in the early part of the third quarter when the game was starting to get away from his team. Shane Battier also contributed little on the offensive end, Rafer Alston missed nine of his 13 attempts, and the Rockets' big men -- whether it was Scola vs. Garnett, Dikembe Mutombo vs. Kendrick Perkins or Chuck Hayes/Mike Harris vs. Leon Powe -- were all outplayed by their counterparts. The stands were maybe half-full by the time the buzzer brought a merciful end to the loss, but those who remained sent the Rockets off the court with a standing ovation. The Rockets did, after all, write their own little piece of history with the streak, accomplishing something the NBA hadn't seen in nearly four decades. But that made it all the more surprising to see them wilt in the toughest test they've faced during the streak, a night when a national-television audience tuned in to see what all the buzz about the Rockets was about, then switched their TV sets off shaking their heads at how good the Celtics looked. "We ran into a wall," Rockets coach Rick Adelman said. "They imposed their will upon us being aggressive the way they were, and we tried to respond but couldn't. We learned some things, but the No. 1 thing is to give Boston credit. They got us deflated and we didn't have a response." In the moments after Garnett threw down his exclamation-point dunk (he added yet another, though not as emphatic, over Scola with 1:33 left), a timeout was called and Pierce ran onto the court to embrace his teammate Garnett with a half-headlock, half-hug as Eddie House slapped hands with Sam Cassell and shouted "We're the best!" Well, they were at their best Tuesday. And as we've seen over the course of this season, the Boston Celtics at their best are one hell of an impressive team. Not only did they shut down the Rockets, they buzzkilled the team with the monster winning streak that everyone in the NBA couldn't stop talking about. So if this one game was a precursor of what's in store in the next couple months, we're all going to be talking about the Celtics a lot more than we'll be discussing the Rockets.

Dimes Past: March 4 | 5 | 6 | 7 | 8-9 | 9 | 10 | 11 | 12 | 13 | 14 | 15-16 | 16 | 17 | 18
On Second Thought, Paul For MVP

By Chris Broussard | ESPN The Magazine

I'm on record as saying LeBron James is the best player in the NBA.
And I stand by that. I'm also on record as saying
Kobe Bryant
is at the top of my MVP ballot (last Thursday on "NBA Fastbreak"). But uhhh, things are changing. As the voting draws closer and closer, I'm beginning to lean more and more toward
Chris Paul
. His stats -- as is the case with LeBron and Kobe -- are obviously terrific. But the biggest argument for Paul is how he's put the
New Orleans Hornets
in contention for the West's best record. When I consider that they're just a game behind Houston for the West's top mark, I find it almost impossible to deny Paul the MVP trophy. Especially when considering his supporting cast.
Tyson Chandler
is continually improving, but there's no doubt that he benefits greatly from playing with Paul.
David West
is a very good player in his own right, but I don't think he's an All-Star without Paul. And
Peja Stojakovic
, while still solid, is about two-thirds the player he was during his heyday in Sacramento. Paul's starting 2-guard? Mo Peterson, who averages 8.3 points a game on 42 percent shooting.
• See the full Chris Broussard blog
Mike (Detroit): How do the Twin Eastern Titans in Detroit and Boston match up against Western Teams? Would they be favored in the finals?
John Hollinger: I would definitely favor Boston in the finals; I'd be likely to favor Detroit depending on the opponent and how home court shakes out (though it looks like they'll have it). And that's without considering the Western grind factor -- essentially, these teams started their playoffs around March 1.
David (CHI): John, you picked HOU to win it all and to win 62 games (if memory serves) before the season. Feeling vindicated on any level?
John Hollinger: I don't know if vindicated is the right word, but I'm glad they made the pick seem intelligent rather than idiotic, as it seemed about 22 games ago.

TUESDAY'S BEST
Leon Powe, Celtics forward:
Here's how to keep fresh on back-to-backs. After a DNP against the Spurs, Powe goes off for 21 points on 8-for-12 shooting in Boston's 94-74 win over Houston.
---

TUESDAY'S WORST

Stephen Jackson, Warriors forward:
His worst shooting night of 2008 (3-for-15) did not help matters in a 122-105 road loss to Sacramento.
---
QUOTE OF THE NIGHT

"It was more like KG tanked it. I think the other guys still wanted to play. But it sure changed the team and didn't make us [as good]."
-- Wolves owner
Glen Taylor,
pointing the finger at Kevin Garnett for his team's slouching ways last season.
• See Tuesday's daily leaders
• See the current playoff matchups
-- Andrew Ayres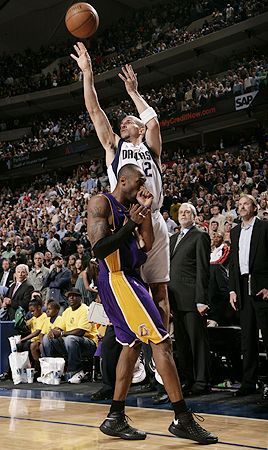 Glenn James/Getty Images
Mavs guard Jason Kidd hoists a late 3 attempt that could have won the game for Dallas. But Kidd missed, and the Mavs fell 102-100.

A selection from Henry Abbott's TrueHoop blog:
Lakers forward/center Ronny Turiaf says that he can even endure that dreaded "energy player" tag. It's a label most players shun. (Not only does it imply they are less skilled, but it also tends not to come with a fat contract.)
"People can call me an energy guy," he says, "as long as they realize I also have skills. I don't think the Lakers drafted me just because they wanted someone to run around with a lot of energy. They were looking for someone to do certain things, even shoot. And if my feet are set, and I'm open, I'm going to let it fly."
"Energy player" is one thing. "Cheerleader" is another. Ronny Turiaf does not want to be called a cheerleader. And that's exactly what he has been hearing. From fans. From opponents. From people. And he's determined to put a stop to it.
So that's why, this season, Ronny Turiaf is hardly dancing at all. Tonight he started the game, and finished 4-12 from the floor with 11 points, five rebounds, three assists, four blocks, and just one tiny little boogie only when the game was really exciting deep in the second half.

Elias Sports Bureau
The Celtics emphatically ended the Rockets' 22-game winning streak, 94-74. It was the first game in NBA history in which a team on a winning streak of more than 12 games opposed the team with the league's best outright record. Coming off a 93-91 win at San Antonio on Monday, the Celtics became the first NBA team to win road games in Texas on consecutive days since the Warriors won at Dallas and Houston on Dec. 30-31, 2005.
Boston is now 14-2 (.875) in the second game of back-to-backs this season, on pace to set a team record. The Celtics' best mark to date is 18-4 (.818) in 1983-84.
The last time that the Rockets lost: a 97-89 loss to the Jazz on January 27 -- a week before the Super Bowl!