David Liam Kyle/NBAE via Getty Images
Cavs, LeBron Emboldened By Latest Win Over Pistons

CLEVELAND -- The Celtics have the most star power, the Pistons have the most experience, the Magic have the largest chip on their shoulder. But when it comes to the battle for the Eastern Conference, there may not be a more scary team than the Cavs.
They are flawed, they are inconsistent, they've been riddled with injuries and they've been just lukewarm since their massive trade. Yet the Cavs still can come together and play great defense every now and then and they do possess one of the best players on the planet.
If the Pistons forgot this -- and you know they didn't -- they were reminded on Wednesday when the new-look Cavs used the exact same game plan they employed a year ago to win the East to take down Detroit again, 89-73.
This was merely a regular-season game and hardly a statement from the Cavs, who are way more worried about getting themselves in order than becoming a bully. If they continue to play like this, though, there's no telling what may happen in the postseason.
Which was the real message sent and received in this one.
"We just want to continue to get better, and tonight we did," Cavs forward LeBron James said. "We took more than one step forward tonight. We took five steps."
The Cavs locked down the Pistons with their defense, especially with an impressive arrangement with their deep front line, and then let James continue his assault on the offensive end. In a perfect world, the Cavs may love to play a different way, but they are at their best when they fight to keep games close and then let James be the difference-maker at the end.
This season, just as last postseason, there has been no better fourth-quarter difference-maker than James.
Despite being nine games over .500, the Cavs have allowed more points, shot worse from the field and foul line and committed more fouls and more turnovers than their opponents this season. So it's not just the standings that make the résumé pale to the likes of Boston and Detroit.
It's been no joyride; the Cavs' starters have missed a combined 56 games due to injury and that doesn't include the bad ankle sprains that sidelined Anderson Varejao and Daniel Gibson for more than a month each.
But James is having the best season of his career.
He took another step toward winning the scoring title with 30 points on 11-of-19 shooting and he's now just five points shy of passing Brad Daugherty for the Cavs' all-time scoring lead … in 170 fewer games. He had 11 points and two assists in the fourth quarter on Wednesday, when the Pistons' formerly rock-solid method of backing up Tayshaun Prince with two defenders in a quasi-James zone failed again as it did in the conference finals.
"It's not even about the Pistons," James said. "It's about the groove I'm in right now and the confidence level I have."
Or the Celtics. Boston may be the best defensive team in the NBA, but James averaged 32.3 points and got two wins against the C's in three game this season, too. And if the Cavs can somehow maintain the defensive effort they put forth against Detroit, they may prove to once again be more than just a tough out in the playoffs. At least that's the plan.
The Cavs held the Pistons to just 40 percent shooting, just 20 points in the paint and seven free throws. Ben Wallace and Varejao combined to frustrate Rasheed Wallace, who scored 16 points but went just 2-for-8 on 3-pointers after failing to get going inside. Not having to play help defense down low, the Cavs stayed attached to Detroit's outside shooters and held Chauncey Billups to 4-of-12, Prince to 5-of-14 and Richard Hamilton to two points in the second half.
Now the Cavs hope to use the final four weeks of the season to get everyone healthy -- only Gibson remains on the sidelines -- and rediscover the team-wide rhythm they had at midseason before injuries started to take hold. They were the best team in the East from the end of December to early February, and Wednesday they looked like they have a chance to get there again.
"I really like the team we have, we have a chance to do something special if we can get everything together," Cavs coach Mike Brown said. "I truly believe we can."
Brian Windhorst covers the NBA for the Akron Beacon Journal
Dimes Past: March 4 | 5 | 6 | 7 | 8-9 | 9 | 10 | 11 | 12 | 13 | 14 | 15-16 | 16 | 17 | 18 | 19

Selections of a recent LeBron James interview by NBA on ESPN broadcasters Mike Breen and Jon Barry:
James met Tiger Woods for the first time during Monday's game at Orlando. He was asked why he admires Tiger and what he may have learned from watching him.
"Just because of his dominance and his competitive nature. He expects to win every time he goes out there. Every time he goes onto the course, he prepares himself to be victorious and to be the No. 1 golfer in the world. As a competitor and leader myself, I look up to guys like that."
What about athletes in other sports?
"I look at Roger Federer, Michael Jordan, Kobe Bryant -- guys that continue to want to be the No. 1 player. No matter what happens, they want to be the best player on the court. They respect the game, and that's why the game respects them back."
Who's out there that you've never met who you're dying to meet?
"Halle Berry and Bill Clinton are people that I haven't met that I'd like to meet. Bill Clinton because, for my generation, he was my president. Growing up and becoming a young man, he was the guy running the United States of America. That's when I started knowing the president, so he was the guy who was the head of our country at the time I was learning about politics."
How is the team doing now since the trade, where the comfort level is, how far you still have to go?
"We still have a long way to go just because we haven't been 100 percent healthy since we made the trade. We've had guys in and out. Z [Zydrunas Ilgauskas] has been out because of his back. Boobie [Gibson] has been out with an ankle injury, Sasha [Pavlovic] is just getting back. So we haven't been completely healthy. We have a long way to go, but what's exciting is there is only an upside for us."
The potential for this team can be better than last year's team?
"I think so. Just experience alone and what we went through last year. We gained a lot of confidence and then you add a Ben Wallace who won an NBA championship. That can help us get over the top."
Do you sense a rivalry with the Pistons?
"The first time I was in the playoffs, we went to a Game 7. And last year having that rivalry and we went to a Game 6. It's been pretty fierce. We look at tonight being one of those fierce, competitive games. We're rivals in the division … we want to make a statement.
What did you take from last year's Finals?
"For me, I took that I needed to become a lot better. I did a good job of getting us there, but it opened my eyes to how much better I need to become to help us get over the top. I worked a lot on the perimeter game -- outside shooting, outside dribbling. Just being in a comfort zone and getting a go-to move that I can go to late in games, so I can finish games. "As a team, it showed we need to get better. As well as we played we got dominated in the Finals by just a better team at that time."
By Peter D. Newmann
ESPN Research
With the beginning of the NCAA tournament on Thursday, let's look at the active NBA players and their history in the tournament. There are currently 430 active players in the NBA, and 280 of them played in the NCAA tournament. The following are the 35 active players that have been a part of an NCAA championship.
Winning Times On Campus

School
Current NBA Players
2006-07 Florida
Al Horford, Corey Brewer, Joakim Noah, Taurean Green, Chris Richard
2005 North Carolina
Rashard McCants, Raymond Felton, Sean May, Marvin Williams
2004 Connecticut
Emeka Okafor, Ben Gordon, Hilton Armstrong, Josh Boone, Charlie Villanueva
2003 Syracuse
Carmelo Anthony, Hakim Warrick
2002 Maryland
Juan Dixon, Steve Blake, Chris Wilcox
2001 Duke
Shane Battier, Chris Duhon, Carlos Boozer, Mike Dunleavy
2000 Michigan State
Charlie Bell, Morris Peterson, Jason Richardson
1999 Connecticut:
Richard Hamilton, Jake Voskuhl
1998 Kentucky
Nazr Mohammed, Jamaal Magloire
1997 Arizona
Mike Bibby, Jason Terry
1996 Kentucky
Antoine Walker, Derek Anderson
1991-92 Duke
Grant Hill

WEDNESDAY'S BEST
Bonzi Wells, Hornets forward:
In the best game of his brief Hornets tenure, Wells shot 9-for-12 and demolished a Rockets team that traded him last month by scoring 20 points in the fourth quarter alone, 25 overall.
---

WEDNESDAY'S WORST

Miami Heat offense:
Puts up the third-lowest point total in the shot-clock era in a 96-54 loss in Toronto. The Heat set franchise lows for points in a game and in a half (26), and shot a franchise-worst 20-for-78 (.256).
---
QUOTE OF THE NIGHT

"Some guys like Rafer Alston like to run their mouth … that just added fuel to our fire tonight. D-West, that's my guy. For him to say he's not a star, I mean let's see what All-Star Game [Alston]'s played in."
-- Hornets guard
Chris Paul,
firing back at comments Rockets guard Rafer Alston made comparing the merits of Yao Ming and David West.
• See Wednesday's daily leaders
• See the current playoff matchups
-- Andrew Ayres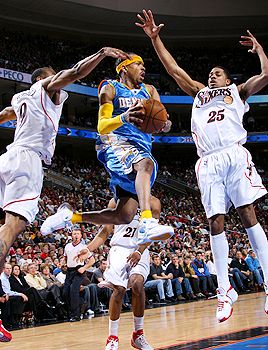 Jesse D. Garrabrant/Getty Images
Nuggets guard Allen Iverson (32 points) drives the lane against Andre Iguodala and Rodney Carney. Denver lost, but Iverson was on top of the world in his first return to Philadelphia, Chris Sheridan writes.
Alston Stirs Hornets' Nest

John Hollinger
ESPN.com
NEW ORLEANS -- The Rockets won 22 in a row. The Spurs are the defending champs. The Lakers trade for Pau Gasol and are still seen as the West's most talented team. Those three have been the most talked-about teams in the West for the past month, and not without reason.
However, each now has something else in common: In the past week, they all lost to the Hornets. Much of the focus this season has been on the three teams above, as well as the Mavericks' and Suns' new superstar acquisitions. But one can't help noticing that it says "New Orleans" at the top of the Western Conference standings today, after the Hornets' 90-69 win over Houston on Tuesday pulled them into a tie with L.A. for the West's best record. And for this one, perhaps they can thank Rafer Alston. Houston's point guard made some comments about New Orleans forward David West during TNT's broadcast of the Rockets-Celtics game on Thursday night while defending the perception that his team had been feasting on injured opponents. Let's just say the Hornets noticed.
Davis (Houston): Not to beat a dead horse or anything, but doesn't it seem that Avery Johnson gets outcoached a whole lot? I think he tried too hard.
David Thorpe
: He does overcoach sometimes, but he's not alone. Still a big net positive.
LeBron (Cleveland): I average 2 more points, 3 more rebounds, and 2 more assists than Kobe … Does everyone understand my team wouldn't have a win without me??? I am MVP … right?
David Thorpe: It's so close. But I'm a Kobe guy now.