Andrew D. Bernstein/NBAE via Getty Images
Boston Plays Texas Triangle As Few Have Before
DALLAS -- The Boston Celtics are bigger than even Texas right now.
There isn't a tougher stretch in an NBA schedule than the renowned Texas Triangle. The treacherous three-game road trip includes stops to face three of the Western Conference's top teams: the reigning NBA champion
San Antonio Spurs
, the
Houston Rockets
and the
Dallas Mavericks
. But as tough as that might be, the Celtics completed a rare sweep of the Texas Triangle on Thursday night by defeating the Mavericks 94-90 at a sold-out American Airlines Center. It was the first time an NBA team had completed the Texas Triangle undefeated since the
Sacramento Kings
in 2001. It was also the first time Boston accomplished the feat since the 1986-87 season, and its fourth time in 13 tries. "It's great. I looked at the schedule before this week and said, 'This is going to be the ultimate test for this ballclub,'" said Celtics forward
Paul Pierce
, who scored a team-high 22 points. "The last time we came out West [in February], we struggled. Coming into these three games, this was the ultimate test for us. It gives us momentum going into the playoffs. What better way to do it than this?" Even with the NBA's best record, the odds were strongly against the Celtics getting through this three-game trip unscathed. There aren't many places tougher to play than the AT&T Center in San Antonio, especially when you're down 22 points. Even so, the Celtics began the Texas trip by overcoming a 22-point deficit before winning against the Spurs 93-91 on Monday. The Celtics didn't have a chance to catch their breath as they were playing the next night in Houston. But Boston erased the Rockets' phenomenal 22-game winning streak by pounding them 94-74 at Toyota Center. And Thursday night, the Celtics outscored Dallas 28-20 in the fourth quarter and received a key late 3-pointer by
Ray Allen
after he missed the previous two games with a bum ankle to finalize the Texas Triangle sweep. "The only statement is we're done with Texas," Celtics coach Doc Rivers said. "We don't want to see Texas any more. It's a [heck] of a state, no taxes and I don't want to see any of those three teams any more [in the regular season]. They're just too tough. I'd rather move on." Celtics forward
Kevin Garnett
, who had 20 points and 13 rebounds Thursday, said: "No one in this locker room has done this. What's good about it is we did it together. We did it the way we said we were going to do things at the beginning of the season: one game at a time. And it feels good." Other than winning an NBA championship, there is nothing really the Boston Celtics have to do to prove they are for real any more. The Celtics (55-13) became the first NBA team to qualify for the playoffs, reach the 50-win mark and win a division. Boston won the season series against the
Detroit Pistons
, now owns a 23-4 record against the mighty Western Conference and is on pace to get home-court advantage throughout the playoffs with the top record. But even with the Texas Triangle now in tow, too, the day-to-day focused Celtics now have their attention on New Orleans where they'd like to finish their five-game road trip undefeated with a win against one of the West's top teams in the Hornets. Hey, how can you blame them for being so in tune? The Celtics desperately need these challenges to keep themselves entertained and fine-tuned before the playoffs begin. "None of them were easy," Celtics guard
Sam Cassell
said. "We had to play our [butts] off to get where we are. But it ain't over yet. We know New Orleans is going to be ready for us."
Marc J. Spears is a regular contributor to ESPN.com and covers the Boston Celtics for The Boston Globe
Dimes Past: March 8-9 | 9 | 10 | 11 | 12 | 13 | 14 | 15-16 | 16 | 17 | 18 | 19 | 20

James, NY: Who should the Knicks hire as their GM?
Chad Ford: That's a tough one. On one hand the Knicks is still a very good job. Great market, lots of resources and no where to go but up. On the down side, the top GM candidates are concerned owner James Dolan meddles too much and won't let them do what they need to do.
If he's willing to give up total control, someone like Jerry Colangelo or Donnie Walsh is the right call. Both of them really know how to turn around a team. The dark horse to me is the Blazers' Kevin Pritchard. I'm not sure how they pry him away from the Blazers, but he's young, has a great way with the media (a MUST in N.Y.) and has already turned around the Blazers. If Dolan isn't ready to turn over total control, my guess is that Kiki Vandeweghe will be the guy.
Tanks Mainly Go To Taylor

By Chris Broussard
ESPN The Magazine
Pardon me for getting to this so late, but Glen Taylor's got some nerve.
The Minnesota Timberwolves owner saying Kevin Garnett "tanked it" by sitting out the last five games of last season is as ridiculous as DeShawn "I should've gone to college" Stevenson calling LeBron James "overrated."
If anyone could be accused of tanking it, it's Taylor:
First, for sticking with VP of basketball ops Kevin McHale for so long.
Exactly what has McHale done to deserve 15 years at the helm of the Wolves? He's been no better than the other two legends who are currently catching heat -- Isiah Thomas and Larry Bird -- for their mismanagement of their ballclubs.
And second, for firing coach Dwane Casey last season in favor of Randy Wittman.
Casey, who was in just his second season, had a 20-20 record midway through last season and his Wolves were in position to make the playoffs in the mighty Western Conference.
Wittman, who hadn't exactly lit the world on fire as head coach of the Cavaliers (62-102), carried the same team to a 12-30 record over the remainder of the season.
That's not to mention the fact that KG remained loyal TO A FAULT to the Timberwolves.

THURSDAY'S BEST
Boston's Big Three:
This could be what a winning playoff night looks like: Paul Pierce 22, Ray Allen 21 and Kevin Garnett 20. Runner-up for best honors? Anybody who watches the video of Rockets players
paying homage
to Dikembe Mutombo.
---

THURSDAY'S WORST

Shots By Jasons:
Jason Kidd and Jason Terry combined to shoot 2-for-16 from the floor. The runners-up No. 1: Sam Cassell and Rajon Rondo, who combined to shoot 1-for-16, but contributed in other ways for the winners. Runner-up No. 2: Scoreless Kyle Korver.
---
QUOTE OF THE NIGHT

"We don't want to see Texas any more. It's a [heck] of a state, no taxes and I don't want to see any of those three teams any more [in the regular season]. They're just too tough. I'd rather move on."
-- Celtics coach
Doc Rivers,
on San Antonio, Houston and Dallas.
• See Thursday's daily leaders
• See the current playoff matchups
-- Andrew Ayres
Jazz Home Win Streak Ends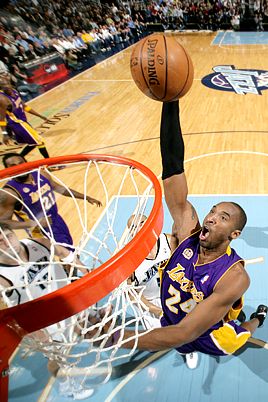 Melissa Majchrzak/NBAE via Getty
Kobe Bryant dunks over Carlos Boozer and Mehmet Okur, helping the Lakers to a 106-95 win over the Jazz. The Lakers' triumph snapped Utah's home win streak at 19 games.

Elias Sports Bureau
The Celtics earned wins over San Antonio (Monday), Houston (Tuesday) and Dallas (Thursday) before concluding their trip in New Orleans (Saturday). None of the last eight teams that played three consecutive road games against the "Texas Three" managed to win more than one of the three games.
The last to post a winning record under those circumstances was Sacramento in January 2004 (winning two of three). The last to sweep three straight road games against the Spurs, Rockets and Mavericks was also the Kings, in November 2001. Since then, 22 teams have tried to sweep them and 22 have made a slip.
With the Hornets looming for Boston on Saturday, the Celtics could become only the second team in NBA history to play four straight games on the road against teams that are at least 20 games over .500. The Mavericks did that in 2001 (from March 26 to April 1), winning three out of four on the road against the Jazz, Trail Blazers, Lakers and Kings.
Most Recent Teams To Sweep A Texas Trip

Team
Date
Kings
November 2001
Lakers
November 1997
Warriors
December 1992
Warriors
January 1992
Trail Blazers
April 1991

J.A. Adande talks with Kings owner Joe Maloof about skateboarding, the state of the Kings, a new arena and "Oprah's Big Give."
Royal treatment