Andrew D. Bernstein/NBAE via Getty Images
Kobe Q&A: No. 24 Questions

It's a weekly tradition here at the Weekend Dime: We go one-on-one to five (questions) with a name you know well.
Since we were able to sneak a few minutes with Kobe Bryant this week, we figured you wouldn't mind if we moved this one-on-one slightly higher up the page.
Especially since Kobe had a pretty good week in the Boston Celtics' considerable shadow, leading the Los Angeles Lakers to road wins at the Dallas Mavericks and Utah Jazz -- halting the Jazz's 19-game home winning streak -- without the injured Pau Gasol and Andrew Bynum.
Q: I know you always say you really don't give the MVP race any thought, but surely it's crossed your mind this season. Wouldn't it mean more to win one than you're letting on?
A: It'd be extremely special to win one. That puts you in really great company. It would mean a lot to win it, but that's not my primary goal. My primary goal is to win a championship. I firmly believe that a rising tide raises all boats. So us winning -- individual success will come. MVP is not my primary focus.
Q: But does it bug you to be known as the best player who's never won an MVP trophy?
A: Gotta take the good with the bad. In other words, when Michael [Jordan] and some of the other players, when they came into the league, they came into a situation where they carried the load and were the leader on that ballclub, but they didn't win. And then once he had another great player [beside him], [Scottie] Pippen had developed ... then they started winning.
Myself ... I came into the league already on a team that was winning 60 games. So I won early. I developed into a great individual player, but I was already playing with somebody that was dominant. So I never really got those accolades that an individual player would get.
It never bothered me. I kind of looked at it like a Special Forces job, [as someone who] goes in quietly, does what he has to do to help the team be successful and has players around the league and coaches around the league understand and respect what I do a nightly basis. That's what kind of kept me motivated.
Q: Safe to say you are OK now with the fact that the Bynum-for-Jason Kidd trade last season didn't work out?
A: Yeah (laughing). I'm more happy for [Kidd] that he got out of that situation [with the New Jersey Nets]. I think it's kind of invigorated him with the passion and the kind of joy that you know Jason Kidd likes to play with.
Q: So what was it like together last summer on Team USA? Were you guys constantly talking about how unhappy you were on your regular teams?
A: I was getting ribbed a lot by a lot of my [Team USA] teammates because of the plays Jason was making and how he could have been on my team and how it didn't go down, that sort of thing. I had to take a lot of jabs this summer. But the [Gasol] trade ... it's been an answer to a prayer, man.
Q: Admit it: Are there times you look over and see Pau in the same locker room and still don't believe it?
A: We're extremely fortunate, man. But they pulled it off. Mitch [Kupchak] made a great move, and the young players that he drafted have really developed faster than I think anybody expected. So that's why we're in this position.
I love our chances. I love our chances even with the injuries. And if we do get [Bynum] back in the mix, I really like our chances.
Marc Stein is the senior NBA writer for ESPN.com. To e-mail him, click here.

Here are three bonus prognoses from Kobe Bryant on the Lakers' big injury question marks:
On whether Andrew Bynum will play again this season:
"I'm pretty optimistic. In a perfect-case scenario, he'd get five games under his belt or something like that before the playoffs. But if it doesn't happen, we'll roll with it. In this system, it's easy for him to jump back in, go stand down there and not miss a beat. Especially at that center position, be our defensive anchor, change shots. It's not that difficult."
On fears that Pau Gasol's left ankle also will wind up being a long-term injury:
"Nah. He'll shake it. He's a very quick healer. He's already walking on it. He'll be back soon."
On the torn ligament in Bryant's pinkie on his shooting hand:
"I'll always have issues with it until I get the surgery. I still have to do that. But Phil [Jackson] was pretty much going to give me training camp off anyway to let my body recuperate after the playoffs and the Olympics. ... This team has been together for so long, I don't think that'll be a problem."

"History tells us we shouldn't forget about the Spurs. They'll be there in the end."
Celtics coach and ex-Spurs guard Doc Rivers, straining to calm the locals in the Alamo City even before tipoff Monday night, when the Celts wound up wiping out a 22-point deficit on the road in San Antonio to hand the hosts their sixth loss in a span of seven games.
With a bounce-back win Thursday in Chicago, San Antonio improved to just 6-6 in March ... with six more games still to go in this month alone. In Tim Duncan's first 10 seasons as a pro, San Antonio posted a composite March record of 122-37, good for a winning percentage of .767.
Rivers' Celtics? This past week, they became just the fourth team since 1995-96 to go 6-0 in a single season against the three Texas teams, joining Milwaukee in 1999-2000, Miami in 1996-97 and Michael Jordan's 72-win Bulls in 1995-96.
So the Celts might have clinched No. 1 in the ESPN.com weekly Power Rankings for the rest of the season, whether or not they win Saturday night in New Orleans to make this a road trip for the ages.

Mavericks owner Mark Cuban reacted with total (and passionate) support for his coach when Avery Johnson benched Jason Kidd for the final 30 seconds of a one-possession loss Feb. 28 in San Antonio.
"It's five games in," Cuban exclaimed at the time. "I didn't make this [trade with] a five-game window.
"Thirty-four seconds does not an "I'm Gellin' " commercial make," Cuban continued. "[Johnson is] going to get more and more comfortable with J-Kidd ... and we'll be gellin' like Magellan by the time the playoffs come along."
Not even three weeks later?
Cuban hasn't erupted often this season, but he let loose with some vintage fury when the Mavs no-showed for a half Tuesday against the Lakers. L.A.'s own broadcast team caught Cuban glaring at Johnson repeatedly during the second quarter. Kidd then sat out much of the second-half resurrection as the hosts gradually erased a 25-point deficit, only to come away with a bitter two-point defeat.
During one timeout, Cuban bounded out of his baseline seat and onto the floor to find Kidd for a brief word on the other side of the huddle, presumably to assure his new star that he'd be addressing the situation. It then emerged that Cuban blistered Johnson in a heated postgame meeting, apparently furious that Kidd played so little and that a struggling Brandon Bass played so much.
I'll never understand Johnson's reasoning in the San Antonio case, as we've discussed plenty in this cyberspace. I also would say that Johnson got it absolutely right in the L.A. case, as Dallas went on a 23-3 run when Tyronn Lue replaced the ineffective Kidd, earning Lue every right to see how long he could make his effectiveness last.
Even so, there's no denying that (A) Dallas has a lot of gellin' to do in the next four weeks to get to where Cuban envisioned by April 19 and (B) Johnson is facing unprecedented pressure in Big D these days after absorbing only small slices of criticism following the playoff unravelings against Miami and Golden State.
We said it from the start and will continue to say that the success of this trade depends on Johnson restraining his controlling instincts, putting the ball in Kidd's hands without reservation and relinquishing his status as the Mavs' lead offensive decision-maker.
You certainly can question Kidd's occasional hesitation and lack of offensive aggression since the trade. Boston's Doc Rivers, furthermore, might be exactly right in supporting his close friend Johnson when he says that bringing in a point guard at midseason is the most complex change a team can make, perhaps even tougher than what the Suns are doing with the integration of Shaquille O'Neal and a whole new style. Yet I cling to the belief that the Mavs' issues gradually will vanish once Kidd gets more freedom and the halfcourt sets include more motion, assuming that Johnson can indeed make those concessions.
I initially thought the loud backlash from the San Antonio situation would speed up Johnson's backing-off process. But it hasn't. And if it doesn't start happening soon, Dallas will be looking at two expensive problems.
Cuban didn't just part with five players, two first-round picks and $3 million to acquire Kidd from New Jersey ... as well as take on an extra $11 million in financial obligations this season alone to save the trade after his first deal collapsed. He also is contractually committed to Johnson for $4-plus million annually for the next three seasons after they reworked Johnson's contract following the trip to the NBA Finals in 2006. So there's a cost involved, should things fail to improve, if the Mavs reach the point that they think they need a more Kidd-friendly coach.
---
The time factor is another issue for the Mavs. Gellin' in time for the playoffs, in today's West, is an ambitious goal, although Phoenix is starting to inch in that direction after following up its recent home win over San Antonio with five more double-digit victories. (The Suns also have quietly outrebounded the opposition 13 times in Shaq's first 15 games, after doing so just 12 times in the preceding 53 games.)
"It would have been great if we had a whole training camp with Jase," Dirk Nowitzki said. "But we don't."
There are some more numbers to complicate matters. Numbers that suggest Dallas might not have a window beyond this coming offseason to sort all this out.
Nowitzki turns 30 in June. Kidd turns 35 next week. Jason Terry turns 31 in September, Erick Dampier turns 33 in July and Jerry Stackhouse turns 34 in November. Even Josh Howard turns 28 in April.
Concerns about age, in other words, are not exclusive to San Antonio and Phoenix.
---

You can argue that I've slighted him again by not leading off our weekly West review with Chris Paul, but who knows? Maybe that's a good thing for the Hornets and their fans. Maybe that's one of the factors fueling their priceless point guard.
Here's what we know for sure: Paul is simply refusing to allow know-it-alls like me to get away with suggestions that the MVP race is strictly a Kobe-versus-LeBron sprint. The Hornets entered the weekend with a 7-3 record in March, even though David West missed five of those games.
And here's what Paul thinks of our recent column that ranked New Orleans' schedule over the final 20-ish games of the season as the hardest schedule for any of the West's top nine teams: Paul is averaging 25.3 points, 13.2 assists and 2.8 steals this month while shooting (no misprint) 59.9 percent from the floor and 48.4 percent on 3-pointers.
Not sick enough for you? Paul awoke Friday having already recorded nine games this season with at least 20 points and 15 assists.
The rest of this league has accounted for eight such games. Combined.
And now he's even filling up a building the skeptics said couldn't be filled, which certainly can't hurt Paul's MVP argument. The Celtics' arrival Saturday -- and let me repeat, as an aside, that Kevin Garnett still has to figure in high in the balloting given how ruthless Boston continues to be -- will mark the Hornets' eighth sellout in their past 13 games.
It makes sense, then, that the Hornets have launched their own Web site -- CP3MVP.com -- to help keep their guy's name at the forefront of the MVP discourse.
Which do you rate as the best Mavs roster in Avery Johnson's coaching tenure? The group that got within one quarter of a 3-0 lead in the 2006 NBA Finals? Or the roster that now pairs Jason Kidd with Dirk Nowitzki? Galloway and Company invites Marc Stein -- who likes the new look better in spite of the Mavs' 0-7 misery against playoff-bound teams since bringing Kidd back -- to join the debate on ESPN Radio's Dallas affiliate (103.3 FM).
• Listen to the interview

There was a huge game Thursday night in Big D -- and yet another mammoth win for a Celtics team that now is an unfathomable 6-0 on the road this season against the Lakers, Rockets, Jazz, Spurs, Mavericks
and
Pistons -- but there was an even bigger game in Nebraska for Marc Stein. ESPN Radio's AllNight finds out why it would have killed ESPN.com's Dallas-based NBA guy not to be in Omaha.
• Listen to the interview


Even before we got to Omaha for this week's 36-hour escape from reality, as detailed in Box 10, college chatter already was dribbling into Stein Line HQ.
I've heard this one now from about five well-connected sources around the league: University of Memphis coach John Calipari has serious interest in the Bulls' job.
Calipari, for the record, strongly denied such interest when contacted by ESPN.com this week.
Where the Bulls stand on Calipari, meanwhile, could not be immediately determined. Yet this much seems clear: Chicago is headed for an offseason coaching change, as addressed here last week.
I suppose a playoff run under Jim Boylan still could change things, but that's difficult to picture given the unrest in the locker room that lingers long after Scott Skiles' Christmas Eve departure and with Chicago still one of just four teams left this season that has failed to post at least one three-game winning streak. The others are lowly Minnesota, Memphis and Miami.
---
In another coaching bulletin, albeit with far less of a surprise factor, NBA front-office sources say Milwaukee's Larry Krystkowiak has roughly zero chance of keeping his job beyond this season, no matter who gets brought in to replace Larry Harris as Bucks general manager.
Harris' successor, I'm told, will be charged with finding a coach with more experience after a run of younger coaches: Terry Porter, Terry Stotts and Krystkowiak. Job No. 1 for the new man thus will be making a clear determination on what kind of talent Milwaukee really has.
The Bucks' roster was believed to be playoff-worthy entering the season -- or at least more playoff-worthy than the Bucks are now in the pitiable East -- but Krystkowiak needs a 6-9 finish just to avoid Milwaukee's worst season since George Karl's farewell season in 2002-03.
The Bucks made well-chronicled runs at Flip Saunders and Doug Collins before hiring Stotts before the 2005-06 season. But we also heard for the first time this week that there was some internal discussion in the summer of 2005 about trying to lure Calipari back to the NBA, before Bucks owner Herb Kohl ruled him out. Calipari last coached in the NBA as an assistant with Philadelphia in 1999-2000 season.
As for Kohl and his growing reputation as an indecisive meddler, it must be noted in his defense that he has spent big in the past on both players and coaches. Karl, remember, was a $7 million-a-year coach under the senator. So it'll be interesting to see whether Kohl responds to the loudest criticism he's ever received by splashing out anew to try to lure Donnie Walsh away from Indiana to be the Bucks' new front-office chief.
It would then be even more suspenseful to see whether Walsh tries to convince Kohl that he should hire Larry Brown as their next coach. The Bucks wouldn't be so irrelevant then ... and Brown doesn't appear to have a better option.
However ...
It's a misnomer to suggest that Harris suddenly was let go this week because Kohl wanted to dive right into the Walsh sweepstakes with the Knicks. Sources say it was actually Harris, with his contract expiring at season's end, who initiated the series of meetings that led to his departure (after two decades with the organization) as he sought to either secure a new contract or end the growing uncertainty generated by his lame-duck status.
---
More evidence came this week from our friends at the Elias Sports Bureau that disputes the frequent claim of commissioner David Stern -- and some of our regular readers from the East's few unashamed fan bases -- that the Western Conference's dominance is merely "cyclical."
Boston and Detroit entered Friday night's play with the two best records in the league. The Celtics are 55-13 for a winning percentage of .809, with the Pistons at 49-19 and .721.
But it's the first time in 17 seasons that two Eastern Conference residents have had the two-highest winning percentages this deep into the schedule. For the last time that happened this late in the season, you have to rewind to March 21, 1991, when Chicago was 50-15 (.769) and Boston was 50-18 (.735).
And we still say that even if Boston continues its regular-season dominance and wins the championship -- even if the champ comes from anywhere in the East -- that wouldn't make up for the fact that two-thirds of the conference is mediocre. Or worse.
PS -- On the flip side? The Elias Sports Bureau reports that that the top two records in the league on or after March 20 have been claimed by teams in the West nine times since the 1980-81 season. In seven of those cases, Elias says, West teams finished the season with the top two records: 1993-94, 1994-95, 1999, 1999-2000, 2001-02, 2002-03 and last season.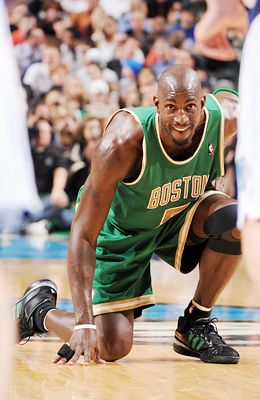 Getty Images
KG's Celtics were the season's hot story early ... and they're the hottest thing going again after sweeping through Texas with road W's over San Antonio, Houston and Dallas.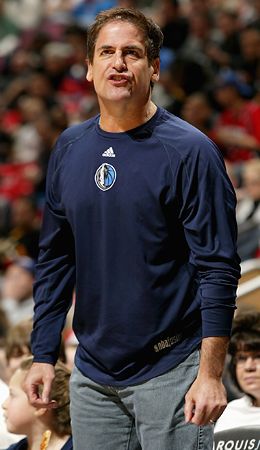 Ray Amati/NBAE via Getty Images
Dallas owner Mark Cuban could have used some new insoles this week. Because he definitely wasn't gellin' during and after the Mavs' home loss to the Lakers. He was fumin'.
From the Stein Line e-mailbag:
Andy Hinkle (Orange, Calif.): Can't believe you didn't chat about our Titans this week. The brackets are out and Cal State Fullerton is in for the first time since 1978. Isn't this what you've been waiting for?
Weekend Dime: You're absolutely right, Andy. Trust me: I was planning to devote my entire chat Monday to the Titans halting their three-decade hex and finally making it back to the basketball big-time. But I've been traveling a lot lately on Sundays, Mondays and Tuesdays -- more than ever because the race in the West is so good and demands closer-than-ever coverage -- and that keeps messing with my chat availability. So I missed my chance.
You know me: I'll talk about this all day if they let me. And you had to know that there was no way your humble correspondent was going to watch this fairy tale on TV. I immediately arranged to meet the team in Omaha, Neb., once we won the Big West tournament and stormed the floor at the Anaheim Convention Center. I honestly would have been at the Big West championship game, too, if I didn't ironically have family in from Orange County last weekend.
I'm obviously crushed by what happened against Wisconsin, but how could I really complain? The Badgers were bigger and deeper and totally controlled the boards and the tempo. The refs were predictably brutal, hitting us with 25 team fouls to Wisconsin's 11 and prompting our coach (Bob Burton) to get off a great postgame line about how the Big West must be "way more physical than the Big Ten." Fact is, though, that we were getting offense from only one guy. Amazing as Josh Akognon was -- and kudos to ESPN's own Doug Gottlieb for calling that beforehand -- you're not going to beat a big, experienced No. 3 seed that way. We didn't deserve more.
Yet as an overall experience, being so close to the floor Thursday night and seeing our school logo everywhere in town will still go down as one of the coolest basketball things I've ever experienced. Going to the tournament wasn't ever really possible when I was in school because Vegas was in our league and had a virtual NBA expansion franchise by the time I graduated in the early 1990s. Then the league and the program started to collapse and it took a long time to rebuild. Surreal is the only word to describe actually seeing us on that stage after all that.
If anything truly saddens me about this whole nostalgia trip, it's mainly the fact that our only previous trip to the NCAAs was in 1978 ... one year before ESPN was founded, one year before Magic and Larry, one year before the college game got truly huge.
As a result, my decades of searching have turned up no one with any sort of footage of the great Greg Bunch and Cal State Who beating Michael Cooper's New Mexico and then Bill Cartwright's USF before losing by three to Sidney Moncrief's Arkansas. I've never actually seen one dribble from that fairy tale.
But I'll always remember Omaha. Loved hanging out with the 200 or so diehard Titans who made the trip, among them the legendary Bunch, who remains a loyal supporter of our program to this day.
I know, I know. You think I've gone over the edge with my Fullerton fetish. Dirk Nowitzki flat-out told me I'd lost it when I informed him that I'd be missing Dirk versus KG on Thursday night to see Scott Cutley versus Brian Butch.
Guess what? I don't really care. We might not be the most famous academic institution on the West Coast, but we have/had two things (in addition to the brief enrollment of the lovely Gwen Stefani) that make me the proudest blue-and-orange alumnus you'll ever find. No. 1: Best journalism school in the West. No. 2: A tremendous (and hugely underrated) home-court atmosphere when I was a student -- in a wild league where pretty much every team had at least one NBA-bound player -- that (almost) made you forget Fullerton was a commuter school.
I've never been able to make the trip to Omaha with our powerhouse baseball team because the College World Series always clashes with the NBA playoffs. But the readers who have patiently endured my countless Titans references had to be bracing for this sort of lengthy travel journal from my time with Cutley, Akognon, Ray Reed, Marcus Morgan and lovable lefties Frank Robinson and Marcus Crenshaw.
Leon Wood was a starter alongside Michael Jordan in a gold-medal-winning backcourt in the Olympics. Cedric Ceballos has an All-Star selection and a 50-point game on his resume to go along with that slam-dunk title. And Bruce Bowen has THREE championship rings with the Spurs. None of those Titans legends, though, ever got the chance to Dance. So the new generation deserves the extended tribute.
All that's left to do now is figure out if our return to prominence means I have the license to write even more about the Titans ... or if I have to start toning it down.
More is obviously more likely.
PS -- In the interest of full disclosure, my man Hinkle played for the Titans from 1995-97.