Garrett W. Ellwood/NBAE via Getty Images
Mostly Cloudy Forecast: Dark Days Without Dirk

DALLAS -- Not as bad as it looked on TV?
There's a chance that sentiment might actually wind up applying to the stomach-turning twisting and folding that Dirk Nowitzki's left leg did Sunday afternoon.
As for the Dallas Mavericks' standing in the Western Conference race, well, that's as disturbing as it appears on pretty much any screen you choose: Television, computer, handheld, whatever.
If Nowitzki misses the next two weeks, as Mavs owner Mark Cuban fears, Dallas will have to play three games without the reigning MVP against its two nearest rivals in the race to clinch the West's seventh and eighth seeds, as well as road games against the Lakers and Suns. The seven games on the schedule in this two-week span include a Thursday trip to No. 9 Denver -- which can clinch the season-series tiebreaker with a victory -- and a home-and-home with No. 8 Golden State.
But this might be the truly troubling part:
Even if Nowitzki were to make it back faster somehow -- if the damage he sustained in Sunday's 88-81 loss to San Antonio was purely in the "left lower leg," as the Mavs described it, and not his left knee -- Dallas has no guarantees that it'll be way better off.
That's how discombobulated and unsure Nowitzki's team looks these days, as it braces for a stretch with five out of six games on the road after Tuesday's presumed home gimme against the Clippers.
As Mavs swingman Jerry Stackhouse summarized it: "You and everybody else in the dang Dallas world knows that a lot of what we do revolves around Dirk. So if he's out, you can't just abandon everything and start something new on the fly. We haven't had success trying to tweak this thing on the fly yet. We need him to heal up. Fast."
The latest update on the tweaking leads to more unpleasant reading for the Mavs. After this fall-from-ahead defeat, they've dropped to 0-8 against teams with winning records since making the Jason Kidd trade.
They had targeted the past week as maybe the season's most pivotal, with visits from the Lakers on Tuesday, Boston on Thursday and San Antonio on Sunday. After painfully narrow losses in the first two games -- and a loud blowup between Cuban and coach Avery Johnson in between after the Mavs fell into a 25-point hole against L.A. -- Dallas was hoping to follow the Phoenix blueprint and turn this Sunday afternoon showcase with the Spurs into a turning point.
Phoenix, remember, launched its first good spell in the Shaquille O'Neal era with an ABC home victory over the Spurs two Sundays back. Cuban even tried to lessen the tension and add to the flipping-the-page karma here by showing up in an "Avery's Team" T-shirt that he proudly grabbed and popped as he walked down an American Airlines Center corridor before tipoff.
Dallas then went out and celebrated Kidd's 35th birthday with a full-blown nightmare at lunchtime. Tim Duncan shot 1-for-10 in the first half, Tony Parker shot 4-for-21 overall and the Mavs wound up collapsing against a vulnerable opponent that, just like Boston, didn't even manage to shoot 35 percent from the floor. After two Nowitzki free throws made it 54-42 roughly halfway through the third quarter, Dallas began settling for jumpers and stagnating in the half court, leading to the surrender of 19 consecutive points.
San Antonio had scored 14 of those by the time Nowitzki's left leg was pinned and pressed by the landing of Ime Udoka after Nowitzki blocked Udoka's driving layup. Which is another way of saying that the Mavs' confidence was already draining away when they were subjected to the frightful sight of their franchise player going down in what to some had the look of a season-ending heap.
History says Nowitzki will actually rebound faster than anyone who saw the footage would dare imagine … as long as the damage is restricted to the ankle area. He's done it so many times that he makes you think he has bionic ankles, with one theory in Mavsland suggesting that Nowitzki -- thanks to years of countless deep-knee bends and other unorthodox exercises with his German mentor Holger Geschwindner -- can play through ankle sprains so easily because of his world-class flexibility.
But his team, with or without Nowitzki, is out of wiggle room. The Mavs are only 9-8 since Kidd arrived -- with Kidd himself managing to score only 10 points over the past three games with defenses sagging off him more and more -- and thus prompted a bit of a newsroom scramble Sunday. More than one scribe was moved to double-check and make sure the first-round pick that Dallas sent to New Jersey as part of the Kidd trade is indeed lottery-protected, because the team that made a run at 70 wins last season might be forced to use that pick if it can't win a few games over the next two weeks.
Which only puts more pressure on Kidd, whether or not Nowitzki can soon go, at a time when Johnson says teams "are playing five in the paint on us" and when Kidd is increasingly tentative in half-court sets. He's admittedly struggling to find a way to "be myself and just play" or to "stop thinking and just react."
"… Losing three in a row, whether it's at home or on the road, is not a good place to be," Johnson conceded. "We'll talk to them again and pick them up. Hopefully they'll come into practice tomorrow with a renewed sense of optimism, knowing that the season is not over."
If you were watching on this painful Easter Sunday, that might have been the best thing anyone could say about the Mavs' season.
Marc Stein is the senior NBA writer for ESPN.com. To e-mail him, click here.
Dimes Past: March 15-16 | 16 | 17 | 18 | 19 | 20 | 21 | 22-23 | 23

Gary (Dallas, Tx): J.A., I can't seem to figure Tracy McGrady out. One moment I think he's an amazing talent who's leading his team then the next moment, I see him coast on defense, and that's being generous. Is his body betraying him or does he lack the heart?
J.A. Adande: I think the heart can overcome the other parts of the body. That's what we've seen from the truly great. McGrady deserved to get the accolades for what he did for his team during the streak. But it was alarming the way he went out in the Rockets' two losses this week, seemingly unwilling or unable to take his team to victory in crunch time. We've seen him take over before. But what separates the truly great from the rest is the ability to do it on a consistent basis.

By Chris Broussard
ESPN The Magazine
Pat Riley, Miami -- He should stop coaching for good and stay in the front office, where he's done a fine job. Except for that charmed month in 2006, when the Heat defied all logic and won the title, it's been ages since Riley had a great season as coach. Plus, his ridiculous "here one day, gone the next" routine on the sidelines doesn't jibe with the "Never Quit" rhetoric he spews to the players. And don't think they don't notice.
George Karl, Denver -- Dude's got the longest contract known to man, but should he survive a lottery finish for the talented Nuggets? He probably will, but this is a disaster. And with Karl at the helm, there's no reason to think next year will be any different.
Marc Iavaroni, Memphis -- I was surprised to hear from a few executives this week that Iavaroni may be in trouble. He was the Boy Wonder last summer, when he topped everyone's list of available coaches. But I'm hearing his star has dimmed in Memphis. I can't believe he'd be released after one year, but folks say he's got an elitist attitude that's rubbed his players the wrong way.

SUNDAY'S BEST
Stephen Jackson, Warriors forward:
Helped derail Golden State's usual futility against the Lakers. Jackson had 31 points including two late 3s. Now GS goes for three straight wins over California's foremost team on Monday.
---

SUNDAY'S WORST

The luck of Dallas:
If you hold
Tim Duncan
to a 7-for-21 night from the field, and
Tony Parker
4-for-21, you've got to like your chances, Dirk or no Dirk. But the Spurs' making 23 of 24 free throws helped finish the Mavs.
---
QUOTE OF THE NIGHT

"Both of us being from Dallas, he should know that he's not going to get a night off."
-- Nuggets forward
Kenyon Martin,
putting the Big D in defense, addressing his coverage of the Raptors'
Chris Bosh
in Denver's win, 109-100.
• See Sunday's daily leaders
• See the current playoff matchups
-- Andrew Ayres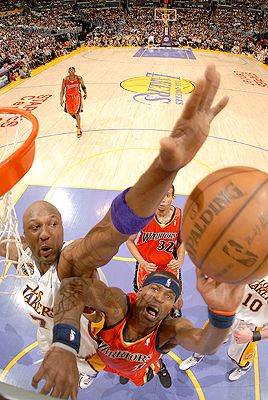 Melissa Majchrzak/NBAE via Getty
Warriors forward Stephen Jackson got by Lamar Odom and the Lakers. Jackson scored six of his 31 points on two 3-pointers in the final 38½ seconds in a 115-111 win. Doing the unexpected is the Warriors' way, J.A. Adande writes.

Elias Sports Bureau
Allen Iverson scored 36 points and Carmelo Anthony scored 33 in the Nuggets' 109-100 win at Toronto. It was the fifth time this season that Iverson and Anthony both scored at least 30 points in the same game. Only one other pair of teammates has done that even twice this season: Kobe Bryant and Pau Gasol (two times).

Associated Press
Lakers coach Phil Jackson said he expects Pau Gasol, who missed his fifth straight game Sunday with a sprained left ankle, to return sometime this week, perhaps as soon as Wednesday night against Charlotte.