Noah Graham/ Getty Images
Some Things Not So Predictable

Time to pass a few judgments on awards and the playoff push as we head into the final weeks of the season …
My MVP winner is …
Too close to call right now. If the New Orleans Hornets win the West's regular-season battle, I've got Chris Paul. If the Hornets don't win the West, I've got Kobe Bryant no matter what.
It's basically been in the past couple of weeks that Paul has stepped forward, backed by solid numbers (21.5 points, 11.2 assists, 2.7 steals per game). I liked what I saw of him when the Spurs and Celtics both came to New Orleans and each left with a loss. He's made an All-Star out of David West, and Tyson Chandler is a most improved player candidate. Paul's been given the keys from coach Byron Scott and driven the team to the heights. You're doing something if you can get a team on top of this loaded Western Conference.
Kobe's been the best player in the league the past three years. One problem is the way different people define "most valuable." Is it the best player, or the one who means the most to his team? To me he's been most valuable. In the wake of what happened this summer with talk of his departure, I think his leadership qualities have taken a huge step forward this season.
Rookie of the year …
It's Al Horford of the Atlanta Hawks. He's kind of under the radar because of his team's fortunes. But the team is in a playoff battle for the East's eighth and final playoff spot despite its 30-40 record. Atlanta is a team based on athleticism and guard play, and it very seldom runs anything in terms of plays for him. He can rebound it and can even take it coast-to-coast, averaging 9.8 points and 9.8 rebounds in 31 minutes per game.
That said, Kevin Durant will probably win the award for the simple fact people will look at what he's averaging (19.6 points). His shooting is hovering around 42 percent and his team isn't winning. Luis Scola and Carl Landry from Houston have been impressive, even though Landry did not play for much of the season and has now missed some games recently with injury. Al Thornton of the Clippers would also get more consideration if not for being injured early on.
Your 2008 NBA champion will be …
Looks like it's the Boston Celtics. Their chances to win it all have improved in the past couple of weeks, especially with their performance on the Texas Triangle trip. This team has been consistent all season long, even when Kevin Garnett out for nine games. I like the additions of Sam Cassell and P.J. Brown. The team has gotten better with Leon Powe off the bench, alongside Eddie House and James Posey.
The aforementioned players answered the big question of depth. A team wins on defense, and in my opinion, this is the best defensive team in the league now.
The big three don't have to be clicking to win. Paul Pierce hasn't got enough credit for what he's done. The holdover from last season's troubled team has seen his assists go up, matching his commitment to the defensive end.
I see the East coming down to a Detroit-Boston seven-game series, a hotly contested set worthy of the late 1980s games between the two teams.
In the Finals, I still see the Spurs coming out of the West. The Lakers have the best chance to unseat them, and they could even meet in the first round the way things are going. Still, I have questions about the Lakers, a group that hasn't won a playoff series together, and has yet to compete in one with Pau Gasol. Also, how does Andrew Bynum fit in? Is a week enough time to come back? We're talking a major injury -- you don't just show up from an injury that severe.
Who won't make the playoffs?
Dallas falls out. When Dirk Nowitzki went down and had to be carried off the floor Sunday, Mavs owner Mark Cuban looked like his dog had been run over by a truck.
In two weeks, the minimum Nowitzki is expected to miss, you can drop quickly in the Western Conference. And without Dirk, Dallas is in serious trouble. The remaining Clippers game coming up is a must-win.
The Mavs made all these moves in the offseason to get guys who could defend. Now how are they going to score? I don't see where they get points from. Josh Howard is their No. 1 option, but I don't see how they can rely on him. Jason Kidd is scoring eight points a game. I just don't see them scoring enough.
Who gets in?
If Dallas is out, it's Denver. I wouldn't say this is a sure thing, because as great as the Nuggets are offensively, they are equally bad defensively. Is the offense going to be enough? They've got a big game with Dallas at home Thursday. The loss of Dirk should light a fire under the Nuggets.
Denver guard J.R. Smith is a wild card with the impact he can have coming off the bench.
ESPN analyst Jon Barry is a regular contributor to the Daily Dime.
Dimes Past: March 15-16 | 16 | 17 | 18 | 19 | 20 | 21 | 22-23 | 23 | 24 | 25
Talking About Webber's Retirement

The ESPN Conversation about Chris Webber's retirement rolls on, with an array of opinions …
Obviously, as the comments show, C-Webb is a divisive figure among NBA fans. I'm a Suns fan first and foremost but always loved the Kings in their glory days with the run-n-gun style that the Suns eventually inherited.
Those of you who knock Webber on his attitude and heart may have legitimate criticisms, though I personally disagree. But those of you who knock what he's accomplished are simply idiots. Webber was one of the best PFs to ever play the game and took a Kings team as far as a lot of NBA players have ever gone. He might not ever be in the HOF, but he's hardly Derrick Coleman, either.
Hats off to Chris Webber. I think he matured a good deal over the years and his legacy with those Kings teams and the way they helped revitalize the NBA with their rivalry with the Lakers and with their breakneck style of play will be a lasting one. -- jzarzycki

David Thorpe | ESPN.com
My observations for this week: Kevin Durant is enjoying the best month of his young career, despite his team's overall bad play. He's using his size more when scoring, he's not fading quite as badly on shots and he's not running to the 3-point line in transition or as a pressure-release guy in the half court.

Elias Sports Bureau

Dwight Howard had 24 points and 21 rebounds, but it wasn't enough for the Magic in a home loss to San Antonio. It was only the sixth time in Tim Duncan's NBA career that he played in a regular-season game in which an opposing player had 20 and 20 (points, rebounds). The other players to do that to Duncan and the Spurs were Marcus Camby, Dirk Nowitzki, Shaquille O'Neal, Kevin Garnett and Amare Stoudemire.

TUESDAY'S BEST
David West, Hornets forward:
Goes for 35 points and 16 rebounds in the Hornets' 114-106 win over the Pacers. Hornets could use some of that Wednesday at Cleveland and Friday in Boston.
---

TUESDAY'S WORST

J.J. Redick, Magic guard:
Gets eight minutes of action, misses all five field-goal attempts in the loss to San Antonio. At least he got to play -- Redick has played a grand total of 32 minutes in March.
---
QUOTE OF THE NIGHT

"Winning has always been a great deodorant."
-- Mavs guard
Jason Kidd
, after his team posted a win over the Clippers.
• See Tuesday's daily leaders
• See the current playoff matchups
-- Andrew Ayres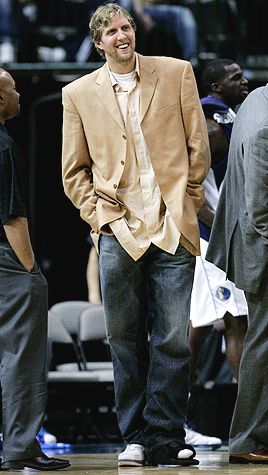 AP Photo/Tony Gutierrez
Mavs forward Dirk Nowitzki chats with a member of the staff during the first half of Tuesday's win over the Clippers. Nowitzki managed to squeeze in some impromptu play-by-play on the Mavericks TV broadcast.

Chad Ford and David Thorpe discuss the NBA prospects in the NCAA tournament. Which players have helped themselves? Which players have hurt themselves?
Draft and follow