Noah Graham/ Getty Images
The Case For Garnett As MVP

BOSTON -- We have two stories to tell about the Kevin Garnett-for-MVP debate, one from before Wednesday night's Suns-Celtics game, the other from afterward.
First, though, let's set the parameters for this debate, because there is a school of thought out there -- a ridiculous one, but a school of thought nonetheless -- that KG doesn't even belong in the debate.
"What are his numbers?" one-time MVP Shaquille O'Neal asked in the Suns' locker room an hour before tipoff when the KG-for-MVP question was raised.
His numbers? Well, if you're judging him solely by his individual numbers, maybe it's true that he doesn't belong in the debate. Garnett does not lead his team in scoring (he's averaging 19.0 points, second on the team to Paul Pierce's 20.1), is third in minutes played (behind Pierce and Ray Allen) and does not lead the Celtics in either of the two defensive stats, steals and blocks -- all stats the numbers-oriented people (we're talking about you here, Shaq) get so hyped up about when it comes to choosing an MVP.
Numbers can tell different stories, and there are other numbers that can be used to make the case against Garnett being the MVP.
• The No. 9, as in the nine games Boston played without Garnett, going 7-2 when he went down at midseason with an abdominal strain.
• The No. 1, as in the total number of MVP awards Garnett has already won, which is exactly one more than the number that another strong MVP candidate, Kobe Bryant, has accumulated over his career. "It might be his year," conceded Garnett's coach, Doc Rivers.
• The No. 20, which is the number of assists Chris Paul -- arguably the third member of the troika of leading MVP candidates -- put on the board against Cleveland on Wednesday night, marking the 48th time he has reached double figures in that category this season while leading the New Orleans Hornets to the top of the Western Conference standings.
• The No. 30. Garnett reached that number in the points column for only the second time all season in Boston's 117-97 drubbing of the Suns on Wednesday night. Kobe? He's scored 30 or more 34 times this season.
MVP Candidates In March

It's not how you start, it's how you -- and your team -- finish. Here are the March numbers for MVP candidates Chris Paul, Kobe Bryant, LeBron James and Kevin Garnett:
| | | | | |
| --- | --- | --- | --- | --- |
| | Paul | Bryant | James | Garnett |
| PPG | 24.5 | 30.3 | 32.8 | 20.9 |
| RPG | 3.3 | 7.4 | 8.1 | 8.1 |
| APG | 13.3 | 4.9 | 6.5 | 2.8 |
| SPG | 2.7 | 1.5 | 1.2 | 1.3 |
| Rec. | 10-3 | 8-5 | 7-6 | 11-3 |
So let's look at the flip side, because some numbers work in Garnett's favor.
• The No. 90.5, which is the average number of points being scored per game against the Celtics' league-leading defense. (Wednesday's game was broken open in the third quarter, by the way, when Garnett began aggressively denying Amare Stoudemire the ball and held him to a scoreless third quarter in which Stoudemire committed four turnovers as Boston broke the game open.)
• The No. 24, which is the number of victories the Celtics have accumulated in 29 games against teams from the Western Conference. Yes, you can make the case that the West is the much stronger conference, but you can't use that argument against Garnett in the MVP race when you look at how the Celtics have performed against those teams.
• The No. 56, which is what Boston's victory total reached Wednesday night in its 71st game of the season. The Celtics are on pace to finish with something in the area of 62-64 wins, which will substantially eclipse their victory total from the past two seasons combined.
That last nugget brings us to our second Garnett-for-MVP story, the one that happened afterward as Garnett and Pierce sat together at the interview podium and Garnett had just finished explaining how he had been trying to tune out the crowd's "MVP" chants when they started up with six minutes left.
"This is my MVP right here," Garnett kept saying, pointing to Pierce while repeating a line he has been uttering ad nauseam throughout this season.
So the question was asked of Pierce: Where do you think KG belongs in the MVP debate?
"You have to understand," Pierce replied, "where I came from a year ago, and to be on pace to win as many games as we are, I wouldn't have believed it."
As Pierce spoke, Garnett kept trying to interrupt him, even injecting an off-color remark about bovine waste in his effort to make Pierce clam up.
But Pierce wouldn't have it.
"The whole face of Celtics nation turned around when the trade happened with this guy. Everybody talks about the MVP, and they talk about numbers, but this guy has changed the whole culture around here, and I think that says a lot. The mentality, from a day-to-day aspect, everything is changed from a year ago."
The MVP debate will continue over the final three weeks of the regular season, and the thinking here is that Bryant will ultimately edge Garnett when the votes are counted, with Paul finishing third, LeBron James fourth and Dwight Howard fifth. But that does not mean that Bryant is clearly the most deserving.
Maybe he is and maybe he isn't, but he's not a slam dunk to win it. Not when there's a guy sitting 41 games over .500 -- which, lest we forget, gives his team the best record in the league -- whose team just took down another Western Conference powerhouse by 20 points.
You can argue over who is more deserving, but no matter which type of numbers you look at, you can't have a legitimate MVP debate without including Kevin Garnett in the discussion.
Chris Sheridan covers the NBA for ESPN Insider. To e-mail Chris, click here.
Dimes Past: March 15-16 | 16 | 17 | 18 | 19 | 20 | 21 | 22-23 | 23 | 24 | 25 | 26
CP3 And LeBron, Two Of A Kind

By Brian Windhorst | Special to ESPN.com
CLEVELAND -- Lots of players in the NBA call each other friends; Cavaliers forward LeBron James and Hornets guard Chris Paul call each other family. Their mothers talk on the phone, they spend parts of the offseason at each other's homes, and 15 minutes after James' son Bryce was born during last June's NBA Finals he was cradled in Paul's arms.
Needless to say, they know each other well and they know each other's games well, watching each other with regularity on off nights. So when the final seconds ticked down in a close one at Quicken Loans Arena Wednesday, they didn't need the scouting reports.
"I knew when the fourth quarter came, he was going to start to guard me," Paul said.
"He puts his team in the best opportunity to win ballgames," James said.
They were both right, but they couldn't both win.

James did what he does best and so did Paul, but the Hornet got the final move and a 100-99 win.
James cracked the sort of double-team that had been haunting him all night and then changed hands in midair to take away Tyson Chandler's block angle to make a layup and put the Cavs ahead with 7.7 seconds left, 99-98. Against most teams this season, that would've been the dagger.
But Paul retorted. With James on him he used a screen from David West to get space and head toward the basket. Instead of letting James remain on Paul alone and staying home on everyone else as the plan called for, the Cavs' defense collapsed. James did recover in time to get in front of the slick point guard but two other Cavs were bracketing Paul as he jumped into the air a few feet in front of the basket with about three seconds left.
This is usually a good spot to be in, the smallest player on the court off his feet in triple coverage with no time. But one of the men, Joe Smith, was supposed to be on West. Paul not only knew this, he knew exactly where West would be, right behind him.
Just like James knew exactly what to do to free himself of the Hornets' clutches in the clutch, Paul spun without looking and zipped the ball to West. He drilled the open 17-footer with less than a second left to sink the Cavs.
It was Paul's 20th assist against one turnover.
James had just 21 points, his fewest in 39 games … the last time he faced the Hornets back in December.
"Bron knows that when I am on the team playing against him that we're going to get the ball out of his hands," Paul said. "But he's one of those guys that finds a way."
"He's got eyes in the back of his head," James said. "That's why he's the best point guard in the league."
Brian Windhorst covers the NBA for the Akron Beacon Journal

By Nicholas C. Loucks, ESPN Research and Elias Sports Bureau
Chris Webber went to two Final Fours in his college career at Michigan. He also went to two "Final Fours" (aka conference championship series) in his NBA career. But he failed to win the big prize in either league.
Only three other players are able to say that, including one of his former Fab Five teammates at Michigan.
Reaching Multiple Final Fours in College And NBA Without Winning a Title at Either Level

Player
NCAA Final Fours
NBA "Final Fours"
Chris Webber
'92, '93 Michigan
'02 Kings, '07 Pistons
Jalen Rose
'92, '93 Michigan
'98, '99, '00 Pacers
Alaa Abdelnaby
'88, '89, '90 Duke
'91, '92, Trail Blazers
Guy Rodgers
'56, '58 Temple
'60, '62, '64 Warriors, '70 Bucks

WEDNESDAY'S BEST
Devin Harris, Nets guard:
His 22 points and 15 assists pushed the Nets past the Pacers, 124-117, and within half a game of the Hawks for the East's final playoff spot. Nets in playoffs, Mavs out? Ouch.
John Hollinger has more …
---

WEDNESDAY'S WORST

Leandro Barbosa, Suns guard:
Averaging 16.2 ppg, the Brazilian blur was held to two points and missed all four field goal attempts, in the loss to Boston.
---
QUOTE OF THE NIGHT

"Sure you can. You can quote me, brother. You can put an 's,' then the tic-tac-toe, the 'at' sign and then the other symbols."
-- Suns center
Shaquille O'Neal
, explaining to a reporter how to properly use a cuss-word quote directed at Pat Riley remarks.
• See Wednesday's daily leaders
• See the current playoff matchups
-- Andrew Ayres

By Patrick Parker
ESPN.com
BOSTON -- Ever hear about the 15-year-old who body-slammed Shaquille O'Neal?
The guy who did it was a Big Baby then, too.
Glen Davis had another memorable moment against O'Neal when he ripped a rebound out of his elder's hands Wednesday night in Boston's 20-point victory over Phoenix, some seven years after the body-slam moment the two big men still remember today.
That day in the summer of 2001, in a backyard of an academic elder's house on the campus of LSU, Davis found himself staring at the player he idolized. On a mutual whim, the two began wrestling.
And the winner was clear when Davis, completely unintimidated, shocked the Diesel by lifting and slamming the 7-foot-1, 350-pounder to the ground.
O'Neal had a laugh while recalling the moment, but it clearly left an impression -- and it helped Davis get introduced to Dale Brown, then LSU's coach. Davis, still small in comparison with O'Neal's girth, matched up numerous times with Shaq on Wednesday and -- with a little help from the rest of the Celtics -- had the upper hand again.
"I just threw him down. It was two friends wrestling in the backyard and I won," said Davis, who made it clear that he wasn't nearly the size he is today when that match happened.
Still, he has a story from his teenage years that no other former 15-year-old can top.

In an interview with ESPN Radio's Mike Golic and Erik Kuselias, Suns GM Steve Kerr talked about how stressful the initial days were after the Shaq trade. Also, Kerr likes the Spurs in the West, aside from his team, because they're veterans and know how to win.
Looking into the Suns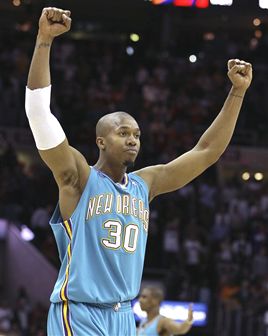 AP Photo/Ron Schwane
Hornets forward David West reacts after hitting the game-winning shot against the Cavaliers. The Hornets won 100-99.