Ron Hoskins/Contributor/ Getty Images
Which Rockets Team Will Show Up In The Playoffs?

There are two extreme points of view making the rounds with regard to the postseason fate of the Houston Rockets, who take on the San Antonio Spurs on Sunday (1 p.m. ET, ABC).
In one corner are the non-believers. They consist of skeptics rambling about smoke and mirrors, luck and a favorable schedule as the main factors in the Rockets' 22-game winning streak and Western Conference resurgence.
In the other corner are the idealists. Never mind the fact that this group is mostly comprised of Rockets season-ticket holders, relatives of team members and Spurs haters. They contend that Houston is just as likely as any of the other Western Conference teams to win a title.
Reality, in my view, lies in the center of the ring, leaning slightly toward the non-believers. This team will remain competitive into the postseason. They are too good defensively to just go away. Fighting over screens, pressuring the ball, contesting shots and rebounding all equate to winning basketball. The Rockets consistently excel in all of those areas. They have a superstar in Tracy McGrady who may be the most talented offensive player in the NBA when he is in attack mode. He has the ability to keep Houston in games just by his himself. Their role players are tough, competitive and in touch with their limitations. All of these qualities are the definition of chemistry and that is a huge component in winning a championship.
Having said that, there are a few harsh realities that will prevent the Rockets from winning the West.
First, a seven-game series involves adjustments and counter-punching. It is far easier to adjust when you have several capable primary scoring options. The Rockets have only one, T-Mac. Rafer Alston, Shane Battier, Bobby Jackson, Luis Scola, and Carl Landry all had moments over the past two months when they offered surprising offensive outbursts. The problem is that there are no surprises in a seven-game series. Their opponent will lock in and expose weaknesses that can be masked during the regular season when there is often too little time to prepare. Rockets coach Rick Adelman has done an amazing job with this team, but, at some point, winning often comes down to great offensive players simply creating opportunities. The Rockets may lack enough of those to get out of the West.
The second obstacle involves McGrady himself. He needs to demonstrate the type of killer instinct that wins championships, not merely an unselfish teammate willing to go down with the rest. Sometimes, for the good of the team, McGrady must abandon his teammates and take over. If the Rockets lose in the first round T-Mac and Adelman will rest easier this summer knowing their fate rested with McGrady shooting the ball. There is a fine line between unselfishness and weakness. For Houston's sake lets hope T-Mac demonstrates neither.
Finally, there is the problem of matchups. Depending on how things play out over the last three weeks, Houston could fall anywhere between the No. 2 seed and No. 7. That means they could virtually play anyone in the first round.
In looking at each potential pairing, the Rockets cannot generate enough offense to beat Phoenix, Golden State, or the Lakers. They won't beat San Antonio either because, well, the Spurs are a more talented mirror image of themselves. The Hornets would also handle Houston. Chris Paul's quickness would disrupt every defensive game plan the Rockets conceive.
That leaves Dallas (if they hold on), Utah, and Denver (if they rally). The Mavs are a mess and are tailor-made offensively for the Rockets. Jason Kidd's irrelevance offensively means Houston could effectively double Dirk or Josh Howard without paying for it. I'd take Houston in that series. Utah is unbeatable at home but, despite being a No. 4 seed, may be on the road in the first round if Houston has a better record, which it most likely will. The Jazz have been mediocre away from Salt Lake City and that could be the difference. I'd say it's a toss-up. Denver is potent at times and pungent at others. They lack the discipline to beat a team as committed to the cause as Houston.
So, there you have it, Rockets fans. Pray for Dallas, Denver, or Utah in the first round and hope McGrady can finally lead his team past the first round.
ESPN analyst Tim Legler is a regular contributor to the Daily Dime.
Dimes Past: March 18 | 19 | 20 | 21 | 22-23 | 23 | 24 | 25 | 26 | 27 | 28-29
Handicapping Spurs In Playoffs

By Bill Simmons | Page 2
Scouting report:
Same old Spurs -- they looked disinterested for a few months, only they knew and we knew that they'd be there in the end. ... The bad news is that their swing guys got old (
Bruce Bowen
and
Michael Finley
especially), and their perimeter defense is definitely weaker. ... The good news is that
Damon Stoudamire
and
Kurt Thomas
give them as much depth as they've ever had. ... More importantly,
Manu Ginobili
jumped a level and became a top-four crunch-time guy (see above). ... And if that's not enough, Gregg Popovich went a long way toward erasing the bias against coaches who don't wear ties during games and look a little sloppy. ... Every time he's yelling at a referee, he looks like some drunk guy at a Martha's Vineyard wedding who's furious that the open bar just closed and eventually has to be restrained by two in-laws.
Biggest strength
: Experience,
Tim Duncan
, Ginobili and Popovich in some order.
Biggest weakness:
Other than a (predictable) lack of urgency from time to time, they don't have anyone on the current roster who can defend
Chris Paul
or
Deron Williams
. Of course, nearly every contender could say that.
Biggest X factor:
With $100 million-plus in advertising profits at stake if there's a Celtics-Lakers or Celtics-Suns Finals, it will be interesting to see if the Spurs get a single borderline call in May or June. My guess is that somebody on the Suns or Lakers could use a chainsaw and nunchaku to stop Duncan in a Game 7 and the refs wouldn't call it. But I'm cynical that way.
Biggest mistake:
Not just giving away
Luis Scola
, but giving him away to a Texas team! Eight months have passed and I still haven't heard an adequate defense from R.C Buford and Popovich for that stinker trade other than "that's the last time we get drunk and make a trade at 3 in the morning."
Unsung hero:
Ime Udoka
gives the Spurs someone to defend the Carmelos, Pierces and Bonzis of the NBA universe, as well as someone with his own Bill Brasky-esque fight story and another fun name for Marv to boot. You're damned right that I'm enjoying the Ime Udoka era.
Best-case opponents:
Houston or Los Angeles.
Worst-case opponents:
New Orleans or Golden State.
Prediction:
The third seed and a controversial demise in Round 2 after the Lakers benefit from a 65-10 free throw advantage in Game 7.
Eventual 2007-08 Legacy
: See the previous paragraph.
• See the full Bill Simmons story
Breaking Down Possible West Playoff Matchups

By Ric Bucher | ESPN The Magazine
San Antonio Spurs
Would Rather See: Hornets, Rockets
Would Rather Avoid: Warriors, Mavericks
Vast playoff experience vs. none sums up a Spurs-Hornets series. As for the Rockets, the thinking league-wide is that
Tracy McGrady
still doesn't have the grit to improve upon his 0-6 postseason series record. (By comparison,
Tony Parker
has a mark of 15-3.) A record-setting regular-season win streak doesn't change that; it puts him under more pressure. Meanwhile, Spurs boss Gregg Popovich doesn't love battling his pals. That's what would happen if San Antonio drew Pops' ol' drinking buddy Don Nelson (Warriors) or ex-PG Avery Johnson (Mavs).
• See the full Ric Bucher story

By Lisa Brooks
ESPN Research
The Spurs now have 50 wins on the season, good for their ninth consecutive 50-win season. Since the NBA went to an 82-game season in 1967-68, there have been only two teams to accomplish the feat of winning 50-or-more games in more than eight consecutive seasons. The Los Angeles Lakers had 12 straight 50+ win seasons from 1979-80 through 1990-91, winning five NBA Championships during that streak. Also the Boston Celtics had a stretch of nine straight 50+ win seasons from 1979-80 through 1987-88, winning three NBA Championships.
Of note, the Spurs will play 18 games throughout the month of March, including six sets of back-to-backs. That is the highest game total and most back-to-backs played in any one month by a Spurs team in franchise history.
Here is a look at the active streaks.
Most Consecutive 50-Win Seasons ( Active)

Team
Seasons
Spurs
8
Pistons
7 (including current season)
Mavs
7
Suns
3

By David Thorpe
ESPN.com
I enjoy watching Luis Scola abuse defenders inside with his excellent sense of timing on his moves. He is so creative and oftentimes unorthodox that just a slight turn of his head can get a defender moving. And when that happens, he'll wheel the opposite way for an easy deuce.
• See the full Thorpe rookie report

By Elias Sports Bureau
Think Rockets guard Rafer Alston is having fun yet? Skip To My Lou poured in a game-high 28 points in the Rockets' 108-100 win Monday over the Kings. It was the fifth game this month in which Alston has scored 20 or more points, the most 20-point games he has had in any month in his NBA career. (His old high: four 20-point games with Toronto in November 2004.)
• See more Elias facts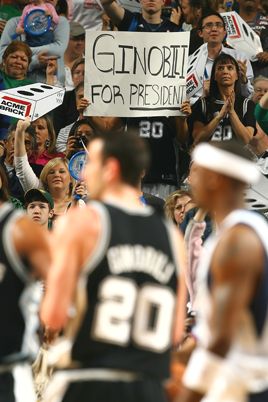 Garrett W. Ellwood/NBAE via Getty Images
Manu Ginobili has led the Spurs with his 20.1 ppg. However, Manu fans, he can never be the president because he wasn't born in the United States. And he's not 35. Sheesh.