Photo by Lisa Blumenfeld/Getty Images
Abbreviation Nation: MVP Credentials Defined

Ask people who have a vote who their choice for the NBA's 2008 Most Valuable Player is. Their eyes dart, they pull back as if circling their personal wagons and their expressions look as if someone just asked, "You paid what for that?"
The first answer will be, "Uhhh, I haven't decided yet." Or maybe the slightly more urbane: "I won't know until the end of the season."
Maneuver around this grand cop-out by asking who it would be right now. Expect to hear that it's between two or three names. Be persistent. "Top of the list?" you ask. "If you had to pick right now?" (The "right now" qualifier has an extraordinarily calming effect.)
Whatever name is given, simply repeat it, slowly, as if it had never occurred to you that this choice was even a serious candidate.
Because the best part comes next: the explanation why this player deserves to be MVP.
All of this free entertainment is brought to you by the NBA, which has never bothered to define precisely what MVP means. This seeming lack of clarity is actually a shrewd move by the NBA because it ensures that arguments on the airwaves, in front of cameras and around kegs and copiers can and will be made. It's arguably just another way of inculcating the league even deeper into our social fabric.
I raised this same point once before, several seasons ago. I raise it again now because this year's race is so varied that the result will probably say more about the voters and their particular prejudices than the merit of the actual winner himself.
Besides, at least a dozen players have been mentioned at one time or another this season as MVP candidates, but there are only five spots on an official ballot. As a second free gift, here's my breakdown of the various types of MVPs we have -- so that if and when one of them wins, you'll already know why.
MEP (Most Excellent Player): Kobe Bryant, Lakers. No one in the league has disputed that Kobe is the best player for at least the past four years, but that hasn't been enough for him to finish higher than third in overall voting. Ever. This reality suggests that how a player is perceived is more important than how he plays.
MEPFESFNHWB (Most Excellent Player Finally Earning Sympathy For Never Having Won Before): Bryant, Lakers. Also known in some quarters as the Karl Malone MVP Category. Bryant's sympathy account has ballooned even more this year because of two reasons: one, he has played (and played unbelievably well) the last several months with a torn tendon in the little finger of his shooting hand, and two, after complaining that the team should've traded some of their young talent for Jason Kidd last spring, Bryant gladly made room for those same young players to blossom when they stepped up their games.
MVPOATWTBRITWC (Most Valuable Player On A Team With The Best Record In The Western Conference): Chris Paul, Hornets. That's the explanation I've heard most often from those who are tempted to put Paul at the top of their ballots -- as in, Kobe gets it unless the Hornets finish with the best record. Then, the thinking goes, Paul simply shouldn't be denied. When someone suggested I make that my criteria, I even nodded in agreement. Hey, why not? It's a safe, easily defensible position.
Paul has done everything you could ask an MVP to do. But then I considered how the best-record logic enabled Amare Stoudemire to win rookie of the year over Yao Ming. What a travesty that was, considering their respective importance to their teams that year. Then I checked how many injuries and other personnel problems the Hornets have had to deal with this season: almost none. Then I looked at the kind of years Peja Stojakovic, Tyson Chandler and David West are having: great, nearly injury-free years.
Without a doubt Paul deserves a certain amount of credit for all that, but the fact remains the Hornets' starting lineup has been nearly intact the entire season -- unlike just about every other MVP candidate's team in the West. I'm not saying Paul shouldn't be this year's MVP; I'm saying the Hornets' record vs. the Lakers, or anybody else, shouldn't be the single deciding factor.
MNGPASLYFHFP (Most Naturally Gifted Player Amazingly Still Light Years From His Full Potential): LeBron James, Cavaliers. For years, James has been thrown into this conversation primarily because of his historically impressive stats. That's fine for those who don't actually watch games and know how those stats were accumulated.
While I was previously slow to put him on my ballot, he clearly belongs in the thick of the conversation now -- but not because he's putting up numbers that only a handful of players have. Look, if you have a power forward's body, a point guard's handle and more offensive freedom than anyone else in the league, you're going to have eye-popping numbers. Lebron's stats are excellent, but he's in the MVP race because he's using his talent to win games, whether he's making stops on last possessions or attacking the rim until someone closes down his air space. No more I-passed-it-because-Donyell-was-open alibis. That's fine for the first 47 minutes. MVPs who can get to within eight feet of the basket anytime they choose and have LeBron's strength and body control put the responsibility on themselves, period. And he has done so quite often this year.
MHPAOTTWTBR (Most High-Profile Acquisition On The Team With The Best Record): Kevin Garnett, Celtics. Garnett is both blessed and cursed by the same qualifications that Paul is. Sure, Garnett has brought a hard-hat intensity, blue-collar work ethic and regular-guy unselfishness that no doubt helped restore this proud franchise's luster, but he wasn't the only new chair at the table.
Ray Allen was newly acquired, too, and he's no slouch when it comes to talent or professionalism. Tom Thibodeau, the team's defensive assistant coach, has to get some credit for the Celtics leading the league in his department. (An ex-coach described him as the best assistant Doc Rivers has ever had.) But if there's an overlooked element in the Celtics' rise, it's Paul Pierce 2.0, a never-before-seen, highly efficient version.
MVPOTTWTBR (Most Valuable Player On The Team With The Best Record): Pierce, Celtics. Pierce's play -- not Garnett's-- will determine if Boston can follow up the best regular-season record by winning a championship. As demonstrated in the two games with Phoenix -- Pierce stunk as the Celtics lost the first game and starred as they romped in the second -- if he makes an effort on D and correctly exploits his ability to attract a double-team on O, Pierce is Boston's biggest difference maker.
MSIPOATWTMVP (Most Statistically Impressive Player On A Team With Two Most Valuable Players): Amare Stoudemire, Suns. Since microfracture surgery robbed him of the ability to simply crush dunks on anyone in his path, Stoudemire has expanded his game impressively. His statistical boost since Shaq arrived in Phoenix speaks to two things: the Big Diesel (a former MVP) is making him better, and Steve Nash (another former MVP) is finding a way to utilize a starkly different front line. But then that's what real MVPs do.
MVPVNJCI (Most Valuable Player Voters Now Just Completely Ignore): Tim Duncan, Spurs. The search to find someone else to credit for the Spurs' monotonous success is almost comical. Both Tony Parker and Manu Ginobili have been thrown into the MVP conversation, while Duncan continues to anchor the defense and consistently deliver on offense despite being the focus of every team's defensive game plan.
MIPITWMTAGOV (Most Indispensable Player If There Were More Tattooed and Gun-Owning Voters): Stephen Jackson, Warriors. Baron Davis was my edgy pick for MVP before the season started and is having one of the best years of his career, but so is Jackson. While the Warriors wouldn't have a chance at the postseason without either one of them, a case can be made that Jackson is the more vital cog in the way the Warriors play because of his ability to defend any kind of forward -- small or power -- you put in front of him and his pick-and-roll passing. His role in the Palace brawl will never be forgotten as long as he still looks like a thug, but he deserves consideration strictly on basketball terms.
So who are the five names on my ballot? As of right now? Kobe Bryant, Chris Paul, LeBron James, Tim Duncan, Kevin Garnett. In that order.
In pencil.
Ric Bucher covers the NBA for ESPN The Magazine
Dimes Past: March 20 | 21 | 22-23 | 23 | 24 | 25 | 26 | 27 | 28 | 29-30 | 30 | 31
Cardinal Twins In, With Top 5 Pick Possible

By Chad Ford | ESPN.com
Stanford center Brook Lopez, who entered the draft Monday along with his twin brother Robin, has the physical tools and offensive abilities to be an excellent NBA player. He has great size, length and above-average athleticism. He's an effective scorer in the paint and can stretch the defense away from the basket. Right now he projects as the top center in the draft and a potential top-five pick.
Elias Sports Bureau
The Raptors made 17 consecutive field goals in the first half of their 104-100 win at Charlotte. The last NBA team to make that many shots in a row was the Trail Blazers, also against the Bobcats on February 22, 2006.

MONDAY'S BEST
Amare Stoudemire, Suns forward:
Goes for 41 points and 14 rebounds as the Suns turn the home fans' boos to cheers after reversing a 22-point deficit into a 132-117 win over the Nuggets.
---

MONDAY'S WORST

Shaq leads the Suns' fast break:
Shaq's got that Suns spirit! He actually pushed it up court against the Nuggets. Despite dribbling as if he were sporting ski mittens, he actually got into the lane. However, he dished his finishing pass to a Nugget. Good night otherwise for Phoenix and its big man.
---
QUOTE OF THE NIGHT

"Sometimes I catch myself being quiet, but then I have to pick it back up and start talking again. I'm not a talker by nature."
-- Raptors forward
Chris Bosh
, who was vocal in calling out defenses in a 104-100 win over the Bobcats.
• See Monday's daily leaders
• See the current playoff matchups
-- Andrew Ayres

ESPN Research
The San Antonio Spurs have always prided themselves on defense during their championship runs. They will need to get back to that defensive mentality if they plan to beat the Golden State Warriors on Tuesday at 8:30 ET. Golden State is 2-0 and averaging 113.0 points per game against the Spurs this season. The Warriors are one of only two teams to average more than 100 points vs. the Spurs, the other being the Orlando Magic at 103.5 ppg.
Golden State Warriors vs. Spurs This Season

Category
Stat
W-L
2-0
PPG
113.0
FG pct
45.2 (85-188)
3-pt FG pct
36.2 (21-58)
No Jerk For Dropping Dirk

Eric Karabell
ESPN Fantasy Game
You haven't truly experienced a head-to-head fantasy league until you cruise into the playoffs as a top seed, only to see your first-round pick mess up his leg badly enough that his regular season is jeopardized. Then you have to make the big decision on what to do with Dirk Nowitzki. Do you use a critical bench spot on someone who might not help a fantasy owner until Halloween, or send him packing for the free agent of the day, Derek Fisher, Chris Quinn, Erick Dampier, take your pick.
Sorry, Dirk, I'm going to have to let you go. It's not personal, of course. I just can't take the chance. I don't think there's much chance Nowitzki plays this week, or next, and I just can't risk losing in the first round of the postseason, just so I can have his wobbly services for a championship round in which I might not appear. Who's playing tomorrow? Nick Collison for Dirk Nowitzki? Welcome to the cutthroat world of the head-to-head fantasy basketball playoffs!
• See the full Eric Karabell story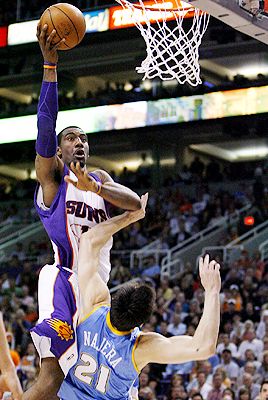 AP Photo/Ross D. Franklin
Suns forward Amare Stoudemire goes in for two of his 41 points against Denver's Eduardo Najera. The Suns defeated the Nuggets 132-117, giving them 50 wins for the fourth straight season.