Glenn James/NBAE via Getty Images
Nowitzki's Return Inspires Mavericks

DALLAS -- We could not be calling it Resurrection Wednesday in the NBA if we didn't see multiple resurrections. Gilbert Arenas, Pau Gasol and Elton Brand all made headline-grabbing comebacks, too.
Yet surely you can judge who made Wednesday's grandest, newsiest return.
Maybe this 111-86 rout of the Golden State Warriors won't be remembered as Dirk Nowitzki's grittiest game. It'll be tough for him to ever top the dramatic comeback he made as a playoff rookie back in 2001, when Nowitzki got a tooth knocked out in the Dallas Mavericks' second-round hookup with San Antonio and kept playing after a brief break to soak up the blood, eventually carrying the Mavs in crunch time in their only victory of the series.
This was close, though.
This was Nowitzki coming back from his first high ankle sprain -- and thus the worst ankle twist in a career filled with traditional sprains -- to possibly save the Mavs' season. This was Nowitzki shaming the skeptics yet again, missing just four games and nine days to remind us of the toughness he's rarely praised for. As weary and weak as the Warriors uncharacteristically looked, playing for the fourth time in five nights, there's no denying that Nowitzki's 18 points and much huger spiritual contribution at American Airlines Center totally changed a game that makes it highly unlikely Golden State can catch Dallas in what remains of the greatest conference race in league history.
"It's quite an inspiration to their ballclub," Warriors coach Don Nelson said of Nowitzki's return, recognizing that sort of impact after coaching the reigning MVP in the aforementioned tooth episode.
"They just went to a different level than we've seen this year. And if they can keep that level going, they're as good as anybody in the West."
The famously hyperbolic Nelson was the only one here willing to go that far with his tribute, since this was Dallas' first win against a team with a winning record since the big trade it made in mid-February to bring back Jason Kidd. First win in 11 tries, no less.
Yet there was no way for either side to downplay how much was riding on the outcome. With only seven games left, Golden State (45-30) effectively dropped two games behind No. 8 Denver (46-29) and three games behind No. 7 Dallas (47-28) with the defeat because the Warriors lose out on any tiebreakers with either team. The No. 8 seed which so memorably dumped 67-win Dallas out of last spring's first round will need some help just to get back to Round 1 now.
"The playoffs started early this year," Nowitzki said after logging nearly 27 minutes, slightly exceeding his 24-minute limit established by the Mavs' medical staff. "I knew if I was going to wait until I was 100 percent, our season was going to be over.
"If we go down tonight, things really didn't look good at all."
So Nowitzki played at maybe 80 percent after he and Avery Johnson spent much of the day spewing pessimism in an attempt to try to convince the media -- and Golden State -- that the comeback would have to be delayed. "Nellie taught me that," Johnson joked.
The problem with holding off any longer in the name of safety was that Dallas' next two games are roadies against the Lakers and Suns, neither of which is an especially welcoming assignment even with Nowitzki in the lineup. So Nowitzki and his coach knew they really couldn't wait, given that no game left on the schedule could impact the standings quite like the Warriors' visit. The plan, then, called for Johnson to restrict Nowitzki to bursts of four-to-six minutes.
Not that there would be any actual bursting from the 7-footer. Nowitzki was largely reduced to being a spot-up shooter because he still lacks the lift he needs to attack the basket, rise up for jumpers off the dribble or even chase rebounds. Example: In the final minute of the opening quarter, Nowitzki got the ball just beyond the free-throw line late in the shot clock and promptly shoveled it off to Devean George without putting it down or even looking for his shot.
Nowitzki was also grateful that the Warriors had nothing going offensively beyond Monta Ellis and Baron Davis. You figured that Nelson would go right at him and the bulky brace protecting Nowitzki's left ankle, but he was scarcely challenged on defense.
"Didn't move well at all," Nowitzki said.
Yet what he clearly did do, after a pregame hug from Nelson, was energize a group that has been steadily losing confidence. The Mavs have lost starting shooting guard Jerry Stackhouse (groin) for at least one more week in addition to their Nowitzki issues, but Jason Terry broke out of a recent malaise by pumping in 31 points in Stackhouse's place. Josh Howard (28 points) was another stalwart and Kidd almost made you forget his mere five points on 1-for-6 shooting by controlling the game in so many other ways, amassing 17 assists and 11 rebounds in his ongoing quest for triple-double No. 100.
The Mavs wound up pushing the lead into double digits with both Nowitzki and Kidd on the bench, thanks to a spark from a resurgent Eddie Jones, who emerged from his season of injury frustration to play 20 minutes and deliver 12 points, five rebounds and one alley-oop finish that sent the Mavs' bench into delirium. The Mavs also rung up a stunning 35 assists and 44 fast-break points to Golden State's 10 and 16 in the same categories, after days of growing concern locally about the lack of ball and player movement in their offense since the trade.
The sorry state of the Warriors on this night -- "How many times can you say that we got outrun?" Davis lamented -- made it difficult to embrace Terry's suggestion that this outcome could be what "flips the switch on" for a Mavs team that has been floundering for more than a month. It's way too soon to say that.
What we can say is that Nowitzki's underrated reputation as a freakishly fast healer has to be raised another notch, especially since it came against Stephen Jackson and the rest of his playoff tormentors from Oakland. Don't forget that Cleveland's Daniel Gibson, just to make one comparison, missed more than a month with a similar high ankle sprain earlier this season.
"Hopefully by me playing it didn't make it worse," Nowitzki said.
Nah. You figure karma was with him on Resurrection Wednesday.
Marc Stein is the senior NBA writer for ESPN.com. To e-mail him, click here.
Dimes Past: March 23 | 24 | 25 | 26 | 27 | 28 | 29-30 | 30 | 31 | April 1 | April 2
What Went Wrong in Atlanta?

By John Hollinger | ESPN Insider
ATLANTA - Anybody ready for another protest in Atlanta?
Let's set the scene. With 0.5 seconds left in a tie game, the Raptors designed a gorgeous inbounds play -- one they hadn't run all season -- that resulted in a lob to the shortest man on the floor, T.J. Ford. He was wiiiiiiide open, went up, caught the ball and laid it in, and the Raptors celebrated what appeared to be their fourth win in five tries. Only a mandatory replay was left to confirm Toronto's victory.
And that's where things got a little hairy. The replay clearly showed that Ford released the ball just the tiniest fraction of a second after time expired. But that was only because the clock started at least a tenth of a second too soon, and showed 0.4 by the time Ford's hands hit the ball. The refs overruled the bucket, the game went to overtime, and Atlanta emerged with a 127-120 victory.
Raptors coach Sam Mitchell was upset with the ruling afterward because the basket had been called good on the floor. By his pretty convincing logic, the officials shouldn't have felt compelled to overrule the bucket once they saw the clock started too early. The Raptors were seriously investigating a protest as they returned to Toronto after the game, so stay tuned.
However, a league spokesman told ESPN.com that during a replay the refs can only review whether a shot beat the buzzer -- not whether a prematurely started clock was at fault. If that's the case, the Raptors may be out of luck, as the refs followed this rule to the letter -- even though it produced a result that everyone in the building knew was wrong.
As far as whodunit goes, three referees and the timer can all start the clock; a source told ESPN.com that the technology allows the league to trace whomever it was. However, normally in last-second situations the trail referee starts the clock, and in this case that was Eric Lewis.
If the result stands, it will be a painful loss for Toronto. The Raps led by 17 late in the third quarter and, before Ford's play, allowed a game-tying 3-pointer by Mike Bibby when the Raptors mistakenly failed to give a foul.
It also continues a long trend of bad memories in Philips Arena for Ford. Last season, the Atlanta scorer's table omitted a basket of his, costing the Raptors two points in what ended as a close loss. And on Dec. 11, he suffered a scary neck injury that sent him to the hospital and kept him sidelined for two months.
As for Atlanta, the win continues its quiet progression up the Eastern ladder.
It was the Hawks' fifth straight victory and ninth in the past 11 games.
Believe it or not, the Hawks are now closer to fifth in the East than they are to ninth, and they have all but cemented the East's final playoff spot. In fact, should the Hawks sweep this weekend's home-and-home with Philadelphia -- admittedly a tough proposition -- the Hawks would be only a game behind the Sixers for seventh place and in possession of the tiebreaker.
Unless, of course, the league office decides to overturn the result in the coming days.
John Hollinger writes for ESPN Insider. To e-mail him, click here.
Celtics: From Worst To First

By Lisa Brooks | ESPN Research
The Celtics, who only had 24 victories a season ago, notched victory No. 60 by beating the Pacers on Wednesday night. The 36-game improvement from last season ties the Spurs for the biggest turnaround in NBA history (excluding strike seasons).
Getting It All Turned Around
Seasons Team
Games Improved
Biggest reason for turnaround
1996-97 to 1997-98 Spurs
+36
Tim Duncan joins team
2006-07 to 2007-08 Celtics
+36
Kevin Garnett, Ray Allen join team
1988-89 to 1989-90 Spurs
+35
David Robinson joins team
2003-04 to 2004-05 Suns
+33
Steve Nash rejoins team
1978-79 to 1979-80 Celtics
+32
Larry Bird joins team

WEDNESDAY'S BEST
Kobe Bryant, Lakers guard:
Celebrated Pau Gasol's return by going for 36 points, 13 rebounds and 7 assists in the 104-91 win over the Blazers. Lakers still third in the West.
---

WEDNESDAY'S WORST

Clock mismanagement in Atlanta:
The clock starts when the ball touches a player on the inbounds play, right? The clock started too soon when T.J. Ford scored after the buzzer. The Raptors then lost in OT. Canada prepared to invade Vermont.
---
QUOTE OF THE NIGHT

"Something I have to learn how to deal with again is the referees. It's been 12 months. I forgot those referees."
-- Clippers forward
Elton Brand
, chuckling about his return that included his yelling "and one!" when seeking a foul but not getting the call.
• See Wednesday's daily leaders
-- Andrew Ayres
The Hawks and Raptors worked OT.

The playoff races are heating up. Here's a look at the key games coming up on ESPN and ABC:
Friday: Spurs-Jazz, 8 p.m. ET, ESPN; Mavs-Lakers, 10:30 p.m. ET, ESPN
Saturday: Magic-Cavs, 3 p.m ET, ESPN
Sunday: Warriors-Hornets, 1 p.m ET, ABC; Mavs-Suns, 3:30 p.m. ET, ABC

By Andrew Ayres
ESPN.com
This was a night for returning stars.
Lakers center Pau Gasol, Mavs forward Dirk Nowitzki, Clippers forward Elton Brand and Wizards guard Gilbert Arenas all returned from injury to the court. Three of the four came up winners, with only Agent Zero suffering a loss, by one point.
It was Brand's first game of the season. Arenas had not played since Nov. 16.
How Their Comebacks Went

Player
Out
Result
Dirk Nowitzki
4
23 min., 17 pts, 4 rebs
Pau Gasol
9
32 min, 10 pts, 7 assts
Gilbert Arenas
67
20 min., 17 pts
Elton Brand
74
26 min, 19 pts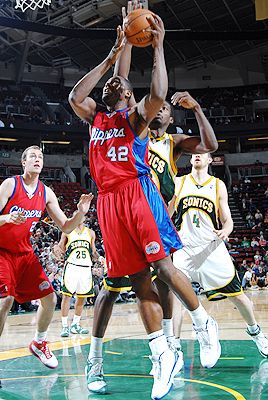 Terrence Vaccaro/NBAE via Getty Images
Elton Brand had a successful season debut, scoring 19 points as the Clippers routed the SuperSonics 102-84.
Possible Isiah Replacements

By Chris Broussard
ESPN The Magazine
Mark Jackson, ABC broadcaster: Donnie Walsh hired former players (Larry Bird and Isiah Thomas) with no prior coaching experience in Indiana and both times it worked out pretty well (Zeke had a winning record as Indiana's coach). Jackson was a coach on the floor during his playing career, and he's a native New Yorker and former Knick.
Tom Thibodeau, Celtics assistant coach: He's helped mold the Celtics' league-best defense as an assistant under Doc Rivers. Plus, he'd be a connection to the Knicks' last successful stint, as he was an assistant under Jeff Van Gundy in New York. He also worked under Van Gundy in Houston, so you know he's defense first.
Rick Carlisle, ESPN broadcaster: Carlisle's been successful in both places he's been -- Detroit and Indiana. As Walsh said, the Knicks do have talent, and Carlisle could get them playing closer to their potential. He's a strong candidate for the Bulls job, which also is expected to be vacant.
Michael Curry, Pistons assistant coach: An NBA journeyman throughout his playing career, Curry's long been viewed as a great leader, and this year he's learning under one of the league's top offensive coaches, Flip Saunders.
Mike Budenholzer, Spurs assistant coach: Not sure if he'd be interested, but he's worth contacting. He's been an assistant in San Antonio for 12 years, so he's learned under the great Gregg Popovich and helped win four titles.
Paul Silas, former NBA coach: He was very successful in Charlotte/New Orleans, and considering Cleveland's youth, he did a good job there, too.
• See the full Chris Broussard blog