AP Photo/Mark Duncan
Hughes Stars As Bulls Run Down Cavs

CLEVELAND -- Now, this makes Larry Hughes happy.
When the Bulls last visited Quicken Loans Arena a little more than a week after being involved in an 11-player swap with the Cavs, Hughes drew some ire when he said he was not happy playing for a winning team in Cleveland.
"I play to enjoy myself, some people take this the wrong way, but winning a championship is not what I base everything on," Hughes said at the time. "I wouldn't take being unhappy and not being myself and winning. I would rather enjoy myself with 18,000-20,000 people watching the game and the people sending fan mail and those things and be happy."
There was significant backlash for those statements as many did take it a different way. Those sentiments combined with his subpar play for two and a half seasons in Cleveland got Hughes booed every time he touched the ball Thursday. His tenure in Chicago hasn't been rosy as he's continued to have the worst shooting season of his career, but Hughes lived up to his word on this night in leading the Bulls to a 101-98 win over the Cavs.
Hughes played probably his best game as a Bull, scoring 25 points with eight rebounds and nine assists. In the second half, he teamed with Ben Gordon, who had 24 points, to devastate the Cavs' defense as the Bulls shot 63 percent after halftime and overcame a 17-point deficit.
"That definitely felt good," Hughes said. "We want to win for bragging rights if nothing else."
There was almost nothing else. The Bulls were on the verge of being eliminated from the playoff race, trailing the Hawks by five and a half games with seven to play at the start of the night. Meanwhile, the Cavs' magic number to clinch home court in the first round would've shrunk to two with a win.
The way things went down was symbolic for the Cavs. Thursday was the first time since mid-January they had everyone in their rotation healthy and available to play, which also made it the first time since their deadline-day deal when they shipped Hughes and five other players out. The idea was to use the final seven games as a springboard to the playoffs, where they figure with all of their pieces plus LeBron James they become dangerous again.
It didn't last long. Late in the third quarter, James landed funny and started experiencing pain in his lower back. While resting early in the fourth, he went down the tunnel to be stretched out by a team trainer and then couldn't sit down. The NBA's leading scorer in the fourth quarter, James scored just one point in the fourth while running gingerly. Afterward, with ice wrapped around him, he said he wasn't sure if he could play Saturday when the Orlando Magic visit Cleveland.
"If you ask anybody how bad [a back injury] is for me, being the explosive type of player I am, it's tough to do some of the things I wanted to do," James said.
So as everyone in the West claws each other to pieces trying to get into what perhaps could be the best postseason in league history and the Celtics and Pistons rest their frontline to tune up for their task in the East, the defending conference champ Cavs just continue to thrash around trying to match health with rhythm.
Counting a James-led team out hasn't been good for bettors the last several years, but when it's all over, the Cavs may look back and call this season a waste. They were hampered at the start by still unexplainable holdouts. They were plagued in the middle by an endless series of injuries. And they've been dazed a little at the end by an ambitious plan to remake the team that needed it but didn't get perfect circumstances. Instead of taking the next step after reaching the Finals, they've been spinning their wheels.
What the Bulls did to them Thursday was just the latest reminder of that lot, topped off with a helping of payback from Hughes.
Brian Windhorst covers the Cavs and the NBA for the Akron Beacon Journal
Dimes Past: March 24 | 25 | 26 | 27 | 28 | 29-30 | 30 | 31 | April 1 | April 2 | April 3

Jonny (LA): I know there is lots of volatility right now, but please give me your prediction for the Knicks next coach and GM. Thanks.
Chad Ford: Coach? It won't be Isiah. I think Mark Jackson will get a shot. I don't think Rick Carlisle will. As for GM? If he can get his right-hand man in Indiana, David Morway, that would be the most obvious choice (though Morway may choose to stay in Indiana with Larry Bird instead). It's interesting that more people haven't talked about Morway … a guy who many in the league think is GM material on his own. If it's not Morway … Billy King is a possibility. I'm told there's no way it will be Mark Warkentein.
Mookie (Evansville, IN): What do you see the Pacers doing this summer? Will they keep O'Neal? His stock isnt too high right now. Draft a point guard? Trade Tinsley for a box of Cheerios and a dinner for two with Mickey Mouse?
Chad Ford: All of the above. Jermaine is playing right now to prove to teams that he can still play. He's 29 and still an important presence on the defensive end. I think they'll move Tinsley for just about anything … and if they're drafting in the 10 spot … I think Texas' DJ Augustin or UCLA's Russell Westbrook would be very good choices.
Doug (NY): Chad, how realistic is it that Donnie Walsh will be able to free up enough cap space by 2010 to lure LeBron or Wade to the Knicks?
Chad Ford: If he let's Stephon Marbury's contract expire and then finds a trade for either Zach Randolph or Eddy Curry that gets back contracts that expire by the summer of 2010 … the Knicks will be far enough under the cap to make a run at a serious free agent like LeBron or Wade. All it really requires is a little patience. Make a great draft pick this year and next year develop young players like David Lee, and the Knicks could be in very good position in the summer of 2010.
Chad Ford writes for ESPN.com. To read the entire chat, click here.
2,000 Helpers and Counting for CP3

Elias Sports Bureau
Chris Paul, who leads the NBA with an average of 11.4 assists per game, handed out 10 dimes for the Hornets on Wednesday night, giving him 2,001 in his young career. He reached 2,000 assists in his 214th NBA game, the third-fastest in NBA history to reach that milestone. Hall of Famer Oscar Robertson accomplished the feat in just 192 games, while former great Kevin Johnson needed 212.
Walsh knows talent
Donnie Walsh, who was named to replace Isiah Thomas as president of the Knicks on Wednesday, watched his first five first-round draft picks play, on average, more than 1,000 games in the NBA: 1986, Chuck Person (943); 1987, Reggie Miller (1,389); 1988, Rik Smits (867); 1989, George McCloud (766); 1991, Dale Davis (1,094). Another gauge of Walsh's draft acumen: Of his 18 first-round picks, 14 have played more games in the NBA than the player chosen with the next selection.

THURSDAY'S BEST
Larry Hughes, Bulls guard:
Playing against his former team, he reminded them of what he is capable of by filling up the stat sheet to the tune of 25 points, 9 assists, 8 rebounds and 2 steals as Chicago edged Cleveland 101-98. He scored 19 points after intermission.
---

THURSDAY'S WORST

Entire Cleveland offense:
Up 17 points in the second half against an opponent with nothing left to play for this season, LeBron & Co. went ice-cold from the floor and dropped a three-point decision to Chicago at home. The normally clutch James missed all five of his shots in the fourth quarter, finishing the period with one point.
---
QUOTE OF THE NIGHT

"It was tough to do some of the things that I wanted to do."
-- Cavaliers forward
LeBron James
about playing through back pain.
• See Thursday's daily leaders
-- Maurice Brooks
Bulls dominate second half against Cavs.

Here's a look at the key games coming up on ESPN and ABC:
Friday: Spurs-Jazz, 8 p.m. ET, ESPN; Mavs-Lakers, 10:30 p.m. ET, ESPN
Saturday: Magic-Cavs, 3 p.m ET, ESPN
Sunday: Warriors-Hornets, 1 p.m ET, ABC; Mavs-Suns, 3:30 p.m. ET, ABC
Mike Tirico and Kirk Herbstreit talk NBA MVP candidates with Jon Barry. Plus, Jon shares his thoughts on the Mavs now that Dirk is back.
Barry on NBA MVP
Rockets Lift Off in Portland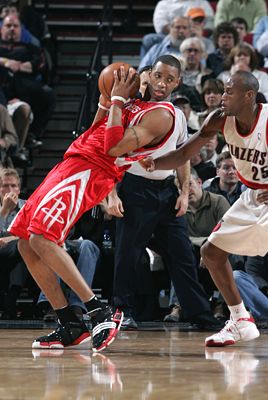 Sam Forencich/NBAE via Getty Images
Tracy McGrady scored 26 of his 35 points in the second half of the Rockets' 95-86 road victory against the Trail Blazers.