Nathaniel S. Butler/NBAE via Getty Images
All Aboard The All-NBA Train

Season-ending award ballots arrived from the league office this week, but we're sticking to the usual schedule. The choices made at Stein Line HQ will be revealed on the final Friday of the regular season.
Except for one category.
We usually run out of real estate in the season's final Weekend Dime, expansive as it is, for a detailed breakdown of our All-NBA selections. So we're going to start going through the process now, with two reminders:
1. This is a preview of where I'm strongly leaning with 13 days to go in the regular season. I reserve the right to tweak any of these three teams before actually submitting my ballots -- changes to the current Dallas-Denver-Golden State order would undoubtedly necessitate a rethink, for example -- but you will be notified of any changes.
2. The league instructs us to vote for five players on each of the three All-NBA teams at the position they play regularly and with no ties. Five points are awarded for every first-place vote, three for every second-team vote and one for every third-team vote.
First Team
F -- Kevin Garnett (Boston)
F -- LeBron James (Cleveland)
C -- Amare Stoudemire (Phoenix)
G -- Kobe Bryant (Los Angeles Lakers)
G -- Chris Paul (New Orleans)
The rationale: Four names on the first team were automatics because Bryant, Paul, Garnett and James are everybody's top four in the MVP race in some order. The only contestable item here, I suppose, is that I'm favoring Stoudemire as my first-team center, knowing very well that he only plays center now when Shaquille O'Neal is off the floor.
Here's the deal: He's played more center than power forward overall this season, which technically addresses those aforementioned league instructions to "please vote for the player at the position he plays regularly." It's a fact that Stoudemire has played more regularly this season at the five, and that fact is a huge help in a season where we're at least one worthy center short because Yao Ming played only 55 games before getting hurt.
Then there's this: Amare has also been one of the five best players in the league in the second half of the season, which motivates me even more to find room for Stoudemire on the first team.
Shaq's arrival is widely credited as the spark for Amare's latest dramatic spike, which is something we've all been watching for since Shaq said on his first day as a Sun that one of his most important jobs in the desert would be overseeing the "Amare Stoudemire Project." Yet we tend to agree with Suns coach Mike D'Antoni, who pointed out recently that Stoudemire's numbers "started to go off the charts" even before the O'Neal deal, with Phoenix running more plays than ever before for the 25-year-old.
Turning my ballot in this way would thus bump Dwight Howard to the second team, which will enrage my oldest son Alexander The Greatest, who's been doing Superman dunks on the mini-hoop upstairs pretty much nonstop since All-Star Weekend. Howard, however, played his best ball in the first half and has been a touch less ferocious since, dunk contest aside. Factor in the whispers coming out of Orlando that Hedo Turkoglu is the Magic's greater source of consistency and the case for Amare grows.
---
Second Team
F -- Tim Duncan (San Antonio)
F -- Carlos Boozer (Utah)
C -- Dwight Howard (Orlando)
G -- Manu Ginobili (San Antonio)
G -- Steve Nash (Phoenix)
The rationale: Team success, as usual, bosses my thinking here.
Ginobili is having his best season and has essentially been Duncan's equal for the first time, which has the defending champs vying yet again for the best record in the West and should leave little doubt why there are two Spurs on the second team.
I fully expect Howard to appear on most ballots as a first-teamer -- and I'm not ruling out reverting to such thinking when ballots are due April 17 -- while Boozer has only enhanced his status as one of the game's most fearsome down-low operators for the team with the best home record in the league. So they're no-brainers, too.
As for Nash …
If you're planning to write in claiming that the two-time MVP has slipped at 34, don't bother. You'll never convince me. Check out the numbers; Nash's statistical production remains highly efficient and spectacular. His role in helping to quickly assimilate Shaq in one of the most dramatic midseason changes of all time, furthermore, can't be underestimated.
---
Third Team
F -- Dirk Nowitzki (Dallas)
F -- Paul Pierce (Boston)
C -- Marcus Camby (Denver)
G -- Allen Iverson (Denver)
G -- Tracy McGrady (Houston)
The rationale: Figuring out the third-team forwards is fairly easy by comparison because Pierce has raised his ferocity to KG's level for the team with the most wins in the league and thanks to Nowitzki's second-half return to his MVP form. Denver's Carmelo Anthony isn't far behind, but misses out because the Nuggets aren't putting three players on a 15-man squad. Not even Boston can do that.
Injuries were an unavoidable variable at center. Yao will wind up missing more than a third of the season when you include the playoffs, leaving us to choose between Toronto's Chris Bosh and Camby. This is subject to change if the Nuggets squander their current playoff-bound status, but Camby's nightly attempt to make up for the defense multiple teammates don't play and his newfound durability -- he hasn't missed a game yet this season at 34 -- broke the deadlock. (Although we should add that Rasheed Wallace was also a consideration here, in spite of what the stats say, given Sheed's overall team contribution to the mighty Pistons and his better-than-ever relationship with the refs.)
That brings us to the crowded nightmare at third-team guard. Everyone keeps waiting for Iverson to break down, now that he's 32, but do you see any slippage? Not us. T-Mac's Rockets, meanwhile, were supposed to collapse without Yao and wound up stretching a 12-game winning streak into a 22-gamer, which is only the second-longest unbeaten run in NBA history.
The problem with choosing those two, though, is that you're then forced to leave out Deron Williams, Baron Davis and Chauncey Billups. Which makes you feel very bad about yourself.
Yet you conclude, in the end, that Houston has to have one All-NBA representative, even more than a Detroit team that makes it almost impossible to pick out a standout. Davis will come back into consideration on my official ballot if the Warriors manage to reclaim their playoff spot -- D-Will and Billups deserve the same reconsideration at season's end, frankly -- but it looks as though Baron's still-alive run at playing all 82 games will be bittersweet unless the Mavs and Nuggets slip up.
Marc Stein is the senior NBA writer for ESPN.com. To e-mail him, click here.
Question: Why would
Elton Brand
even bother to come back to play the final eight games of a season that realistically ended as soon as Brand tore his Achilles back in August?
Answer: To be the X-factor in the tightest conference race in league history.
OK, OK. That's not the real reason. Nor is Brand back, as widely speculated, because he feels a need to convince potential free-agent suitors that he's healthy. The smarter move for his future, actually, would have been sitting out all 82 at this point, since Brand was guaranteed to generate offseason lust from Miami (and certainly other clubs via sign-and-trade) whether or not he logged a minute this season. He knows he's putting himself at risk for some sort of needless setback.
Brand, though, simply couldn't stand watching anymore. He legitimately feels guilty not playing when he's been medically cleared to return.
"It's been torture," said Brand after watching his Clippers plunge to the depths of 23-53, after missing the playoffs by just two games last season and nearly advancing to the Western Conference finals in 2006. "It really hurts, but I'm taking notes.
"This year I had something to prove: Get the Clippers back to the playoffs. Things didn't work out because of all our injuries … Sam Cassell, Shaun Livingston, me. But if I can play a couple games now, I owe it to the fans and my team. Plus I just love to play."
Yet he needn't expect a warm reception in these final two weeks, with L.A. scheduled to face teams from the West's vaunted top nine in all six of its remaining games. You can be sure those teams were already treating those games as Ws, just like desperate Dallas did twice in a span of six days recently. Only now Brand is back to make the Clips unexpectedly problematic for their home games against the Rockets, Nuggets and Lakers and roadies at Golden State, New Orleans and Houston.
Chris Kaman is apparently out for the season with a freshly sprained ankle, but you figure that the Clips can be a nuisance from here to the finish line with Brand anchoring a front line that also features Corey Maggette and rookie Al Thornton.
"They've looked like some of the old Clipper teams lately -- a team playing for contracts," said one veteran Western Conference scout. "But their three best players probably play harder than anyone at their position in the league. Maggette, Thornton and Brand all play extremely hard."
Achilles injuries typically KO players for a full year but Brand made it back in eight months. Now to see if these final eight games are his last as a Clipper, with the 29-year-old holding the right to opt out of next season's $16.4 million and become a free agent July 1.
"The opt-out situation, I don't know what it's going to bring," Brand said, insisting that he hasn't made a decision.
As for signing a new long-term deal with the long-suffering franchise which finds itself drowning anew in the Lakers' considerable shadow, Brand said: "As long as everything's fair, I'm not looking to leave."
And maybe he shouldn't. The same scout we spoke to sees Brand and Kaman, when healthy, as "the best power forward/center combo in the NBA."
Brand, meanwhile, still sounds like the quirky center's biggest fan, even though you'll surely recall that Kaman was his opponent in the doomed one-on-one game that inflicted his injury.
Throwing out one more reason to come back now -- albeit before the big man got hurt Monday against Dallas -- Brand said: "I haven't played with the new and improved Chris Kaman yet."
---
It looks as though we might have to settle for eight 50-win teams in the West. Dallas and Denver remain on a 50-win pace, but Golden State needs a 5-2 finish to get there after suffering its first back-to-back defeats since Jan. 2 and Jan. 4 with this week's lopsided losses in San Antonio and Dallas.
Eight, however, would still be enough to set a new league record for one conference. Compare what's happening now to the 2000-01 season, when the West established the record with seven 50-win teams:
West Standings as of Friday
Team
Record
Winning pct.
New Orleans
52-22
.703
San Antonio
52-23
.693
L.A. Lakers
51-24
.680
Utah
50-26
.658
Phoenix
50-25
.667
Houston
50-25
.667
Dallas
47-28
.627
Denver
46-29
.613
Golden State
45-30
.600
West Standings in 2000-01
Team
Record
Winning pct.
San Antonio
58-24
.707
L.A. Lakers
56-26
.683
Sacramento
55-27
.671
Utah
53-29
.646
Dallas
53-29
.646
Phoenix
51-31
.622
Portland
50-32
.610
Minnesota
47-35
.573
Houston
45-37
.549
---
It's been a rough week for one of our all-time favorites at Stein Line HQ. Golden State's Stephen Jackson shot a combined 3-for-23 in those aforementioned losses in his native Texas and was scarcely noticed Wednesday in Dallas when the Warriors played with nothing resembling their usual bounce and wound up getting dismantled by the returning Dirk Nowitzki and the team they (and Jackson specifically) so memorably humbled in last spring's first round.
Yet it is also a fairly monumental week for Captain Jack. He turns 30 on Saturday, for starters, and on Thursday received the NBA's Community Assist Award for March, which comes from the same office that once hit Jackson with a 30-game suspension after the infamous Malice of Auburn Hills brawl in 2004.
Because of his well-chronicled transgressions off the floor, chances are you haven't heard much about Jackson's years of good charity work, particularly in his hometown of Port Arthur, Texas, as detailed here earlier in the season by ESPN The Magazine's Ric Bucher. The Warriors say he's pretty much been an every-week presence in the community in his first full season in Oakland as well, but Jackson admits that he never imagined he'd ever be considered for a plaque that bears the name of former Spurs teammate David Robinson.
"It's nothing I haven't been doing and I really wasn't looking for people to give me recognition for it," Jackson said. "But considering the perception everyone had of me, I have nothing but respect for David Stern and the league to see me as a person and not just [focus on] the mistakes that I've made.
"A lot of people have only judged me off that for the last few years. So for them to give me this award, it's a blessing for me that [they're letting] people know that the incidents don't define me. I just made bad decisions in life, which everyone has. I've grown from them and I'm still growing from them. I'm trying to show the community that I care.
"My oldest daughter is 10 and my second-oldest daughter is eight, so they're starting to hear things: 'Why was your dad fighting? Why did he have a gun?' I want to be able to answer those questions for them so when they're confronted with them, they know what to say. Daddy made a bad decision, but at the same time daddy does good things, too. Hopefully people are starting to see a different side of me now."

"There's no monkey. That's up to you guys. You guys can put any animal you want on my back. I really don't care."
Mavericks guard Jason Kidd, reacting to the Mavs' 111-86 rout of Golden State by dismissing the notion that pressure from Dallas' recent struggles was piling up primarily on him.
Dallas, remember, needed 11 tries to finally beat a team with a winning record after bringing back Kidd to his original team in a Feb. 19 trade.
But Kidd is gradually looking more instinctive and aggressive with his new/old team as opposed to tentative and/or reactive, sparked perhaps by Dirk Nowitzki's four-game injury absence. That left Kidd no choice but to stop overthinking and as he says, just "get out of my brain" and play.
"Hopefully this can be something," Kidd said of Wednesday's Golden State win, "that can get us going in the right direction."

It was
two weeks back in this cyberspace
that we discussed John Calipari's interest in the Bulls' expected coaching opening.
NBA coaching sources now say Calipari, who has the University of Memphis in this weekend's Final Four, has a decidedly stronger interest in the Knicks' expected coaching opening … with one main difference.
Calipari can count on a strong recommendation to new Knicks savior Donnie Walsh from Calipari's close friend Larry Brown, as Walsh and the former Knicks coach are still tight. You figure that can't do less than get Calipari on Walsh's list of possibilities.
In Chicago, Calipari doesn't have a lobbyist of Brown's stature.
---
An ailing LeBron James (back) couldn't drop a crunch-time layup over Chicago rookie Joakim Noah on Thursday night, but that's more the exception than the current norm for the 23-year-old.
According to our friends at the Elias Sports Bureau, James has now made 14 of his last 28 potential game-tying or go-ahead shots from the field in the final minute of the fourth quarter or overtime, including his game-sealing bucket Sunday with 19 seconds to go in Cleveland's 91-88 victory over Philly.
Before this current run, LeBron was just a 26-percent shooter (11-for-43) in those crunch-time situations.
Yet there's also some less-than-encouraging news for James on the statistical front. He is poised to become just the third player in history to average at least 30 points, eight rebounds and seven assists for an entire season -- joining the ever-so-select company of Oscar Robertson and Michael Jordan -- but only once in the combined five seasons that The Big O and MJ played at that level did one of them wind up winning the NBA's Most Valuable Player race. Robertson was named MVP in 1963-64, but he missed out in 1960-61, 1961-62 and 1964-65 & as did Jordan in 1988-89.
Check it out:
Oscar Robertson (four times)
1960-61 Cincinnati
30.5 PPG, 10.1 RPG, 9.7 APG
1961-62 Cincinnati
30.8 PPG, 12.5 RPG, 11.4 APG
1963-64 Cincinnati (Named MVP)
31.4 PPG, 9.9 RPG, 11.0 APG
1964-65 Cincinnati
30.4 PPG, 9.0 RPG, 11.5 APG
Michael Jordan
1988-89 Chicago
32.5 PPG, 8.0 RPG, 8.0 APG
LeBron James
2007-08 Cleveland
30.4 PPG, 8.0 RPG and 7.3 APG*
*Through 76 games entering Friday's play
---
You say we never say anything nice about the Leastern Conference?
Here's something we can massage into a compliment: Least teams have conceded only three of Kobe Bryant's 23 50-point games.
Charlotte, Washington and, of course, Toronto are the only Leasterners to surrender 50 points (or more) to Bryant, who needs nine more 50-point games to pass Jordan for second place on the all-time list. Wilt Chamberlain had 118 50-point games and MJ had 31.
Bryant, by contrast, has posted at least one 50-pointer against every other Western Conference team except San Antonio.
See?
When Gilbert Arenas, Pau Gasol, Elton Brand and Dirk Nowitzki all made high-profile returns from injury on the same night, we dubbed it
Resurrection Wednesday
. Marc Stein was then summoned by ESPNews on Thursday to discuss the long-term impact of all those comebacks with host Fred Hickman.
Will Donnie Walsh really be the Knicks' salvation? Can Larry Bird lead the Pacers back to respectability as the sole decision-maker in Indy? Does Bill Simmons realize that the hardest part about being Bucks GM actually might not be getting the job but getting the space from owner Herb Kohl to make the moves you want to make? Marc Stein joins Chad Ford on the NBA Dish podcast to take a peek into a few front offices in the news.
NBA Dish
What could be a more fitting topic for ESPN Radio's AllNight show than the conference that never sleeps? Host Amy Lawrence hits Marc Stein with a flurry of questions about a West race that, entering Friday night's play, still hadn't allowed a single team to clinch a playoff berth yet.
• Listen to the interview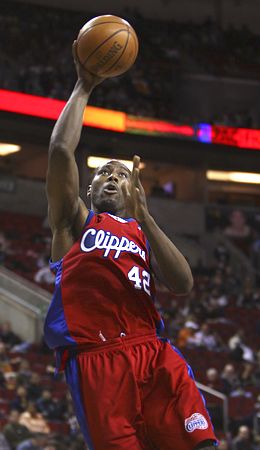 AP Photo/Kevin P. Casey
An eight-game comeback might be enough for Elton Brand to be a spoiler in the Western Conference playoff race. (See Box 2.)

Five questions with Warriors forward Stephen Jackson:
Q: Even if the Warriors miss the playoffs, is this a better team than it was last season?
A: I think it's more experienced. I think our identity is more solid. Last year we didn't have an identity. We didn't know who we were. We just got together [halfway through] the season and we were just playing good basketball at the right time. Now we know how we have to play and what we have to do to win games. That was something that was kind of questionable last year.
But we also don't have a big part of what we did last season with J-Rich [Jason Richardson]. I think we have the pieces of the puzzle to do it again, but we just have to go out there and have that same sense of urgency that we had last year around this time. We'll play anyone and match up well with anyone if we can get to the playoffs again. I don't think anyone wants to play us when we're rolling because we're definitely hard to beat four times [in one series].
Q: How did being named a co-captain impact you?
A: That was the biggest thing for me. Coming into the season, we had done a lot. We beat Dallas in the playoffs. But we still had a lot to prove and by Nellie naming me captain, I think it gave me a grasp on what's important. I think that made me grow as a player and made me pay more attention to just playing basketball and not worrying about what I can't control, like calls or worrying about my shots.
I've tried to control my discipline. This is the first season I haven't been kicked out of any games. I've got a career low in techs [nine]. Instead of worrying about a call in the second quarter that I didn't get in the first quarter, I just let it go. I made a lot of changes not only for me, but for my team. My coach made me a captain, so I had to lead by example. And I'm not getting any younger. My kids are getting older and they're starting to hear things about their father that [aren't] true, so that's another reason why I had to start making changes in my life.
Q: Baron Davis and Monta Ellis will be looking for new contracts this summer and Don Nelson's future always seems to be a hot topic. How worried are you about this team staying together?
A: Those issues are bouncing around our locker room every day. But Nellie got his [option for next season] picked up and the good thing about BD and Monta and other guys is that they've just been playing and letting their play take care of that business. I think next year everybody wants this team to be basically the same, because breaking up this team might shake things up and things might start going back to how they were two or three years ago.
Q: How much does playing all 82 games really mean to Baron?
A: A lot because he's been dogged so much about his knee. Injuries you can't control, but I think Baron has definitely showed a lot of people that his body can hold up. He's proved a lot of people wrong.
Q: You're pretty much in the Quote Hall of Fame with your "I make love to pressure" line. Can you ever top that?
A: No, man. That's a classic.

With the D-League entrenched as the sport's strongest minor league and the overall quality of the CBA steadily declining -- and thus fading as a talent source for NBA execs and scouts -- you probably didn't hear about last week's bit of history.
Micheal Ray Richardson joined Cazzie Russell, Henry Bibby and the Lakers' Phil Jackson as the only men to win the CBA championship as a player and as a coach after leading the Oklahoma Calvary to the title from the bench.
The most recognizable name on the floor in the best-of-five CBA finals from either team was probably Ronnie Fields from the losing Minot Skyrockets. Kevin Garnett's former teammate at Chicago's Farragut Academy, Fields has essentially been a minor-league lifer after suffering a serious neck injury in a car accident as a high school senior.
But Richardson, who turns 53 next week, found some rare sweetness in his hoops life with this roster of no-names. He just keeps coaching away alongside Calvary GM and former Nets teammate Otis Birdsong, knowing that it's hard for some of us to accept him as an authority figure after all his troubles as a player but still hoping that an NBA team will take a chance on him as an assistant someday after Richardson mentored Toronto rookie Jamario Moon last season with the Albany Patroons.
"The opportunity to coach came when I was working as a Denver Nuggets community ambassador [in 2003]," Richardson said by phone. "I just wanted to see if I could do it. But this is what I do now.
"It's a great feeling. I won a [CBA] championship in 1988 [with Albany] as a player and in 2008 as a coach. I'm sure [some people] wondered how I would be as a coach, but I guess I know what I'm doing. You've just got to wait and pay your dues and eventually people will see what you're doing and give you a chance.
"I would like to try to get on someone's bench [in the NBA]. I think I have a lot to offer, not only as a [former] basketball player but also as a human being [after] the things that I went through. But I guess in life you've got to crawl before you can walk. George Karl coached in the CBA. Phil Jackson coached in the CBA."
It must be noted that Richardson wound up with the expansion Calvary after last season with the Patroons ended in controversy, when he was accused of making anti-Semitic remarks. We share the view of NBA commissioner and longtime Sugar supporter David Stern that Richardson is definitely not anti-Semitic -- we can't forget, for starters, that Richardon's first stop as a player after his drugs banishment from the NBA was a brief stint in Israel with Hapoel Ramat Gan -- but you can click here if you wish to revisit that issue. As Stern hoped more than anyone, Richardson's comeback from his latest setback is off to a triumphant start.