Getty Images

The Western conference has been so crazy this season that there are only 10 days left and only two teams have clinched a playoff spot. There isn't a single division or seeding that has been decided. Everything remains up for grabs. One of the more intriguing races remaining is the three-team battle for the final two spots in the West playoff picture. Sunday could very well go a long way in deciding how it will shape up.
ABC's doubleheader features the Golden State Warriors at New Orleans Hornets (1 ET) followed by the Dallas Mavericks at Phoenix Suns (3:30 ET). The Warriors and Mavs, along with the Denver Nuggets are all within at least one game of each other. All three teams could win 50 games this season, yet one of them will not be joining the playoff party. Here's how I see it all shaking down:

#7 Dallas:
Thanks to a critical victory over the Warriors on Wednesday night and the unexpected early return of Dirk Nowitzki, the Mavericks now have the inside track on the No. 7 seed. Owning the tie breaker over Golden State should give Dallas the extra cushion it needs to gain the advantage. Their remaining opponents also help Dallas' cause. After playing Phoenix on Sunday, the Mavs schedule lightens up down the stretch, including two games versus Seattle.
Jason Kidd is the key. He needs to find some of his offensive confidence in order to provide the type of threat that will alleviate the pressure of having his defender sit in the lap of Nowitzki and Josh Howard. The Mavs are the most complete team of the three and their defense is still good enough to steal a win or two on nights when they struggle offensively. Neither Golden State nor Denver can make that claim.

#8 Denver:
The Nuggets and Warriors play one more time and that game could go a long way in determining the last playoff spot in the West. The Nuggets ultimately have a good shot at grabbing the No. 8 seed because, quite simply, they are playing better basketball at the right time. Denver may be undisciplined, but they win games by merely having more fire power than their opponents. Allen Iverson and Carmelo Anthony have been constants and now J.R.Smith is playing the best basketball of his short career in terms of contributing on a more consistent basis.
If it comes down to the last game of the season, it is hard to deny the sheer will of Iverson, who has played in more meaningful games than any other player involved in the chase for the final playoff slot.

#9 Golden State:
When the Warriors are heading to their off-season homes as the playoffs begin, they will look back on the beating in Dallas on Wednesday as their fate-sealing moment. Their putrid effort defensively combined with a 2-for-20 shooting performance from Stephen Jackson and Al Harrington in the biggest game of the season will prevent the Warriors a chance to cause another stir in the first round of the playoffs. Due to the fact that the Warriors lose tiebreakers with both the Mavs and Nuggets, in order to get in they will most likely need to sweep their four remaining games with the bottom feeders on their schedule, as well as win at least two of three from New Orleans, Phoenix, and Denver.
That is a tall order for a team that won't be able to grind out a victory with tough defense and rebounding. Baron Davis, Monta Ellis and Stephen Jackson can light up a scoreboard, but the team's lack of defensive commitment leaves them with a margin for error that is much too small to overcome Denver or Dallas.
ESPN analyst Tim Legler is a regular contributor to the Daily Dime
Dimes Past: March 29-30 | 30 | 31 | April 1 | 2 | 3 | 4 | 5-6
Coach Of The Year Is Buzzing

By J.A. Adande
|
ESPN.com
Since the Chris Paul-should-get-MVP-if-the-Hornets-win-the-Western-Conference argument seems to be gaining momentum, the same logic should apply to Byron Scott for Coach of the Year.
Coach of the Year often is a way to cover up bad predictions. When a team surpasses all expectations and does better than anyone expected, instead of saying we were wrong, we can just hand a guy a trophy and say, "What a great job he did."
No one had the Hornets atop the loaded Western Conference. They weren't supposed to be there at any point in the season, let alone this late.
How much of the Hornets' success is because of Scott, and how much is because of Paul? And by nature, wouldn't an MVP almost disqualify his coach from Coach of the Year honors? The awards have gone to a player and a coach from the same team only 10 times -- most recently to Steve Nash and Mike D'Antoni in Phoenix in 2005.
One reason the awards would seem to be conflicting is that a quality of an MVP is leadership. Another is elevating his teammates to higher levels. It's hard to view Doc Rivers as a top Coach of the Year candidate when Kevin Garnett has had such an obvious impact on the entire culture of the Celtics ... including taking the extra steps to make sure there wouldn't be tension and jealousy among him, Paul Pierce and Ray Allen.
In New Orleans, Paul has been the maestro on the court, lobbing alley-oops to Tyson Chandler, finding David West in the right spots, kicking the ball out to Peja Stojakovic for 3-pointers and scoring himself seemingly at will.


By John Hollinger
|
ESPN.com
Earlier this week John Hollinger gave his analysis of the Western Conference playoff contenders, here was his take on the Phoenix Suns.
Glass half-full: We've won 10 out of 13, and the three losses were at Detroit, at Boston and at Denver.
Glass half-empty: We're still only 13-9 with Shaquille O'Neal.
Key factoids you might not know: I slammed Suns president Steve Kerr for trading for Shaq; based on the contents of my inbox, it appears one or two Suns fans noticed this. I still have some misgivings about the deal, especially once you get into next year and the year after, but it's hard not to notice how well the Suns are rolling right now.
The key has not been the play of Shaq, who continues to have an insanely high turnover rate. (Seriously, how do you make three turnovers a game if you're taking only eight shots?) Rather, it's been his apparent impact on Amare Stoudemire. The Suns made this deal in part to move Stoudemire out of the center spot, so you have to give them credit for the results.
In 22 games at power forward, Stoudemire has been the best player in the league. No, really, he's been that good. He has averaged 29.4 points on 58.2 percent shooting and averaged nearly 11 free-throw attempts.
But the number that maybe is most important is 36.7. That's how many minutes per game he's played with Shaq, after averaging only 33.0 before the trade because he was in foul trouble too often. Stoudemire's foul rate is still fairly high, but it has declined just enough that he's able to play his regular minutes.
A pessimist would note the Suns have shot unbelievably well on 3s during the recent hot streak, and that's unlikely to hold up over an extended period. But if Stoudemire keeps playing this freakishly well it's not going to matter too much, because right now the difference between New Stoudemire and Old Stoudemire more than offsets the difference between Shawn Marion and Shaquille O'Neal. I'd have never thought that possible, but it's happening.
Remaining schedule: It could be worse. Road games against San Antonio and Houston won't be fun, but they have two gimmies (home vs. Minnesota, at Memphis), and they should be able to handle home games against Dallas and Golden State.
Crystal ball says: The way they're playing they might grab six of the final seven and steal the division crown from L.A. The unfortunate thing is they probably have to win six of the seven, because the Lakers own the tiebreaker. So the smart money remains on the Suns ending up with the No. 5 seed and a brutal first-round pairing against Utah.
It's possible they could move up to No. 3 even if they don't win the division, because the Suns still play San Antonio and will own the tiebreak with a victory. But again, this scenario pretty much depends on them winning at least six of their last seven.

When you are on the verge of missing the playoffs and every win matters, facing the first-place Hornets isn't typically a good thing.
However, the Warriors have had recent success over their Sunday opponent winning four of their last five against New Orleans which includes two in a row on the road.
A key to their success has been the ability of Baron Davis to match the play of Chris Paul this season.
Career Head-to-Head

Wins
PPG
FG Pct.
APG
Paul
2
22.3
49.5
9.3
Davis
4
23.3
51.0
8.2
-- ESPN Research
Mike Tirico and Kirk Herbstreit talk NBA MVP candidates with Jon Barry. Plus, Jon shares his thoughts on the Mavs now that Dirk is back.
Barry on NBA MVP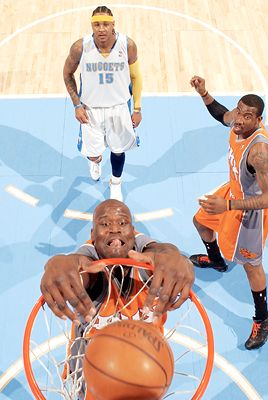 Getty Images
After a slow start, Shaq and the Phoenix Suns have corrected the ship at the right time.

Both the Dallas Mavericks and Phoenix Suns made blockbuster trades this season, bringing in veteran players.
After a slow start the Suns have improved their record to 14-9 since acquiring Shaquille O'Neal and are playing their best ball all season.
The same can't be said for the Mavs and their acquisition of Jason Kidd. They are only 12-11 since the deal and could miss out on the playoffs completely.
Shaquille O'Neal ( 2007-08 season)

w/MIA
w/PHX
MPG
28.6
29.3
PPG
14.2
12.6
FG Pct.
58.1
60.7
RPG
7.8
10.5
Jason Kidd ( 2007-08 season)

w/NJ
w/DAL
PPG
11.3
9.9
FG Pct.
36.6
42.3
RPG
8.1
6.4
APG
10.4
9.7
-- Peter Newmann, ESPN Research