Jesse D. Garrabrant/NBAE via Getty Images
No Time For Pain, So Dirk And Mavs Gain

PHOENIX -- Dirk Nowitzki stumbled about 18 times by his own count as he drove left, gathered himself with one crucial step to rattle in a fallaway baseline dagger out of nobody's textbook, then showed us his truly unorthodox move.
Nowitzki didn't pop his jersey in celebration. He tugged it from the bottom.
Instead of grabbing it at the top to puff out the DALLAS on his chest, like Kobe Bryant and everyone else does, Nowitzki commemorated the biggest basket of the Mavericks' season by pulling tightly on his shirttail, trying for the same effect.
"I was too hyped up," Nowitzki said later with a laugh, "to even know what I was doing."
You could forgive Nowitzki for that one misstep and understand his emotional overspill Sunday, when he continued to dazzle playing basically on one leg. In only his third game back from a high ankle sprain that typically sidelines athletes in all sports from three to six weeks -- and which shelved the NBA's reigning MVP for only nine days -- Nowitzki had 32 points and 12 boards in 38 stubborn minutes.
The big difference for the visitors on this given Sunday: Dallas supplemented Nowitzki's show with its best all-around fourth quarter in forever, holding the uncharacteristically sleepy Phoenix Suns to a season-low nine points in the period to surge back from a double-digit deficit and claim a crucial 105-98 victory at US Airways Center.
The win didn't officially clinch anything for the Mavs, but the joy and obvious relief on their bench at the end suggested otherwise. It's the Mavs' first win over a team that is definitely playoff-bound since reacquiring Jason Kidd -- Wednesday's victims from Golden State, remember, are not in the West's top eight at the minute -- and almost certainly separates Dallas from the Nuggets and Warriors in the race for the final two playoff spots.
Especially with Denver capping a disastrous weekend by stunningly losing in double overtime at Seattle late Sunday.
"It meant more to them," Suns guard Steve Nash said of the Mavericks, "and they showed it."
It meant more to the Mavs because of their 1-11 record against winning teams since Kidd's arrival. Nash's old team looked headed for 1-12, too, when some active switching, dominant board work (18-7 in the fourth quarter) and pesky hands on D combined with an inexplicable meltdown of the Suns' vaunted O to turn a 91-78 deficit into a 94-91 lead.
The Mavs didn't exactly flow freely on offense down the stretch, as has been their custom in recent weeks. Coach Avery Johnson's natural instinct to slow the game down when it gets tight, combined with occasional hesitation from Kidd running a new team, has caused Dallas' ball and player movement to shut down in numerous crunch times lately. Yet compared to Phoenix, Dallas was running a virtual layup line in this fourth quarter with eight baskets and 13 trips to the line, while the befuddled hosts went nearly eight minutes without a point.
Nowitzki wound up outscoring the Suns by himself in the fourth, 12-9, with no more Shawn Marion to chase him around and Phoenix finding no suitable replacement in the teams' first meeting since both teams swung their blockbusters. Dirk's old pal Nash, meanwhile, missed all six of his shots in the quarter to somehow finish 4-for-17 from the field, with Kidd shadowing him well throughout and Nash unable to cash in on a few open looks he did get.
All of that added up to a comeback which served another purpose for the desperate Mavs, illustrating that there are at least two areas where they have shown improvement since the Kidd trade in spite of what the standings say.
No. 1: For all the fretting about what the losses of Devin Harris and DeSagana Diop would do to the Mavs defensively, they've actually had more consistency problems offensively, putting up some top-quality resistance against Boston, San Antonio and now Phoenix. "We've been doing this -- playing pretty good defense -- for a while now," Kidd said after totaling 8 points, 7 assists, 6 rebounds, 4 steals and, yes, 4 blocks. ("They were all below-the-belt blocks," Kidd joked.)
No. 2: Nowitzki is playing with emotion and a swagger that, until Kidd's Feb. 19 arrival, you hadn't seen since last season. Having a player of Kidd's stature to help him for really the first time since Nash's free-agent return to Phoenix in the summer of 2004 has clearly pumped Nowitzki with fresh hope and energy.
That's in spite of the Mavs' recent slump and an injury that still bugs him plenty. For all of Nowitzki's well-chronicled healing powers after numerous ankle sprains in his 10 seasons, Johnson estimates that his franchise player has regained only 60 to 75 percent of his mobility.
"It's not necessarily that Dirk is a fast healer," said Mavs athletic trainer Casey Smith, who doubles as a member of the Team USA training staff.
"He's back playing so fast because he does everything possible to return as quickly as possible and because he is by far one of the toughest players I've ever worked with. Everyone thinks that once he's back on the court that he's healed up, but in reality he usually deals with his injuries for days or even weeks after returning."
Yet it's a reality Nowitzki can block out after a win like this, coupled with the crushing loss Denver suffered in Seattle. The Mavs have seen just enough in the past week -- including a surge back to prominence from Josh Howard (24 points) and some more flashes from Brandon Bass (19 in 24 minutes after earning just 12 seconds of PT in Friday's loss to the Lakers) -- to start thinking they can rebound from that 0-10 start against winning teams with Kidd to be a dangerous first-round foe for New Orleans, San Antonio or L.A.
After all …
Owner Mark Cuban has been reminding folks for days now: Houston finished 17-18 in the 1994-95 season after acquiring Clyde Drexler at midseason and still went on to win the championship. Another pertinent bit of history along those lines that the Mavs know all too well: Shaquille O'Neal's Miami Heat went a humbling 2-12 against division leaders in the 2005-06 season and wound up overturning Dallas' 2-0 lead in the NBA Finals to win it all.
Could this have been one of those nationally televised Sundays that turns around someone's season, like Phoenix had on March 9 with a come-from-behind home win over the defending champs from San Antonio?
"It can't do anything but help," Johnson said.
Nowitzki took it a step further on his one leg, suggesting that having so much at stake in early April could ultimately prepare Dallas better for the playoffs than last season's 67-win romp did.
"In some ways, I like this better," Nowitzki said. "We didn't play a meaningful game after March last year."
Marc Stein is the senior NBA writer for ESPN.com. To e-mail him, click here.
Dimes Past: March 25 | 26 | 27 | 28 | 29-30 | 30 | 31 | April 1 | 2 | 3 | 4 | 5-6 | 6
In A Benighted Season, Shiny Outing For Isiah

By Chris Sheridan | ESPN.com
NEW YORK -- Isiah Thomas' 800-watt smile illuminated the Madison Square Garden interview room after the game Sunday night, a sight that seemed even more striking when one reflected on how long it has been since that smile was seen -- and whether it will ever be seen there again.
Thomas coached the Knicks to their first quality victory in six weeks Sunday night, a 100-90 victory over the Orlando Magic in Thomas' first game back at the Garden since being stripped of his presidency when Donnie Walsh was hired last week.
Walsh was not in attendance, but he plans to be in the building Wednesday night when the Knicks play the Charlotte Bobcats in their third-to-last home game of this miserable Knicks season.
Thomas and Walsh are expected to meet before then to discuss Thomas' future, making it uncertain whether he'll remain on the bench for the remainder of the regular season.
"I'm comfortable in the position I'm in, and I'm comfortable with the way things are going," Thomas said in a somewhat uncomfortable pregame moment when he was repeatedly asked what he expects the immediate future to hold. "Let's just leave it that whatever he wants, we'll do."
The effort was one of the best the Knicks had given all season, and they outplayed Orlando down the stretch in the fourth quarter despite using a lineup of Mardy Collins, Wilson Chandler, Nate Robinson, Randolph Morris and Renaldo Balkman against the Magics' starters.
Aside from the way the Knicks played, the night had a positive vibe for the home crowd after a lengthy tribute to Patrick Ewing was played during a second-quarter timeout. Ewing is expected to be voted into the Hall of Fame on Monday.
Thomas was more cheerful than usual afterward -- not a surprise given the outcome, which represented New York's first victory over a playoff-bound team since beating Toronto on Feb. 22 -- and he flashed his pearly whites as wide as we've seen them in years when he was asked what moment he looked back on as being the quintessential Patrick Ewing moment.
"What I remember was how he was always sweating," Thomas said, laughing almost to the point of guffawing at the absurdity of how he must have sounded. "He was a great player, but that's the image that comes to mind: big guy, lots of sweat."
And with that, Thomas was done. But was he done at the Garden for the final time?
If he was, at least he left the place smiling -- something none of his recent predecessors as Knicks head coach had managed to do.

SUNDAY'S BEST
Kevin Durant, Sonics forward:
More than just 37 points, 9 assists and 8 rebounds, it was his two clutch 3s, one near the end of regulation, another a 30-footer at the end of the first OT, to keep the game alive, a season-making 151-147 double-OT win over the Nuggets. Fellow rookie Jeff Green? 35 points, 10 rebounds.
---

SUNDAY'S WORST

Beaten-down Blazers:
When even the Miami Heat are putting more points on the board than you, that's a tough one. The Blazers' offense succumbed to the Spurs' grind time, putting but 65 points on the board. Portland falls below .500 for the first time in 2008.
---
QUOTE OF THE NIGHT

"We just wanted to spoil their season."
-- Sonics rookie
Kevin Durant
on a 151-147 double-OT win over the Nuggets. Nice revenge for the 168 points Denver hung on Seattle on March 16.
• See Sunday's daily leaders
-- Andrew Ayres
West race heats up

Here's a look at the key games coming up on ESPN and ABC:
Wednesday: Celtics-Wizards 7 p.m., Suns-Spurs 9:30 p.m., ESPN
Friday:
Cavs-Bulls, 7 p.m., ESPN
Sunday: Raptors-Pistons, 1 p.m., ABC; Spurs-Lakers, 3:30 p.m., ABC

Steve, IN: This Heat tanking is ridiculous. The NBA HAS to step in. It's even worse than last year's tanking. Mysterious injuries to every single starter and even bench players?? (including Shawn Marion... who doesn't get hurt) Grabbing random NBDL players to "play" for them?? Miami fans should stop going, season-ticket holders should demand a refund, and the Heat first-round pick should be taken away... or if Mr. Stern is feeling nice... let them have the last pick in the 1st. SEND A MESSAGE TO TANKING TEAMS.
J.A. Adande: Heat fans shouldn't be upset. The best way to get better is to get abysmal. Did you see those quotes from Pat Riley saying he's actually happy it worked out this way? Being a mediocre team with Shaq eating up the salary cap wouldn't allow them to improve. Now they have a better shot in the lottery, they're one step closer to cap flexibility and they can kick-start their rebuilding process. It's only bad if you have tickets to see your team and the Heat are coming to town.

By Lisa Brooks
ESPN Research
With a win Sunday over the Warriors, the New Orleans Hornets tied the franchise record for most wins in a season. The franchise founded in Charlotte in 1988 has six games left to play this season.
New Orleans Most Wins Single Season, Franchise History

Year
Record
Playoff Result
2007-08
54-22
?
1996-97
54-28
L, 1st round
1997-98
51-31
L, Conf. Semis
1994-95
50-32
L, 1st Round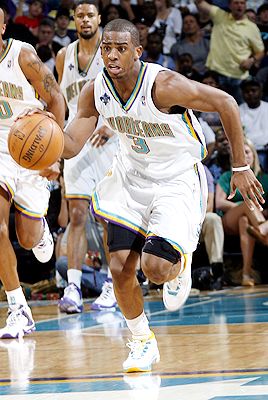 Layne Murdoch/NBAE via Getty Images
Chris Paul pushed the Hornets closer to the possibility of the No. 1 seed in the West, netting 16 points, 13 assists, 10 rebounds and 5 steals in the 108-96 win over the Warriors. Of note, the top challenger to his MVP candidacy, Kobe Bean Bryant, hosts CP3 on Friday.