Layne Murdoch/NBAE via Getty Images
Jazz Look Playoff-Ready Against Hornets

The 77-66 win over the Hornets on Tuesday was a real breakthrough win for the Jazz because they beat a quality team on the road. Of the top six teams in the West, Utah was the only team that was under .500 on the road so to go into New Orleans and win the way they did was impressive.
New Orleans usually gets 66 points by halftime, but they ran into a Utah team that had a great defensive effort.
You could tell from the beginning that the Jazz were focused on keeping Chris Paul from getting his points in the paint. They locked him down. He got a couple of good looks, but his shots weren't falling.
The hype that comes from Paul playing against Deron Williams has worn off for me. There are so many great point guards in the Western Conference that you could have the "who-is-better" debate every night. They are both All-Star caliber point guards. Paul became an MVP candidate first, but Williams is a top-five point guard too.
Utah has been locked in the four spot for a while. Making it to the conference finals last year has given this team an understanding of what it takes to reach that level. This is an experienced group.
I did some research. Since the ABA-NBA merger, only two teams have gone from not making the playoffs the previous year to reaching the NBA Finals, so the Hornets will have a hard time making that leap. They haven't gone through it yet.
Both teams treated Tuesday night like it was a playoff game. You could tell by the intensity.
Even though he had a rough shooting game and finished with just four points, I still have Paul as my MVP. I was with Kobe Bryant most of the year, but look at Paul's stats -- 20-plus points, 11-plus assists -- and he leads the league in steals.
If New Orleans wins the West, which is arguably the most competitive conference ever, then he has to win it. Think about it, there are so many good teams like San Antonio and Phoenix putting heat on them every night. If they hold on, that says a lot about Paul.
There are a lot of players who you can make an MVP case for, but the difference is he has the ball in his hands the entire game. He is responsible for everything that his team does. It is unexpected to see a team like New Orleans leading the West.
The final standings can tip the vote, but right now I have Paul No. 1, followed by Kevin Garnett and then Kobe. I mean, Garnett is responsible for the greatest turnaround in NBA history. When it is all said and done, the Celtics are going to win 40 or more games than they did last season.
They have seven new guys in the rotation but the entire team is a reflection of Garnett. He took a team that was in the bottom 10 in the league defensively and look at what he has them doing now. Guys like Paul Pierce and Ray Allen and Eddie House are all playing defense and they weren't before. Garnett demands intensity and he holds everyone accountable. His personality has taken over that team and he has pushed everyone to another level.
ESPN analyst Tim Legler is a regular contributor to the Daily Dime.
Dimes Past: March 26 | 27 | 28 | 29-30 | 30 | 31 | April 1 | 2 | 3 | 4 | 5-6 | 6 | 7

Gus (Pensacola): Is Dirk Nowitzki human? How in the world does someone recover from a high ankle sprain in one week?
John Hollinger: I have no idea. What's really crazy isn't just that he's playing, but that he's playing really, really well. This is probably the best Dallas has looked in several weeks.
Pat (Fort Morgan, CO): The Warriors are getting screwed by the 5pm PST start for the Nuggets game on Thursday. Why isn't anybody mentioning this? The arena will be half-empty until the third quarter.
John Hollinger: I'll mention it. And here's the really weird part -- they're doing it so they can show a Laker-Clipper game as the second part of the doubleheader. WHAT?!?!? For crying out loud TNT, move the Utah-Dallas game to the early game, and kill that awful turkey you have as the nightcap.
Bryan (Pekin, IL): What is the best team in the last 20 years to finish 9th in the conference and not make the playoffs?
John Hollinger: Houston went 45-37 and missed the playoffs a few years ago, that was the former high-water mark. Denver/Golden State will end up at 48 or 49, so that will shatter the record.

Here's a look at the key games coming up on ESPN and ABC:
Wednesday: Celtics-Wizards 7 p.m., Suns-Spurs 9:30 p.m., ESPN
Friday:
Cavs-Bulls, 7 p.m., ESPN
Sunday: Raptors-Pistons, 1 p.m., ABC; Spurs-Lakers, 3:30 p.m., ABC

ESPN Research
New Orleans guard Chris Paul is in the middle of one of the most highly contested MVP races in years. He is currently averaging more than 21 points and 11 assists. Since the NBA-ABA merger, that has been accomplished six times, with the player posting those stats (Magic Johnson) being awarded the Maurice Podoloff Trophy three times.
21 Points, 11 Assists -- Single Season, Since NBA-ABA Merger

Years
Player
MVP Finish
1989-90
Magic Johnson
First
1989-90
Kevin Johnson
N/A (received 0 votes)
1988-89
Magic Johnson
First
1986-87
Magic Johnson
First
1984-85
Isiah Thomas
Ninth
1983-84
Isiah Thomas
Fifth

TUESDAY'S BEST
Isiah Thomas:
His trademark smile was on display all night long in Detroit. First, he was one of 30 players recognized during a 40-minute pregame celebration that honored the Pistons' all-time team. Later, he coached his slumping Knicks to a 98-94 victory over Detroit.
---

TUESDAY'S WORST

Buzz-less Hornets:
They set a season low for points in a 77-66 loss to the Jazz that ended their home winning streak at 11 games. New Orleans connected on just 36.5 percent of its shots from the floor and Chris Paul knocked down just 2 of 11 attempts, finishing with four points.
---
QUOTE OF THE NIGHT

"Carmelo, I'm sorry buddy."
-- Jazz point guard
Deron Williams
after being reminded that Carmelo Anthony told him this summer that the Nuggets were going to win the Northwest Division this season.
• See Tuesday's daily leaders
-- Maurice Brooks
The Pacers stay alive.

Chad Ford and David Thorpe continue to examine the NCAA tournament's impact on players' draft stock. Is Derrick Rose the new No. 1 pick?
Ford and Thorpe on Rose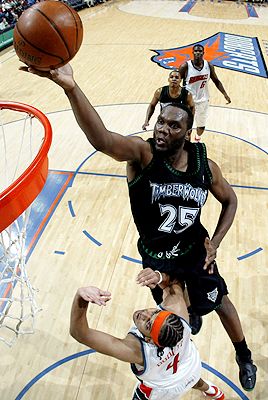 Kent Smith/NBAE via Getty Images
Al Jefferson tied his career high of 40 points and also grabbed 10 rebounds, but missed a game-tying shot at the buzzer in the Wolves' two-point loss to the Bobcats.