AP Photo/Eric Gay
O'Neal, Suns Built for Playoff Success Against Spurs

SAN ANTONIO -- The playoffs will ultimately decide if the Phoenix Suns improved themselves by dealing Shawn Marion for Shaquille O'Neal, but this is already a certainty: With the Big Diesel in their garage, they finally have the horsepower to run over the San Antonio Spurs.
O'Neal, despite being Shaqled with foul trouble all night, chipped in 16 points and nine rebounds and served as the Big Antidote against Tim Duncan, who needed 21 shots to collect 23 points and had only two in the final 15 minutes. Result: a 96-79 Suns' win and more woofin' in the visiting AT&T locker room than has been heard in quite some time. Phoenix is now 2-0 against the Spurs in their Shaq era and, while they fully understand the Spurs are a different animal in the playoffs, they clearly see themselves as a step above the Suns teams San Antonio eliminated from the playoffs three of the past four years.
"There is a bit more belief in what we're able to do against them because he changes so much up," said Raja Bell.
As in giving them a big defender who can at least slow down Duncan without a double-team. (It's never been the least bit inspiring for the Suns to watch Duncan pivot and pump-fake his way down the stretch of a game time after time around Amare Stoudemire.) And as in wear Duncan down at the offensive end by having to hold off O'Neal's 350-pound load on the low block. And as in someone who has had a bit of success in San Antonio, where the Suns had lost 12 of their previous 14 games.
"You can't guard Shaq one-on-one!" hooted Stoudemire, who had a team-leading 21 despite being limited by foul trouble to 31 minutes. "That's 26,000 points and counting. What are those people thinking?"
Basically, this: Shaq, at 36, doesn't have the juice anymore to single-handedly take over a game, so why double-team him and create openings for anyone else? Keep in mind, he had basically 2½ days' rest before facing the Spurs on Wednesday night, having last played Sunday afternoon. There was plenty that went just right for him: He played only 24 minutes, the Spurs didn't make him earn his points via his awful free-throw shooting and the Suns' small-ball lineup did as much damage as its Twin-Tower one with O'Neal and Stoudemire. Duncan also missed more than a few open looks.
But that may be proof of just how good the Suns feel with Shaq in their corner -- just his presence on the bench is enough. Tied at 57-all when Stoudemire joined O'Neal on the bench with four fouls a piece, the Suns fell behind by five before putting Duncan on the bench with his third foul. Phoenix put together an 11-2 run off their pre-Shaq style of fastbreaks and three-pointers for a 72-68 lead going into the fourth quarter.
"They always know if they need me, I'm there," Shaq said.
Adding spice to the affair was a late forearm to Stoudemire's chest by Spurs forward Bruce Bowen as Stoudemire set a screen for Steve Nash coming up court. Stoudemire doubled over for a moment and then had to be restrained from going after Bowen. The Suns dialed up the play on the TV monitor in their locker room and replayed it several times.
"Yeah, that was intentional," someone said.
"Glass jaw!" someone else shouted.
This, of course, being the same Bowen who got under the Suns' skin so thoroughly in the playoffs last year.
"I don't want to get ahead of myself," said Suns coach Mike D'Antoni. "If we do meet in the playoffs, it will be a battle. We're looking forward to it."
That's the difference. Now that they have Shaq.
Ric Bucher covers the NBA for ESPN The Magazine.
Dimes Past: March 27 | 28 | 29-30 | 30 | 31 | April 1 | 2 | 3 | 4 | 5-6 | 6 | 7 | 9
Donnie Walsh's First Night at The Garden

By Chris Sheridan | ESPN.com
NEW YORK -- Two things stood out after listening to Isiah Thomas talk for six minutes Wednesday night and Donnie Walsh go on for 26 minutes:
Walsh called the Knicks "my team," and Thomas kept using the pronoun "you" not "we" -- when talking about how New York basketball people haven't truly had anything to be proud of since 1973, the last time the Knicks won an NBA championship.
In fact, Thomas said "you" so many times, he almost sounded like a guy who had mentally rejoined the Detroit Pistons a night earlier when they honored him and other all-time franchise greats -- with Thomas being given one of the loudest ovations of all -- at The Palace of Auburn Hills.
Thomas again seemed somewhat defiant yet somewhat resigned to his fate on yet another day -- given it was Walsh's first full day in the office -- to assess the state of the Knicks and take measure of the tenuous job status of Thomas.
Walsh said Thomas will continue to coach the team over the remainder of the regular season, but there are no guarantees beyond next Wednesday. Walsh also said he had not yet met with Thomas -- "I haven't even seen Isiah since I've been here" -- but would be doing so over the next several days to hear Thomas' explanation for why the current season has been so unsuccessful.
"You can say I'll have an open mind about any conversation I'm going to have," Walsh said. "I still don't think we've played well, and there's a lot of things I want to talk about, so it's not totally open. It's not like I'm going in saying, 'This has all been great.'"
Walsh also clarified a point he had touched on last week in his introductory news conference, saying he wanted to be significantly under the salary cap by the summer of 2010, not the summer of 2011.
Walsh, who attended a farewell party in his honor Monday in Indianapolis after cleaning out his desk, said he was unable to watch the Knicks' previous two games -- victories against the Magic and Pistons. On the night of the Orlando game, it was not being broadcast on NBA TV as he had expected, and on Wednesday night, he stayed at a hotel in New York that did not carry the MSG Network, which broadcasts all Knicks games.
"I'm looking at them for the first time like they're my team," Walsh said before taking a seat in the president's box, just a few paces away from the exit tunnel spot where Thomas once stood when it was he who was the president, the one who could say the Knicks are "my team."
Chris Sheridan covers the NBA for ESPN Insider. To e-mail Chris, click here.
Hansbrough In Black and White

By Chris Broussard | ESPN The Magazine
Orlando coach Stan Van Gundy had an interesting take on the matter when he appeared on "The Boog Sciambi Show'' on 790 AM radio in Miami last Friday.
Here's the uncut dialogue:
Sciambi: "Would they [the media] use the same adjectives to describe him [Hansbrough] if he were black?''
SVG: "Well, probably not. But I think there's two things going on there. Well three. Let's give the guy his due. He plays the game well and he plays it hard, OK. With no hyperbole he does do that, so let's start there.
"But then the second and third factors I think definitely you hit on it, there's the racial thing. People go crazy over white players. They tend to assign character qualities to them rather than just good play. And then the third thing is the emotion. He plays with a lot of emotion."
• See the full Chris Broussard blog

WEDNESDAY'S BEST
LeBron "Bad Back" James:
Who needs practice? Obviously not James, who after missing two practices because of back spasms shook loose for 33 points, seven rebounds and eight assists as the Cavaliers roughed up the Nets, 104-83.
---

WEDNESDAY'S WORST

Streaking Knicks:
In a perfect example of too little, too late, the Knicks beat the Bobcats, 109-107, to match their season-best win streak of three games. With new president Donnie Walsh attending his first game, New York had six players score in double digits. Coach Isiah Thomas is probably wondering what took so long for his team to start playing its best ball of the season.
---
QUOTE OF THE NIGHT

"It's just letting the young fellas know I still got it. I joke with them all the time. For me, it was an aggressive move going to the basket, and I was able to find it."
-- Wizards' veteran power forward
Antawn Jamison
, who went baseline and jammed over the Celtics' Kevin Garnett. Jamison, who had missed the previous two Washington games because of a sprained right shoulder, scored a team-high 27 points.
• See Wednesday's daily leaders
-- Maurice Brooks

Here's a look at the key games coming up on ESPN and ABC:
Friday: Cavs-Bulls, 7 p.m., ESPN2, ESPN360.com
Sunday: Raptors-Pistons, 1 p.m., ABC, ESPN Radio; Spurs-Lakers, 3:30 p.m., ABC, ESPN Radio
Wednesday:
Jazz-Spurs 8 p.m., Sonics-Warriors 10:30 p.m., ESPN, ESPN360.com
Chris Bosh vs. Charlie Villanueva
Jason (Brooklyn): I'm reading a book about Michael Jordan taking the principles that he used to build his basketball skills into the corporate arena. He keeps saying that the big lesson is to realize that you have to earn it and not to skip steps. Would agree that making yourself accountable is the most import piece of success?
David Thorpe: That, and a willingness to work long and smart hours.
Steve (Cleveland): LeBron is the best player in the league, why can't they win more games?
David Thorpe: It's not golf or tennis.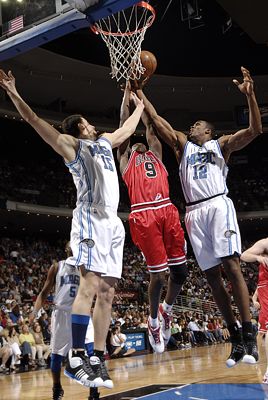 Fernando Medina/NBAE via Getty Images
Despite playing with six stitches in his upper lip, Dwight Howard was able to notch his league-leading 67th double-double, posting 30 points and grabbing 14 rebounds in the Magic's rout of the Bulls.