Rocky Widner/NBAE via Getty Images
Denver's Defense The Difference

OAKLAND, Calif. -- If you're talking about the playoffs you must talk about defense, even if the conversation involves the Golden State Warriors and the Denver Nuggets. Hard to believe, but this matchup Thursday between the two highest-scoring, worst-defensive teams in the league turned on a defensive tactic in the second quarter. As a result the Nuggets have the inside track on the final playoff spot in this crazy Western Conference playoff race.
After getting outscored 37-22 in the first quarter, the Nuggets went to a zone defense in the second. The Warriors played right into it, impatiently launching 3-pointers then failing to get back on defense themselves as Denver came back to take the lead at halftime before putting Golden State to sleep in the fourth quarter for the 114-105 victory.
With three games left in the regular season the Nuggets (48-31) have a one-game lead over the Warriors (47-32) for the eighth playoff spot and hold the tiebreaker thanks to a 3-1 edge in the season series. Dallas currently holds the No. 7 seed and clinched a playoff berth Thursday with a victory over Utah.
"We've got a big problem as far as making the playoffs at this particular time," Warriors coach Don Nelson said.
The Warriors have home games against the Clippers and SuperSonics sandwiching a trip to Phoenix. After a celebratory day off in San Francisco Friday ("If I call practice there will be a revolution," Denver coach George Karl said), the Nuggets travel to Utah before finishing at home against Houston and Memphis.
When the Nuggets zoned up the Warriors couldn't have looked more displaced if Nelson had started giving their orders in Chinese. The Warriors made only cursory attempts to penetrate. They fired up quick threes, missing seven of eight in the quarter. They scored only one point in the first 5:49 of the second quarter and didn't make a field goal until 5:47 remained in the half.
"We didn't attack it very well and when we did we didn't make the shots or the layups," Nelson said. "We got the ball where we wanted and had good shots occasionally. But the zone definitely bothered us. You've got to hurt that zone or they're not going to come out of it. We didn't hurt it enough for them to come out of it."
It didn't help that Monta Ellis' 29 points were offset by his six turnovers, or that Baron Davis and Stephen Jackson didn't seem to have the energy to do anything more. Davis didn't get his normal elevation around the basket, and Jackson misfired on 12 of 17 field goal attempts.
"Once they went zone we looked to get our threes off," Davis said. "We weren't hitting our shots tonight. We just never could get our adjustment to get ourselves a better shot or get ourselves in a rhythm. I think the zone took us out of our rhythm and ultimately that's why we lost."
Denver got better production from its stars, with Allen Iverson and Carmelo Anthony combining for 58 points, plus 24 more from J.R. Smith.
Karl said he decided to go zone because he knows how much it throws his own team off -- and the Warriors are similar to the Nuggets. Neither team excels in the basic playoff requirements of defense and low-post play. It's just that the Warriors' wacky ways are more entertaining -- even for Karl.
"We play a lot like them, but they're a lot of fun to watch," Karl said. "When I'm sitting at home At 9:30 at night I'm happy that Golden State's on the tube because they play the game in a way that I think it should be played & enjoyable and attacking and aggressive."
Those words didn't describe the Warriors for most of the game Thursday. And it doesn't look like there will be a sequel to last year's strong finish that led to a first-round upset of Dallas in the playoffs.
"Last year's team and this year's team were two different teams," Davis said. "Our preparation last year was a lot better. We were a little bit more experienced and had a bigger chip on our shoulder. We're young … we play hard every game. But it just didn't work out the way we needed it to work out tonight."
Of course the Warriors could try a different approach -- like playing defense. Too late, Davis said.
"You can't look at it now and start talking about it now or writing about it now," he said. "That's how we play. This team relies on us making shots and relies on our energy and our steals and our hustle and our fast break."
The same qualities that made them so entertaining ultimately made them so vulnerable. At some point you have to defend, which the Nuggets did long enough to prevail Thursday.
The murky waters of the playoff participation pool cleared up Thursday. The prospects for fun grew a little dimmer though, because it looks like the Warriors won't be joining the party.
J.A. Adande is the author of "The Best Los Angeles Sports Arguments." He joined ESPN.com as an NBA columnist in August 2007 after 10 years with the Los Angeles Times. Click here to e-mail J.A.
Dimes Past: March 27 | 28 | 29-30 | 30 | 31 | April 1 | 2 | 3 | 4 | 5-6 | 6 | 7 | 9 | 10
Suns Deal Harder To Criticize

Chris (Phoenix): Do you still hate the Shaq trade and think it is the worst deal in Phoenix Suns history?
Chad Ford: It's getting tougher and tougher to criticize. Shaq's been better than expected, but the real revelation has been Amare Stoudemire. He's been playing at a crazy level since Shaq came on board. Clearly having another big man in the paint has freed him up. But remember, the Suns did this to win a championship … not to win 50 games. We'll have to see. I still think several other teams are better including Boston, Detroit, the Lakers and possibly the Jazz.
Matthew (Chicago, IL): Does a team like Chicago, who was so admired and successful the last few years, have one bad year and then all their players lose their trade value, or do general managers try to maintain perspective when seeking to improve their team in the off season?
Chad Ford: They lose value in part because other teams no longer see guys like Luol Deng or Ben Gordon as players who can lead a team to a championship. The Bulls know they have to make changes this summer. So does every other team in the league. That makes it tougher. Other GMs will be looking for a fire sale.
Dirk's Winner In Perspective

By Elias Sports Bureau
Dirk Nowitzki hit a tie-breaking three-pointer with 0.9 seconds to play, giving the Mavericks a 97-94 win over the Jazz. During his NBA career, Nowitzki has made only five of 24 potential game-tying or go-ahead field-goal attempts in the last five seconds of regulation or of any overtime period (2-for-11 on three-pointers).
• See more Elias facts that figure

THURSDAY'S BEST
Allen Iverson, Nuggets guard:
The Answer was unquestionably clutch in the biggest game of the year for Denver. Plays 48 minutes, 33 points, nine assists and two turnovers. We're talking clutch.
Runner-up:
Dirk Nowitzki's winning 3 that sealed a playoff berth.
---

THURSDAY'S WORST

Carlos Boozer, Jazz forward:
Not terrible night for an average player, but when Booz gets 10 points and five rebounds in a 97-94 loss to the Mavs, that's just not Booz being Booz.
---
QUOTE OF THE NIGHT

"We've got a big problem as far as making the playoffs at this particular time."
-- Warriors coach
Don Nelson
, after his team lost to Denver
• See Thursday's daily leaders
-- Andrew Ayres

Here's a look at the key games coming up on ESPN and ABC:
Friday: Cavs-Bulls, 7 p.m., ESPN2, ESPN360.com
Sunday: Raptors-Pistons, 1 p.m., ABC, ESPN Radio; Spurs-Lakers, 3:30 p.m., ABC, ESPN Radio
Wednesday:
Jazz-Spurs 8 p.m., Sonics-Warriors 10:30 p.m., ESPN, ESPN360.com
Nuggets win showdown

Chad Ford and John Hollinger talk about the race for the No. 8 seed in the Western Conference, the MVP debate and other NBA hot topics.
Eighth Wondering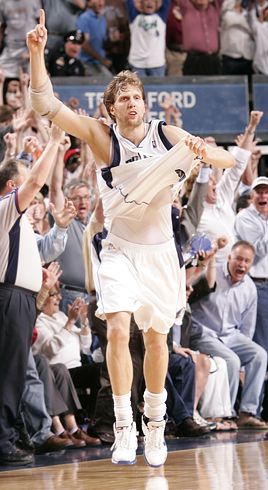 Fernando Medina/NBAE via Getty Images
Dirk Nowitzki celebrates a win over the Utah Jazz after making a 3-pointer with 0.9 seconds left, giving Dallas a 97-94 victory that a clinched playoff berth and win No. 50.