Noah Graham/NBAE via Getty Images
Stein Line's Season-Ending Award Ballots

It's the final Friday of the regular season ... and you know what that means.
One by one we dribble through the season-ending award ballots that soon will be shipped back to the league office.
Ready?
Most Valuable Player

Kobe Bryant, Los Angeles Lakers
I thought the standings would help me decide. But they didn't.
I thought Chris Paul having the best season of any point guard in a conference teeming with Hall of Fame-bound quarterbacks and leading his team to the best record in the West after 79 games -- while possibly saving basketball in New Orleans in the process -- would be clinchers.
They weren't.
I thought I'd be voting for Paul after stacking all that up, but this voter simply can't deny Kobe his maiden MVP because the Lakers might finish a game or two or even three behind the Cinderella Hornets in the nine-team race of the century. I keep looking at Bryant's season and looking at Paul's, and yes, I'm still giving the edge to Kobe.
For all of Paul's undeniable brilliance -- and for all of you who can't wait to angrily dismiss this as a lifetime achievement award for the guy considered the best player to never win an MVP award -- I'm sorry. But Bryant had to deal with and do more this season than even CP3.
Bryant has seen more double- and triple-teams and junk defenses. He's endured a far lower grade of overall team health; Andrew Bynum will end up having played less than half the season and Pau Gasol has missed 11 games just since his Feb. 1 arrival in Los Angeles. Kobe has also played through a hand injury of his own that still requires surgery and is asked by his coach and teammates to be All-NBA at both ends, all while shouldering higher expectations than those of any other player in the league.
Kobe certainly could have made this a lot easier if the Lakers hadn't suffered those unforgivable home losses to the Bobcats and Grizzlies in late March, giving New Orleans its huge opening to shock the world and secure the West's No. 1 overall seed. But I'm rescinding my previous contention that the team with the better record would decide the Kobe-versus-Paul derby because the win-total difference won't be sufficiently drastic to separate these two. The variables mentioned above, to me, are bigger.
I know, I know. Now you're going to ask how I could vote for Steve Nash two years running and not vote for Paul now. That complaint, for starters, has never made sense to me. Every season, and thus every MVP race, should be judged on its own. The specifics of every season are different and so is the MVP field every season. Just look at this field: It suddenly appears to be down to a two-man sprint after it seemed for so long that we had four potential MVPs, with LeBron James and his Cavaliers sputtering to the finish and with Kevin Garnett's culture-changing effect in Boston unfairly (but unavoidably) taken for granted because of all the wildness out West.
If you insist on persisting with the Nash comparison, don't forget that the little Canadian won his back-to-back MVPs for almost single-handedly turning a 29-win team into a 62-win team that posted the league's best record in a West that wasn't too shabby ... and then by keeping Phoenix at a 54-win level after it traded away Joe Johnson and lost Amare Stoudemire for most of the following season. Dragging Nash into this, in other words, doesn't really settle anything, because Paul season's doesn't precisely correspond to either of Nash's. Dragging Nash into this actually supports Garnett's campaign more than Paul's.
Clear cut for Kobe? No one would dare say that. But I finally decided that Bryant has to be my MVP when he's playing the team ball of his life, doing it for a club everyone fears in the playoffs far more than the Hornets and doing so while he's also playing in a stratosphere that only LeBron can presently reach. At Stein Line HQ, all that adds up to No. 24.
STEIN'S BALLOT
1. Bryant
2. Paul
3. Garnett
4. James
5. Manu Ginobili, San Antonio
October prediction: Garnett
---
Coach of the Year

Byron Scott, New Orleans Hornets
This might be the only category where the poor Leastern Conference supplies us with as many qualified applicants as the West. You can make an unassailable case that Boston's Doc Rivers, Orlando's Stan Van Gundy or Philadelphia's Maurice Cheeks has to be named COY. Washington's Eddie Jordan probably should be in the conversation, too.
Not that the Westerners are lacking. Rick Adelman kept Houston glued together through a significant change in X-and-O philosophy and lengthy injury absences for both Tracy McGrady and Yao Ming. Phil Jackson has to get a decent slice of the kudos in Lakerland for keeping Kobe plugged in through a nuclear October, nurturing several youngsters in Kobe's supporting cast and getting Bryant to finally show us his best leadership qualities. Portland's Nate McMillan, meanwhile, is almost forgotten because the Blazers' Philly-like surge from nowhere was back in December. Which seems like years ago with everything else happening this season.
And as usual ...
Pretty much no one even mentions Utah's Jerry Sloan or San Antonio's Gregg Popovich. Ditto for the Suns' Mike D'Antoni, who only had to add a completely foreign half-court element to his run-and-gun system -- some midseason modification, huh? -- to accommodate the February arrival of a certain Shaquille O'Neal.
But if you're not going to vote for Paul for MVP -- and maybe even if you do -- it's hard to resist Scott's season. Like Jackson, Lord Byron gets some nurturing points for Paul's considerable progress and even more points from me for how he's reached Tyson Chandler, given that Scott can be as hard driving as the coach in Chicago (Scott Skiles) Chandler couldn't wait to escape. With the Hornets on the verge of winning the tightest conference race of all time, I can only conclude that the perennially underrated Scott is no less a factor than Paul or the Hornets' drastically improved health.
STEIN'S BALLOT
1. Scott
2. Adelman
3. Cheeks
October prediction: Van Gundy
---
Rookie of the Year

Kevin Durant, Seattle SuperSonics
I totally understand the urge to vote for Atlanta's Al Horford. He's averaging a near double-double for the playoff-bound Hawks. Better yet, Horford is only the fifth rookie center in the past 30 years to make 70 starts for a playoff-bound team, joining Cleveland's Zydrunas Ilgauskas (1997-98), Boston's Eric Montross (1994-95), Charlotte's Alonzo Mourning (1992-93), San Antonio's David Robinson (1989-90) and Houston's Hakeem Olajuwon (1984-85).
Yet I feel compelled to ask Durant's detractors: What more could Durant have done in his rookie season? What more could he have done in this situation? Grab a couple of extra rebounds every game? Exhibit more disciplined shot selection?
Fine. Dwell on what Durant didn't do at 19, if you must.
I prefer to focus on how this teenager -- with his NBA body still years away and with very little quality help to distract opposing defenses -- played his best in March and April, when you'd figure he'd be worn down. I'm voting for the kid who, if he doesn't slip in the Sonics' final three games, will become just the second rookie guard over the past 20 seasons to post a 20-point scoring average, joining then-Sixer Allen Iverson.
Said one Western Conference executive: "Screw the weight room. Screw the bench press. This kid is a real, live basketball player. You'll see. When he fills out, he's going to be great."
Some of us thought his rookie season was pretty good, too, all things considered.
STEIN'S BALLOT
1. Durant
2. Horford
3. Al Thornton, Los Angeles Clippers
October prediction: Durant
Marc Stein is the senior NBA writer for ESPN.com. To e-mail him, click here.
Sixth Man Award

Manu Ginobili, San Antonio Spurs
There actually are more good sixth men in the NBA than we ever mention. Last season's leading sixth man, Phoenix's Leandro Barbosa, hasn't been as deadly this season, but he still has the numbers to make dozens of starters jealous. Toronto's Jose Calderon is a personal favorite, although he's ineligible this season after starting so often in place of an injured T.J. Ford. Utah's Kyle Korver, Philadelphia's Louis Williams and even Denver's erratic (but frequently electric) J.R. Smith all are highly flammable.
Yet we will continue to say, like certain Spurs insiders do, that Ginobili has been the Spur who makes it happen (or not happen) this season even more than Tim Duncan.
As noted here before, Ginobili is the only sixth man in the league who will get MVP votes ... and enough with that stuff about him playing so many minutes; Manu's only averaging a modest 31.2 per game.
As Charles Barkley volunteered Thursday night on TNT: "If he keeps comin' off the bench, they're gonna have to retire this award."
STEIN'S BALLOT
1. Ginobili
2. Barbosa
3. Korver
October prediction: Barbosa
---

Defensive Player of the Year
This is another category stuffed with quality candidates but ultimately an absolute slam dunk.
Denver's Marcus Camby, Duncan, Orlando's Dwight Howard and New Orleans' Tyson Chandler are fellow standouts from Garnett's size classification. Houston's Shane Battier, meanwhile, is finally starting to get the recognition for his perimeter hounding that typically goes only to Texas neighbor Bruce Bowen in San Antonio or Ron Artest in Sacramento.
But KG has been so defensively transformative -- to steal a David Stern word -- that even I must divorce myself from a long-held vow to vote for my former college classmate, Bowen, until the Cal State Fullerton legend finally wins this award.
There's no denying the effect new Celts assistant coach Tom Thibodeau has had (with Doc Rivers' blessing) in sprucing up a defense that allowed teams to score nearly 100 points a game last season while ranking 24th in field goal defense at 46.8 percent. Yet it's KG's versatility and exacting execution as the Celts' defensive anchor and his peerless passion and preparation as a culture-changer that have resulted in Boston holding the opposition to 41.9 percent shooting this season while surrendering just 90 points a game.
STEIN'S BALLOT
1. Garnett
2. Camby
3. Bowen
October prediction: Bowen
---
Most Improved Player

We sing the same whiny song every April. Do you give the MIP to the player who jumps from non-factor to impact player? Or to the guy who goes from good to really good? Or to the guy who makes the subtle statistical climb but otherwise monstrous leap from really good to the rarefied air of full-fledged stud?
This one probably will never be easy.
I'll hit you with more than a dozen names and I know you'll e-mail me more. Fire away: Whom am I leaving out?
Rudy Gay, Andrew Bynum, Beno Udrih and Rajon Rondo already are on my list. So are Mike Dunleavy, Chris Kaman, LaMarcus Aldridge and Calderon. Ditto for three big men who might have been too good already to be considered here -- Howard, Al Jefferson and David West -- and the reigning MIP out in Oakland, who made us ask whether you can be an MIP for two seasons running.
But we're not going with Monta Ellis again. Nor are we voting for Chris Paul, even after listening to Professor John Hollinger make a case for CP3 as the MIP on Chad Ford's NBA Dish podcast this week and agreeing with him. To a point.
We're voting instead for Turkoglu, even though the league's official ballot -- as noted here previously -- instructs us to vote for an "up-and-coming player" and not "a player who has made a comeback."
Turkoglu is no up-and-comer at nearly 29 and in his eighth season, but he finally answered those around the league who had wondered for years what he would capable of if he could stay focused. Uninterested? Disinterested? Whatever the right word is -- we always mess that one up -- Turkoglu went from that unflattering description to a go-to guy in the fourth quarter for a team that will crack 50 wins. He's raised his nightly scoring output from a career average of 10.5 points to 19.6 and has ranked in the top five in fourth-quarter scoring all season. Which adds up to MIP, to us.
STEIN'S BALLOT
1. Turkoglu
2. Gay
3. Aldridge
October prediction: Jason Maxiell, Detroit
I promised last week that any adjustments to my
All-NBA leanings
would be shared here before my official ballot was turned back in to the league.
Allow me to register three changes.
My only egregious mistake: Denver simply can't have two representatives on a 15-man squad. Not even after the Nuggets rebounded from those heinous weekend losses to Sacramento (which didn't dress Ron Artest or Brad Miller) and Seattle (the first 60-loss team in Sonics history) to wipe out an early 15-point deficit and win their biggest game all season Thursday night at Golden State.
No matter how ageless 32-year-old Allen Iverson has looked, Utah's Deron Williams can't receive worse than third-team treatment for his contributions to a team that conceivably could win the West and his repeated ability to win games against his pal Chris Paul. So he takes Iverson's place.
But that one was a relatively easy gaffe to spot. D-Will honestly should have been there from the start.
The toughest call continues to be at first-team center, because Amare Stoudemire has played enough in the pivot this season to qualify as a center for All-NBA purposes, still plays a fair bit of center on a nightly basis when Shaquille O'Neal is off the floor ... and has been more of a go-to guy than Dwight Howard, making him one of the five most fearsome forces in the league over the past few months.
Howard, however, is a center without reservation, and he has made a real run at joining Wilt Chamberlain in an exclusive club of players to average 20 points, 15 rebounds and 60 percent shooting for an entire season. He's about to land agonizingly short (21.0 ppg, 14.4 rpg, .598 shooting) in that ambitious quest, but Howard has managed to lead Orlando to the brink of its first 50-win season since Shaq's departure in the summer of 1996 after the Magic went 60-22.
The solution? After planning to put Stoudemire ahead of Howard on the first team -- and then wrestling with it ever since because it's so tough to choose between them -- I'm defaulting to Tim Duncan as my first-team center.
I know, I know: Duncan loathes being typecast as a 5 man and even was switched by the league from center back to forward on the All-Star ballot when the Spurs protested Duncan's reclassification as a center. "Without trying to cause too much of a stir," Duncan told us back in November, "it just seems like a limited position. I think I can do a little bit more than what a center is labeled as [doing]. But it's just a label."
Yet it's a label that keeps getting slapped on Duncan because he logs so much time as the Spurs' only recognizable big man, operating as the anchor of the modern game's most storied defense and generally functioning as a 5. Don't know why Duncan would protest this interpretation if it were to get him on the All-NBA first team, so this is how my revised ballot will look along with one last tweak: Dirk Nowitzki's valiant and increasingly clutch play on one leg to cap his second-half resurgence and ensure the Mavericks won't miss the playoffs was the clincher that nudged the reigning MVP onto the second team ahead of Carlos Boozer, who will now fittingly share equal billing with D-Will.
FIRST TEAM
F Kevin Garnett (Boston)
F LeBron James (Cleveland)
C Tim Duncan (San Antonio)
G Kobe Bryant (Los Angeles Lakers)
G Chris Paul (New Orleans)
SECOND TEAM
F
Amare Stoudemire
(Phoenix)
F
Dirk Nowitzki
(Dallas)
C
Dwight Howard
(Orlando)
G
Manu Ginobili
(San Antonio)
G
Steve Nash
(Phoenix)
THIRD TEAM
F
Carlos Boozer
(Utah)
F
Paul Pierce
(Boston)
C
Marcus Camby
(Denver)
G
Deron Williams
(Utah)
G
Tracy McGrady
(Houston)
FIVE TOUGHEST OMISSIONS (Listed alphabetically)
Carmelo Anthony (Denver)
Chauncey Billups (Detroit)
Baron Davis (Golden State)
Allen Iverson (Denver)
Antawn Jamison (Washington)
Your faithful Weekend Dime correspondent has been touting San Antonio and Phoenix for weeks as the two strongest favorites to come out of the West. So you can imagine the backing the Suns got when Freddie Coleman invited him to ESPN Radio's GameNight to react to the Suns' big road rout of the Spurs.
Also discussed: Cleveland is ailing and Washington is surging, potentially giving us at least one first-round matchup in the East that could match the tension the West's playoff pairings will generate.
• Listen to the interview


I'm just like you, Bucks fans.
I, too, would have loved to have seen Bill Simmons installed as Milwaukee's new GM ... and not simply because I know he would have floated me (and not Ric Bucher) all the good front-office gossip from around the league.
However ...
Convincing the highly regarded John Hammond to leave Joe Dumars' brain trust in Detroit, after multiple teams tried and failed in recent years, is an undeniable coup for the Bucks. Especially at a time when the Bucks' owner (Sen. Herb Kohl) and his three-pronged cabinet of team executives (John Steinmiller, Ron Walter and Mike Burr) are reputed to be imposing themselves in the basketball decision-making process more than ever.
So I suspect that even Simmons' surprisingly large legion of Brewtown supporters will learn to live with the death of their dream and embrace Hammond's arrival. But we'll have to see if that's a more accurate read than my last Bucks assumption.
I initially assumed that Milwaukee would now qualify as a possible destination for Larry Brown's next gig, for a couple reasons. 1) Hammond has worked with Larry in Detroit and with the Clippers. and 2) For any of the (justified) criticisms you want to level at the senator, Kohl has shown a a willingness to spend on coaches, as seen with George Karl.
But I've since been informed by NBA coaching sources that Brown is not likely to be a Bucks target. Hammond's No. 1 choice, I'm told, would actually be Brown's predecessor in Detroit, Rick Carlisle. It also figures that Hammond would consider Suns assistant Alvin Gentry, after serving as an assistant coach to Gentry at two of his three head-coaching stops (Pistons and Clippers).
The issue there is that the Bucks would likely have to beat out Chicago to be the next Central Division team Carlisle adds to a resume that already includes stops in Detroit and Indiana. Of course, if Milwaukee did land Carlisle, that would only strengthen the contention that Charlotte might ultimately prove to be the most appetizing opening that materializes for Brown.
---

The good news in Green-land: Boston has lost only three games this season by 10 or more points. That's something only three other teams in league history have managed in a season spanning at least 80 games: Chicago with just two double-digit losses in 1995-96; Boston with three in 1972-73; and the Celtics again with three in 1985-86.
The bad news: Washington is the team that just inflicted the Celtics' third double-digit loss of the season and has accounted for three of Boston's 16 losses overall. Which is another way of saying that the Celts suddenly face the prospect of an unsavory second-round matchup no matter whom they see in Round 2: LeBron James' Cavaliers, or the finally healthy Wiz and new sixth man Gilbert Arenas.
---
More history lessons:
Dwight Howard will be 22 years and 130 days old when the regular season ends Wednesday, making him the youngest rebounding champion in NBA history. He'll supplant Dolph Schayes, who was 22 years and 303 days old as the league's best board man for the Syracuse Nationals in 1950-51.
Don't think this next bit is possible, but we'll put the bar up high for him: Howard can be the first player since Philadelphia's Moses Malone in 1982-83 to average 20 points and 15 rebounds for an entire season if Howard plays in Orlando's final four games ... and snares 105 boards in those four.
And ...
In our ongoing quest to find nice things to say about the Leastern Conference, we happily point out that only one current Least resident appears on the following list of players carrying the longest postseason series victory droughts. To wit:
Consecutive Playoff Series Lost

Name
Drought
Bonzi Wells
7
Tracy McGrady
6
Joe Smith
6
Marcus Camby
6
Mike Miller
5
*Among active players
New York, Chicago, Milwaukee, Charlotte and Memphis all are weighing whether to make a change on the bench. Which teams will? Which teams won't? Ric Bucher and Marc Stein review the latest from the coaching grapevine on ESPN2's "NBA Coast to Coast," including a look at Larry Brown's prospects after two seasons away as well as the coaches under pressure with elite teams.

Five questions with Jazz guard Deron Williams:
Q: Do you look at the standings every day in this crazy West?
A: Pretty much. It changes a lot, but it's still good to look at it, see where you're at and how close you are to home-court advantage. Home court would definitely be a plus for us.
Q: As much as we talk about Utah's great home record, there's also a lot of talk about Utah's struggles on the road. Do you guys need home-court advantage to be successful in the playoffs?
A: We didn't have it last year and still came out [of the first round against Houston]. I definitely think it's less of a problem than people say. We've handled all the good teams pretty well. We beat Boston on the road. We beat Detroit on the road. We beat Phoenix on the road. We beat New Orleans on the road. We beat Houston on the road. We just haven't played as well against the bottom-feeders.
Q: Maybe this is just my impression, but I'd say last season was your turn in the spotlight after you were under the radar as a rookie. And then this season, you seem to be back under the radar with Chris Paul getting more of the attention again. Is that how you see it?
A: It's cool. Doesn't bother me. Just keep playing and keep winning and hopefully we get us a championship one of these years. That's my focus right now. I'm only worried about winning a championship.
Q: How realistic is that this season?
A: I think we can. I don't see why we can't. We went to the Western Conference finals last year, regardless of who we had to beat to get there, and I think we're a better team this year. By far. We've had more time together. We're a year smarter, more mature. We've been through it now and we know what it's like.
Q: Have to ask you about the MVP race. How would your ballot look if you had one?
A: I don't know, man. It's tough. I think CP deserves it. I think Kobe deserves it. I think even LeBron deserves it. KG, too. It's tough. But the season [Paul is] having is definitely amazing.

"I like Big Cactus. Why? Because I'm old and because nobody really knows what type of cactus I am. But I will prick your ass if you touch me the wrong way."
Suns center Shaquille O'Neal, delving into the truly important stuff -- now that his new team has its on-court business flowing so nicely -- by explaining why he sees no need to amend his latest nickname to the Big Shaq-tus, as some have proposed.
O'Neal, furthermore, is not dropping his latest inflammatory assertion that Orlando's Dwight Howard has not earned the right to associate himself with Superman, as Shaq has done for years. "Anyone can win a slam-dunk contest," O'Neal said last week. "The real Superman is dead. He was assassinated by Pat Riley. I'm the Big Cactus now and ready to roll again."
That quote popped into my head when I saw Shaq on Monday wearing a pair of custom-made Superman sneaks on his way out of practice. When I jokingly asked him what he was doing with Dwight's shoes on, Shaq promptly (and sternly) informed me (after a few unprintables) that Howard still has to "get past the Shaquino" in the playoffs for such a privilege.
If you're losing track -- not hard when it comes to Shaq and all of his monikers -- "Shaquino" is a reference to what is known among Magic fans as the "Curse of the Shaquino," which blames O'Neal's abrupt free-agent defection to the Lakers in the summer of 1996 for Orlando's subsequent decade-plus of woe.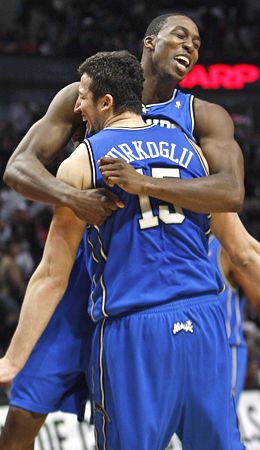 Jerry Lai/AP Photo
For as often as they were mentioned in the season's final Weekend Dime, it's no wonder Orlando's Dwight Howard and Hedo Turkoglu are celebrating. Hedo especially. (See Box 2).
Head-to-head matchups don't decide the MVP race. They shouldn't, anyway.
But they certainly spice up the debate ... and Friday's showdown between Kobe Bryant and Chris Paul in Los Angeles is bound to be a tiebreaker for some voters because this race is so skin-close tight.
It's the season's final face-to-face encounter for any of the four consensus MVP candidates: Bryant, Paul, Kevin Garnett and LeBron James.
To get you ready, here's a look at how they've fared against each other to date this season:
Kobe Bryant
1-2 vs. Paul's Hornets:
27.7 ppg, 7.3 rpg, 5.7 apg, 49.2 FG%
0-2 vs. Garnett's Celtics:
25.0 ppg, 5.0 rpg, 3.0 apg, 32.6 FG%
0-2 vs. James' Cavaliers:
27.0 ppg, 8.5 rpg, 5.5 apg, 41.9 FG%
Chris Paul
2-1 vs. Bryant's Lakers:
26.0 ppg, 14.3 apg, 2.7 spg, 48.3 FG%
1-1 vs. Garnett's Celtics:
20.5 ppg, 8.5 apg, 2.5 spg, 50.0 FG%
2-0 vs. James' Cavaliers:
17.5 ppg, 14.5 apg, 4.5 spg, 31.4 FG%
Kevin Garnett
2-0 vs. Bryant's Lakers:
21.5 ppg, 11.5 rpg, 4.5 apg, 55.2 FG%
1-1 vs. Paul's Hornets:
20.0 ppg, 12.5 rpg, 4.0 apg, 64.3 FG%
2-1 vs. James' Cavaliers:
15.3 ppg, 8.0 rpg, 4.3 apg, 45.0 FG%*
*Garnett missed one game against Cleveland (a Feb. 5 loss) because of injury
LeBron James
2-0 vs. Bryant's Lakers:
37.0 ppg, 9.5 rpg, 4.5 apg, 45.9 FG%
0-2 vs. Paul's Hornets:
21.0 ppg, 4.0 rpg, 7.0 apg, 40.0 FG%
2-1 vs. Garnett's Celtics:
32.3 ppg, 7.0 rpg, 9.7 apg, 41.4 FG%*
*James missed one game against Boston (a Dec. 2 loss) because of injury
---

Back and ankle injuries wound up limiting Chris Kaman to 56 games in a season that, for a time, appeared to have most improved player award potential for the Clippers' 7-footer, given Kaman's statistical rise to averages of 15.7 points, 12.7 rebounds and 2.8 blocks. Yet it appears that Kaman is on the verge of having his German citizenship granted and setting himself up for a busy summer, which would seriously improve Dirk Nowitzki's chances of realizing his dream this summer by taking his country's national team to the Olympics.
Germany is one of 12 teams participating in a July qualifying tournament in Greece that will fill the remaining three spots for the 12-team men's basketball field in Beijing. Once he heard of Kaman's interest in representing Germany, which happened around the same time that rumblings of a Jason Kidd trade to Dallas began to percolate seriously, Nowitzki was pushing for Kaman just as hard as he was for Kidd, having maintained for years that a trip to the Olympics would mean as much to him as winning an NBA championship.
Two related footnotes ...
1. In our recent conversation with Elton Brand, Kaman's teammate said he would not try to convince Team USA officials to reinstate him to the squad this summer. Brand said: "I'm going to get my body right this summer and get prepared for the Clippers' season."
Another hopeful sign for Clipper Nation, perhaps, that Brand is serious when he says his preference this summer is to stay in L.A., even though he can opt out of his contract if he forfeits next season's $16.4 million salary.
2. We playfully chided Nowitzki for tugging his jersey from the bottom after Sunday's last-minute baseline dagger in Phoenix as opposed to the more standard practice of "popping" his jersey from the top, but this appears to be Nowitzki's new signature, soccer-style celebration after big baskets. There he was again Thursday night, pulling hard on his shirttail to draw attention to the DALLAS on the front after swishing home a game-winning 3 with nine-tenths of a second left in a 97-94 home win over Utah.
"I'm glad he's starting to mix things up, because all we used to get was the [extended index] finger after those shots," Mavs teammate Jason Terry said. "But he's German. He does things a little different."
---

Can't watch Gordan Giricek matched up against Manu Ginobili, as we saw on occasion Wednesday night, without remembering that the Spurs had two second-round picks in the 1999 draft and used the first of those (No. 40 via trade with Dallas) on Giricek. If they knew then what they know now, obviously, you can safely assume that we wouldn't have seen the Spurs wait until No. 57 to snag Ginobili.
The Spurs' brain trust of coach Gregg Popovich and general manager R.C. Buford, to this day, have the same self-deprecating response whenever someone brings up that draft: "Shows how smart we really are."
Yet Giricek, now a reserve with one of San Antonio's chief rivals, uncorks only smiles when asked about his brief time as Spurs property, even though he never played a minute for them before being dealt to Memphis for a future second-rounder.
"They made a great pick," Giricek said of San Antonio drafting and ultimately focusing on Ginobili, who, like the Croatian, spent three more seasons playing in Europe before finally coming to the NBA in 2002-03. "I respect Manu a lot.
"But the Spurs saved my career. I can tell you that honestly. I had a knee injury -- jumper's knee -- just like Sean Elliott. And they took care of me and helped me [get healthy]."
The latest twist to the tale is that the Suns are relying on Giricek now after Phoenix initially hoped to give his roster spot to Brent Barry. Seattle dealt Kurt Thomas to San Antonio for Barry on Feb. 20 and promptly waived the 36-year-old, but Barry ultimately chose to go back to the Spurs after considering a move to the Suns. Phoenix then turned to Giricek, who was let go by Philadelphia on Feb. 29 after Utah had used Giricek's expiring contract to acquire Kyle Korver in late December.
Barry, however, has yet to play since re-signing with the Spurs on March 23, still recovering from a torn calf muscle he suffered Jan. 24 at Miami. Giricek is averaging 8.4 points and 19.2 minutes in 19 games with the Suns.