Andrew D. Bernstein/NBAE via Getty Images
In First Place, Lakers Look Second To None In West

LOS ANGELES -- It's foolish to draw any conclusions in the Western Conference, in which the playoff picture changes in the time it takes to click the refresh button on your browser. But as the regular season draws to a close, the Los Angeles Lakers are starting to match results to their ability, which would make them the team to beat. They're starting to think in those terms, too.
"We've put ourselves in position to firmly believe," Lakers guard Derek Fisher said.
They also put themselves atop the Western Conference with a 106-85 victory over the San Antonio Spurs at Staples Center Sunday.
The strange thing was how unplayoff-like it felt at the end, with Kobe Bryant sitting out the entire fourth quarter and Tim Duncan heading to the bench for good with 6:40 remaining. But the lack of suspense at the end came about because the Lakers dominated the third quarter, playing some postseason-caliber defense, holding the Spurs to 14 points on 3-for-17 shooting. Defense has been the biggest question mark for the Lakers. They've been burned by quick point guards (Tony Parker was at it again in the first half, when he scored 18 points). They have failed to rotate out to 3-point shooters. They haven't had a full-time presence in the middle since Andrew Bynum went down in January.
Things changed in the third quarter Sunday. The Lakers stayed in front of Parker, who scored only two more points. Pau Gasol blocked a Duncan hook shot, one of 13 misses by Duncan.
"I think we've found our defensive identity," Bryant said. "We're very aggressive. We have a tremendous amount of versatility in wings and bigs who are athletic and long. We can get after guys."
Lamar Odom continues to do work on the defensive boards. He grabbed 12 of them Sunday, his third consecutive game with double figures in that category. Ronny Turiaf provided the usual boost of energy off the bench. And Fisher's torn tendon in his foot is feeling well enough that he went to Jackson and requested more playing time last week.
The Lakers had some doubts about their playoff readiness as recently as coach Phil Jackson's pregame media session Sunday, when he lamented, "We're playing minutes well, we're not playing large segments of games well."
The second half of a nationally televised game against the defending champions should count as a large enough segment. Afterward, Jackson called it a complete victory, with Vladimir Radmanovic the only member of the Lakers' top nine players who didn't make a significant contribution.
Fisher made an interesting comparison to the Lakers' three-peat teams of the start of the decade. They were built around Shaquille O'Neal, with Bryant able to play off him, and veterans around to plug in the gaps.
Now, "We're built to play as a team and not rely on individual talents of other guys," Fisher said. "Hopefully that can carry us a long way." Bryant has been more than happy to involve everyone and not carry the load himself. As a result he'll be fresher for the playoffs, when superstars have to make the difference.
Bryant had 20 points, five rebounds and five assists in 32 minutes Sunday, and was already icing his knees as the final minutes elapsed.
Instead of engaging in hand-to-hand combat with Bruce Bowen and then contending with Duncan at the rim, Bryant whipped passes to Fisher or dumped it inside to Gasol. Occasionally Bryant pulled up for a jumper of his own. And he capped the third quarter by gathering a lead pass from Gasol, collecting himself just behind the 3-point arc and dropping a shot through the net with 0.1 seconds left.
"Estamos aqui," he said to Gasol back on the bench ("We're here"), as Bryant gestured to their eyes.
The Spurs could have used some more Spanish in their lineup. Their star from Argentina, Manu Ginobili, sat out with what the team called a strained left abductor. In addition, Brent Barry and Robert Horry missed the game with injuries.
"I'm really concerned about Robert," Spurs coach Gregg Popovich said. "I don't know when we're going to get him back [if] at all. The knee is really bothering him.
"And Brent has been gone forever. I'm hoping I can get him some minutes either tomorrow night or the Utah game."
It's possible the Spurs could go into the playoffs banged-up and without home-court advantage. They have enough experience to win on the road, but would they wear down from the extra travel?
And can they beat anybody in the competitive West if they don't address the offensive problems and defensive lapses they showed Sunday?
"Sometimes we get in ruts when we're not moving the ball," Bowen said. "Third quarter, it was evident today.
"We didn't do a good job on [defensive] transitions today and it's evident in a lot of 3-point shots they got in transitions or the lay-ups in transitions. Those are our areas that you can correct, fortunately. This was a game that we wanted to compete better than we did today."
They can get Ginobili back; they can get their championship ways back. The thing is, this isn't the time to go on a search-and-rescue mission. You want to have everyone and everything accounted for, peaking for the postseason. Like the Lakers.
At the end of March the Lakers lost back-to-back home games to Charlotte and Memphis. Since then they've won seven of eight, including victories over playoff-bound Washington, Dallas, New Orleans and now the Spurs.
"Going into the playoffs it's about momentum," Bryant said. "It's about who's playing well. We sure are playing good basketball right now."
J.A. Adande is the author of "The Best Los Angeles Sports Arguments." He joined ESPN.com as an NBA columnist in August 2007 after 10 years with the Los Angeles Times. Click here to e-mail J.A.
Dimes Past: April 1 | 2 | 3 | 4 | 5-6 | 6 | 7 | 9 | 10 | 11 | 12-13 | 13
Momentum The Name Of Playoff Game

Felipe (Dallas ): Any chance the Mavs could be the Rockies of the NBA and carry the momentum into the playoffs this year? They have looked really good the last seven or eight games, especially Dirk.
J.A. Adande: Big difference: the Rockies were playing in the NL; the Mavs are playing in the Western Conference. It's hard to see them getting through, say, LA and San Antonio to get to the conference finals.
milkncookie: J.A., you think Knicks president Donnie Waslh is going to go for John Calipari and Uncle Wes, so he can better our chances of securing Bron in 2010? It's a pretty good idea...might as well. We got nothing to play for next year but that.
J.A. Adande: That would be a good move for Bron purposes. But I don't think you can take a chance on Calipari failing again in the NBA when the Knicks need to get some positive mo going.
Peter (Seattle): And just like that, Chris Webber is gone. Hall of Famer? I think so. For some reason, I find his failures just as compelling as his successes. Just a great story.
J.A. Adande: Compelling, yes. Hall of Fame, no. The numbers are there, but I don't think he dominated the game when he was playing in the NBA. Still, one of the most fascinating people I've ever covered in sports.
Early Sessions With The Dishes

By Elias Sports Bureau
Ramon Sessions, who recorded 14 assists on Friday night, posted 13 more assists in the Bucks' 111-98 loss to the Nets on Saturday. Sessions became the seventh player in league history with 13 or more assists in at least two of his first 15 NBA games. The others were Jamaal Tinsley (3 in 2001), Brevin Knight (1997), Mark Jackson (3 in 1987), Isiah Thomas (1981), Phil Ford (1978) and Hambone Williams (1967).
• See more Elias facts that figure

SUNDAY'S BEST
Earl Watson, Sonics guard:
In what was likely the Sonics' last game in Seattle, Watson helped ensure a winning farewell in a 99-95 win over Dallas. Watson had 21 points, 10 assists and eight rebounds.
---

SUNDAY'S WORST

Andrea Bargnani, Raptors forward:
His two points on 1-for-6 shooting did not help the Raptors' cause in a 91-84 loss to a Pistons team that seemed ready to let fans suit up rather than wear out its starters.
---
QUOTE OF THE NIGHT

"He's going to get his wish. We're going to bring it."
-- Cavs forward
Joe Smith
, responding to Gilbert Arenas' blog assertion that "everybody wants Cleveland in that first round."
• See Sunday's daily leaders
-- Andrew Ayres

Here's a look at the key games coming up on ESPN and ABC:
Wednesday: Hornets-Mavs 7 p.m., Jazz-Spurs, 9:30 p.m., ESPN, ESPN360.com
Lakers looking sharper

By ESPN Research
Warriors at Suns, 10 ET: Phoenix has won five straight, seven of its past eight, and 22 of its past 25 home games vs. Golden State. Baron Davis is averaging 31.0 PPG and 10.0 APG this season vs. Phoenix. Davis is also shooting 53.8 percent (14-26) from behind the arc against the Suns this season.
Rockets at Jazz, 9 ET
: Utah has won five of its past seven games vs. Houston. Tracy McGrady has alternated 20-point and 40-point games in his past five contests vs. Utah. McGrady is averaging 34.0 PPG on 52.9 percent shooting vs. the Jazz this season. The Jazz are 18-3 in their past 21 games vs. Houston at home.
Cavaliers at 76ers, 7 ET:
Cleveland has won five of its past seven contests vs. Philadelphia. The Cavs have also won three of their last four games at Philadelphia. Each game this season has been decided by six points or less.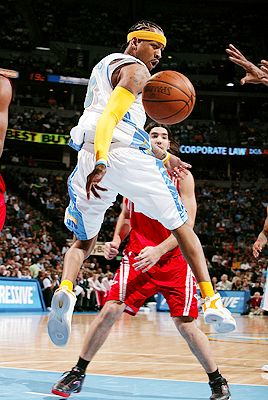 Garrett W. Ellwood/NBAE via Getty Images
Nuggets guard Allen Iverson (33 points) helped deliver a 111-94 win over the Rockets. If Denver wins its finale against the Grizzlies Wednesday, or Golden State loses either of its last two games, Denver makes the playoffs.