AP Photo/Kevork Djansezian
Lakers Are The Best In The West

It took the Lakers all of two minutes to show there would be no letdown in their season finale against the Kings on Tuesday.
Los Angeles scored the game's first eight points and led by 14 at intermission en route to roughing up Sacramento 124-101 to clinch the top seed in the 48-wins-doesn't-get-you-in West.
Somewhere a general manager is looking over the Lakers' blueprint for success and thinking of ways it could be applied to his own franchise.
Let's review.
Frustrated after Los Angeles failed to win a playoff series for the third straight season, all-world shooting guard Kobe Bryant spent the early summer months starring in the hit drama "Trade Me, Don't Trade Me, Trade Me" because he thought the Lakers were in rebuilding mode.
The Lakers began the season by winning just nine of their first 17 games.
Center Andrew Bynum, who is all of 20 years old, emerged as the favorite for Most Improved Player by averaging 13.1 points and 10.2 rebounds during the first 35 games of the season.
As the Lakers began to click, Bynum dislocated his left knee on Jan. 13 and was expected to miss only eight weeks.
The Lakers fleeced the Grizzlies in a trade on Feb. 1, acquiring Pau Gasol and Memphis' second-round pick in 2010 for Kwame Brown, Javaris Crittenton, Aaron McKie, the draft rights to Marc Gasol and first-round picks in 2008 and 2010.
Gasol instantly filled Bynum's void in the middle and the Lakers ran off 17 victories in 20 games.
Gasol sprained his left ankle on March 14 and missed nine games.
The Lakers ended the season in style, winning eight of their last nine games, including four in a row.
Bryant showed why he is the favorite to finally win league MVP by averaging 28.4 points, 6.3 rebounds and 5.4 assists for Los Angeles, which finished the season with a record of 57-25, won its first Pacific Division title since 2004 and earned the West's No. 1 seed for the first time since 2000.

Yup, just the way Mitch Kupchak and Co. scripted it.

The Lakers, who still don't have Bynum back in their lineup, won the most challenging conference in NBA history because Bryant -- playing most of the season with a hand that needs surgery -- learned to trust his teammates, and his teammates rewarded his newfound faith by making plays.

Up next for the Lakers is a playoff date with either the Nuggets or Mavericks. If Denver beats Memphis and Dallas loses to New Orleans on Wednesday -- the last night of the regular season -- then Los Angeles plays Dallas. If Denver and Dallas both win, both lose or Denver loses, then Los Angeles plays Denver.

While the Lakers were busy wrapping up the 1-seed, the Hornets handled their business and clinched the 2-seed in the West.

New Orleans, which is a half-game behind the Lakers with one to play but doesn't own the tiebreaker, ran past the Clippers 114-92 to win the Southwest Division -- the first division championship in the franchise's 20-year history.

As usual, David West (32 points) and Chris Paul (22 and 12 assists) did most of the damage for New Orleans, which has won 56 games this season, three years after winning just 18.

Maurice Brooks is an NBA editor for ESPN.com.

Dimes Past: April 2 | 3 | 4 | 5-6 | 6 | 7 | 9 | 10 | 11 | 12-13 | 13 | 14 | 15
NBA MVP Breakdown, Part I

By Bill Simmons
Page 2
Once the 2007-08 regular season finishes Wednesday night, we can say that we witnessed the fourth greatest MVP race in NBA history. For the first time in 47 years, you could make compelling cases for five different candidates: Kobe Bryant, Chris Paul, Kevin Garnett, LeBron James and, of course, Earl Barron, the heart and soul of the Tankapalooza All-Stars in Miami.
Why bother ranking the greatest MVP races? You got me. It's a complete waste of time. But that didn't stop me from spending two hours figuring it out, so you could enjoy the bland sidebars to the right.
While researching the various seasons, I stumbled upon an old Web page that featured voting for every race through 2000 -- a riveting read not just for little nuggets like "Cedric Ceballos got a fifth-place vote in 1995????," but because there's a definitiveness to the voting that can't possibly capture the swings of a specific season. During the first 30 games of this season, we were engraving Kevin Garnett's name on the trophy. When KG suffered an injury, LeBron took center stage, and then Kobe, then Paul, and now it's up in the air again. Can you remember another season when four different players seemed like locks at different times? Those crazy swings won't show up in the final voting, but, at the very least, we can get the winner right. Thank God I have a vote.
(Important note: Since the NBA refuses to give me an official ballot, I was forced to fly to the Bay Area and take compromising photos of Ric Bucher coming out of a tanning salon, then heading into a neighboring hair salon to buy $300 worth of hair gel. Let's just say I now "control" Bucher's vote. Big year for me. Back to the column.)
Can you make the right choice here? Actually, I think you can. But it's only right that we split this column up over two days, two parts and nearly 55,000 words. For Part I, let's take a look at some players who didn't make the cut (and where they finished on my ballot in the top 450).
Bill Simmons is a columnist for Page 2 and ESPN The Magazine. To read his column, click here.
A Perfect Thirty For James

By Elias Sports Bureau
LeBron James scored 27 points in the Cavaliers' 91-90 win at Philadelphia on Monday as Cleveland clinched a home-court privilege for the first round of the upcoming playoffs. Following the game, coach Mike Brown said that he planned to rest James in the season finale vs. Detroit on Wednesday.
But how about this: By not playing against the Pistons, James would make history. Having scored 2,250 points in 75 games this season, James would go into the books as the first player in NBA history to average exactly 30 points per game over the course of a season.
• See more Elias facts that figure

TUESDAY'S BEST
Kobe Bryant, Lakers guard:
He handed out five assists to go over 4,000 for his career. The 12-year veteran is the 16th player in NBA history with more than 21,000 points and 4,000 helpers.
---

TUESDAY'S WORST

Clippers:
The season can't come to a close fast enough for the other team from Los Angeles, which has dropped six in a row and currently sports a record of 23-58.
---
QUOTE OF THE NIGHT

"You want to be playing your best basketball going into the playoffs, and we feel like we're doing that so we ended the season exactly where we wanted to."
-- All-Star
Kobe Bryant
on the red-hot Lakers
• See Tuesday's daily leaders
-- Maurice Brooks

Here's a look at the key games coming up on ESPN and ABC:
Wednesday: Hornets-Mavs 7 p.m., Jazz-Spurs, 9:30 p.m., ESPN, ESPN360.com
Pistons clinch NBA's second-best mark

Chad Ford and Henry Abbott discuss the state of the NBA as the exciting regular season comes to a close.
Ford and Abbott on the West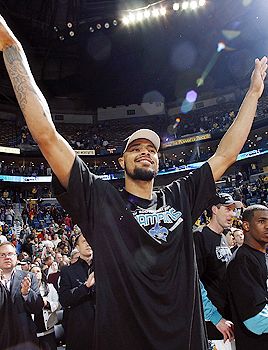 Layne Murdoch /NBAE/Getty Images
Tyson Chandler shows off his Southwest Division champions hat and shirt following the Hornets' double-digit win against the Clippers.