Glenn James/NBAE via Getty Images
Mavericks Are Wednesday's Big Winners

DALLAS -- You can say it with authority before we even get to the playoffs.
This season is so much better than last season for the Dallas Mavericks.
Think about it. Before a single playoff dribble in 2008, these Mavs already know that they'll last longer than Golden State. The 67-win Mavs of 2006-07 obviously never came close to sniffing that feeling.
Then ask yourself: Who finished the regular season with a fancier, happier flourish than Dallas? With a 111-98 victory over the New Orleans Hornets, these 51-win Mavs were unquestionably Wednesday night's biggest winners, no matter what happens next.
Don't forget that it was less than a month ago that Dallas had legitimate fears it wouldn't even reach this postseason, after Dirk Nowitzki's left leg did some stomach-turning twisting and folding in a March 23 home loss to San Antonio. But now? The Mavs overturned an 11-point deficit in Wednesday's third quarter and escaped with the W they had to have to secure a first-round, best-of-seven rematch with the Hornets starting Saturday ... and then struggled to conceal the glee that comes from dodging Kobe Bryant and the Lakers in Round 1.
"I think that's definitely a matchup we wanted to avoid," Nowitzki conceded after Dallas survived its star forward's worst individual performance since the All-Star break, overcoming Nowitzki's 4-for-16 misfiring thanks largely to the long-awaited 100th triple-double of Jason Kidd's career.
Dirk continued: "This was definitely a win we wanted to get ... and don't see the Lakers."
That's not to say Nowitzki or any other Mav was openly clamoring for a series-long dose of Chris Paul. They're not crazy. They know Paul is likely to gradually adjust to the aggressive, two-man trapping in the backcourt that Dallas used to unexpectedly rattle New Orleans' MVP candidate and spark its third-quarter comeback. Nor did the Mavs miss how Paul shrugged off a hard foul from Erick Dampier early in the third -- and the resulting tweak to Paul's left ankle -- and played on as if nothing happened, slowed only by foul trouble.
Yet facing New Orleans is clearly preferable to any of the other possibilities that have been looming for Dallas once it become apparent that last season's No. 1 seed in the West was going to be a much lower seed this time.
Actually ...
Given the Hornets' relative lack of playoff experience, starting with the playoff rookie at point guard, Dallas somehow emerged from the tightest conference race of all-time with the best first-round draw of any Texas team.
The Rockets? They wound up as the No. 5 seed after an expected pounding of the Los Angeles Clippers in Game 82, but that only set up a rematch with the same Utah team that won a Game 7 in Houston last May and just finished posting a league-leading 37-4 record at home. The Jazz apparently haven't forgotten what happened in that series, either, judging by Utah's 29-point surrender at San Antonio in Wednesday's finale, ensuring that Utah would be matched up with the Yao Ming-less Rockets. If Houston couldn't beat Utah with Yao ...
The Spurs? Don't ask. They faced the bleakest range of possibilities on the season's 170th day, knowing that a loss to the Jazz likely meant a first-round series against Utah without home-court advantage ... and that a win likely meant a first-round showdown with Phoenix after the Spurs and Suns staged that second-round epic in 2007 that everyone regards as the real '07 Finals.
It would be folly to suggest that the Suns -- even though their two most convincing performances as a team since the Shaquille O'Neal trade both came against Team Duncan -- are in any way giddy about having to deal with the defending champs right away. The Spurs remain the only team in this wilder-than-ever West possessing been-there, done-that, seen-it-all championship cred. So slaying San Antonio this early is a ginormous assignment.
The Spurs, though, know they're vulnerable. Especially so after Manu Ginobili's recent groin trouble reminded us that the Tim Duncan-Ginobili-Tony Parker troika has been dealing with health stuff nonstop since December. The Spurs likewise haven't forgotten that Phoenix was right there with them back when the Suns didn't believe in their ability to beat San Antonio four times in seven games nearly as much as they do now with Shaq to counter Duncan.
The Mavs, meanwhile, have some quiet confidence flowing after Kidd capped his rocky reintroduction to the town where he began his career with the finest display of his nine weeks as a born-again Mav.
You'll recall that Kidd's first game after New Jersey dealt him back to Dallas was an unsightly loss in New Orleans on Feb. 20 in which Paul, taking advantage of Kidd's newness to the Mavs' pick-and-roll defensive schemes, amassed a ridiculous 31 points, 11 assists and nine steals. The response here, with New Orleans intent on swarming Nowitzki with constant double-teams to force Kidd to put it up: 27 points (on 9-for-14 shooting which included five 3-pointers) that overshadowed Kidd's 10 rebounds and 10 assists.
"We've been almost through everything in less than 30 games," Kidd said, referring to the Mavs' 0-10 start in their first 10 games against winning teams after he arrived and his up-and-down adaptation to coach Avery Johnson's system. "There's nothing we haven't seen as a team from the first time we played New Orleans to now.
"We're excited about this challenge. We have nothing to lose. We're not supposed to be here anyway, so we can be loose. This is a different situation than last year [when the 67-win Mavs were shouldering such high expectations]. New Orleans is the favorite."
Don't know that we can agree with all that. The Mavs do have something to lose now that they've been presented with a winnable first-round series, most notably Johnson. Strong rumblings persist in Mavs circles that a first-round exit would put the coach's job in real peril, after Johnson's recent postgame shouting match with owner Mark Cuban which club sources say was even nastier than initially reported.
Yet you can understand what Kidd is trying to do. He told a story about how nervous he was in his first playoff series against another Oakland legend named Gary Payton and then went on to insist -- repeatedly -- that Paul "is so much better than I am."
Will it work? Is Paul, who doesn't turn 23 until May 6, about to feel even more pressure than he imagines? He attended parts of the past two NBA Finals as a fan to try to get a taste.
The Hornets predictably reject that premise. "Everyone in our starting five has played in the playoffs except for me," Paul counters.
But the Hornets also don't seem to blame the Mavs for preferring to see Paul rather than the supernova who has already torched them for 62 and 51 points, just to name two Kobe specials.
"It was extremely weird," Hornets center Tyson Chandler said of playing the Mavericks in these circumstances, knowing that they'd probably be playing Dallas for real some 48 hours later. "I wouldn't say we held something back, but they had a lot more to lose."
Marc Stein is the senior NBA writer for ESPN.com. To e-mail him, click here.
Dimes Past: April 3 | 4 | 5-6 | 6 | 7 | 9 | 10 | 11 | 12-13 | 13 | 14 | 15 | 16
NBA MVP Breakdown, Part II

By Bill Simmons
Page 2
If you missed Part I of my MVP Ballot column, click here. Now it's time to rip through the top 47 and come up with a winner. ... Although, really, we're all winners, because this season rocked. But before we do that, I'd like to apologize to Ric Bucher for a joke in Tuesday's column that he purchased $300 worth of hair gel. Bucher would never spend less than $500 on hair gel, and for me to insinuate otherwise was just plain wrong. My apologies, Buch.
As for the rest of my ballot, here we go ...
Bill Simmons is a columnist for Page 2 and ESPN The Magazine. To read his column, click here.
Playoff Notes: Boston and Los Angeles In Good Shape

By Peter D. Newmann | ESPN Research
Despite what happened to the top-seeded Mavericks in the first round of last season's playoffs, the Celtics (first in the East) and the Lakers (first in the West) appear to have a clear-cut advantage when the postseason starts this weekend.
NBA Postseason Trends Since 1983-84
Playoff Seed
Win-Loss
Percentage
No. 1
150-45
.769
No. 2
146-60
.709
No. 3
131-80
.621
No. 4
106-111
.488
No. 5
111-106
.512
No. 6
80-131
.379
No. 7
60-146
.291
No. 8
45-150
.231
Winner Best-of-Seven Series
When the home team wins Game 1: 231-37 (.862)
When the home team wins first two games: 162-10 (.942)
When the road team wins Game 1: 54-41 (.568)
When the road team wins first two games: 13-3 (.813)
Win percentage by home team in Game 3 when series tied 1-1: 88-71 (.553)
Win percentage by home team in Game 5 when series tied 2-2: 103-36 (.741)
Win percentage by home team in Game 7: 78-19 (.804)

WEDNESDAY'S BEST
Kevin Durant, Sonics forward:
The rookie saved his best for last, setting career highs in points (42) and rebounds (13), while notching his first double-double of the season in Seattle's 126-121 win over Golden State.
---
WEDNESDAY'S WORST

Knicks:
With new team president Donnie Walsh back in Indiana for the first time since stepping down a month ago, New York gave up its highest point total of the season (132) and also tied its franchise record for losses in a season by racking up No. 59.
---
QUOTE OF THE NIGHT

"I'm getting up to the point where it's not an easy job. It's nice to be wanted and I think the organization would like to have me come back. I think most of the players in the other room would like me to come back, probably some wouldn't. I've had a really good time here in two years and that's a big factor in whether I return or not."
-- Warriors coach
Don Nelson
, who turns 68 in May.
• See Wednesday's daily leaders

By Elias Sports Bureau
Dwight Howard had 13 rebounds on Tuesday, bringing his career total to 4,010. He's the first player to reach the 4000-rebound mark in his first four NBA seasons since Buck Williams grabbed 4,037 boards from the 1981-1982 to the 1984-1985 seasons.
Fourteen players did that prior to Williams. To break the all-time record for rebounds over a player's first four seasons, Howard would need to grab 4,078 more tomorrow. That's no typo: Wilt Chamberlain accumulated 8,088 boards over his first four NBA seasons -- more than twice as many as Howard and 2,191 more than the runner-up, Bill Russell (5,897).
• See more Elias facts that figure
Timberwolves go out in style
Rob (Portland, OR): Considering the Lakers are 22-5 with Pau Gasol in the lineup, do you think they NEED Andrew Bynum back in order to win a title this season?
David Thorpe: Yes.
Jim (Chicago): Dave, what's the plan for Tyrus Thomas this summer? Lots of jump shots? Do you think he can be as good as or better then Shawn Marion?
David Thorpe: I can't say now -- lots of tape to study first. But a better plan in the post would be a good start. I thought his jumper looked great the last two months, but I'd like to see more touches inside.
Jeff (Barrie): How can the Raptors contain Dwight Howard?
David Thorpe: Go at him on offense.
Greg (Portland): Hey Dave, love the chats. Dwight Howard had a very good year where he really stepped up his game, but I'm surprised that you ranked him so high in your MVP ballot. No one else put him that high, what's your logic? PS why bother posting the comments from the haters every week, distracts from the good info. Thanks!
David Thorpe: He was the most dominant player in the league. Fifth in blocks. First in rebounding (by a lot). First in dunks. I enjoy posting comments from all parts of the spectrum.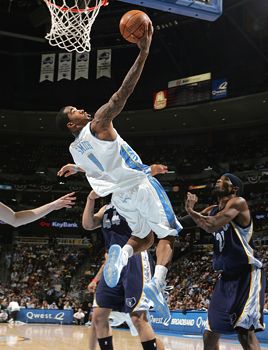 Garrett W. Ellwood/NBAE via Getty Images
J.R. Smith and the Nuggets beat the Grizzlies on Wednesday night to reach the 50-victory mark for the first time since 1988.