Ronald Martinez/Getty Images
Spurs' Heavyweight Blows Might Leave A Mark On Suns

SAN ANTONIO -- No bloody nose in this Game 1 for Steve Nash. The wound from this one isn't as blatantly messy.
Yet you were instantly moved to wonder, once you finally got up off the floor, whether Saturday's scar from the latest Instant Classic staged by these two titans will be another deep and decisive one for the Suns.
Deeper than the Nash Gash of 2007? Painful enough to significantly dent the Suns' newfound belief that this is finally their time to take down Team Duncan? We'll soon see.
It's certainly feasible that Phoenix could rebound with an absolute fury in Game 2 after the gut-wrenching sight of
Tim Duncan
throwing in the clutchest of 3-pointers, rumbling for 40 points overall and combining with a game-clinching
Manu Ginobili
layup to inflict an indescribably bitter 117-115 defeat.
Or maybe it's best to concede that predictions are probably futile at this point. Good luck trying to calculate levels of feasibility or forecast what happens next after Phoenix and San Antonio somehow managed to A) exceed ridiculously high expectations and take us all on a double-overtime ride in the first act of what is already being touted as the Greatest First Round Matchup Ever and B) deliver a completely new ending to burn the Suns. Yet again.
"It wouldn't have been a Suns-Spurs series," Phoenix's Raja Bell said in the visitors' quiet locker room, "if something funky didn't happen."
We sure didn't have to wait long for the funk this time, assuming that Bell's description is sufficiently out there to sum up this roller-coaster afternoon.
Let's see …
• Shaquille O'Neal played only four minutes and 11 seconds in the first half of his big showdown with Duncan thanks to foul trouble. In the second quarter, O'Neal lasted exactly 24 seconds before collecting his third foul.
• Yet Phoenix countered this most-dreaded scenario by rolling up a 16-point lead in the first half anyway.
• San Antonio sliced that deficit to eight points by halftime, at least in part because Spurs coach Gregg Popovich fouled up Phoenix's flow by going to a tactic he almost never uses, calling for the intentional fouling of Brian Skinner, who was on the floor only because O'Neal, Amare Stoudemire and Boris Diaw were all in foul trouble for Phoenix.
• Popovich then triggered a game-saving rally in the fourth quarter by going from what Suns counterpart Mike D'Antoni called "Hack-A-Skinny" to the more conventional Hack-A-Shaq. O'Neal was intentionally grabbed by Fabricio Oberto with the Suns up 82-77, missed both free throws and was summoned to the bench for nearly four minutes. Such intentional fouling, remember, is outlawed in the final two minutes of the period, but the Suns were down one by the time Shaq returned … which happened to be the first Phoenix deficit of the game after nearly 46 minutes of control.
"Who knows?" Popovich said. "That is just a roll-the-bones type of deal. Sometimes Shaq misses his free throws and sometimes he makes five in a row. … We don't do it often, if ever, but for whatever reason I felt like doing it at the time."
Like most developments at the most crucial Game 1 junctures, Pop's call worked for the defending champs. The Suns did manage to wrest the lead back but couldn't regain more than three points of separation, setting them up to be dragged to overtime when they botched a switch on Michael Finley's game-tying triple.
Combine Finley's dagger to force the first OT with the Phoenix shot-clock violation that preceded it, as well as Leandro Barbosa's hurried jumper at the regulation buzzer, and you can understand why D'Antoni insisted afterward that Finley's 3 "hurt more" than Duncan's.
Reason being: Phoenix couldn't regret too much about its defense for Duncan's big moment because the Suns essentially forced San Antonio to take the worst shot it could get while trailing 104-101. The problem? Duncan proceeded to drain his first 3 of the season and then celebrate just his fourth 3-pointer in 10 trips to the postseason with the fist pump of his life.
"I guess they're not going to go easy," D'Antoni said, trying to react with a light touch after a couple crucial misses from Diaw at the end of each overtime sealed the latest of countless disappointments against the Spurs since Nash returned to the desert for the 2004-05 season.
"I guess [Duncan] was due," D'Antoni continued.
Added Stoudemire: "Happy birthday to him."
Duncan's 32th birthday isn't actually until Friday. The Suns, though, have to be gravely concerned that San Antonio's cornerstone is primed to be a rock again, with TD showing little recollection of his 15-for-40 struggles from the field against Phoenix in the two most recent encounters with O'Neal. It might not even matter that none of Duncan's 20 first-half points came with Shaq on the floor … or that Shaq eventually did swat two of Duncan's shots and harass him reasonably when he found a way to stay on the court. Duncan's 40 points, 15 boards and three blocks in 50 minutes suggest that Playoff Timmy has arrived.
It's no less a concern for the Suns that Ginobili looked unguardable at times, especially in the second overtime when he kept taking advantage of the Suns' foul-laden bigs to score repeatedly (eight of his 26 points) with the same swooping lefty drive.
Popovich had one more surprise stored up in his media address, in reference to those two regular-season defeats to Phoenix after Shaq's arrival. "It really bothered us mentally," Pop said. "And we apparently lost a little bit of heart, which our team rarely, if ever, does."
The implication, then, is that this comeback restored a good bit of heart for the hosts. Which naturally leads you to check on the Suns' pulse, starting with Nash.
He didn't say a word about it postgame, but a club insider divulged that Nash was essentially bedridden by the flu Friday, which explains why Nash seemed to lack his usual zip and animation even as he racked up a handsome 25 points and 13 assists. Nash scored 14 of those points in the two OTs, rallying from a rare miss at the line to drop a fallaway 3 of his own with 15.7 seconds to go in the second extra period. But Ginobili, without the benefit of a timeout to set up a play, answered by driving in for the deciding bucket.
Given their foul trouble, their many squandered opportunities and their generous room for improvement, perhaps the Suns will be able to press on and ignore Saturday's dent.
We'll soon see.
"We had the game won a few times and just weren't tough enough or disciplined enough to make every single play," Nash said. "[But] we feel pretty good about ourselves. We feel like we're going to be really difficult to beat."
When he wasn't railing about how "the floppers prevailed today," Shaq insisted, "They know we let them have one."
Marc Stein is the senior NBA writer for ESPN.com. To e-mail him, click here.
Kirilenko's Journey From Bawlin' To Ballin'

By Tim Buckley | Special to ESPN.com
HOUSTON -- A year ago, tears flowed.
Andrei Kirilenko
sat alone, isolated from his teammates, held up only by a chair at the Toyota Center, crying as he expunged a season's worth of frustration.
It didn't matter that the Utah Jazz were just one loss into a 2007 first-round playoff series with the Houston Rockets, their first visit to the postseason since John Stockton and Karl Malone exited, or that there were six games remaining in a best-of-seven series the Jazz would eventually win on their way to the Western Conference finals.
Kirilenko wasn't an integral part of the Jazz offense, finding it difficult to play for demanding coach Jerry Sloan and -- as was learned during the offseason, through communication with a newspaper in his native Russia -- desperately wanting out.
Flash forward, and my, how things have changed.
The Jazz and Rockets again are engaged in a No. 4 seed vs. No. 5 seed first-round series, and Kirilenko -- still with Utah, past trade desires notwithstanding -- was smack dab in the middle of Saturday night's Game 1.
The Jazz's starting small forward scored a team-high 21 points in Utah's 93-82 win, and afterward he beamed like a man who had never shed tears in his life.
It hardly seemed to matter that the 2004 NBA All-Star still isn't a go-to guy in Utah's offense, or that he plays a secondary offensive role to Carlos Boozer, Deron Williams and Mehmet Okur.
"It helped us win the game,'' said Kirilenko, a superstar in his home country and the MVP for victorious Russia in the 2007 FIBA European championships. "That's all we need.
"Again,'' he added when pressed about his usual complementary role, "if we win the game and we're not running plays for me -- that's OK [too]. That's fine with me.''
And Kirilenko couldn't have been finer against the Rockets, his teammates suggested.
He shot 8-of-12 from the field in 40 minutes, dished three assists -- including one in the third quarter to Williams for a basket that broke a 57-57 tie and gave Utah the lead for good -- and helped hold Rockets All-Star Tracy McGrady to 20 points on 7-of-21 shooting from the field.
"He was MVP of the game,'' Boozer said. "He gave us a huge lift.''
"I thought he was definitely the X factor,'' Williams added. "Coming into the playoffs we know we go as he does, because he is our defensive stopper. He did it on both ends tonight.''
Kirilenko, who followed his assist to Williams with a 22-foot jumper, wound up logging more meaningful minutes at power forward Saturday because Boozer and backup Paul Millsap incurred second-half foul trouble.
It might not happen again in Monday's Game 2, but it made a world of difference for Game 1 of the series.
"We played him at 4, and he did a nice job finding people, getting people the basketball and making some plays himself,'' Sloan said. "That's really encouraging for us.''
So was the fact Kirilenko did not get discouraged after his counterpart at small forward, Shane Battier, started with a hot hand.
"Battier came out of the gates quick on him and kind of got him off-balance a little bit,'' Sloan said, "but I was happy that after that happened -- when Battier made the first couple shots he took -- that he was able to stay in there and stay competitive and not let that take him out.''
But perhaps most heartening for the Jazz might be that the old Kirilenko -- circa 2004, the one who seemingly couldn't be happier, no matter what the circumstances -- appeared to be back.
"He seemed to be so much more relaxed,'' Sloan said. "He played so much more relaxed.''

SATURDAY'S BEST
Tim Duncan, Spurs forward:
His 3-pointer was like a Babe Ruth bunt in the ninth. Duncan's first 3 of the season forced double OT and was the exclamation point on a day in which he netted 40 points, 15 rebounds and three blocks in a 117-115 Game 1 win over the Suns.
---

SATURDAY'S WORST

DeShawn Stevenson, Wiz guard:
Irritated the King by calling him "overrated," then missed 8 of 9 shots in Washington's 93-86 Game 1 loss to the Cavs.
---
QUOTE OF THE NIGHT

"Hopefully those guys will compete rather than just fall down. "
-- Suns center
Shaquille O'Neal,
denouncing the Spurs' "floppers" who put Amare Stoudemire and His Shaqness in foul trouble.
• See Saturday's daily leaders
-- Andrew Ayres

By Marc Stein
ESPN.com
SAN ANTONIO -- Reactions to Tim Duncan making just his fourth 3-pointer in 24 career attempts in the playoffs, which resulted in just the second double-overtime playoff game in Spurs history:
Suns guard and fellow U.S. Virgin Islands native Raja Bell: "He was destined to make that one, apparently."
Spurs coach Gregg Popovich: "You can imagine my horror when [the ball] went his direction."
More Pop: "Whenever Timmy shoots a 3, I have doubts."
And here's Pop after several more questions about it: "You guys just can't get over that one, can you?"
Suns forward Amare Stoudemire: "Happy birthday to him."
Duncan himself: "It's easily right up there [on my list of career highlights]. It's unbelievable in a situation where Nash hits yet another 3 in the corner [late in the second OT] that could have sent it to another overtime. I don't know if I would have had anything left."
LeBron leaps ahead

By John Hollinger | ESPN.com
NEW ORLEANS -- For the Mavs, the one question hanging over the game is why they didn't throw the kitchen sink at Chris Paul the way they did in the second half in Wednesday's regular-season finale in Dallas, a 111-98 win for the Mavs. Although Dallas was still trapping him in the half court, they didn't bring the full- and three-quarter-court pressure that so flustered the Hornets on Wednesday, except for one possession at the end of the third quarter.
In a season in which second-guessing Mavs coach Avery Johnson has become a popular pastime in Big D, he's likely to face more questions after Game 1 on this count.
"We tried to [trap]," Johnson said. "We have to make it much more difficult than what we did. When we trap him we can't let him out of our traps. I thought our traps were much more effective [Wednesday] because we squeezed him more."
But Johnson also said Paul played better.
"When we came out and tried to double-team him, he split our double-teams," he said. "That didn't happen the last time we played them. He was much more aggressive, he watched film and saw what we did to him [Wednesday], and even when we trapped him he kept moving."
Nonetheless, Scott says to expect more of the traps in Tuesday's Game 2.

CLEVELAND -- LeBron James found himself trash-talking to numerous Wizards on Saturday. He threw an elbow at Andray Blatche, mocked DeShawn Stevenson's signature move by waving his hand in front of his face after a dunk and popped up and got into a confrontation with Brendan Haywood because he was "just standing above me in a very disrespectful manner.
"I didn't get rattled, emotions ran over just a little bit. My play speaks louder than me going out there and pushing somebody and talking trash," James said.
So that was the talk part, and it was entertaining, but on this day, there was a walk part, too. Which is, after all, what sets the Cavs' star apart.
James' playoff résumé is already several volumes long, and another new tab is required after he led the Cavs to a 93-86 victory in Game 1 of this first-round series. James got his numbers: 32 points, six rebounds and four assists. As usual, though, his performance was deeper than the stats.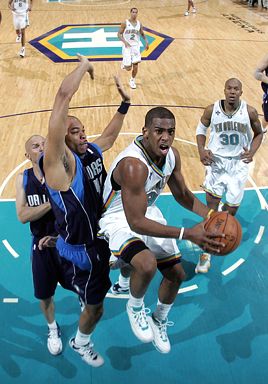 Layne Murdoch/Getty Images
Chris Paul was a little jittery entering his first playoff game. He got the jitters out with 35 points in a 104-92 win over Dallas.

By John Hollinger
ESPN.com
Even in New Orleans, all anyone was talking about on Saturday was that epic opener between the Spurs and Suns. While we were waiting for the start of the Mavs-Hornets game, we managed to catch the crazy ending. It was one of the best games I've ever seen, but like a lot of people, I had some questions about Phoenix's strategy throughout the afternoon.
On the Tim Duncan 3-pointer:
Everyone says this was the worst shot San Antonio could have taken, but this isn't true: The worst "shot" the Spurs could have taken was two free throws. The reason they didn't take them was because the Suns chose not to foul them. Perhaps that was because Suns coach Mike D'Antoni left Shaquille O'Neal on the floor with five fouls . . . and like most other players in that situation, Shaq wasn't particularly anxious to give up his sixth, even though doing so would have pretty much ended the game. So when Manu Ginobili drove the lane and came within easy fouling distance, Shaq opted to stay in front of him and let the play go on. And that's how Timmy came to be so wide open up top for his unlikely game-tying triple.