D. Lippitt/Einstein/Getty Images
Detroit Quickly Finds Itself On Edge
AUBURN HILLS, Mich. -- Boredom has not settled in.
Heck, it's only the first game of the playoffs.
And like they've said in past playoff runs, the Detroit Pistons insisted there's no need to hit the panic button following their 90-86 loss to the upstart Philadelphia 76ers in Game 1 of a best-of-seven playoff series on Sunday.
The Pistons lost an important game, and with it home-court advantage. But they said they haven't lost perspective.
"We expected a tough series," Pistons coach Flip Saunders said. "We're disappointed, we're upset, we're mad, all those things. They way we play, not turn the ball over, grinding things out -- we should win those games; we didn't. They played hard. I thought that we're extremely aggressive, and it's not that we lost the game, they beat us. There is no question about it."
The main question now is if the second-seeded Pistons can regain their focus for a must-win Game 2 on Wednesday at the Palace.
Few expect the Pistons to lose this series. And even though the Pistons stumbled out of the playoff gate, their track record suggests it's highly likely they'll advance.
But the simple fact that the Pistons dropped their playoff opener gave reason to question their mind-set, which has cost them in the past. As talented and successful as the Pistons have been, you still don't know what you'll get from them on a given night.
In the days leading up to Game 1, the Pistons said the ways in which they were ousted from the previous three postseasons still stung. They said they're hungrier and readier than ever to make a run at the NBA Finals.
But Sunday was a painful hiccup.
The Pistons have made it no secret that they love it when their backs are against the wall. But even they didn't expect to be faced with such adversity so early, especially against a Philadelphia team with practically no playoff experience.
"This is going to be tough to try to accomplish and get where we want to get, that's pretty much all it is," forward Rasheed Wallace said. "It's simple basketball."
The Sixers made things difficult, and they probably surprised the Pistons with their second-half emergence. Detroit led by 15 at one point in the third quarter. Then it all unraveled as it has so many times before.
The Pistons committed an uncharacteristic six turnovers in the second half, many of which were easily avoidable. And then it was as if someone placed a lid on the basket, because Detroit (39 percent from the field) couldn't make even the easiest of shots.
There were missed layups. Missed putbacks. Missed free throws. Then there were the individual showings.
While Wallace (24 points, 9 rebounds, 7 blocks) dominated the post, guard Richard Hamilton was nowhere to be found. Hamilton, who was bothered by a sore hip late in the season, finished with 13 points on forgettable 5-for-17 shooting. Antonio McDyess, back in the starting lineup this season, missed 7 of 9 shots for 6 points.
Wallace had a chance to tie the game at 88 with 10 seconds left, but missed an 8-footer. Andre Iguodala grabbed the rebound, was fouled and iced the game with a pair of free throws. Iguodala got his offense going in the second half, when he scored 10 of his 16 points.
Point guard Andre Miller (20 points, 6 assists) and forward Reggie Evans (11 points) were the keys to Philly's fourth-quarter comeback. Philly's up-tempo style of play worked in spurts, and when it didn't the Sixers still proved they could execute and hang with one of the league's elite.
After the game, the Sixers walked off the court smiling and high-fiving each other. Their confidence shot up tenfold.
And that nothing-to-lose attitude that so many underdogs say they take into the playoffs was nonexistent in the visitor's locker room at the Palace. "No, we've got something to lose, just like they do," Miller said. "We're here to play basketball and hopefully win. We've got something to lose, just like they do."
Only for the Pistons, there's so much more at stake.
Chris Silva is a Detroit Free Press sportswriter.
Nelson Stands Tall In Opener

By John Denton | Special to ESPN.com
ORLANDO -- The Orlando Magic's first-round playoff series against the Toronto Raptors had yet to start and Jameer Nelson was already on the defensive.
Defense, of course, has so often been a sticking point for the Magic's barely 6-foot point guard.
"Of course I take that stuff personally,'' Nelson said of his critics, "because I know I can guard [Toronto point guards T.J. Ford and Jose Calderon] and I'm just as good as those guys. I'm not upset or anything like that because everybody is entitled to their own opinion, but I know what I can do and what I'm going to do in this series.''
Openly questioned in the days leading up to the series opener for his shoddy play during the regular season against Toronto's tandem of guards, Nelson responded the only way he knew how.
The tough kid from the mean streets of Chester, Pa., came out swinging.
Nelson had the game of his life Sunday, scoring 24 points and handing out seven assists as the Magic defeated Toronto 114-100 in Game 1 of the best-of-seven series.
It was the most points Nelson has scored since Nov. 9 in a defeat of the New York Knicks. And it was his first 20-point game since Jan. 4.
Making matters even sweeter for Nelson was that he played a big role in Ford's missing 8 of 9 shots and Calderon's misfiring on 8 of 11 tries. The two guards who had battered Orlando in the regular season combined for just 14 points as Toronto hit just 37.6 percent of its shots.
"It kind of frustrates me, but I take all of the challenges,'' Nelson said of the pre-series questions he faced. "From my understanding, we won two of the three games [against Toronto in the regular season], so obviously I did my job good enough. I don't have to score 35 to 40 points to look good. My job is to run the team. The big fellas get the stats.''
Orlando won 52 regular-season games and the Southeast Division crown -- franchise bests in the past 12 years -- but it was mostly a year of turmoil and transition for Nelson.
He has had to deal with the mysterious death of his father, Floyd "Pete"' Nelson, who drowned last summer in the Delaware River near Philadelphia. Nelson suffered two more concussions this season following nasty hits to the head, his second and third concussions in the past 17 months. He has also had to make the transition from being a scoring point guard to one who thinks pass-first with franchise center Dwight Howard and star forwards Hedo Turkoglu and Rashard Lewis needing the ball.
"In our locker room, we all know how important Jameer is to this team,'' Magic reserve point guard Keyon Dooling said. "He's the floor general and he's done a great job of facilitating to our three scorers. You've got to satisfy Dwight, Hedo and Rashard. He's done a great job of changing his game and facilitating for us."
Nelson attacked Ford and Calderon off the dribble from the start Sunday, repeatedly getting in the lane to break down the Toronto defense. That allowed the Magic to hit their first seven shots and 12-of-14 to open the game. Nelson's penetration also helped Orlando tie NBA playoff records for 3-pointers in a quarter (nine) and a half (11).
For the game, Nelson made 7 of 13 shots, two 3-pointers and all eight of his free throws. The effort was especially gratifying for Nelson after getting so badly outplayed in the first round of the playoffs last season against Detroit All-Star Chauncey Billups.
"Everybody knows that we got swept last year by Detroit,'' Nelson said, "so our thing was to come out aggressive with a lot of intensity and get our first playoff win."
John Denton covers the Orlando Magic for Florida Today.
Pau The Big Reason For L.A.'s Fast Start

By J.A. Adande | ESPN.com

LOS ANGELES -- If it felt like the good old days again in Lakerland -- the top seed in the Western Conference playoffs, appearing in the marquee Sunday afternoon broadcast network slot, breezing to a comfy opening victory -- it's because L.A. got back to the foundation that made its franchise great.
The names and giant jerseys high up the southern side of Staples Center bear witness to the Lakers' legacy. Sure, there's Baylor and West and Magic, but the collection of centers is unmatched: Mikan, Chamberlain, Abdul-Jabbar. And, of course, Shaquille O'Neal is never too far from people's minds here.
(Lakers coach Phil Jackson couldn't resist taking a shot at his old center when asked if he was worried about the Lakers struggling with an early tip-off time as they have in the past. "No, Shaq's in Phoenix now," Jackson said.)
Shaq's a Sun, Pau Gasol is the new Lakers center, and for at least one playoff game, the tradition lived on. The opener of this Western Conference first-round series was Gasol's game. He had 36 points, 16 rebounds, 8 assists and 3 blocked shots -- game-high totals in each category -- and the Lakers rolled past the Denver Nuggets 128-114.
One of the things the Lakers have loved about Gasol since he arrived in that near-felonious trade with Memphis in February is his versatility.
"He's long, he can finish and he can run," Lakers forward Luke Walton said. "That type of player on this team, with the guys we have, the playmakers we have, that makes it very dangerous."
• See the complete J.A. Adande story on Nuggets-Lakers Game 1

SUNDAY'S BEST
Pau Gasol, Lakers center:
His grisly Grizzlies playoff history is gone. His first playoff victory: 36 points, 16 rebounds and eight assists in the Lakers' 128-114 Game 1 win over the Nuggets.
---

SUNDAY'S WORST

Mike Bibby, Hawks guard:
Missed 8 of 10 shots, scoring just five points, in the 104-81 Game 1 loss to the Celtics. That's not going to discourage broom sales in Boston.
---
QUOTE OF THE NIGHT

"I'm going to put this one on me. There's no excuses. The last bunny, that was a bucket I should've made. I'm going to take this one on the chin."
-- Pistons forward
Rasheed Wallace
on missing a potential game-tying hoop with 10 seconds left in the game
• See Sunday's daily leaders
-- Andrew Ayres
Winners Play Whack-A-Powe

By Chris Sheridan
ESPN.com
BOSTON -- Almost looked like one of those school-yard brawl videos you see on YouTube, two guys raining punches down on a hapless victim laying sprawled out on the floor.
Only thing was, the punchers and the punchee were all wearing white and green.
And the guy on the receiving end, Leon Powe, was finding himself pummeled with love by teammates Kevin Garnett and Sam Cassell.
"At first I thought [Garnett] was going to help me up, then he gave me like two, three, four, five, six Roy Jones punches," Powe said of the mock assault he had to endure after slamming home a dunk over Josh Smith and Mike Bibby midway through the fourth quarter of Boston's 104-81 victory over the Atlanta Hawks on Sunday night in Game 1 of their Eastern Conference first-round series. "Sam might have snuck about two in there."
Game 1: Sixers stun Pistons in Detroit
Cheeks, Sixers Turn It Around

By Bob Salmi

AUBURN HILLS, Mich. -- There's the old cliché in basketball that the playoffs don't start until the visiting team wins one on the road.
The Philadelphia 76ers-Detroit Pistons series has started.
One of the biggest keys behind the team that won 90-86 here has been 76ers coach Maurice Cheeks. He has a young team and has allowed them to make mistakes. In the win over the Pistons on Sunday, third-year player Louis Williams had made some.
I think about 27 other coaches in the league would have yanked him. But Cheeks has shown that a guy can make a mistake even in the playoffs, and Cheeks stuck with him.
Consistency is the key. Cheeks was the same guy when the Sixers were on a seven-game win streak as he was when they lost five in a row. That's a good skill set to have as a coach.
The other part of that consistency is the approach on the court. He knows this team's best chance to win will come if it gets out on the open floor against the Pistons. Some might think Sixers are flying in the face of convention by playing playoff basketball in an up-tempo style.
But I don't know if you can change your identity in the playoffs: witness the way the Mavericks changed their lineup and approach against the Warriors last season.
In this one, Cheeks was willing to trade rebounds for the open floor. It paid off.
And the leadership is coming from the players too. Reggie Evans pulled Williams aside at one point, keeping him on track. There were so many times when the Sixers could have come unglued, but they didn't.
Guard Andre Miller, who had 20 points in the win, has played his best basketball when facing the game's top players. He's as competitive a player as I've seen in the league in many years. Everybody talks about the other Andre (Iguodala), but Miller's leadership has been a godsend for Philly.
This has been a wild year, but the Sixers have a track record of coming back.
On Feb. 4, they boarded a plane with an 18-30 record. On Saturday, they won a playoff game over the Detroit Pistons.
Bob Salmi offers the color commentary on the Sixers' television broadcasts.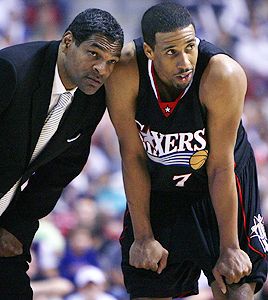 Layne Murdoch/Getty Images
Sixers coach Mo Cheeks and Andre Miller put their heads together in the Game 1 win over Detroit.

NEW ORLEANS -- And now, the fun part begins.
Game 1 is nice, but that's the set piece in a playoff series. Teams generally play their normal rotation and see what works and what doesn't.
Game 2, then, is when the chess match begins. Playoff series are all about adjustments, and starting tonight teams will begin adjusting away.
For instance, take the New Orleans Hornets and Dallas Mavericks, who meet again on Tuesday. Based on what Avery Johnson said after Game 1, Dallas seems focused on attacking Chris Paul to make him work harder on defense. Based on what Byron Scott said, he's thinking the Mavs will bring stronger traps against Paul on defense the way they did in the second half of Wednesday's regular-season finale.
But that's just the tip of the iceberg.
While the Mavs headed back to Dallas for two days to lick their wounds and prepare for Tuesday's Game 2, the Hornets worked out in the suburban rec center that doubles as their practice facility and talked about what to expect next.
And inevitably, that thought led to the next one -- adjusting to Dallas' adjustments. Let the chess match begin.