AP Photo/David J. Phillip
Houston Lost A Game It Couldn't

HOUSTON -- Well, it was fun while it lasted.
A Rockets team that overachieved mightily in the second half of the season -- they sported the league's best record since Jan. 1, including an improbable 22-game winning streak that they achieved despite losing Yao Ming for the season -- finds itself facing some long odds after dropping Game 2 at home to the Jazz, 90-84, on Monday.
The reason is simple: Without Yao, this team has no margin for error.
So if they miss a few free throws, or if a late call goes against them, or if one of Utah's subs makes a clutch heave, they simply don't have enough juice to answer.
Monday showed that even more than Game 1, as the Rockets fought and clawed their way back from an early nine-point deficit and had a chance to tie the game in the final minute.
"Those guys in the locker room played their butts off," said Houston coach Rick Adelman. "I can't ask for more effort than they gave, and we came up short."
But ultimately, the inability to hit free throws (Houston was 16-for-26) and the lack of secondary offensive threats were too much for the Rockets to overcome.
As exciting as this game was at the end, the real story may have been told in the first half. Tracy McGrady dominated at both ends of the floor, with 16 points, 8 rebounds, 4 assists and some of the best defense I've ever seen from him. McGrady had clean blocks on post-ups by Matt Harpring and Carlos Boozer, drew an offensive foul on Harpring and had a steal coming around him on another post-up try.
And with all that, the Rockets went to the locker room down by six, as McGrady received virtually no support. Worse yet, his fuel tank was rapidly emptying. While he remains a brilliant offensive player, he's not the kind who can withstand 43 hard minutes against a physical Utah team, and it showed Monday night. He was completely spent by the fourth quarter, reduced to shooting flat jumpers that barely caught the front of the rim during a one-point period.
"In the fourth quarter, I didn't have anything," said McGrady. "I had no legs, I was on empty. I was just trying to push myself through it, and I had a fresh [Andrei] Kirilenko on me, a 6-10, long guy, and I just didn't have it."
"He has to do so much for us," Adelman said. "It's going to wear you down after a while, especially against a physical team like this."
Adelman, in fact, is in a total Catch-22. He can't afford to rest McGrady, because Houston's bench simply isn't good enough to keep the score manageable -- especially without Rafer Alston (whom they hope will return in Game 3). But he also can't afford not to rest McGrady, and the fourth quarter showed why.
"I purposely really shortened the rotation tonight," Adelman said. "There wasn't time for any four- or five-minute slip."
But the short rotation left his star player drained by the end.
"You're damned if you do, damned if you don't," he said. "I knew we had two days off after tonight so I wasn't too concerned [about rest]. I just wanted him to be as fresh as he could be the last seven minutes."
Despite McGrady's fading energy, Houston battled itself into position to tie the game in the final minute before two crucial late plays sealed their fate.
The one that had the Rockets seeing red was an offensive foul on Luis Scola with 45.4 seconds left. McGrady had recovered a loose ball in the left corner and was passing the ball crosscourt to an open Bobby Jackson for a potential game-tying 3. But as Kirilenko charged out to defend McGrady, Scola put his arm out and nudged him toward the sideline.
Kirilenko embellished the contact with a swan dive into the crowd that would have made Greg Louganis proud. Meanwhile, replays seemed to show referee Tony Brothers looking away from the play until he noticed Kirilenko completing his second somersault and tucking into the pike position, and only then making the call.
It wasn't a great idea by Scola to put himself in that position -- why do it? -- but as you might imagine, the Rockets were upset by the call.
"He put his hand on Kirilenko's shoulder and Kirilenko fell back like a truck just hit him," Adelman said. "And you're going to make that call at that time, in this game, when six seconds before Luis went to the basket and got hammered and the same guy didn't make the call?
"I have a really hard time with that. [Kirilenko] literally flopped. If Luis was that strong, we'd be holding these guys off the boards a whole lot better than we're doing."
The second key play was simply good fortune -- when Utah's Kyle Korver missed a shot off the side of the backboard, Kirilenko chased down the rebound and dished it quickly to Korver, who flipped up a prayer as the shot clock expired that found net. The basket put Utah up 85-80 with 20.2 seconds left, effectively ending the game -- and probably Houston's season.
It isn't over yet, as both coaches noted after the game, but the way these two games went ... look, it's over. Best case, perhaps the Rockets might be able to bring the series back to Houston for Game 5 -- after all, they're one of the four teams that won at Utah this season. But to win there twice in three tries, and win here in Houston twice? Not gonna happen.
So we'll remember this Houston team fondly for its 22-game winning streak and its resilience in the face of Yao's injury. But chances are, the next time we see them in Houston will be in October.
John Hollinger writes for ESPN Insider. To e-mail him, click here.
Desperation Time For Rockets

By Tim Buckley | Special to ESPN.com

HOUSTON -- Before Game 2, Tracy McGrady made it abundantly clear what he feared most.
"We don't want to go back to Utah 0-2,'' the Houston Rockets star said. "I think that would be desperation.''
After the Jazz won 90-84 Monday to go up 2-0 in the best-of-seven series, McGrady and his Rockets may be more desperate than a certain show full of housewives.
Now, heading into Thursday's Game 3 in Utah, the biggest enemy of coach Jerry Sloan's Northwest Division-champion club is not Houston but overconfidence.
At least that seemed to be the suggestion when Sloan was asked about the importance of finishing the series off quickly, especially in light of decided depth in the Western Conference.
"Well, I don't think you worry about that,'' Sloan said after the No. 4 seed Jazz finished taking two games in Houston, where they won last year's Game 7 in the first round of the playoffs. "You just probably worry about the next game, because we haven't finished anything.
"And that's the thing that players sometimes have a tendency to think,'' he added. "They get home and think everything is going to be easy. I've known [Rockets coach] Rick [Adelman] for years. I've played with Rick [with the Chicago Bulls], and I know his teams are going to come out as hard as they can.''
The Jazz, though, can't deny they're in the driver's seat. Nine times in nine Utah-Houston playoff games dating to last year, the Jazz have led at halftime, and now they've prevailed in six of those nine games.
Jazz point guard Deron Williams was at the top of his game Monday, scoring a team-high 22 points, including seven points in the fourth quarter.
All-Star Carlos Boozer managed only 13 points in Game 2, but center Mehmet Okur picked up the slack with a 16-point, 16-rebound night.
And the Jazz are getting terrific production from their backups, including two 3-pointers on Monday from point guard Ronnie Price, and seven points apiece from power forward Paul Millsap and shooting guard Kyle Korver, who hit a back-breaking jumper with 20.2 seconds left.
Moreover, the Jazz -- behind tenacious defense from Ronnie Brewer, Matt Harpring and Andrei Kirilenko -- seem to be in the head of McGrady, who afterward said, "I'm pretty tired. It's tough, man, banging with these guys.''
Still, Sloan's message was received loud and clear, even as Utah returns to a home floor on which it was a league-best 37-4 in the regular season.
"There will be no complacency with this team at all,'' Millsap said.
"We can't be relaxed at home,'' Kirilenko added, "or they will force us to pay.''
Tim Buckley covers the Utah Jazz for the Deseret Morning News.

MONDAY'S BEST
Deron Williams, Jazz guard:
Despite injuring his ankle in the third quarter, the point guard led his team in points (22), assists (5) and blocks (2).
---
MONDAY'S WORST

Wizards:
Washington had no problem defeating Cleveland in trash-talking before the series started. Knocking off the defending East champions on the court has proven to be a lot more difficult. The Wizards lost their eighth straight playoff game to the Cavaliers -- by 30 points -- to fall behind 0-2 in the series.
---
QUOTE OF THE NIGHT

"For us to come out undisciplined and unfocused was real disappointing."
-- Wizards forward
Antawn Jamison
on Washington's slow start that put them in a 13-point hole at halftime
• See Monday's daily leaders
-- Maurice Brooks
Reality Check For Wizards

By Brian Windhorst
Special to ESPN.com
CLEVELAND -- The Washington Wizards came into Cleveland like a lion and left like a lamb.
The Wizards are famous for their swagger but not for their postseason play. That dynamic has shown up thus far in their series with the Cavaliers, who they now trail 2-0 after the Cavs smacked them 116-86 on Monday. The Wizards, who were humbled in crunch time by LeBron James in Game 1, were outplayed in every category by the Cavs in Game 2. That had their captain trying to send a very different message after the game.
Antawn Jamison spoke to the media, but it seemed like he was also speaking to some of his teammates, who may just have awakened the Cavs from their late-season doldrums.
Brian Windhorst covers the Cavaliers for the Akron Beacon Journal. To read the entire story, click here.
ESPN Research
The Milwaukee Bucks hired Scott Skiles as their head coach on Monday, signing the former Chicago Bulls and Phoenix Suns coach to a four-year deal to replace Larry Krystkowiak. Here are some interesting facts on Milwaukee's new skipper.
He holds the NBA record for assists in a game with 30, set when he was with Orlando against Denver on Dec. 30, 1990.
Skiles averaged 11.1 points and 6.5 assists in 10 NBA seasons and was named the league's Most Improved Player in 1990-91.
Skiles-coached teams have finished an average of 15 games above .500 and have won 15 playoff games. In the past five seasons, the Bucks have finished an average of 16 games below .500 and have won two playoff games.
Game 2: Cavaliers clobber Wizards
Hubie Brown's Choice: Paul

Hubie Brown is happy America got to see Chris Paul elevate the Hornets under pressure against Dallas, and he votes for CP3 as his MVP.
Mike & Mike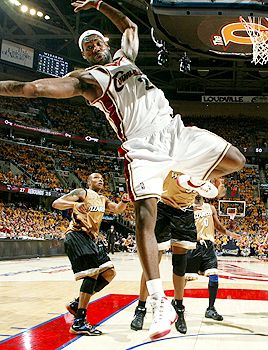 David Liam Kyle/Getty Images
LeBron James did it all, scoring 30 points, grabbing 9 rebounds and handing out 12 assists as the Cavs rolled past the Wizards.

By Elias Sports Bureau
Dwight Howard had 25 points, 22 rebounds and 5 blocked shots to lead the Magic to a series-opening win over the Raptors. Howard became the second player to reach those levels in each of the three categories in a regulation (non-overtime) playoff game since the NBA began keeping track of blocked shots in 1973-74. The only other player to do it was Tim Duncan (34 points, 24 rebounds and 6 blocks) in Game 3 of the 2003 Western Conference finals against Dallas.
• See more Elias facts that figure