Joe Murphy/NBAE via Getty Images
Spurs Come Back On Suns ... Again

SAN ANTONIO -- The most anticipated Game 2 of the first round was realistically never going to be as good as the Game 1 we got from the Spurs and Suns. It couldn't be that good.
So ...
The only semblance of equality linking our first epic dose of San Antonio-Phoenix to what happened Tuesday night is how demoralizing the outcome was for the visitors.
Game 2 honestly can't feel any more digestible for Phoenix than dropping that double-overtime classic in the opener in which it trailed for less than two minutes total. In some ways, San Antonio taking a 2-0 lead with this 102-96 triumph will nag at the Suns even more than Game 1, no matter how one-sided things were in the second half this time.
Seriously. It'll take a pretty dramatic momentum shift when this series relocates to the desert Friday for the Suns to forget how they suddenly avoided foul trouble in Game 2 better than they could have dreamed, amassed another double-digit lead in the first half with ease and wound up doing nothing with all that thanks to the Spurs' trademark D and poise and the Suns' corresponding third-quarter surrender, resulting in their 14th playoff loss to San Antonio in the teams' past 18 postseason meetings.
"They upped the intensity in the second half," Suns forward Amare Stoudemire said, "and they got us."
That's undeniably true. San Antonio did hit the Suns with a noticeable surge in defensive energy after a first half that required Tim Duncan, Manu Ginobili and Tony Parker to combine for an astonishing 51 of the Spurs' 54 points just to keep the hosts in it.
Yet it'll be tough for the Suns to convince themselves that the Spurs' physicality and active hands -- starting with good pressure on Steve Nash from both Bruce Bowen and Parker in the decisive third quarter -- are solely responsible for putting Phoenix in its 2-0 hole. The Suns helped out greatly -- again -- with what both Nash and coach Mike D'Antoni described as a panicky response to the Spurs' increased pressure, which clearly messed up their spacing and somehow turned San Antonio's latest round of Hack-A-Shaq into their foremost offensive weapon.
You read right. Shaquille O'Neal made five of the six free throws he attempted late in the third quarter when Spurs coach Gregg Popovich started sending him to the foul line intentionally. The Suns otherwise generated six points in the period, on three measly baskets, and were outscored, 27-11, after missing their first eight shots in the quarter.
The warning signs were there when Phoenix closed each of the first quarters with lapses that sliced into leads of 14 and later 11 points. The Suns then wilted when they couldn't maintain that 61-percent shooting in the first half which produced 61 points, unable to keep up with the Spurs' clinic.
Phoenix was shredded on countless pick-and-rolls by Parker (32 points) and Ginobili (29), trounced at its own (old?) game by a stunning count of 23-4 in fast-break points and struggled by night's end to convince the skeptical media types assembled in the Suns' locker room that their confidence hasn't been wrecked.
"I don't think so," Suns forward Grant Hill insisted, after making a surprise start on his injured groin but logging 19 scoreless, ineffective minutes.
"I think we're disappointed," Hill continued, contending that there is a difference.
The Suns arrived in town for this first-round showdown on Friday believing that this was finally their time to take down Team Duncan. After winning both of their regular-season meetings with San Antonio after trading for Shaq, Phoenix's vision was clear. No longer would Stoudemire have to exclusively defend Duncan, and now Nash would have a sidekick who, despite his undeniable flaws, is the Suns' only certifiable champion.
But that was then.
Phoenix left town longing for its regular-season success and looking at a lengthy list of squandered opportunities and trouble spots. The Suns can't get Nash enough help to keep Parker and Ginobili out of the lane with Hill hobbled and Stoudemire's decision-making still suspect, still can't count on Boris Diaw and now can't find Leandro Barbosa, who wasn't exactly inspired by the sight of Manu collecting his Sixth Man Award trophy in a pregame ceremony. Barbosa, last season's Sixth Man Award winner, somehow went scoreless in nearly 24 minutes, missing all seven of his shots.
The good news? The Frenchman was actually gracious enough to give them some, having recovered nicely from a hard first-half shot to the ribs in a collision with Shaq to go with the blow to the head that Parker absorbed in Game 1.
It was Parker who unexpectedly reminded his postgame audience that the Spurs have been known to come home 2-2 after going up 2-0 in a series. It's happened that way for San Antonio five times in its past 10 series, actually.
"We were up 2-0 against the Lakers," Parker recalled, referring to the second-round matchup in 2004 in which L.A. won four straight games after losing the first two. "So it doesn't mean anything."
"I don't think anyone on this team," Duncan added, "feels like we'll go 4-zero."
Neither do any of us. But that's not the issue. Coming back to Texas next week at 2-2 won't change the fact that the defending champs gave Phoenix two openings to get the road win it needs to finally beat these guys and the Suns failed to capitalize on either one. Getting to four wins in five games against the steely Spurs will be so much harder now that the Suns are just the sixth team since 1994 to fall into a 2-0 deficit after leading at halftime in each of the first two games.
They got through Tuesday's first half with Shaq and Amare amazingly accruing only one foul each to that point and Stoudemire scoring a breathtaking 25 points, which adds up to a dream scenario. But the Suns never saw the benefit and couldn't even make it close enough at the end for Duncan to break their hearts with a miracle 3. Slicing their fourth-quarter deficit from 17 to five only wound up heaping more frustration on the Suns.
"Every year I've been in the league, I've had to go through the Spurs," Stoudemire said. "One of these years, we're going to beat those guys. I [still] hope it's this year."
Marc Stein is the senior NBA writer for ESPN.com. To e-mail him, click here.
Howard Earning Legendary Status

By John Denton | Special to ESPN.com
ORLANDO -- Dwight Howard flashed a devilish smile, bowed his head embarrassingly and admitted he'd never before heard of Nate Thurmond, one of the few players in NBA history to compile consecutive 20-point, 20-rebound performances in the playoffs.
To his credit, the 22-year-old Howard wasn't born when Thurmond was still relevant in the NBA. But after Howard delivered a dominating 29-point, 20-rebound, three-block effort that crushed the spirits of the Toronto Raptors, Howard admitted that the name of another NBA legend has been on his mind squarely lately.
As in Cleveland's LeBron James.
"It's the playoffs and this is where you make your name," said Howard, who swatted a Chris Bosh shot with 25 seconds to play and contested another in the final seconds to preserve Orlando's 104-103 Game 2 defeat of Toronto.
"LeBron did it last year and got Cleveland to the Finals. I'm just trying to do the best I can every night to help my team win. [Magic assistant coach] Pat [Ewing] is always on me about giving my best effort every second. He pushes me to another level every night when I feel like I can't do anything else so we can keep on winning."
Like James, who shockingly led a pedestrian Cleveland team through the Eastern Conference playoffs and to the NBA Finals last June, Howard is trying to single-handedly will the upstart Magic through the playoffs this spring. Like James last season, Howard is now in his fourth NBA season.
Howard was a one-man wrecking ball in Sunday's Game 1 with 25 points, 22 rebounds and five blocked shots, lifting Orlando to an easy 114-100 victory.
And then, remarkably, he was even better Tuesday night. Better as in the game's most dominant big man. Better as in the most freakishly talented 270-pounder since Shaq roamed these parts 12 years ago.
All Howard did Tuesday was make 12 of 17 shots, with a good portion of them coming on rim-rattling dunks. The youngest rebounding champion in league history (22 years, 130 days) grabbed another 20 rebounds, seven coming on the offensive glass. And for every shot he swatted (three), he goaltended that many (three) while altering completely at least a dozen.
Complete domination is the goal now for a focused and locked-in Howard.
"One of the things that coach [Stan Van Gundy] and [assistant coach] Pat [Ewing] have put in my head is to dominate games on both ends of the court,'' said Howard after just the sixth playoff game of his four-year NBA career.
"Since the last game [on Sunday], the only thing on my mind when I go to sleep at night, wake up in the morning and hit the gym with the guys is to dominate. For us to keep winning, I have to do that."
Chris Bosh gave Howard every ounce he had Tuesday night, pouring in 29 points, grabbing 10 rebounds and handing out 6 assists. But at the end of the night, one in which Bosh missed two late shots (including the potential game winner) made tougher by Howard's massive wingspan, Bosh said he'd never been knocked to the floor more than in this series against the player with the Adonis-like physique.
The two all-stars are close friends, having first met in 2002 when Howard was a senior in high school in Atlanta and Bosh was a freshman at Georgia Tech. And they became tighter two years ago while playing for Team USA.
Howard bought dinner for Bosh and played him in video games for hours when Toronto came to Orlando in March. Howard said it's not a problem for the two buddies to separate their friendship when they are taking turns knocking each other silly on the basketball court.
"We can stay friends because basketball is only a part of our lives; it's not our whole life,'' he said. "We know how to separate the two when we get on the court, and we understand that for 48 minutes you can't be friends. But when the game is over we can still be friends."
John Denton covers the Orlando Magic for Florida Today.

TUESDAY'S BEST
Part I:
Hornets guard Chris Paul scored 32 points and established a franchise playoff record with 17 assists. The old mark of 15 helpers was set by Muggsy Bogues in 1993.
---

TUESDAY'S BEST

Part II:
Magic big man Dwight Howard posted his second 20-point, 20-rebound game of the playoffs, erupting for 29 and 20 as Orlando edged Toronto.
---
QUOTE OF THE NIGHT

"I didn't want to put it in the referee's hands. I wanted to get a clean look -- I felt like I did a decent job. I got a decent look and just missed the shot."
-- Raptors forward
Chris Bosh
, who missed a 19-foot jumper with 1.9 seconds left in Toronto's one-point loss
• See Tuesday's daily leaders
-- Maurice Brooks

By John Hollinger
ESPN.com

NEW ORLEANS -- "Woo!"
That's what the Hornets' PA announcer says every time Chris Paul scores, or assists, or makes some other nice play, and then the crowd follows it up with one of their own.
And the Mavericks have to be darn sick of hearing it, because in the first two games of this series we've had more wooing than Romeo and Juliet.
Paul followed his domination of Game 1 by, unbelievably, playing even better in Game 2. His 32 points, 17 assists, five rebounds and three steals led the Hornets to a 127-103 laugher over a reeling Dallas team and gave them a 2-0 lead in the series.
John Hollinger writes for ESPN Insider. To read the rest of this story, click here.
.
Cavs Better In the Postseason

By Chris Broussard
ESPN The Magazine
The Cavs have lulls during the regular season that lead them to underachieve. But over the past three seasons, they've always turned it up and played their best basketball in the postseason.
They have the right formula for successful playoff basketball:
(1) A great individual player in LeBron James who can create offense when nothing's there.
(2) A great rebounding team. They were first in the league in overall rebounding, and second in offensive rebounding.
In their six Eastern Conference playoff series of the LeBron era, the Cavs have outrebounded their opponent each time.
(3) A great defensive team. They weren't great on that end during the regular season, which is one reason they won only 45 games.
Game 2: Magic win thriller
Dellis (Washington DC): Are the refs fairly calling the Wizards/Cavs series? The Wizards Big 3 are constantly assaulted, while the King's travels are never called and he seems to get foul calls on every touch.
John Hollinger: Washington lost by 30. Refs should be the least of their concerns. They've taken a number of unusually hard fouls on LeBron, and it finally bit them with the Haywood ejection, though apparently he won't be suspended. Bottom line, Wash just needs to stop woofing and get back to playing.
Dave (Mpls): Is that your picture or John Malkovich? What do the Suns need to do in game 2? Do you have any issues with D'Antoni's coaching??
John Hollinger: It's me ... I think. They do some magical stuff over in the photo department. For instance, in real life I have long, flowing blond hair, but you can't tell that from the photo at all.
John Hollinger: As far as the Suns, short answer is the fouls on their bigs, which changed around a game they were controlling on Saturday. As far as D'Antoni, big picture is he's one of the best coaches in the league -- but he did make a couple of tactical mistakes in Game 1 that seemed to hurt them.
Record-Setting Performance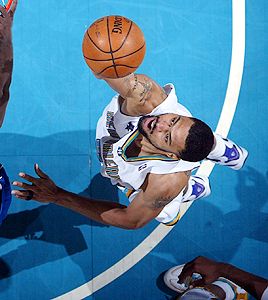 Chris Graythen/Getty Images
Things are looking up for Tyson Chandler and the Hornets after they set five franchise records on Tuesday night.
What We've Learned So Far

By J.A. Adande | ESPN.com
If you can't get with these NBA playoffs, you need to renounce your status as a sports fan. Go watch "The View" or something.
There are so many story lines already in motion that could easily be the top theme of the playoffs in an ordinary year. How about Chris Paul's arrival? LeBron telling the Wizards to "Shut the hell up" via his 62 points, 16 assists and 15 rebounds through two games? The 76ers channeling Rocky? Dwight Howard channeling Superman?
Best first-round series ever?

Chad Ford talks to Marc Stein about the Suns-Spurs series.
NBA Dish