Noah Graham/NBAE/Getty Images
Don't Let the Box Score Fool You

LOS ANGELES -- Games like this are why you can't trust box scores. You could look at the numbers, see that Kobe Bryant scored 49 points, and think you had the story of the Lakers' 122-107 victory over the Nuggets in Game 2 of this opening-round playoff series. You'd have no idea that Bryant and the Lakers were at their best during a five-minute stretch at the end of the third quarter when Kobe made only one shot.
That's when he took over the game in a manner reminiscent of a guy sitting in the baseline seats at Staples Center: Magic Johnson.
The score was tied when Bryant found Luke Walton for a layup and a foul. The next time down the court, Bryant fed Vladimir Radmanovic for a dunk. Three possessions later he threw the ball to Walton for a 3-pointer. All that giving brought him a gift in return, when Pau Gasol tossed an alley-oop that Bryant appeared to stop in midair before throwing it down. And Bryant closed out the quarter with a pass to Sasha Vujacic for another 3-pointer. Four of Bryant's 10 assists in that little stretch.
A 10-point advantage for the Lakers heading into the fourth quarter. Kobe's quarter.
"It's just about forcing them to make choices," Bryant said. "I knew in the third quarter they were going to try to zero in on me a little bit, try to take me out of my groove.
"We're very used to those types of defenses. So my teammates are used to making cuts and taking advantage of it. I felt like it kind of softened them up for me to go back at it in the fourth."
A bunch of Walton and Vujacic body blows before Bryant could unleash the haymakers. The game's greatest closer put this one away with a flourish exceptional even by his standards, scoring 19 points in less than 4 ½ minutes.
After Bryant hit a 3-pointer to give him 46 points and put the Lakers up by 17 with 2 ½ minutes remaining, he took advantage of a pause while Carmelo Anthony shot free throws. Bryant walked by Marv Albert and Reggie Miller in the sideline announcer seats, pulled out his imaginary six-shooters and blew them off.
Nuggets guard J.R. Smith made the mistake of saying something to him, which only brought more pain. Bryant went at Smith the next time down the court, got a layup and-one to get to 49 points, one shy of the playoff career high he set against Phoenix in 2006.
"Better learn not to talk to me," Bryant said of Smith's jabbering. "You shake the tree, a leopard's gonna fall out."
The Nuggets shouldn't say anything to anyone right now. They picked up two more technical fouls in the fourth quarter, the first at a time when the Laker lead was still in single digits.
"As a team, I think we lost our focus, lost our composure," Carmelo Anthony said.
Sometimes it seems as if the Nuggets don't care if they win the series. In the second quarter George Karl sat Allen Iverson for what seemed as long as an afternoon at the DMV (in reality it was four minutes and 15 seconds). And even though Lakers backup big man Ronny Turiaf sat out with a sore throat, the Nuggets didn't make a point of attacking the Laker frontcourt players to get them in foul trouble.
Instead it was Denver's Kenyon Martin who fouled out halfway through the fourth quarter.
The Lakers know their way to win, and it requires getting everyone involved through the first three quarters. In the first quarter, Bryant had 20 points but the Lakers only had a one-point lead to show for it.
"Defensively, we couldn't find the combination of what to do," Phil Jackson said. "We were just a step behind defensively, they were attacking with a lot of confidence."
It wasn't that Bryant dominated the ball. He got transition baskets. He scored when the defense rotated away from him. One time a loose ball bounced his way, he gathered it up, didn't see anyone around and he calmly shot a 3-pointer.
And when a guy's shooting 60 percent, common sense dictates he should be taking all the shots. But that's not what got the Lakers to the top of the Western Conference this year. This was the season when a three-point drop in his scoring average coincided with a 15-win increase in the standings.
"You definitely play better when you're touching the ball and you're involved," said Walton, who had another big playoff performance with 18 points, seven rebounds and five assists. "Basketball is so much of a rhythm game and just being in the flow, not even realizing what's going on. When you're involved and touching the ball and making passes and making plays, it makes you involved in defense. You can read the court better, you can do all of the little things. It definitely helps."
Those were the Lakers of the third quarter, much more similar to the way they played this season.
Now the Nuggets need to make more adjustments. They went with Martin on Bryant again, but replaced Anthony Carter with Linas Kleiza in the starting lineup to avoid the size mismatches that allowed Pau Gasol to score 36 points in the first game. They tried zone defense. They put Smith on Bryant. None of it worked.
"The way he was going we could have put 10 people on the court and it probably wouldn't have been able to stop him," Allen Iverson said.
It's not about throwing everyone at Bryant. It's the way he has used every player on his team that's made the Lakers more of a threat this year, and certainly a class above the Nuggets in the first two games of this series.
J.A. Adande joined ESPN.com as an NBA columnist in August 2007 after 10 years with the Los Angeles Times. Click here to e-mail J.A.
Bibby Talked A Better Game Than He's Playing
By Marc J. Spears | Special to ESPN.com
BOSTON -- Mike Bibby's words have bothered Celtics fans much more than his game this week.
The Hawks veteran point guard riled up the City of Boston by calling Celtics fans "bandwagon jumpers" and "fair-weather" before Tuesday's practice.
The boisterous Boston fans responded by heckling and booing Bibby from Hawks player introductions until he left Game 2 against the Celtics on Wednesday night with 3:43 remaining in the fourth quarter. And instead of motivating his Hawks with his words, Boston hammered his team 96-77 in front of a Bibby-thirsty TD Banknorth Garden crowd.
"The people know who I'm talking about, who I was talking about it," Bibby said post-game. "If everybody thinks they are bandwagon jumpers, then everybody in the crowd is now bandwagon jumpers. They know who they are. If they took offense to it, then they must be part of it."
Atlanta basically started the talkathon when Josh Childress said before the series began that they matched up well with the 66-win Celtics while Josh Smith was talking upset. Forget the fact that Eastern Conference top-seed Boston owned the NBA's best record in the NBA and went 3-0 in the regular-season against an eighth-seed Hawks team with a losing record.
Celtics fans responded by heckling Bibby and Smith unmercifully during Boston's 104-81 win in Game 1 of this best-of-seven first-round series Sunday night. Bibby, who had five points on 2-of-10 shooting and one assist in Game 1, told hecklers at the end of the Game 1 that this is a seven-game series. One Celtics fan responded by asking Bibby repeatedly, "Do you really believe that Mike?"
With Game 2 on the horizon, Bibby very bravely jabbed back at Boston fans Tuesday. His words were read in The Boston Globe, analyzed on sports radio, heard and seen on local television stations all over New England and repeated all over by angry Celtics fans who value their loyalty to their sports teams as much as they value their mother.
"(The Celtics fans) were kind of loud at the beginning," Bibby said Tuesday. "But a lot of these fans are bandwagon jumpers trying to get on this now. I played here last year, too, [with Sacramento] and I didn't see three-fourths of them. They're for the team now and they might get a little rowdy, but that's about it."
It's tough enough facing the Celtics' stifling defense and being guarded by athletic point guard Rajon Rondo. Adding the rowdy Boston fans in the mix didn't make it any easier on Bibby.
The loud Celtics fans chanted such things as "Bibby ... Bibby," "Rondo's Better," "Where is Bibby?" and "Bibby Sucks" throughout Game 2. Initially, Bibby smiled when he was taunted in the first quarter. But with the Celtics fans still haunting him in the fourth quarter, the great free-throw shooter twice missed 1-of-2 free throws in the fourth quarter. Celtics guard Ray Allen believed it was at that point that the Boston fans had got into Bibby's head.
"That is what he had to deal with," Allen said. "This building gets loud enough. But he took it to another level up."
Bibby struggled in Game 2, too, as he finished with 12 points on 2-of-7 shooting and eight made free throws, one assist and one turnover in 28 minutes. He is also averaging a struggling 8.5 points, one assist and 23.5 percent shooting from the field in this series against Boston.
"You guys think what you want to think," Bibby said. "I just tried to come out here and make things easy for everybody on the team."
When Allen and Kevin Garnett were asked post-game if they ever had said something to rile up an opposing crowd before, Garnett said: "Neither one of us has said anything retarded ... Have I ever said anything retarded? It's hard enough playing on the road versus causing attention to yourself. I can't recall. No, neither one of us had said anything crazy like that."
No Hawks player entered the post-season with more playoff experience than Bibby. In fact, Bibby and Joe Johnson are the only Atlanta players with post-season experience.
Insiders say Bibby talked trash to take pressure off his young teammates. But if the Hawks hope to win a game in this series, forget winning the series, they are going to need a lot more production from the veteran point guard on the floor than on the quote sheet.
Marc J. Spears is a regular contributor to ESPN.com and covers the Boston Celtics for The Boston Globe

WEDNESDAY'S BEST
Kobe Bryant, guard:
Even though the MVP votes have already been tallied, KB24 gave the fans a reminder of why the Maurice Podoloff Trophy will probably end up with him. He exploded for 49 points -- one off his career playoff high -- and gave out 10 assists to become the fourth player in the past 15 postseasons to hit the 40-10 mark.
---

WEDNESDAY'S WORST

Andre Iguodala, forward:
All of the Sixers came out flat Wednesday, including the budding swingman, who went 1-for-9 from the field for four points and pulled down just one rebound.
---
QUOTE OF THE NIGHT

"I saw him last night. I think he wore every piece of Lakers gear he owns."
-- Nuggets coach
George Karl
, who had dinner with Lakers guard Coby Karl the night before the duo made NBA playoff history by having a son play against his father.
• See Wednesday's daily leaders
-- Maurice Brooks

Nick (Jackson, MI): When will the Pistons open their eyes and start playing like the underdog team they say they love to be?
Chris Sheridan: I don't know about underdog, Nick, but this will be a true character test for the Pistons, who aren't used to having to reach into their resilience pool this early in the postseason, though I saw a little bit of panic from them down the stretch of Game 1. OK, maybe not panic, but something far, far from confidence.
Bob (Denver): Chris, is Jason Kidd in danger of losing his Olympic team spot to Deron Williams?
Chris Sheridan: Well, Jason is the only guy who has publicly wavered on his commitment, although he said his participation would only be effected if the Mavs made a long playoff run. Right now, doesn't look like that's going to be the case. So let's assume Kidd, Chris Paul, Deron Williams and Chauncey Billups all come to Team USA camp. Will coach K take three of them? If so, which one is the odd man out (I'd have to say it's Williams, although I reserve the right to change my mind if Chauncey missed three out of four FTs down the stretch tonight as he did Sunday).
Eric (Portland): Has the Mavs' championship window closed?
Chris Sheridan: I think so. It was open for about an hour on a warm, humid night in Miami two years ago, and it slammed shut when they blew that game. Chris Paul is killing them this series, but then again, the Hornets' NEVER win in Dallas, and Kidd always has a big game up his sleeve when his team needs it, so I expect the Mavs to win Game 3.
To read the entire chat, click here.

By Scoop Jackson
Page 2
The third quarter. Game 1. That's all you need to know.
That was when the best-kept, underappreciated, unsuspecting, unassuming, uninvited secret unveiled its self. It came to the door of the NBA playoffs and stood there, waiting for someone to open it. The league was like, "Yeah, we know they have reservations, but they don't have the nerve to show up … do they?"
Knock, knock.
Yesssiiirrr, they showed up. Dressed in colors no one should wear to a place that has a dress code. Purple? Yellow? Green? Turquoise? The New Orleans Hornets came to the postseason dinner that is the NBA playoffs and let the remaining teams know: Sidney Poitier got nothin' on them.
All season long, they've been doubted. They've had one player exalted to MVP candidate status. They came into the playoffs as neophytes and are in position to make a more impressive run than the Golden State Warriors did last season. As Chris Paul says in ESPN's "Only one can win" spot: He's not here to lose
Game 2: Celtics show off again

By Chris Sheridan
ESPN.com
DETROIT -- The back-and-forth between Maurice Cheeks and the hecklers behind the Philly bench had been going on all evening, with Cheeks staying as engaged as any coach we've seen since M.L. Carr was paying more attention to the fans than to his own Celtics back in the mid-'90s, by the time Richard Hamilton was called for a technical foul midway through the third quarter.
The Sixers were down by 22 points by that point, and Cheeks -- to his credit -- let out a bit of a belly laugh when one heckler told him to let Andre Iguodala shoot the tech.
By that point, Iguodala had gotten off to an 0-for-7 start on what would become a 1-for-9 evening from the field, and Cheeks couldn't help but chuckle at the relevance of what the heckler was saying as he motioned for Willie Green, not Iguodala, to step to the line for the free throw.
The shot was good, but the rest of the game wasn't for the upstarts from Philadelphia who shocked the NBA by coming back from 15 points down to win Game 1.
Chris Sheridan covers the NBA for ESPN Insider. To read the full column, click here.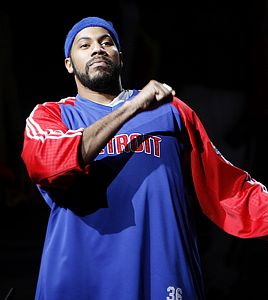 Gregory Shamus/Getty Images
Rasheed Wallace and the Pistons showed they got their swagger back, dancing around the visiting Sixers on Wednesday night.
Starting Slow, Finishing Fast
By Elias Sports Bureau
The Spurs won Game 2 of their series against the Suns after trailing by 14 points, and they won the Game 1 of the series after trailing by 16 points. The last NBA team to win consecutive playoff games despite trailing by at least 14 points in each was the Kings in the first round in 2001, also against the Suns (Games 3 and 4).
• See more Elias facts that figure