Ned Dishman/NBAE via Getty Images
Wizards Take Cavs Out of Comfort Zone

WASHINGTON -- For the sake of pure fun, you could point to so many different sources of inspiration for the quick and stunning turnaround for the Wizards in their first-round series with the Cavs.
Was it Gilbert Arenas (briefly) back in the starting lineup? Was it being back at home in front of 20,000 fans wearing white and chanting "overrated" at opportune times? Was it Soulja Boy sitting in the front row whipping a towel over his head in an example of the wonders of pop culture?
Well, you could pick one and defend it, but you might not hit the root of why the Wizards went from 30-point losers to 36-point winners in just 72 hours as they walloped the Cavs 108-72 to bring their series to 2-1.
The Wizards did what teams have done for decades in the NBA; they came home after a bad road trip and felt more comfortable. They made more shots. They had more energy. But most important, they caught the Cavs and LeBron James off guard, and the results were profound.
While much of the attention in this series has been focused on Washington's hard fouls on James, some missed the deeper issue. At least the deeper issue to coach Eddie Jordan, who would prefer not to foul at all. He'd rather keep James out of the paint so the menacing wouldn't be needed as much. That is what he got his team to do Thursday night.
By altering the defensive spacing and pushing his perimeter defenders farther out onto the floor, Jordan's team completely knocked James out of his comfort zone. The ramifications were wide-ranging and very positive for the Wizards' cause, which now has legs.
It would be better for the story if Washington's turnaround were caused by the Verizon Center's chants of "overrated" or Soulja Boy's "I can't feel my face" action when fast friend DeShawn Stevenson finally broke out of his playoff slump against the Cavs with 19 points. But it was the double-teams 25 feet from the basket and the passive malaise that it forced on James that truly were difference-making.
"They caught us off guard at times and made some adjustments that we weren't ready for," said James, who had 22 points but never seemed to be a factor. "We have to better prepare ourselves mentally."
It wasn't as if James and the Cavs haven't seen this tactic before. Stevenson, Antonio Daniels and Roger Mason didn't all of a sudden turn into heroic defenders. But the switch-up was enough to confuse James and his teammates for nearly the full 48 minutes. They managed to score a stunning 44 fewer points than in Game 2. They committed four more turnovers (23) Thursday than they did in Games 1 and 2 combined (19). With James having to pass out of trouble instead of into the waiting arms of ready-to-shoot teammates, he managed just three assists.
"We were very crisp with our rotations, we were very good with our technique, we were physical," Jordan said. "I thought that it was a disruptive defense."
It certainly was, and with 30 points off turnovers, it fueled the Wizards' offensive turnaround. Even without much help from Arenas, who was forced from the floor with more knee discomfort, the Wizards shot 52 percent after shooting just 39 percent in the first two games. The Wizards' starters combined to shoot 23-of-41, and Roger Mason had one of his best games of the season with 18 points off the bench.
Now, the Wizards are streaking and the Cavs are thinking, which increases the chances this will turn into the sort of long, back-and-forth series many predicted before it started.
"We read them the riot act after Game 2 in Cleveland, and the next two days we told them how great they were," Jordan said. "It is risky this late in the season, but you have to lay it on the table."
Brian Windhorst covers the Cleveland Cavaliers for the Akron Beacon Journal.
T.J. Ford Quiets the Critics
By John Denton | Special to ESPN.com
TORONTO -- The insidious whispers had morphed into a deafening roar in Toronto, and T.J. Ford knew this might have been a last-ditch chance to save both his starting job and his reputation.
The Canadian media mob and the talk-radio barkers claimed that Ford's oversized ego and refusal to yield his starting point guard job to the blossoming Jose Calderon were holding back the Toronto Raptors.
Ford, who has been doubted most of his career because of his frail physique and history of scary neck injuries, went to work Thursday night on trying to fix everything that ailed both himself and the Raptors.
Toronto coach Sam Mitchell stuck by his embattled point guard for Thursday's Game 3, and Ford paid him back with a dazzling 21-point effort that helped the Raptors start strong and end up with a 108-94 thumping of the Orlando Magic, who now lead this first-round series 2-1.
And after Ford helped the Raptors creep back into a series they looked out of, the same fans who once were calling for Ford's job were suddenly singing his name in cheers.
"If [Mitchell] made a change, he was going to have to take all five guys out," Ford said. "Whatever they feel the team needs, whether it's me being in the starting lineup or not, at this point I'm willing to do it. I'm not the person that I've been made out to be the last few months. I just want to win."
Ford was a mess in the first two games of the series, missing 15 of 17 shots and playing as if he were running in quicksand rather than being his usual blur self. To make matters worse, Orlando's Jameer Nelson (21 points per game in Games 1 and 2) was running circles around Ford, and the wildly popular Calderon was creeping closer to nabbing the starting job away.
But all of those negative vibes faded away Thursday. Ford had seven points and three rebounds in a flawless first quarter in which he didn't miss a shot or free throw. And the 165-pound flyweight delivered a huge haymaker to the Magic just before the half with an 11-point flurry that put Toronto ahead by 23 points.
"I just wanted to prove something to myself," Ford said. "This is the biggest stage of NBA basketball. I always believe it's going to turn around for me. I didn't think I was playing that bad before, but I just didn't make shots."
Ford said some technical stuff, such as not overpenetrating into the lane and avoiding massive Magic center Dwight Howard, made all the difference. But deep down, he said he was the same guard he's always been. And because of that, his starting job and reputation in Toronto are still intact.
Said Ford: "I told you [media] guys that I would make some shots. I was just trying to be aggressive. In the first two games I wasn't as aggressive as I needed to be. I've got to stay that way."
John Denton covers the Orlando Magic for Florida Today.
• Yes, Kobe scored 49, but we already knew he was good. What the Lakers have to be particularly pleased about is the play of Luke Walton. He endured a rough regular season and lost his starting job to Vladimir Radmanovic, but he's averaged 17 points and five assists in the first two games of the Denver series.
His movement and passing have been crucial anytime the Nuggets go to a zone, especially in Game 2 when Lamar Odom was saddled with fouls. Walton scored 16 points or more only four times the entire regular season, but he's done it twice against Denver.
• Watching Acie Law go 4-for-4 and score 12 points in Game 2 had to give Hawks fans a slight measure of relief. The worry all season has been that we've witnessed another Billy Knight Point Guard Draft Blunder, since he took Law four spots ahead of Detroit rook Rodney Stuckey, an impressive combo guard. For the season, Law had a PER of 7.73; Stuckey's was 13.80. Law is also nearly a year-and-a-half older.
• The strangest thing about Mike Bibby stirring up the Boston fans is that he's the last player anyone who covers the team would have pegged to do this. Since arriving from Sacramento, he's quickly become notorious for vanilla interviews -- now all of a sudden he's ripping Boston's fans and calling out Kendrick Perkins? Just goes to show you that upsets can happen in the playoffs ... even if we don't see any of the favorites fall in Round 1.

HOUSTON'S BEST
Part I: Carl Landry
He lost a tooth in the first half, but returned to the lineup in time to save the Rockets' season. He blocked Deron Williams' shot in the closing seconds, and it was was the signature moment of Houston's dramatic 94-92 victory.
---

HOUSTON'S BEST

Part II: T-Mac
So much for all that Tracy McGrady fourth-quarter slump talk. He fired in seven of his 27 points in the final period as the Rockets avoided falling into a 3-0 hole in the series.
---
QUOTE OF THE NIGHT

"It was a good old fashioned behind-kicking."
-- Cavaliers coach
Mike Brown
talking about his team, which set a franchise postseason record with Thursday's 36-point loss
• See Thursday's daily leaders
-- Maurice Brooks
Game 3: Raptors claw past Magic

By Tim Buckley
Special to ESPN.com
On an off day prior to Thursday night's Game 3, with his Houston Rockets down 2-0 to the Utah Jazz, Tracy McGrady -- with a straight face, but sarcasm evident -- blamed himself for any and all postseason franchise woes.
Teammates' lousy free-throw shooting, and their many missed layups. Point guard Rafer Alston's bad hamstring. Even some bad brew.
"It's my fault a couple people in the stands ordered Heinekens and they got Budweiser," McGrady said, according to the Houston Chronicle. "It's my fault. I'm sorry."
But tip one to McGrady on Thursday, when no apologies were necessary as Houston rallied in the fourth quarter to beat Utah 94-92.
McGrady came into Game 3 not only having failed to get out of the first round of the playoffs in his first six tries -- once with Toronto, three times with Orlando, twice with Houston -- but also with no field goals made in the fourth quarter of the first two games of this series.
He finished with a team-high 27 points on Thursday, however, including seven straight during a late final-quarter span in which Houston took control.
He hit two free throws with 2:50 left to break an 86-86 tie, drilled a step-back jumper to make it 90-86 and knocked down a 20-footer to put the Rockets up by six.
"I got myself going, got to the free-throw line," McGrady said, "and from that point on it was one-on-one coverage, and I hit some shots."
Just as planned, the seven-time All-Star claimed afterward.
"I was just waiting for the right time," said McGrady, who was guarded by Andrei Kirilenko down the stretch.
"I was just trying to be passive early in the fourth quarter," he added, "and I felt like if we were able to keep it close, I was waiting until the right time to really insert myself on the offensive end."
Intended or not, the lay-back strategy worked -- and the Rockets surged forward with new life heading into Saturday night's Game 4 in Utah and a now-necessary Game 5 on Tuesday night in Houston.
"We're still confident," McGrady said. "We're still a confident group, although we're still down. If we can come in here and win this game being down 0-2, anything is possible."
After getting so much more right than wrong Thursday, no one can blame him for an attitude like that.
Not even those two stuck with the Bud.
• Tim Buckley covers the Utah Jazz for the Deseret News.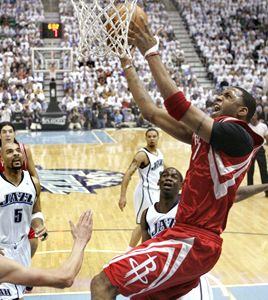 AP Photo/Douglas C. Pizac
If it is so tough to win in Utah, someone forgot to tell Tracy McGrady, who posted 27 points, 7 assists and 5 rebounds in Houston's 94-92 win Thursday.

Chad Ford and John Hollinger discuss the NBA playoffs. The younger point guards, such as New Orleans' Chris Paul, have experienced a lot more success this year than expected.
NBA Dish

Kent (Denver): Is it time to trade Carmelo while his value is high? He is a defensive sieve.
Chad Ford: I think there might be big changes coming this summer in Denver. And ... you have to wonder about Carmelo. As talented as he is ... he's not the same caliber of player as guys like LeBron. I'm not sure he's a guy who can deliver a championship.
To read the entire chat, click here.