AP Photo/Ross D. Franklin

"Those who stand for nothing fall for anything."
-- Alexander Hamilton.
PHOENIX -- The Phoenix Suns had their chance to take a stand, to defend their home court, to justify their bold mid-season trade for Shaquille O'Neal, to show why this group and this system should continue.
Instead they fell, fast and hard, looking less like a cohesive unit and more like a mismatched collection of parts that the San Antonio Spurs easily dismantled, 115-99, in Game 3. The Suns never found something to stand by or stand on, and thus moved a step closer to extinction.
The most anticipated first-round matchup ever, is turning into a dud and headed to sweepsville in a series that's getting less competitive by the game. That double-overtime thriller in the opener seems like it was two months ago, and it's getting harder to believe the Suns were the superior team most of that night.
Now, after all of the battles and adjustments, the Suns still haven't found a player or pattern they can count on for a full 48 minutes against the Spurs.
The Spurs, meanwhile, showed the difference between searching and choosing. While the Suns have sought something, anything, to rely on in the second half, the Spurs merely selected a different star to accent each night. In Game 1 it was Tim Duncan scoring 40 points. In Game 2 Manu Ginobili took over in the fourth quarter. And in Game 3 Tony Parker set the tone for a dominant Spurs night, when he got the bucket or the assist on 12 of San Antonio's first 13 field goals.
The Suns never figured Parker out as he hit them for 41 points and 12 assists.
"We tried to take out their king," said Stoudemire, referring to Duncan. "But when you're playing the game of chess, there's always that queen that steps up and hits you from the blind side."
Stoudemire was just making an analogy, not questioning Parker's masculinity. There was nothing but respect from the Suns for the way the Spurs played. And if you read between the lines, there wasn't much confidence in the way the Suns coaches countered it, or the approach they've taken.
Only three of Parker's baskets came in the paint, meaning the Suns at least accomplished their objective of keeping him from getting to the basket.
"That was, sort of, the game plan," Suns guard Steve Nash said. "But when he starts making all the shots we've probably got to adjust."
The Suns never found a way to get the ball out of his hands early, before he could become a playmaker.
"We tried to double, not double, switch, not switch," Suns coach Mike D'Antoni said. "They were almost perfect."
The Suns also went to a zone for a while, but the first time they unveiled it Parker sliced right through it. That's the problem when a team that isn't known for its defense tries to win a game by making defensive adjustments on the fly in the playoffs. "It's not really about offense," O'Neal said. "It's about defense. Defense wins games."
After Parker hit a 3-pointer to make the score 101-85, a frustrated Suns owner Robert Sarver slammed his foam No.1 finger to the ground. Maybe it dawned on him that he could only have two of the money-making home playoff games to show for his $70 million roster.
They brought in O'Neal -- who still has another two years and $40 million left on his contract -- to make them bigger and tougher. But it's hard to change a mind-set on the fly.
Popovich made the most relevant comment of the night.
"Both teams pretty much have to do what they do," he said. "After 100 games that we've played you're not going to change your system. You might adjust a bit, but you're not going to do anything drastic."
The playoffs are a time of revelation, not transformation. Who you are, what you're about, gets exposed. You don't get to reinvent yourself.
The Spurs, for example, have always made a point to limit the Suns' transition baskets, even if it makes forsaking offensive rebounds to get back on defense. They also emphasize denying 3-point shots; the Suns tried only three in each half for a total that was 15 below their nightly average during the season. (Parker was one of the Spurs' defenders closing out on the Suns' 3-point shooters, another thing he did well Friday).
As an added wrinkle this series, Popovich has been fouling O'Neal away from the ball and sending him to the free-throw line. Nash said the constant stops affected his rhythm on a night he took only eight shots and made three (plus a technical free throw) for seven points.
"I felt like an outsider," Nash said.
The Spurs were right at home, beating the Suns for the 15th time in their past 20 playoff meetings, holding the Suns below 100 points for the fifth time in their seven meetings this season.
J.A. Adande joined ESPN.com as an NBA columnist in August 2007 after 10 years with the Los Angeles Times. Click here to e-mail J.A.
Mavericks Put Drama Aside
By Marc Stein
ESPN.com
DALLAS -- They are purportedly tuning out the coach. They are definitely generating unsavory, ill-timed headlines. They are also undoubtedly wondering just how they let Jannero Pargo shake loose for 30 points in the biggest game of the season.
Yet you have to give this much to the teetering Dallas Mavericks: They've never let Chris Paul win a game in their building.
Never, ever.
The smallest MVP candidate in circulation hasn't been denied much in this storybook season, but he's still waiting for his first W as a pro in Big D. Reasonable as it seemed to expect that breakthrough to finally come Friday night -- with all the various dramas weighing down Avery Johnson, Josh Howard and the rest of the Mavericks -- Paul surprised us all by responding to some desperate hounding from the Mavs by submitting a couple of 2-for-9 shooting halves.
Combined with an MVP game from Dirk Nowitzki and high emotion from the home team, the other Hornets couldn't match up either. Dallas had just enough to secure a 97-87 win in Game 3, which realistically, saved its season, but maybe not Johnson's job.
There's a growing expectation within the Dallas organization and around the league that not even coming back to win this series would be enough to save that, given the depth of the Mavs' slide since they came within two wins of the championship under Johnson in 2006. In his last 13 playoff games, Johnson is just 3-10.
It'll certainly take more than one victory, furthermore, to shield Howard from the unwanted glare he guaranteed himself after stunningly choosing the afternoon before such a crucial game to spend nearly a half-hour discussing his offseason marijuana use on ESPN Radio's local affiliate.
The Mavs have, however, succeeded in giving us a series by slicing their deficit to 2-1 … and they've managed to give Paul something to ponder between now and Sunday night's Game 4. Although it's difficult to imagine Paul shooting 4-for-18 again, it's reasonable to assume that the Hornets A) are well aware that the franchise doesn't have a win in this city since (no misprint) 1998 and B) know well that their little dynamo is 0-6 here, 0-3 this season and 0-2 in the last 10 days.
Not that you should expect Dallas to do any crowing about that. Johnson made the right (some would say overdue) call by moving Jason Terry into the starting lineup ahead of Jerry Stackhouse -- and Terry duly supplied the energy at both ends to make Paul work far harder than he did in his two New Orleans masterpieces -- but numerous Mavs were careful to say that Paul merely missed shots he usually makes.
Marc Stein is the senior NBA writer for ESPN.com. Click here to read the entire column.

FRIDAY'S BEST
Dirk Nowitzki, forward:
With a 3-0 series deficit staring them in the face, the Mavericks turned to the reigning league MVP to get them going. He didn't disappoint, scoring 32 points, grabbing 19 boards and handing out six assists.
---

FRIDAY'S WORST

Shaquille O'Neal, center:
Phoenix traded for Shaq in an attempt to move one step closer to reaching the NBA Finals. After Friday's home loss to the Spurs in Game 3, the Suns are on the verge of being swept -- something that has happened to O'Neal six times in his career (see below).
Take Out the Brooms

Year
Matchup
Playoff Result
1994
Magic-Pacers
First round
1995
Magic-Rockets
NBA Finals
1996
Magic-Bulls
Conf. finals
1998
Lakers-Jazz
Conf. finals
1999
Lakers-Spurs
Conf. semifinals
2007
Heat-Bulls
First round
---
QUOTE OF THE NIGHT

"They're not supposed to be where they're at. They're up 2-1 against a team nobody thought they could beat. I could understand why they're happy."
--
Chauncey Billups
on the Sixers who have taken the home-court advantage from the Pistons.
• See Friday's daily leaders
-- Maurice Brooks

RL (NY): Mike Brown may be a great defensive coach, but he is completely inept on the other end of the court. He has a transcendent star in LeBron, and a viable post option in Z, as well as some decent shooters, yet he can't get this team to put the ball in the hole consistently. Did he not anticipate the trapping on LeBron to force the ball out of his hands? He couldn't come up with a better game plan against this?
J.A. Adande: Apparently not. Nothing about the elements surrounding LeBron -- players, coaches, front office -- screams "championship" at you. Coach could be the easiest one to address before LeBron's opt-out date in 2010. As Michael Ray Richardson would say, the clock be ticking.
To read the entire chat, click here.
Sixers Giving Pistons Fits

By Chris Sheridan
ESPN.com
PHILADELPHIA -- It wasn't until the middle part of the third quarter that the sellout crowd began to get a true fix on what was happening before their very eyes.
They had been watching it, of course, but there seemed to be some sort of collective disbelief in the building, a sense of "This can't really be happening, can it?"
Suddenly, though, that collective skepticism morphed into a sustained roar at the moment Samuel Dalembert outworked Rasheed Wallace to grab one of Philadelphia's 11 offensive rebounds, one of an endless number of hustle plays that the Sixers pulled off throughout the night in a 95-75 stunner over the Detroit Pistons Friday in Game 3 of their first-round series.
Game 3: Dallas slows down Paul.
Instant Offense Off the Bench
By Elias Sports Bureau
Jose Calderon came off the bench to score 18 points and his fellow sub Jason Kapono scored 15 points in the Raptors' 108-94 Game 3 win over the Magic. Calderon, Kapono, and Carlos Delfino all scored at least 15 points off the bench in Game 2 -- something no three teammates had done in an NBA playoff game since 1990. The last trio to do so was Todd Lichti, Blair Rasmussen, and Walter Davis of the Nuggets.
• See more Elias facts that figure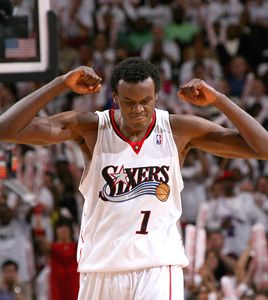 Jesse D. Garrabrant/NBAE/Getty
Orlando center Dwight Howard wasn't in Philly Friday, it just felt that way to the Pistons after the Sixers' Samuel Dalembert tallied 22 points, 16 rebounds and two blocks.

Josh Howard discusses his off-season marijuana usage on the Michael Irvin Show.
103.3 ESPN FM in Dallas

By Henry Abbott
TrueHoop
About a year ago, I had the opportunity to interview the Dallas Mavericks' Josh Howard.
I jumped at it because I knew him to be a frank talker. I have this notion that one thing the world does not need is more athletes saying the same meaningless things again and again.
Howard is, by reputation, a straight shooter and a truth teller. Someone who speaks like a regular guy, even if it means getting his hands dirty once in a while. (We all know that scene from "Bull Durham," right, where the veteran teaches the rookie how to never say anything interesting. That is not Josh Howard, and I applaud that.)