Scott Cunningham/NBAE via Getty Images
Hawks Draw Inspiration From The Greatest

ATLANTA -- Comparing it to "The Rumble in the Jungle" would be laughable. But with Muhammad Ali as part of their motivation Saturday night, the underdog Atlanta Hawks knocked the heralded Boston Celtics to the floor for the first time in these playoffs.
At Saturday morning's shootaround,
Al Horford
played a highlight DVD of Ali's "Rumble in the Jungle" upset victory over George Foreman in Zaire on Oct. 30, 1974. Horford had previous success with the DVD at Florida during his freshman year as he and his teammates once watched the fight before beating Kentucky.
It worked for the eight-seed Hawks, too, as they slugged the top-seed Celtics 102-93 at a sold-out Philips Arena on Saturday night in Game 3 of a first-round Eastern Conference playoff series. Boston now owns a 2-1 lead in the best-of-seven series with Game 4 here Monday night.
"I went to Lido Theater in Chicago to watch that fight with my dad," Celtics coach Doc Rivers said. "No one thought Ali was going to win that fight, obviously. I'm sure that was the reference there [for the Hawks]."
No one outside of the Hawks and only their most devout fans probably thought they could win a round in this fight with Boston either. The Hawks have the youngest team in the NBA playoffs and entered it with the least amount of wins in the regular-season (37) of any postseason team. The Celtics also were 3-0 against the Hawks in the regular season and beat them soundly in the first two games of this playoff series in Boston.
So unless Dominique Wilkins was going to come back and play like his old "Human Highlight" self, the odds definitely weren't in Atlanta's favor against the hottest team in the NBA this season. This contest was the first NBA playoff game in Atlanta since 1999. Even so, Game 3 didn't sell out until Saturday afternoon.
"Those two games in Boston were blowout games, and I'm sure the Celtics thought the series was over," said Hawks forward Josh Smith, who had 27 points and nine rebounds.
Horford wasn't the only one trying to give Atlanta the "Win one for the Gipper" motivation. The Hawks' game operations crew played an impressive and motivational video montage during pregame introductions that included historical upsets in sports. One of the upset clips included the Patriots' Super Bowl loss to the Giants. The crowd also included several celebrities like former mayor Andrew Young, hip-hop stars Jermaine Dupri, T.I. and Young Jeezy, basketball great Cynthia Cooper, ex-Hawks star Glenn Robinson and several NBA players on vacation like ex-Hawk Al Harrington.
"We came in down 0-2, but we knew when we came back home we are pretty good here," Hawks guard Joe Johnson, who scored 23 points, said. "And when we came out of the tunnel, it got our adrenaline rushing. I have not seen the crowd that electric since I've been here."
Said Smith: "My heart was racing and I was so excited, especially when we came out and saw so many Hawks fans out there."
While much has been made about the Celtics' All-Star trio of Kevin Garnett, Ray Allen and Paul Pierce, their unselfishness and team basketball has also played a major role in their championship caliber success. But on this night, the young Hawks caused Boston to play uncharacteristically selfish on both ends of the floor.
The Celtics shot only 44.4 percent from the field and missed 11 of 17 3-point attempts. While Garnett scored 32, Allen and Pierce combined for 10-of-27 shooting. The Hawks also surpassed the 100-point mark for the first time in the series and outscored Boston 28-18 in the third quarter.
"We didn't help each other on offense and we didn't help each other on defense," Allen said. "We still had plays, we made plays. But just the typical Celtic basketball that we played all year, we always helped each other on both ends of the floor. Tonight, we didn't do a great job of it."
Even with the win, the odds are still heavy in the mighty Celtics' favor to win this series. It's unfathomable to think that usually extremely focused and unselfish Boston would play this poorly two games in row.
With Saturday's win also comes new pressure that these young Hawks haven't dealt with before. With a win in Game 4, their dreams of shaking up the world like Ali are still alive. With a loss, they are one uppercut away from a knockout with Game 5 in Boston on Wednesday. The Hawks are 0-4, including the regular season, at testy TD Banknorth Garden this season. Suddenly, Atlanta now has win-or-probably-say-die pressure Monday.
It will be interesting to see if the Hawks are really ready to rumble Monday because the Celtics are expected to throw a mighty counterpunch.
"Monday's a big game for us, that's just what it is," Garnett said. "Monday's going to be a huge game … [Sunday] is a work day to prepare to win this game Monday."
Said Johnson: "We are not satisfied. We have to win on our home court and we look forward to it."
Marc J. Spears is a regular contributor to ESPN.com and covers the Boston Celtics and the NBA for The Boston Globe.

By John Denton | Special to ESPN.com
TORONTO -- The staggering figures always seem to come, win or lose, just after the mention of his name, Rashard Lewis has noticed.
Usually, it goes something like this: Rashard Lewis, $118 million. These days, it's as if that's his name Rashard Lewis, $118 million -- the Orlando Magic's quiet star said.
While there are certainly about 118 million worse things to have attached to your name, the details of the enormous contract that Lewis signed last summer with the Magic can at times be a burden.
For months, Lewis has had to read the message-board posts and listen to the rantings on talk radio that have ripped him for being so grossly overpaid. He's quietly kept his cool, refusing to respond to those who doubt his worth to a Magic team that's on the rise.
Lewis might have finally quieted some of those claims Saturday night with his finest performance in a Magic uniform. Not only did he guard all-star power forward Chris Bosh, 3-point shooting champ Jason Kapono and 7-footer Andrea Bargnani at various times, he also poured in 27 points and 13 rebounds in Orlando's 106-94 Game 4 defeat of the Toronto Raptors. And Lewis made one of the biggest shots of the night when he buried a 3-pointer with 91 seconds to play to give Orlando a commanding 3-1 lead in the series.
"He posted up, he drove the ball, he worked hard defensively and he had an unbelievable rebounding game,'' Magic coach Stan Van Gundy said of Lewis. "You have to understand what we've asked this guy to do: He's a career small forward who plays power forward for us. He got 13 rebounds and scored in the 20s, and the question is, 'Is he overpaid?' Well, by NBA standards you can't do much more than what he did. If he's overpaid, then a lot of people must be overpaid.''
Lewis said he hasn't regretted joining the Magic one day since committing to Orlando on July 3 last summer. After playing with a host of journeymen centers in his eight seasons in Seattle, Lewis wanted to feel what it was like to share the spotlight with blossoming center Dwight Howard.
He spent most of the season playing mostly in the shadows of Howard and the improved Hedo Turkoglu, but Lewis knows the playoffs are the time to step up his play and earn his money. He responded accordingly Saturday, driving to the rim for five baskets, converting a tough putback and hitting five free throws.
"I know my salary is going to come up every time somebody mentions my points and rebounds," said Lewis, who is making $17 million this season. "That's just part of life. It doesn't affect how I play."
John Denton covers the Orlando Magic for Florida Today.
Williams Has Pronounced Effect On Jazz Taking 3-1 Lead

By Tim Buckley | Special to ESPN.com
SALT LAKE CITY -- After 11 postseason games between Utah and Houston the past two years, Tracy McGrady apparently still does not know how to correctly say "Deron Williams.''
"It doesn't matter, man,'' Williams said when asked about just that after the Jazz's 86-82 Game 4 victory over the Rockets on Saturday. "There's a lot of people who don't know how to pronounce my first name.''
It's DARE-in, not Da-RON -- and folks might want to learn.
Williams, after all, is the motor that makes the Jazz go -- and his Game 4 play is a huge reason Utah, now up 3-1, is one victory away from wrapping up the first-round series.
He did miss two critical free throws with 7.3 seconds remaining. But Williams, who shot 6-of-11 from the field, was chiefly responsible for negating a second straight fourth-quarter Jazz collapse.
"He stayed with what we were doing,'' Utah coach Jerry Sloan said of two key final-quarter buckets by Williams.
"[Assistant] Coach [Phil] Johnson suggested we let him have the ball in the middle of the floor,'' Sloan added, "and he made a couple of great plays that kind of revved us up.''
Though pained by an assortment of bumps and bruises, including a sprained sacroiliac joint that limited his mobility when Utah took Games 1 and 2, the Jazz point guard had nine assists and a team-high 17 points Saturday.
That includes eight points during a fourth quarter in which Houston trimmed what had been a 16-point Utah lead in the third quarter to as little as one, and to two with 15.2 seconds to go.
The back-to-back baskets by Williams with about two-and-a-half minutes left in the fourth provided Utah a much-needed cushion, and both -- a driving dunk and a layup -- exemplified the multifaceted nature of Williams' game.
He might not be able to break out of Chris Paul's shadow when it comes to MVP talk or head-to-head comparison debate, but the built-like-a-bull Williams can dish, drive or stop and pop at the drop of a dime.
"Coach made a great adjustment at the time -- coach Sloan, and coach Johnson,'' he said of a break preceding the two aforementioned baskets. "They were doubling me pretty hard on the pick-and-roll, and it made it hard for me to get a shot off or get it back to [Carlos Boozer].
"So we kind of faked the screen and just let me take [Rockets point Rafer Alston] 1-on-1,'' Williams added, "and I was able to get by him two straight possessions.''
Even if not sure of the first name, then, McGrady and the Rockets were bound to see the word "Williams'' blur by on his back.
Tim Buckley covers the Utah Jazz for the Deseret News.

SATURDAY'S BEST
Josh Smith, Hawks forward:
Goes for 27 points, nine rebounds and six assists in the win over Boston. And he hits 3 of 6 3-pointers to boot. Take that, C's.
---

SATURDAY'S WORST

Bobby Jackson, Rockets guard:
Spends 15 minutes on the court, missing 9 of 10 shots from the field in Houston's 86-82 Game 4 loss in Salt Lake City. Houston is on the brink of elimination now, down 3-1.
---
QUOTE OF THE NIGHT

"We quit. Everybody. From the coaches to the players, we quit. And I said it. I'm not blaming anyone. I'm not pointing the fingers at nobody. I didn't play worth a [expletive] tonight, and I can accept that. But as a competitor, there's no way that I should lay down and quit and lay down on my team like we did tonight."
-- Nuggets forward
Carmelo Anthony
on Denver's Game 3 loss to the Lakers.
• See Saturday's daily leaders
-- Andrew Ayres

By John Hollinger
ESPN.com
If L.A. completes the sweep Monday, it would cement the Nuggets' status in the second tier of the NBA -- good enough to win 50 games, but not nearly good enough to hang with the league's elite in a best-of-seven series. With the team nearly $9 million over the luxury tax and two key players getting long in the tooth, it's an uncomfortable place to be.
Since pairing Allen Iverson and Carmelo Anthony at midseason last year, the Nuggets have twice been outclassed in the first round by one of the league's heavyweights; the Spurs did the honors last year. Thus, it seems probable that Denver -- much like Dallas and Phoenix -- will be among the Western teams contemplating major changes if they can't get out of the first round.
But for those of you who are wondering, a coaching change isn't on the menu. "We could lose both these games by a hundred and George [Karl] would still be the coach," a team source told me before Game 3.
Indeed, Karl has managed to keep everyone on board through a challenging season. For all their volatility, you don't hear these guys complaining about shots -- even with two big-time scorers to keep happy. Karl also helped J.R. Smith turn around his season, and possibly his career, while other young players have also shown positive development.
You also might wonder if attention-shy owner Stanley Kroenke has soured on having such a high payroll if it doesn't produce some postseason results. If so, the shedding of contracts would have painful results in the win column.
To read the full story, click here.

By J.A. Adande
ESPN.com
PHOENIX -- Those sneaky Spurs are still here. Even after the Air Force retired the F-117 Night Hawk, the NBA's version of the stealth fighter keeps flying on, never picked up by the radar until it's too late.
Not even the third-best record in the tough Western Conference was enough for the Spurs to cast a large shadow on the NBA landscape. The hype had already started for a Lakers-Celtics Finals, and Phoenix was the trendy pick to win the marquee first-round matchup against San Antonio.
The Spurs are jamming up all of those plans, grabbing a 3-0 lead over the Suns and looking serious about defending their championship. Even if nobody else saw it coming.
"I know everybody was saying that Phoenix was going to win, but it's OK with us," Spurs guard Tony Parker said. "San Antonio, they always forget about us. I got used to it now. We just play, and then when we arrive to the Finals it's like, 'Oh, San Antonio.'"
These guys? Again? It's like one of those old Droopy cartoons, where that damn dog keeps showing up no matter how many times you thought he'd been disposed.
It's time to recognize the Spurs for what they are: not only the most dangerous team in the league, but the most dangerous team to the league. They kill ratings when they show up in the Finals. And they keep diminishing the value of the regular season. And they do it through the hardest task in the sport: winning playoff games.
During this run as the NBA's best and most consistent team since 1999, they never had the best record in the league during a single year. They've won 60 games only twice.
This season's squad did little to distinguish itself. Normally teams announce their presence with impressive road victories. But this season the Spurs were only 3-9 at Dallas, Houston, New Orleans, Utah, the Lakers, Phoenix, Boston, Detroit and Orlando combined. In March, they went through a stretch in which they lost six of seven games (all against teams that made the playoffs).
But in the first game of the playoffs they battled back and made all the biggest plays to beat Phoenix in double overtime. Then they applied a second-half lockdown in Game 2. Friday, they put together their best performance of the season, led by Parker's 41 points and 12 assists.
"You don't ever want to say that, 'Oh we're just waiting for the playoffs to start,'" Bruce Bowen said. "That's not our motto here. We weren't playing good basketball at [the end of the regular season]. We would have liked to have been playing good basketball. But we understand, more than any other time, now it's more important you're focused on what you have to do."
To read the full story, click here.
Hawks on the board

By Elias Sports Bureau
Tony Parker scored 41 points and had 12 assists in the Spurs' Game 3 win over the Suns. Only three other players in NBA history have had 40 or more points and at least a dozen assists in a playoff game: Oscar Robertson (twice, 1963 and 1965), Jerry West (1969) and Clyde Drexler (in an overtime game in 1992).
• See more Elias facts that figure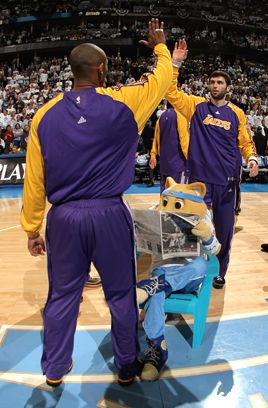 Doug Pensinger/Getty Images
Kobe Bryant and Vladimir Radmanovic of the Los Angeles Lakers high-five as Denver Nuggets mascot Rocky relaxes during team introductions in Game 3 in Denver.